South Africa tour to Australia 1963/64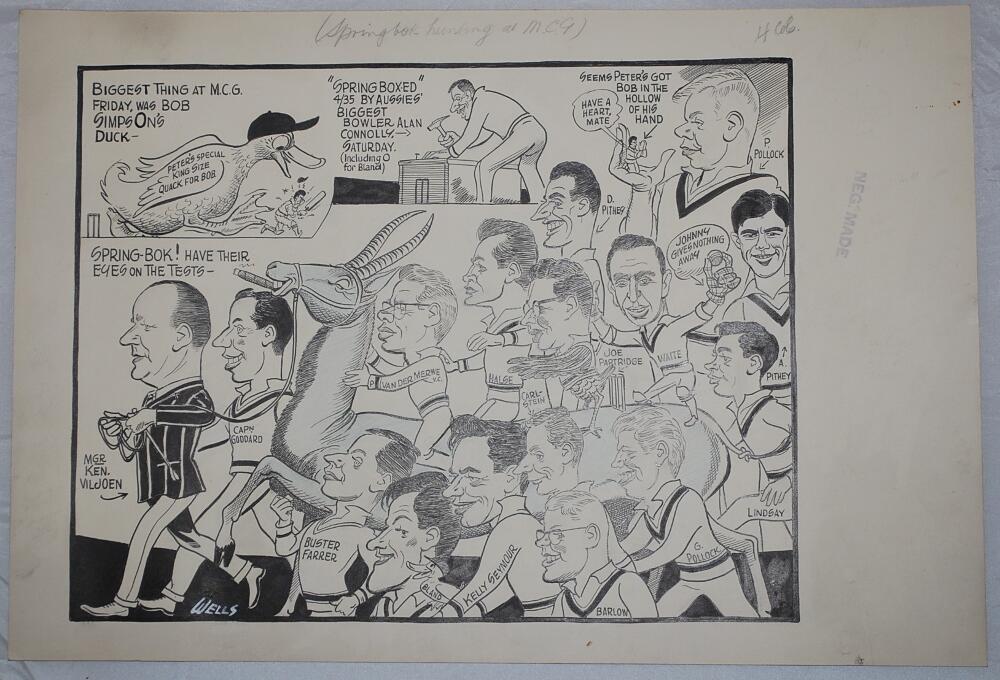 Schätzpreis: 70 £ - 100 £

ca. 91 $ - 130 $
Zuschlagspreis: n. a.
South Africa tour to Australia 1963/64. 'Springbok hunting at the M.C.G.'. Original pen and ink caricature/ cartoon artwork, highlighted with colour, for 'The Age' newspaper by artist Samuel Wells. The cartoon relates to the tour match, Australian XI v South Africa, played at Melbourne, 15th-19th November 1963. Top left is a caption, 'Biggest thing at M.C.G. Friday was Bob Simps0n's [sic] Duck' with a caricature of a large duck, 'Peter's [Pollock] special King Size Quack for Bob' seeing Simpson off the pitch. Also '"Spring Box-ed" 4/35 By Aussies biggest bowler Alan Connolly, Saturday (including 0 for Bland' with Connolly hammering a nail into a large wooden box on the pitch. The larger part of the cartoon is taken up with a Springbok smoking a cigar, being ridden and led by the South African manager, Ken Viljoen, and players, 'Spring-bok have their eyes on the Tests'. The cartoon, signed by Wells, measures 21"x14.25". G
South Africa won the match by three wickets. Top scorer in the match was Eddie Barlow, 112 in South Africa's second innings. Alan Connolly took 5-51 for Australia in South Africa's first innings
In aktuellen Auktionen suchen
Suchen Sie jetzt in bevorstehenden Auktionen europäischer Auktionshäuser nach Ihrem Schatz!
In vergangenen Auktionen suchen
Suchen Sie jetzt in unserem Archiv mit über 27 Millionen versteigerten Losen!
In aktuellen Auktionen suchen
Suchen Sie jetzt in unserer Künstlerdatenbank!
LotSearch ausprobieren
Testen Sie LotSearch und seine Premium-Features 7 Tage - ohne Kosten!
Auktionssuche und Bieten
Preisdatenbank und Analysen
Individuelle automatische Suchaufträge
Jetzt einen Suchauftrag anlegen!
Lassen Sie sich automatisch über neue Objekte in kommenden Auktionen benachrichtigen.
Suchauftrag anlegen