BOOK OF HOURS, use of Rome, in Latin and French, ILLUMINATED...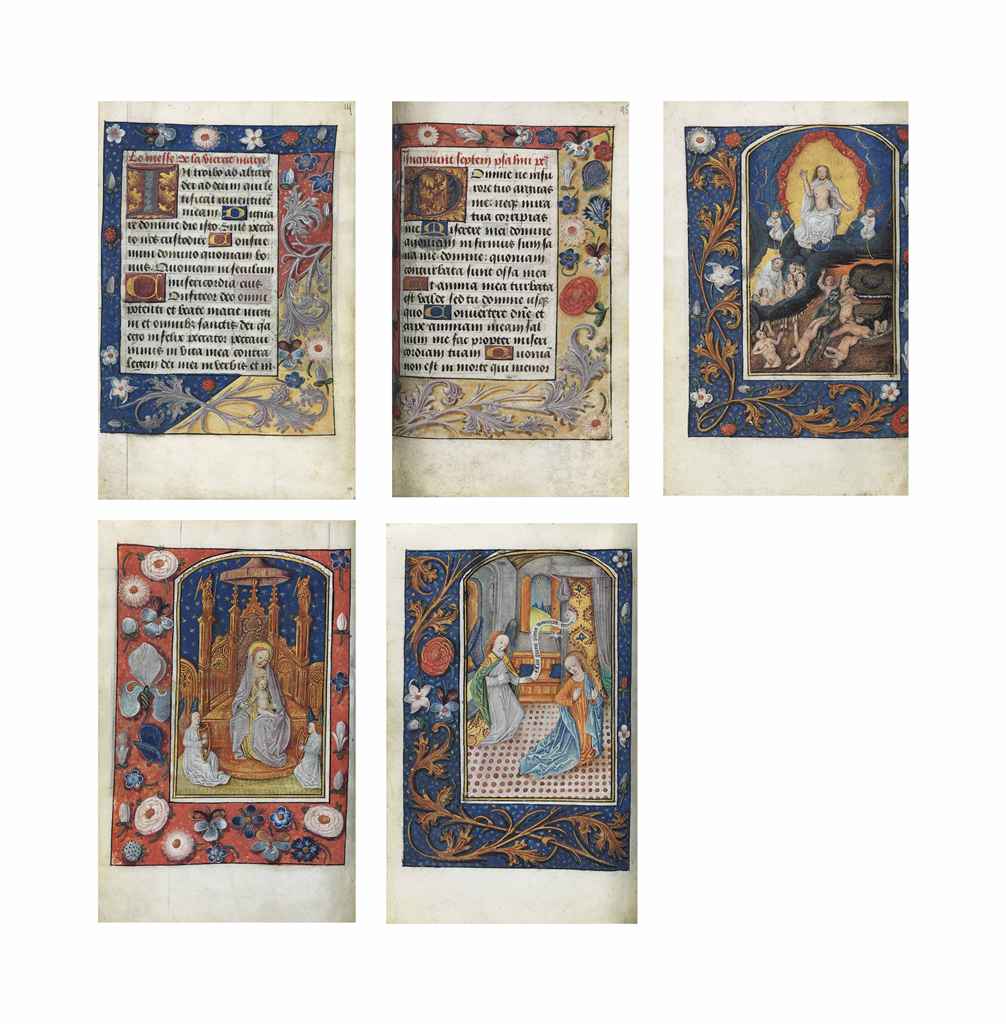 Schätzpreis: 50.000 $ - 80.000 $
Zuschlagspreis: 159.750 $
Los-Nr. 128, Aufrufe: 447
BOOK OF HOURS, use of Rome, in Latin and French, ILLUMINATED MANUSCRIPT ON VELLUM
BOOK OF HOURS, use of Rome, in Latin and French, ILLUMINATED MANUSCRIPT ON VELLUM [southern Netherlands, c.1490] 155 x 105mm, i (vellum) + 153 + ii (paper) leaves, foliated sporadically in pencil 1-153, mostly in 8s, calendar lacking or not supplied, otherwise complete; 16 lines written in a bâtarde hand in black ink between two verticals and 17 horizontals ruled in purple, justification: 82 x 55mm, text capitals touched yellow, rubrics in red, one and two-line initials in gold on grounds of blue or red, four-line initials with grey acanthus staves on red grounds with gold infills, EVERY WRITTEN PAGE WITH PANEL BORDERS of 'Ghent-Bruges' style, with flowers, fruits, butterflies, birds, insects, a monkey and ribbons on silver, gold, red, blue, orange, pink and green grounds, TWENTY-ONE SMALL GRISAILLE MINIATURES and THIRTEEN FULL-PAGE MINIATURES WITH BORDERS, the text pages facing the miniatures with similar full borders (slight smudging to top of image on f.1, occasional spotting or staining in margins, small losses from borders more common on gold grounds, lower margins of 7 Penitential Psalms thumbed). 18th-century calf gilt (boards detached), red cloth slip-case. PROVENANCE: Notes recording the deaths of relatives of Jacques Cocq in 1590 and 1617; 'Les Heures de ma GrandMere a elle legatées, par la Taie de sa GrandMere'. Impression of a pilgrim's badge on i; acquired from John Landwehr, 1976. CONTENT: Hours of the Cross ff. 1v-8; Hours of the Holy Spirit ff. 8v-13; Mass of the Virgin, Gospel extracts, Obsecro te , O intemerata and Stabat mater ff.13v-32v; Office of the Virgin, use of Rome, ff.33v-94: matins f.33v, lauds f.44v, prime f.55v, terce f.60v, sext f.64v, none f.68v, vespers f.72v, compline (including Suffrages) f.79v; Seven Penitential Psalms and Litany ff.94v-112; Office of the Dead, use of Rome, ff.112v-152v; added prayer to the Virgin, in French, f.153r-v. ILLUMINATION: The illuminator is closely connected to the Master of the Dresden Prayer Book, named from a Book of Hours in Dresden, who was one of the most original and daring of the great illuminators of the later 15th century in the Southern Netherlands. The arresting scene of the Last Judgment with its ambitious nudes being cast into a hell mouth or welcomed by St Peter into heaven, f.94v, is a close variant of that in a Book of Hours now in Berlin, attributed to the Master c. 1485 (Preussischer Kulturbesitz, Kupferstichkabinett 78.B.14, f.241v). Compositions like the Virgin enthroned, f.13v, or the Pentecost with the Virgin kneeling among the Apostles, f.8v, can also be paralleled in the Master's work, as can the bold, strong colors. The landscapes repeat his formula of using tall rocky hills or buildings in the midground to one side to contrast with a landscape receding to a blue distance on the other side. The figures with somewhat triangular faces and wide-set eyes are very reminiscent of the Dresden Master's distinctive types. The simplified facial features, however, and broader painting technique are similar to those in the historiated borders of the Berlin Hours by an assistant named by Bodo Brinkmann the Second Painter of the Berlin Hours. The Dresden Master worked for an extensive clientele in various centers so that his activity is difficult to localize with certainty. The Berlin Book of Hours has been attributed to Bruges, as has the Crohin-La Fontaine Hours (The J. Paul Getty Museum, Los Angeles, MS 23). Bruges may be the source of the present lot also: its Massacre of the Innocents, f.79v, adapts the pattern seen in the Crohin-La Fontaine Hours to include King Herod, whose presence was usual in Bruges depictions of the scene. The Crohin-La Fontaine Hours has borders similar in design and rich coloring to the present lot but deploys historiated initials for the Gospel extracts and suffrages instead of the small semi-grisaille miniatures seen here in greater number. This is an appealing and generously decorated book that reflects the inventio
In aktuellen Auktionen suchen
Suchen Sie jetzt in bevorstehenden Auktionen europäischer Auktionshäuser nach Ihrem Schatz!
In vergangenen Auktionen suchen
Suchen Sie jetzt in unserem Archiv mit über 27 Millionen versteigerten Losen!
In aktuellen Auktionen suchen
Suchen Sie jetzt in unserer Künstlerdatenbank!
LotSearch ausprobieren
Testen Sie LotSearch und seine Premium-Features 7 Tage - ohne Kosten!
Auktionssuche und Bieten
Preisdatenbank und Analysen
Individuelle automatische Suchaufträge
Jetzt einen Suchauftrag anlegen!
Lassen Sie sich automatisch über neue Objekte in kommenden Auktionen benachrichtigen.
Suchauftrag anlegen