BOOK OF HOURS, use of Rome, in Latin and French, illuminated...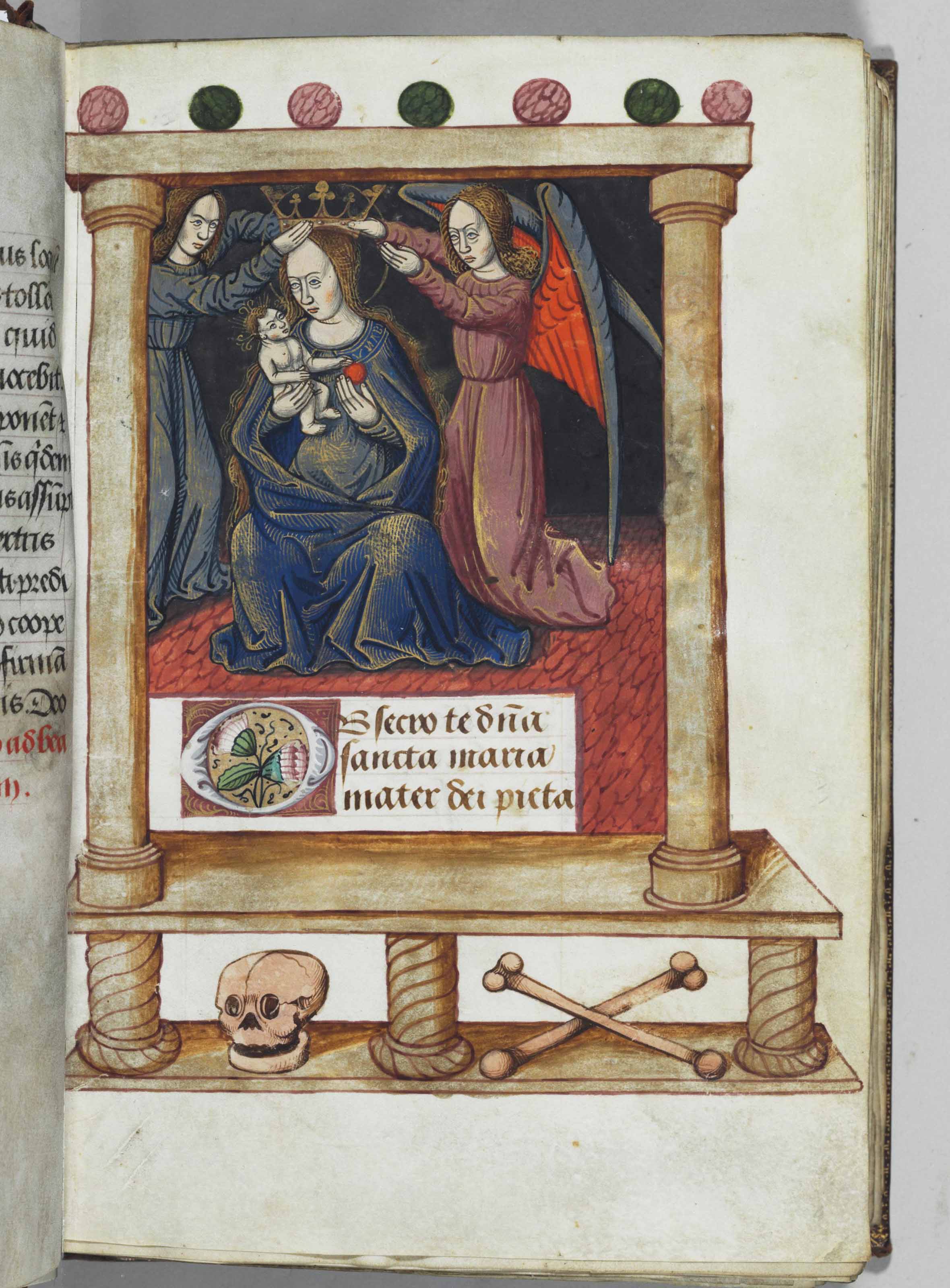 Schätzpreis: 30.000 $ - 50.000 $
Zuschlagspreis:  81.250 $
Los-Nr. 467, Aufrufe: 382
BOOK OF HOURS, use of Rome, in Latin and French, illuminated manuscript on vellum [eastern France, first quarter 16th century
BOOK OF HOURS, use of Rome, in Latin and French, illuminated manuscript on vellum [eastern France, first quarter 16th century] 210 x 145mm. 193 leaves, COMPLETE: 16, 27 (of 8, viii a cancelled blank), 38, 49 (i an inserted singleton), 59 (i an inserted singleton), 6-128, 139 (i an inserted singleton), 14-228, 236, 2411 (xi an inserted singleton). Ruled space: 91 x 66mm. 14 lines, illuminated initials and partial borders throughout. NINETEEN LARGE MINIATURES WITHIN FULL ARCHITECTURAL BORDERS, and FOURTEEN SMALLER MINIATURES with three-sided borders (some warping, cockling and marginal staining, occasional smudging or loss of pigment to the miniatures, e.g. to the Crucified Christ on f.97). Early 18th-century binding gilt-stamped with the arms of NICOLAS-JOSEPH FOUCAULT (lightly rubbed and scuffed, small split to spine). PROVENANCE: (1) The calendar is Parisian, but a possible clue to localization in eastern France is given by the saints in the suffrages: St Claude is venerated in Besançon and St Benigne in Dijon. (2) A German inscription on f.3v reads 'Ober [?]amy fur Ewigheit'. (3) Manuscript records of births and marriages of the de Blaigny and de Colligny families, first half 17th century. (4) FOUCAULT, NICOLAS-JOSEPH (1643-1720), royal administrator in the reign of Louis XIV: his arms stamped on the binding. Foucault collected a significant library which was partly dispersed before his death. (5) EMILE OBERKAMPF DE DABRUN (1834-1914): this manuscript described as being in his possession in Livre de Raison de la famille de Fontainemaire, 1740-1774 , 1889. CONTENT: Blank f.1; Calendar ff.2-13v; Gospel Extracts ff.14-22v; Obsecro te and O Intemerata ff.23-31; Office of the Virgin, use of Rome, ff.32-96v; Hours of the Cross ff.97-100v; Hours of the Holy Spirit ff.101-104v; Seven Penitential Psalms and Litany ff.105-127v; Office of the Dead, use of Rome, ff.128-183v; Prayer to the holy Trinity f.184-184v; Suffrages ff.185-191v. ILLUMINATION: The distinctive style of illumination of this Hours draws heavily on the printed tradition and reveals a strong regional flavor. There are compositional parallels between certain scenes – the Adoration of the Magi and the Presentation in the Temple, for example – and a series of metalcuts by the workshop of Jean Pichore that illustrates a 1506 printed Book of Hours published by Simon Vostre in Paris (Tenschert, Horae B.M.V. , I, no 43). The artist relies on bold and angular lines; his figures are somewhat static – but there is a compensating energetic use of color (especially gold) and an engaging use of perspective, with the oversized figures filling the frames. Particularly interesting – and unusual – are the smaller miniatures illustrating the life of Job opening the nine lections in the Office of the Dead. A similar cycle is found in a Tours Book of Hours illuminated by the workshop of Jean Bourdichon (Bibl. Mazarine ms.507). The fact that the artist likely used a Parisian printed hours as a template makes localization tricky, but the presence of St Benigne in the suffrages – a saint almost exclusively venerated in and around Dijon – would suggest a Burgundian connection. The subjects of the miniatures are as follows: St John on Patmos f.14; St Luke f.16v; St Matthew f.19; St Mark f.21v; Virgin and Child ff.23; Pietà f.28; Annunciation f.32; Visitation f.45v; Nativity f.59v; Annunciation to the Shepherds f.66; Adoration of the Magi f.72; Presentation in the Temple f.77v; Flight into Egypt f.83; Coronation of the Virgin f.92; Crucifixion f.97; Pentecost f.101; David with his harp f.105; Job on his dung heap f.128; Trinity f.184. The smaller miniatures are on ff.144v, 145v, 146v, 154, 155, 156, 164, 165v, 166v, 185, 185v, 187, 188v, 191.
In aktuellen Auktionen suchen
Suchen Sie jetzt in bevorstehenden Auktionen europäischer Auktionshäuser nach Ihrem Schatz!
In vergangenen Auktionen suchen
Suchen Sie jetzt in unserem Archiv mit über 27 Millionen versteigerten Losen!
In aktuellen Auktionen suchen
Suchen Sie jetzt in unserer Künstlerdatenbank!
LotSearch ausprobieren
Testen Sie LotSearch und seine Premium-Features 7 Tage - ohne Kosten!
Auktionssuche und Bieten
Preisdatenbank und Analysen
Individuelle automatische Suchaufträge
Jetzt einen Suchauftrag anlegen!
Lassen Sie sich automatisch über neue Objekte in kommenden Auktionen benachrichtigen.
Suchauftrag anlegen