BOOK OF HOURS, use of Sarum , in Latin, illuminated manuscri...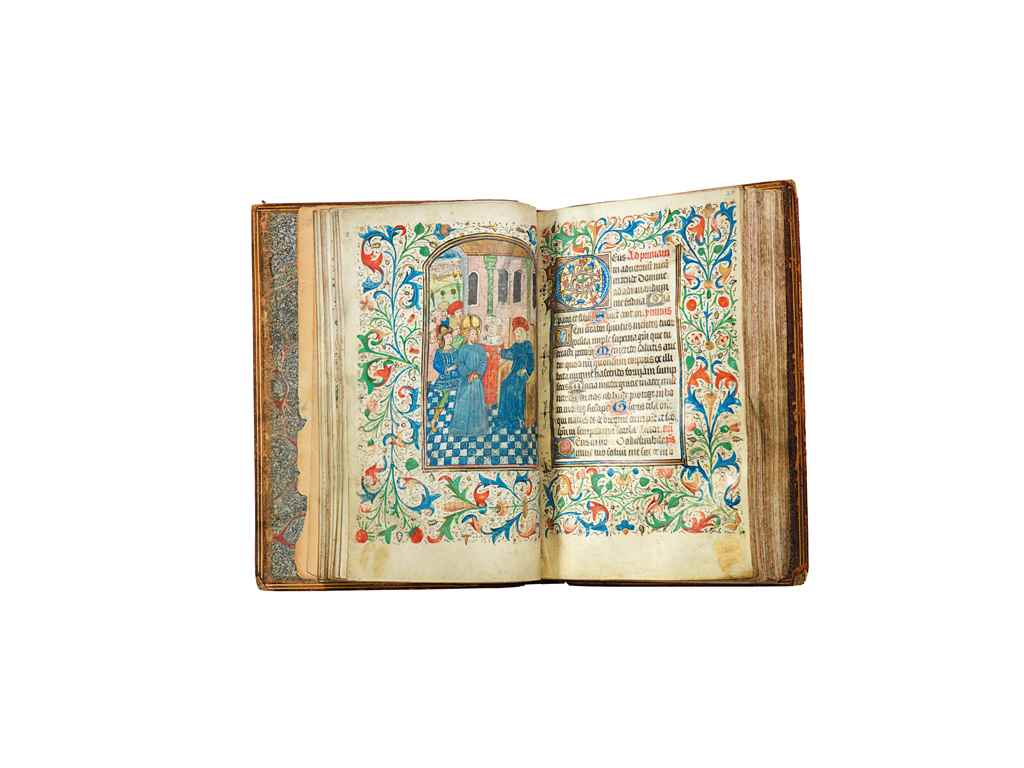 Schätzpreis: 2.000 £ - 3.000 £

ca. 2.996 $ - 4.495 $
Zuschlagspreis: 7.500 £
ca. 11.238 $
BOOK OF HOURS, use of Sarum , in Latin, illuminated manuscript on vellum [Bruges, 1450s].
BOOK OF HOURS, use of Sarum , in Latin, illuminated manuscript on vellum [Bruges, 1450s]. 185 x 120 mm. ii paper + 115 + ii paper leaves, misbound, 18 lines written in black ink in a gothic bookhand between two verticals and 19 horizontals ruled in red, ruled space: 102 x 68 mm, fourteen large initials on gold grounds with full borders, three historiated initials with partial borders, FIVE FULL-PAGE MINIATURES with full borders, (missing leaves, see Content, probably missing some inserted leaves with miniatures, vellum patch where historiated initial (?) excised f.70v with loss of text on recto, cut through border f.31, large miniatures badly worn except for ff. 19v and 30v, some text decoration rubbed). 19th-century brown calf gilt (lightly rubbed). PROVENANCE : (1) The illumination shows that the book was produced in Bruges and its content was aimed at the English export market. The use is Sarum, secundum usum anglie (f.7); English saints are named in the calendar, e.g. Milburga (23 February) and Fremund (11 May), and invoked in the Litany, e.g. Edward, Oswald and Osyth. The cancelling of the translation of St Thomas Becket (7 July) and of his main feast (29 December) demonstrates that the book was in England in 1538 when his cult was suppressed by Henry VIII. (2) Gift of JOSEPH W. DREXEL , 1889, to the Metropolitan Museum of Art. CONTENT : Calendar with English saints ff.1-6v; Office of the Virgin, use of Sarum, interspersed with the Hours of the Passion (lacking end of vespers and compline) ff.7-29: matins f.7, lauds (lacking end) f.14, short memorials (probably lacking at beginning) to Sts Nicholas, Mary Magdalene, Katherine, Margaret (lacking end) f.18; matins of the Hours of the Passion (lacking beginning) written in a different ink on verso of miniature f.19; prime f.20, terce f.23, sext f.25, none f.27, vespers (lacking end) f.29; 15 Oes of St Bridget (lacking end) ff.31, 63-66v; Memorials to Sts John the Baptist, George, Christopher, Anne (lacking at least prayer to Barbara), ff.32-36v, to The Trinity and Mary Magdalene ff.68-69; Penitential Psalms, Gradual Psalms and Litany ff.46-47v, 50-53v, 48-49v, 54-61v, 82; Passion Psalter ff.105, 71-74; Psalter of St Jerome ff.74v, 106-115v; Prayers on the wounds of Christ (lacking opening) f.70; Prayer to the Virgin and John the Evangelist ff.70v, 77r and v,; prayer attributed to Bede on the Last Words from the Cross ff.77v-81v; Office of the Dead, use of Sarum, ff.83-89v, 75, 90-101v; Commendation of Souls ff.102-103v, 38-45v, 104. The presence among the martyrs in the litany of voallepaxe , in the vocative, links this book to a group of Books of Hours produced in the Southern Netherlands, probably Bruges, ultimately dependent on the same defective Sarum model. The name appears as Wallepaxus in an earlier Bruges Hours (Cambridge, Fitzwilliam Museum, ms 52); as Wallepaxtus (Oxford Bodleian Library, mss Liturg. 299 and Laud Misc. 204; Baltimore, Walters Art Gallery, W266; University of Illinois, Urbana-Champaign, ms 0140), as Vuallepaxtus (Baltimore, Walters Art Gallery, W202); as Wallexaxdus (Bodleian Library, ms Laud. Lat. 15). ILLUMINATION : The condition of the miniatures makes them difficult to place but the ink drawn features and sense of pattern, evident in the stylized landscapes as well as the 'gold scroll' and diapered backgrounds, suggest an origin in Bruges, the centre of the export trade to England. The linear emphasis of the Bruges 'Gold Scrolls' group of illuminators was reinforced by the style of the rapidly successful Willem Vrelant who had settled there by 1454. The book seems to have had a complex history: a change of plan during the writing perhaps necessitated completing the text of Matins of the Hours of the Cross in a different ink on a miniature recto; all other miniature rectos were, as usual, left blank. Although on inserted single leaves, the miniatures were given borders to match the facing text pages to present a pleasingly unified opening.
In aktuellen Auktionen suchen
Suchen Sie jetzt in bevorstehenden Auktionen europäischer Auktionshäuser nach Ihrem Schatz!
In vergangenen Auktionen suchen
Suchen Sie jetzt in unserem Archiv mit über 27 Millionen versteigerten Losen!
In aktuellen Auktionen suchen
Suchen Sie jetzt in unserer Künstlerdatenbank!
LotSearch ausprobieren
Testen Sie LotSearch und seine Premium-Features 7 Tage - ohne Kosten!
Auktionssuche und Bieten
Preisdatenbank und Analysen
Individuelle automatische Suchaufträge
Jetzt einen Suchauftrag anlegen!
Lassen Sie sich automatisch über neue Objekte in kommenden Auktionen benachrichtigen.
Suchauftrag anlegen