Andy Warhol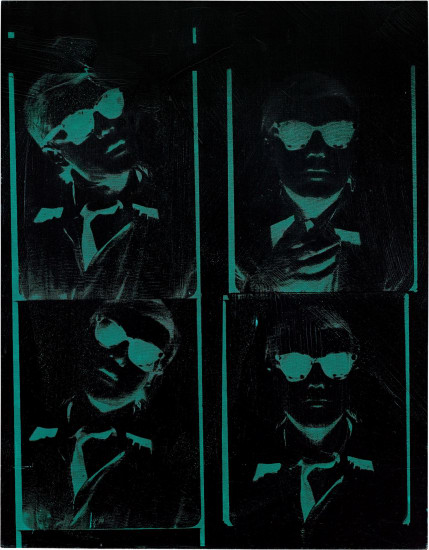 Schätzpreis: 4.000.000 $ - 6.000.000 $
Zuschlagspreis:  n. a.
Andy Warhol Four Self-Portraits-Blue Green (Reversal Series) 1979 acrylic, silkscreen inks on canvas 47 1/2 x 35 3/4 in. (120 x 91 cm.) Signed and dated "Andy Warhol 79" along the overlap; further titled "4 self portraits (reversal series) blue green" along the overlap.
Provenance Galerie Bruno Bischofberger, Zurich Private Collection Exhibited Hamburg, Deichtorhallen, Andy Warhol Retrospektiv, July 2, 1993 – September 19, 1993, then traveled to Stuttgart, Württembergischer Kunstverein (November 13, 1993 - February 2, 1994) Seoul, The Ho-Am Art Museum, Andy Warhol Pop Art's Superstar, August 20 – September 10, 1994 Lucerne, Kunstmuseum Luzern, Andy Warhol Paintings 1960-1986, July 9 – September 24, 1995 Rathaus der Stadt Ingelheim, Boehringer Ingelheim, Andy Warhol Me, Myself and I, May 1 – September 7, 2006 Literature Z. Felix, T. Osterwold, K. Silver, Andy Warhol Retrospektiv, exh. cat., Stuttgart, Württembergischer Kunstverein, 1994, p. 127 (illustrated) P. Chung-Kee, J. Yau, Andy Warhol Pop Art's Superstar, exh. cat., The Ho-Am Art Museum, Seoul, 1994, p. 69 (illustrated) Andy Warhol Paintings 1960-1986, exh. cat., Kunstmuseum Luzern, Lucerne, 1995, p. 145, no. 69 (illustrated) P. Rochard, Andy Warhol Me, Myself and I, exh. cat., Boehringer Ingelheim, Rathaus der Stadt Ingelheim, 2006, p. 31, no 2 (illustrated) T. Kellein, The 80s Revisited, Cologne: DuMont Buchverlag, 2010, p. 397 (illustrated) B. Bischofberger, V. Gamper, K. Hartley, W. Lamprecht, Warhol - Basquiat, exh. cat., Vienna, Bank Austria Kunstforum, 2013, p. 23 (illustrated) Catalogue Essay "It's not what you are that counts, it's what they think you are." ANDY WARHOL 1967 Among the most important visual innovators of the twentieth century, Andy Warhol manufactured a contemporary lexicon of American celebrity and commercialism that endures to this day. Transforming the quotidian Campbell's soup can into an artistic spectacle, the evolution of Warhol's oeuvre from appropriated advertisements and celebrity portraits to superficial yet cleverly enigmatic self-portraits intimates the development of Warhol's own self-awareness and status as a cultural icon. Reflecting Warhol's uneasy relationship with his public persona, Four Blue-Green Self-Portraits (Reversal Series), 1979 is reclamation and renewal of his early self-portraits, and a unique insight into Warhol's growing recognition of his own fame. Though Warhol himself famously noted, "My idea of a good picture is one that's in focus and of a famous person," he could scarcely have imagined in 1963, the year of his first self-portrait, the prominence his work and persona would eventually secure in modern American consciousness. Now immortalized as the king of Pop Art and sixties cool, during his lifetime, Warhol evaded his own image, often choosing to disguise his features with unusual wigs and heavy make-up. Rather than framing himself as one of the glamorous stars he so enigmatically portrayed, Warhol fiercely protected his private life, projecting the Warhol brand instead through his work: "If you want to know about Andy Warhol just look at the surface of my paintings and films and me, and there I am. There's nothing behind it." (Gretchen Berg "Nothing to Lose: An Interview with Andy Warhol " in Andy Warhol Film Factory, ed. Michael O'Pray, London, 1989, p. 56) The Self-Portrait series, then, represented a marked departure from Warhol's branded vocabulary; in allowing himself to become the subject, Warhol's art of mass consumption took on an individuality, transcending the barriers of public and private persona. Following his completion of the Marilyn "flavors" series in 1962, Warhol expanded his practice to include portraiture commissions of the most famous and influential American socialites. It was, in fact, the subject of one of these many commissions who initially requested Warhol's self-portrait, at the encouragement of the renowned art dealer Ivan Karp, who first told Andy, "You know, people want to see you. Your looks are responsible for a certain part of your fame - they feed the imagination." (I. Karp, as cited in C .Ratcliff, Andy Warhol New York, 1983, p.52) For his own self-portrait, Warhol returned to the photo booth negatives upon which he based his
In aktuellen Auktionen suchen
Suchen Sie jetzt in bevorstehenden Auktionen europäischer Auktionshäuser nach Ihrem Schatz!
In vergangenen Auktionen suchen
Suchen Sie jetzt in unserem Archiv mit über 27 Millionen versteigerten Losen!
In aktuellen Auktionen suchen
Suchen Sie jetzt in unserer Künstlerdatenbank!
LotSearch ausprobieren
Testen Sie LotSearch und seine Premium-Features 7 Tage - ohne Kosten!
Auktionssuche und Bieten
Preisdatenbank und Analysen
Individuelle automatische Suchaufträge
Jetzt einen Suchauftrag anlegen!
Lassen Sie sich automatisch über neue Objekte in kommenden Auktionen benachrichtigen.
Suchauftrag anlegen