Rufino Tamayo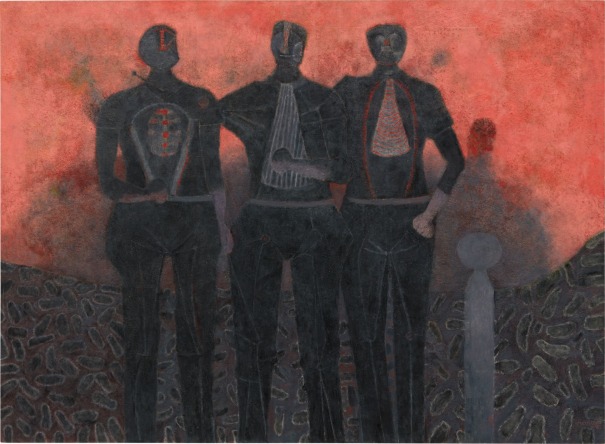 Schätzpreis: 1.200.000 $ - 1.800.000 $
Zuschlagspreis:  n. a.
Rufino Tamayo Tres amigos signed and dated "Tamayo O87" lower right; further titled "Tres Amigos" on the reverse oil and sand on canvas 43 1/4 x 59 7/8 in. (109.9 x 152.1 cm) Painted in 1987.
Provenance Marlborough Gallery, New York Acquired from the above by the present owner Exhibited Madrid, Centro de Arte Reina Sofía, Rufino Tamayo Pinturas, June 19 - October 3, 1988 New York, Marlborough Gallery, Latin American Art, November 18 - December 20, 1988 Moscow, Exhibition Hall of the Association of Painters, Rufino Tamayo Pintura Dibujo y Gráfica, 1925-1989 (August 29 - October 1, 1989); then travelled to Oslo, Edvar Much Museet (October 26, 1989 - January 21, 1990); Leningrad, Hermitage Museum (February 15 - March 15, 1990) New York, Marlborough Gallery, Rufino Tamayo Recent Paintings, 1980-1990, September 26 - October 16, 1990 Berlin, Staatliche Kunstalle, Rufino Tamayo 1990, May 2 - June 10, 1990 Literature Rufino Tamayo Pinturas, exh. cat., Centro de Arte Reina Sofía, Madrid, 1988, no. 78, p. 222 (illustrated) Rufino Tamayo 1990, exh. cat., Staatchliche Kunsthalle, Berlin, 1990, no. 141, p. 250 (illustrated) Rufino Tamayo Recent Paintings, 1980-1990, exh. cat., Marlborough Gallery, New York, 1990, no. 16, p. 36 (illustrated) Octavio Paz and Jacque Lassaigne, ed., Rufino Tamayo Barcelona, 1994, no. 271, p. 294 (illustrated) Xiang Xiaosheng, ed., Rufino Tamayo Jiangxi, 1995, p. 111 (illustrated) We are grateful to Juan Carlos Pereda for his kind assistance in cataloguing this work. Catalogue Essay For Rufino Tamayo friendship was a value of great importance. He cultivated many friendships throughout the different stages of his lengthy life, yet his lifelong Mexican friendships stand out, among which are those of the composer Carlos Chávez, the cultural promoter Fernando Gamboa and the poet Octavio Paz. In the painting Tres Amigos, Tamayo demonstrates this part of his character, that of building human relationships with emotions and attachments such as friendship—the universal sentiment of brotherhood that was so meaningful to the artist—and his enormous capacity to turn it into an aesthetic proposition by means of forms. Additionally, this work evokes the formal qualities of Pre-Hispanic sculpture, popular toy shops, Picasso's artwork and even certain cybernetic elements. Tres amigos is a consummate painting that evinces the wisdom Tamayo accumulated during a lengthy journey of over seventy years of rigorous, yet jubilant exercises in the art of painting, by which the artist achieved a providential synthesis of many different ideas and periods. The characters in this work are seemingly similar in appearance, yet nonetheless possess characteristics that differentiate and individualize them. They share a cordial proximity, and two of them even embrace each other fraternally. Tres amigos is not the only painting in Tamayo's extensive inventory of works that references this feeling; during the decade of the eighties—the last period that the artist lived to the fullest—there are several canvases with this specific subject matter and others that allude directly to this sentiment brotherhood in solidarity. In Tres amigos, the figures, which are painted in full length, possess the essential characteristics needed to develop this human gesture. They are similar but at the same time distinct—qualities that are necessary to create that emotional relationship that contains but also differentiates—two conditions necessary to create the dialogue and exchange of ideas in which friendship thrives. In this canvas, the unity that is created among the three characters through the convergence of affinities and virtues is clear, in which each one of them shows his similarities, but maintains, develops and expresses his own identity. Tamayo alludes to this through elements that express the amiability of each figure, each with a singular face yet related through the use of Pre-Hispanic masks, granting each a mysterious identity. The lower part of the composition, where the feet of the three friends rest, is a base of what looks like solid rock, as if suggesting the characteristic of trust that friendship must possess. That huge
Informationen zur Auktion

Auktionshaus:
Phillips
Titel:
Latin America
Auktionsdatum:
24.05.2017
Adresse:
Phillips
New York
In aktuellen Auktionen suchen
Suchen Sie jetzt in bevorstehenden Auktionen europäischer Auktionshäuser nach Ihrem Schatz!
In vergangenen Auktionen suchen
Suchen Sie jetzt in unserem Archiv mit über 27 Millionen versteigerten Losen!
In aktuellen Auktionen suchen
Suchen Sie jetzt in unserer Künstlerdatenbank!
LotSearch ausprobieren
Testen Sie LotSearch und seine Premium-Features 7 Tage - ohne Kosten!
Auktionssuche und Bieten
Preisdatenbank und Analysen
Individuelle automatische Suchaufträge
Jetzt einen Suchauftrag anlegen!
Lassen Sie sich automatisch über neue Objekte in kommenden Auktionen benachrichtigen.
Suchauftrag anlegen