ALISTAIR MACLEAN. 'The Guns of Navarone,' 1957; 'South by Java Head,' 1958; 'The Last Frontier,'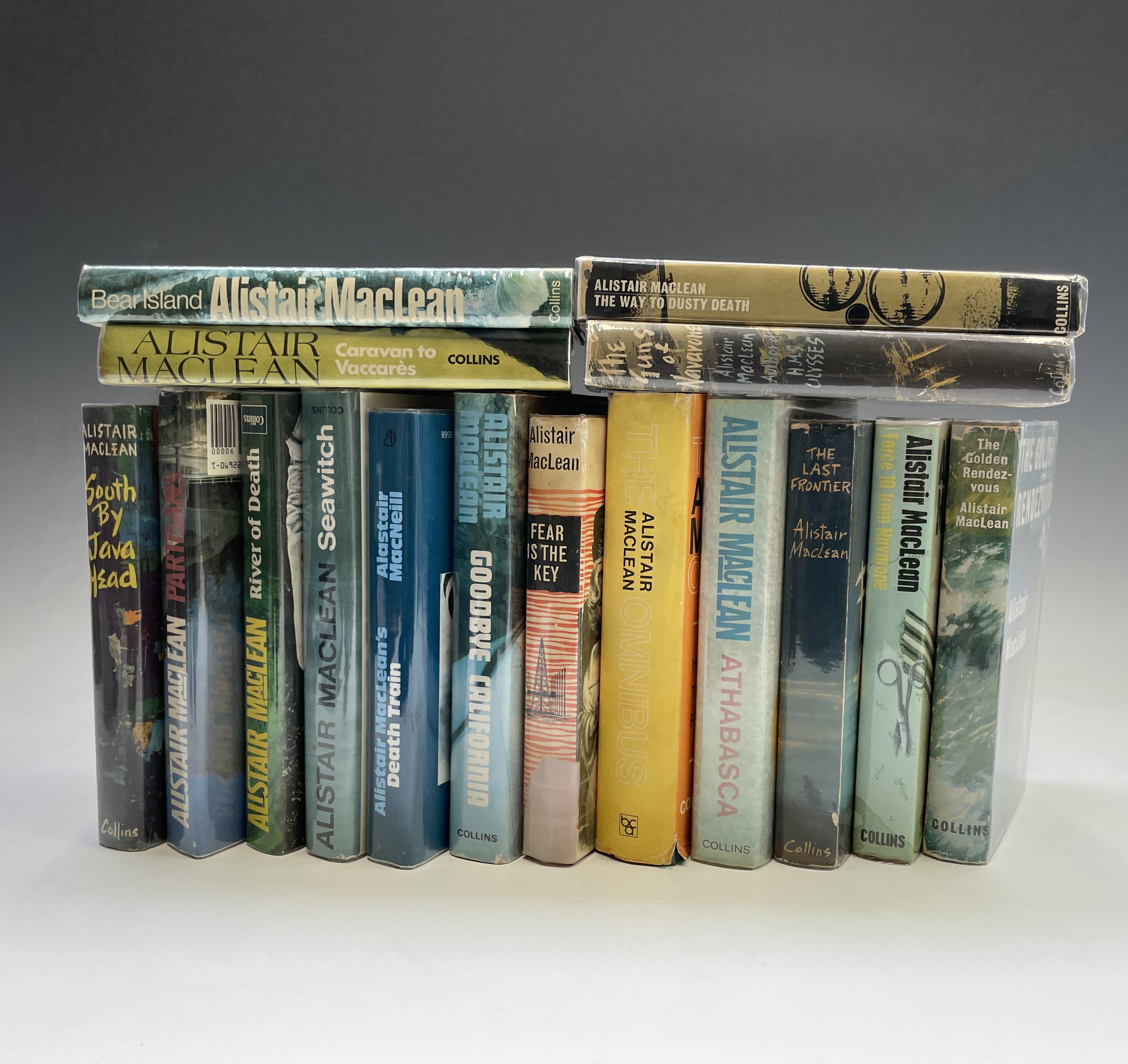 Schätzpreis: 30 £ - 60 £

ca. 40 $ - 81 $
Zuschlagspreis:  n. a.
ALISTAIR MACLEAN. 'The Guns of Navarone,' 1957; 'South by Java Head,' 1958; 'The Last Frontier,' 1959; 'Fear is the Key,' 1961; 'The Golden Rendezvous,' 1962; 'Force 10 from Navarone,' 1968; 'Caravan to Vaccares,' 1970; 'Bear Island,' 1971; 'The Way to Dusty Death,' 1973; 'Goodbye California,' 1977; 'Seawitch,' 1977; 'Athabasca,' 1980; 'River of Death,' 1981; 'Partisans,' 1982; All first editions, original boards and dust jackets, some chips and rubbing to spines, some foxing and toning, all good to very good; plus one other. (16) Dr Rob Senior arrived in West Cornwall from his native Yorkshire in the early 1960's where he took up his vocation as a young GP and served the local community for 40 years. At the age of 12, Rob bought a book on Cacti. It was his first book, and established the twin passions of his life, books and plants. His library is a fabulous, eclectic collection of books, largely on plants and horticulture, but also nature and many other subjects, all brought together by a man with a curious and inquisitive mind. Condition: Postage: No estimate Please note that the postage quote is an estimate of the amount that we would charge to send the item to a buyer in the UK. If you are outside of the UK, or there is no estimate shown here, please contact [email protected] for a bespoke quote.
In aktuellen Auktionen suchen
Suchen Sie jetzt in bevorstehenden Auktionen europäischer Auktionshäuser nach Ihrem Schatz!
In vergangenen Auktionen suchen
Suchen Sie jetzt in unserem Archiv mit über 27 Millionen versteigerten Losen!
In aktuellen Auktionen suchen
Suchen Sie jetzt in unserer Künstlerdatenbank!
LotSearch ausprobieren
Testen Sie LotSearch und seine Premium-Features 7 Tage - ohne Kosten!
Auktionssuche und Bieten
Preisdatenbank und Analysen
Individuelle automatische Suchaufträge
Jetzt einen Suchauftrag anlegen!
Lassen Sie sich automatisch über neue Objekte in kommenden Auktionen benachrichtigen.
Suchauftrag anlegen