A group of assorted early 19th century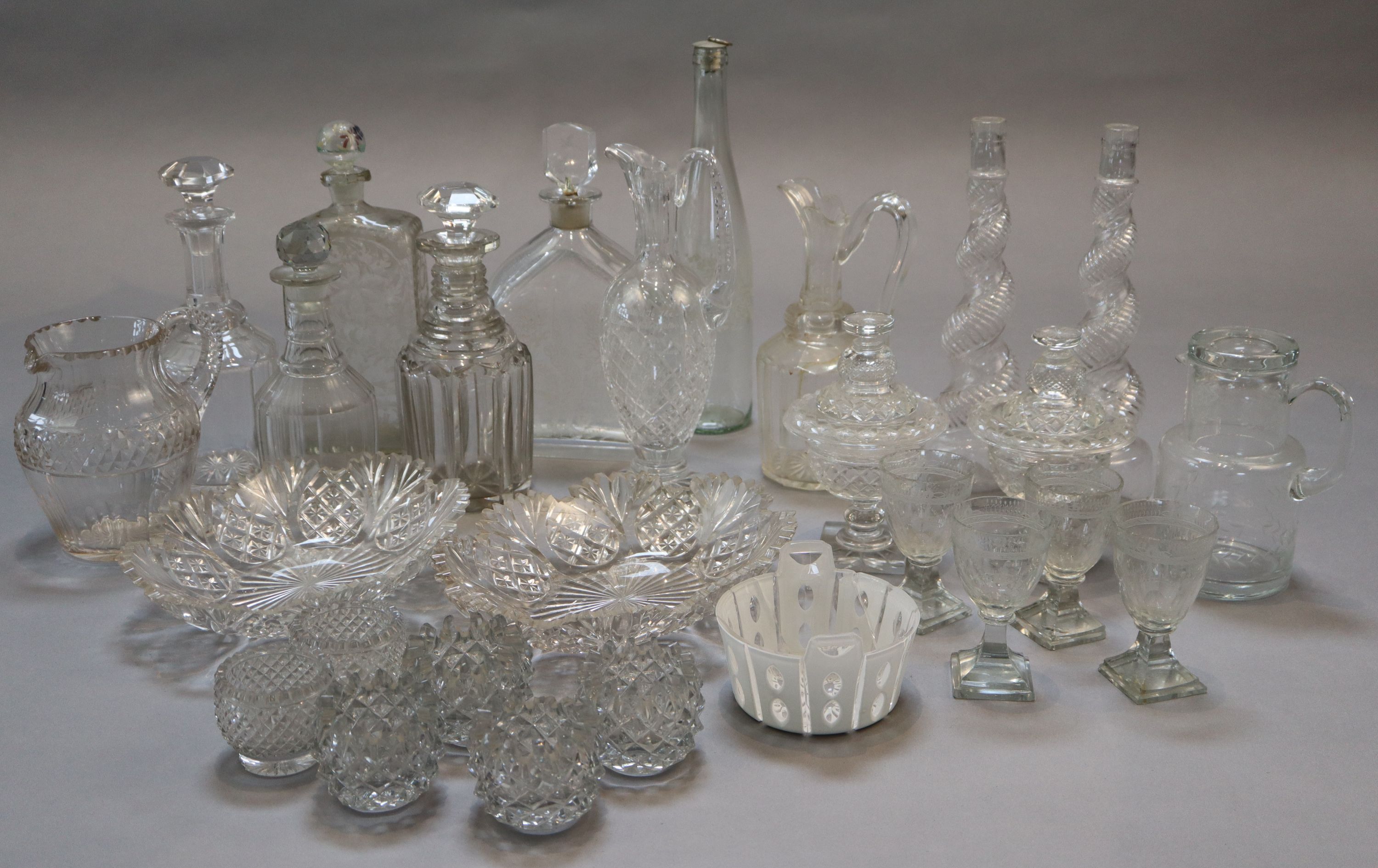 Schätzpreis: 100 £ - 150 £

ca. 141 $ - 212 $
Zuschlagspreis:  n. a.
A group of assorted early 19th century and later glassware, including a pair of early Victorian heavy cut glass dishes, 28cm, a pair of honey jars, 18cm and a Dutch engraved decanter, 24cm Estimate £100-150 - pair of heavy cut dishes - slight difference in weight, minor chipping around the edges - Dutch decanter with an associated enamelled stopper - good - honey or preserve jars - both with chipping to the corners of the square feet, one with chip to the underside of the knop - white overlaid glass butter dish - cracked and re-stuck - decanter etched with a sportsman and gundogs is signed Zaglo and Orrefors, height 28cm - stopper broken and rivetted - two moulded glass spiral fluted decanters, 30cm - good - Victorian polygonal glass mallet shaped decanter with associated hexagonal stopper, overall 26.5cm - good - white overlaid etched glass bottle with stopper, 33cm - good - triple collar decanter with facetted stopper, 23cm - rim chip, stopper possibly associated - polygonal step collar decanter with octagonal stopper, 25cm - stopper and decanter with numerous chips - polygonal claret jug, 24cm - broken and glued - ovular clarer jug, 28cm - good but lacks stopper - water jug with tumbler lid, 18cm - crack at base of handle - pineapple cut jug, 17cm - good - set of four early 19th century glasses with etched and cut swags, 11.5cm - all with rim and foot chipping - set of four heavy cut glass salts - minor chipping - pair of cut glass salts - chipping especially around feet
Informationen zur Auktion

Auktionshaus:
Gorringes
Titel:
Auction 24.05.2021
Auktionsdatum:
24.05.2021
Adresse:
Gorringes
15 North Street
BN7 2PD Lewes, East Sussex
Großbritannien und Nordirland


[email protected]

·

+44 (0)1273 472503

·

+44 (0)1273 479559
In aktuellen Auktionen suchen
Suchen Sie jetzt in bevorstehenden Auktionen europäischer Auktionshäuser nach Ihrem Schatz!
In vergangenen Auktionen suchen
Suchen Sie jetzt in unserem Archiv mit über 27 Millionen versteigerten Losen!
In aktuellen Auktionen suchen
Suchen Sie jetzt in unserer Künstlerdatenbank!
LotSearch ausprobieren
Testen Sie LotSearch und seine Premium-Features 7 Tage - ohne Kosten!
Auktionssuche und Bieten
Preisdatenbank und Analysen
Individuelle automatische Suchaufträge
Jetzt einen Suchauftrag anlegen!
Lassen Sie sich automatisch über neue Objekte in kommenden Auktionen benachrichtigen.
Suchauftrag anlegen