'The London Evening Post'. Early and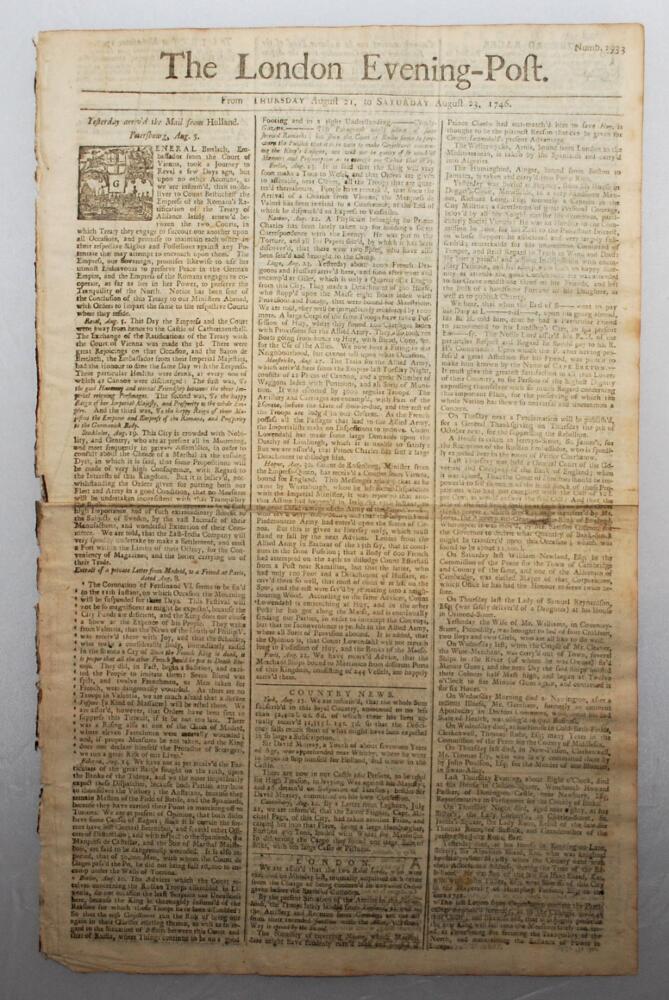 Schätzpreis: 70 £ - 100 £

ca. 100 $ - 143 $
Zuschlagspreis: n. a.
'The London Evening Post'. Early and original four page newspaper for 21st to 23rd August 1746, printed by J. Meres of Ludgate. Page four column 2 features a five line announcement of a match. 'On Monday next Eleven Gentlemen of Edmonton, and several Parishes in the neighbouring Part of the County of Middlesex, play a Match at Cricket in the Artillery-Ground, against Eleven Gentlemen of London...'. The newspaper has been tightly trimmed to top edge, minor damage to centre fold, otherwise in good condition for its age. A rare item - cricket
The result of the match is not known. According to Maun, both Waghorn and Ashley-Cooper used this newspaper source
In aktuellen Auktionen suchen
Suchen Sie jetzt in bevorstehenden Auktionen europäischer Auktionshäuser nach Ihrem Schatz!
In vergangenen Auktionen suchen
Suchen Sie jetzt in unserem Archiv mit über 27 Millionen versteigerten Losen!
In aktuellen Auktionen suchen
Suchen Sie jetzt in unserer Künstlerdatenbank!
LotSearch ausprobieren
Testen Sie LotSearch und seine Premium-Features 7 Tage - ohne Kosten!
Auktionssuche und Bieten
Preisdatenbank und Analysen
Individuelle automatische Suchaufträge
Jetzt einen Suchauftrag anlegen!
Lassen Sie sich automatisch über neue Objekte in kommenden Auktionen benachrichtigen.
Suchauftrag anlegen