Dan Flavin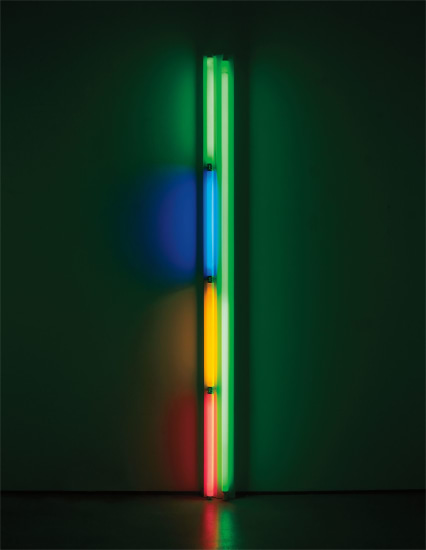 Schätzpreis: 200.000 $ - 300.000 $
Zuschlagspreis: n. a.
Dan Flavin Untitled (to Ksenija) 1985 pink, green, blue, yellow fluorescent light 95 7/8 x 7 x 5 in. (243.8 x 17.8 x 12.7 cm.) This work is number 2 from an edition of 5 and is accompanied by a certificate of authenticity signed by the artist.
Provenance Leo Castelli Gallery, New York Private Collection Sotheby's, New York, Contemporary Art Part II, May 16, 2001, lot 147 Acquired at the above sale by the present owner Exhibited New York, Leo Castelli Gallery, Ksenija's Frieze from Dan Flavin, May 18 – June 15, 1985 (another example exhibited) Chicago, Donald Young Gallery, Dan Flavin: Lighting, Drawing, Printing, December 18, 1987 - January 16, 1988 New York, Leo Castelli Gallery, Dan Flavin: Selected Works 1969 – 1990, October 8 – November 12, 1994 (another example exhibited) New York, Leo Castelli Gallery, Dan Flavin, March 1 – March 22, 1997 (another example exhibited) New York, Leo Castelli Gallery, Dan Flavin: Some drawings and installations of fluorescent light, February 7 – March 14, 1998 (another example exhibited) New York, Andrea Rosen Gallery, Carl Andre, Dan Flavin, Donald Judd, Robert Mangold, Robert Ryman, June 19 - August 21, 2009 (another example exhibited) Paris, L&M Arts in collaboration with Galerie Perrotin, Dan Flavin: An Installation, January 14 - March 3, 2012 (another example exhibited) Madrid, Galería Elvira González, Dan Flavin / Donald Judd, September 10 - October 26, 2013 (another example exhibited) Literature M. Govan, T. Bell, Dan Flavin: The Complete Lights, 1961-1996, New York: Dia Art Foundation in association with Yale University Press, 2004, no. 452, p. 354 (illustrated) Catalogue Essay "One might not think of light as a matter of fact, but I do. And it is, as I said, as plain and open and direct an art as you will ever find." DAN FLAVIN, 1987 Dan Flavin's oeuvre of radical sculptures of light holistically embodies the profound reduction of the processes of his art, peeled away until little but the objective elements of formal framework remain. Perpetually operating and communicating within the spaces in which they are installed, Flavin's works test the perceptual strength of their audience. Rejecting an object's relationship to natural light in the manner of Impressionism, Flavin creates art using light itself, functioning both as actor and reactor. When perceived in terms of this methodology the artist's venture is comparable to that of the work of Abstract Expressionism, particularly Mark Rothko's color fields, but Flavin's creations are nothing short of authentic three-dimensional enunciations of color and of light, transcendent and concrete all at once. In the present lot Untitled (For Ksenija), the industrial standard lamps are metamorphic in their delicate glow, radiating a cool, pure yet striking light that is largely detached from subtle realities of natural light. As viewers' eyes follow the colored fluorescent tubes, from an electric blue to a lime green, on to chartreuse yellow then to a cerise pink, punctuated by a larger emerald green form, the individual colors emanating from the illumination progressively become organic, as space and light seem inextricably intertwined. Dedicated to his friend, the model Ksenija Protic, the present lot is an otherworldly celebration of primary hues without pretense, a triumph of nothing more than color for the sake of color. As eloquently described by Tiffany Bell, "Flavin's response to changing contexts and his resistance to chronology and formal development enable his lights to transcend time. Just as you cannot really delineate the material boundaries of a Flavin installation, you cannot pinpoint the precise moment of its making. The lights shine in a continuous present." (T. Bell, "Fluorescent Light as Art", from Dan Flavin: The Complete Lights, 1961-1996, New York, 2004, p. 127) Read More Artist Bio Dan Flavin American • 1933 - 1996 Dan Flavin employed commercially-sold fluorescent light tubes in order to produce what he liked to call "situations" or installations. His minimalist approach transcended simplicity through his use of neon colors and thoughtful compositions. With straight-edged light beams, Flavin would often create dynamic arrangements reminiscent of Fred Sandback'
In aktuellen Auktionen suchen
Suchen Sie jetzt in bevorstehenden Auktionen europäischer Auktionshäuser nach Ihrem Schatz!
In vergangenen Auktionen suchen
Suchen Sie jetzt in unserem Archiv mit über 27 Millionen versteigerten Losen!
In aktuellen Auktionen suchen
Suchen Sie jetzt in unserer Künstlerdatenbank!
LotSearch ausprobieren
Testen Sie LotSearch und seine Premium-Features 7 Tage - ohne Kosten!
Auktionssuche und Bieten
Preisdatenbank und Analysen
Individuelle automatische Suchaufträge
Jetzt einen Suchauftrag anlegen!
Lassen Sie sich automatisch über neue Objekte in kommenden Auktionen benachrichtigen.
Suchauftrag anlegen