A MAGNIFICENT AND IMPORTANT BRONZE RITUAL WINE VESSEL, ZUN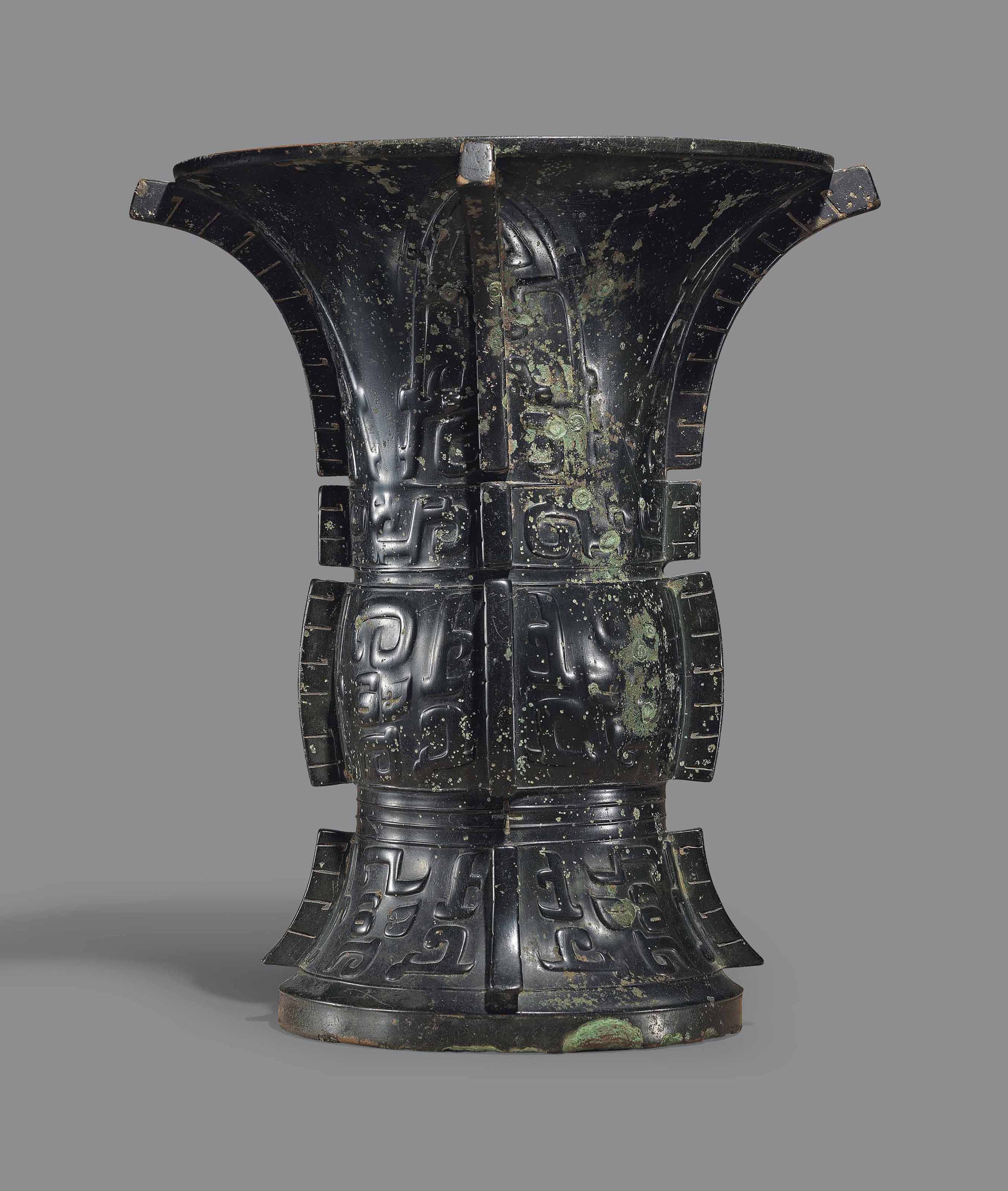 Schätzpreis: 200.000 £ - 400.000 £

ca. 269.949 $ - 539.898 $
Zuschlagspreis:  272.750 £
ca. 368.143 $
A MAGNIFICENT AND IMPORTANT BRONZE RITUAL WINE VESSEL, ZUN LATE SHANG- EARLY WESTERN ZHOU DYNASTY (12TH-10TH CENTURY BC) The bulbous mid-section and the spreading lower body of the vase are boldly cast with taotie masks interspersed with thick vertical flanges. Upright blades decorate the wide flaring cylindrical neck, also separated by flanges which protrude beyond the edge of the mouth rim. The interior of the base bears a four-character inscription. The smooth dark green patina is almost black in tone, with some areas of encrustation. 12 ¼ in. (31.2 cm.) high Provenance S. Kawai Collection, Kyoto. Property of the Late Dr. A. F. Philips (1874-1951). Sotheby's, London, 30 March 1978, lot 21. From an important private European collection.
In aktuellen Auktionen suchen
Suchen Sie jetzt in bevorstehenden Auktionen europäischer Auktionshäuser nach Ihrem Schatz!
In vergangenen Auktionen suchen
Suchen Sie jetzt in unserem Archiv mit über 27 Millionen versteigerten Losen!
In aktuellen Auktionen suchen
Suchen Sie jetzt in unserer Künstlerdatenbank!
LotSearch ausprobieren
Testen Sie LotSearch und seine Premium-Features 7 Tage - ohne Kosten!
Auktionssuche und Bieten
Preisdatenbank und Analysen
Individuelle automatische Suchaufträge
Jetzt einen Suchauftrag anlegen!
Lassen Sie sich automatisch über neue Objekte in kommenden Auktionen benachrichtigen.
Suchauftrag anlegen