TWO PANELS OF NASTA'LIQ CALLIGRAPHY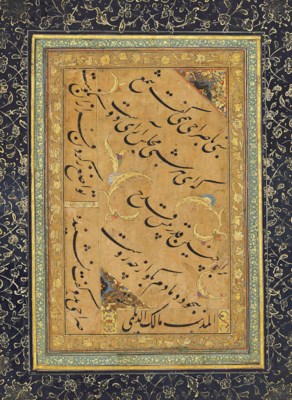 Schätzpreis: 1.000 £ - 2.000 £

ca. 1.312 $ - 2.625 $
Zuschlagspreis:  n. a.
TWO PANELS OF NASTA'LIQ CALLIGRAPHY IRAN, ONE SIGNED MALIK DAYLAMI, CIRCA 16TH CENTURY, THE OTHER SIGNED MUHAMMAD DARVISH SAMARQANDI, DATED AH 1051/1798-9 AD Persian manuscript, comprising two folios, each with lines of black nasta'liq written diagonally, the first with 4ll. of black nasta'liq flanked by triangular panels with gold and polychrome floral illumination, to the left and below three further panels one containing the signature of the scribe Malik Daylami, in later borders mounted on an album page; the second with 5ll. of diagonal and 2ll. of horizontal black nasta'liq including a signature and date, laid down between margins with further nasta'liq cartouches, in later borders, mounted on an album page Folio 17 ¼ x 12in. (43.5 x 30.5cm.)
In aktuellen Auktionen suchen
Suchen Sie jetzt in bevorstehenden Auktionen europäischer Auktionshäuser nach Ihrem Schatz!
In vergangenen Auktionen suchen
Suchen Sie jetzt in unserem Archiv mit über 27 Millionen versteigerten Losen!
In aktuellen Auktionen suchen
Suchen Sie jetzt in unserer Künstlerdatenbank!
LotSearch ausprobieren
Testen Sie LotSearch und seine Premium-Features 7 Tage - ohne Kosten!
Auktionssuche und Bieten
Preisdatenbank und Analysen
Individuelle automatische Suchaufträge
Jetzt einen Suchauftrag anlegen!
Lassen Sie sich automatisch über neue Objekte in kommenden Auktionen benachrichtigen.
Suchauftrag anlegen