Salvador Dalí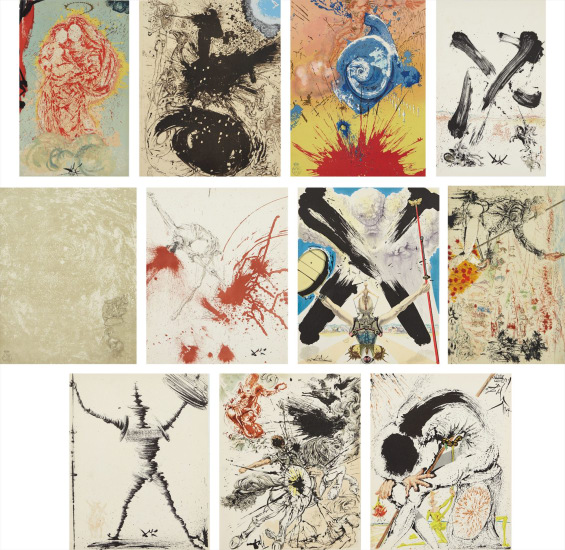 Schätzpreis: 10.000 $ - 15.000 $
Zuschlagspreis:  n. a.
Salvador Dalí Don Quichotte de la Mancha, by Miguel de Cervantés Saavedra 1957 The complete set of twelve lithographs in colors, on Rives BFK paper, the full sheets, loose with three folded (as issued), 16 3/4 x 13 3/4 in. (42.5 x 34.9 cm) numbered 128 on the reverse of the justification (there was also an edition of 25 in Roman numerals on Arches), published by Foret, Paris, all contained in the original blue linen-covered book cover with the title and the artist's name embossed on the spine and the original blue linen-covered slipcase.
Literature Ralf Michler and Lutz Löpsinger 1001-1012 Catalogue Essay Including: Don Quizote and Sancho Panza; Dulcinea; The Chimera of Chimeras; The Aura of Cervantes; The Battle with the Wineskins; The Hidalgo's Metamorphosis; Milky Way; The Fight against Danger; Gala, My Sistine Madonna; Tilting at the Windmills; Don Quixote Reading and The Golden Age Read More Artist Bio Salvador Dalí Spanish • 1904 - 1989 Salvador Dalí was perhaps the most broadly known member of the Surrealist movement of the early twentieth century. Heavily influenced by Sigmund Freud, the avant-garde style explored consciousness and dream-like states through exaggerated landscapes and bizarre or grotesque imagery. Using the means of painting, sculpture, printmaking, film and literature, Dalí explored these ideas with a meticulous hand and inventive wit. Although known for his role in Surrealism, Dalí was also a seminal example of celebrity showmanship and the cult of personality, a phenomenon that dominates popular culture today. Always a colorful and flamboyant presence with his signature cape, wide-eyed expression and trademark upturned waxed mustache, Dalí was a master of self-promotion and spectacle. View More Works
In aktuellen Auktionen suchen
Suchen Sie jetzt in bevorstehenden Auktionen europäischer Auktionshäuser nach Ihrem Schatz!
In vergangenen Auktionen suchen
Suchen Sie jetzt in unserem Archiv mit über 27 Millionen versteigerten Losen!
In aktuellen Auktionen suchen
Suchen Sie jetzt in unserer Künstlerdatenbank!
LotSearch ausprobieren
Testen Sie LotSearch und seine Premium-Features 7 Tage - ohne Kosten!
Auktionssuche und Bieten
Preisdatenbank und Analysen
Individuelle automatische Suchaufträge
Jetzt einen Suchauftrag anlegen!
Lassen Sie sich automatisch über neue Objekte in kommenden Auktionen benachrichtigen.
Suchauftrag anlegen