Robert Indiana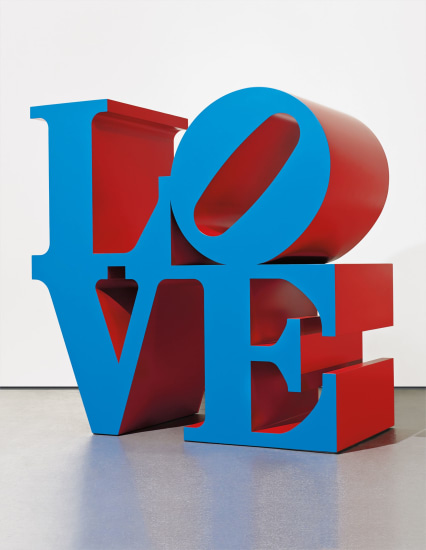 Schätzpreis: 1.047.000 $ - 1.500.000 $
Zuschlagspreis: n. a.
Robert Indiana LOVE 1966-1997 polychrome aluminum 72 x 72 x 36 in. (182.9 x 182.9 x 91.4 cm) Stamped with the artist's signature, numbered and dated "© 1966-1997 R INDIANA 5/6" on the lower interior edge of the E. This work is number 5 from an edition of 6 plus 4 artist's proofs.
Provenance Morgan Art Foundation, Switzerland Private Collection, California Catalogue Essay "Some people like to paint trees. I like to paint love. I find it more meaningful than painting trees." Robert Indiana Robert Indiana's LOVE has not only become an icon of American Pop Art, but ultimately American culture. The present lot, rendered in brilliant red and cerulean blue is majestic in its unwavering timelessness. Stacked upon each other, the L, O, V, E form an impenetrable square. By highlighting the exterior of the letters in a royal blue and the interior curves in cherry red, Indiana has visually illustrated the complex depth of the word. Simplistic in form, the word resonates with his other artistic mono-syllabic word choices. The word "Hug" relating to his mother's warmth and the word "Eat" being the last word she uttered before she died. All the words relate back to the artist on the deepest emotional level. Indiana saw the word "Love" often in his religious upbringing in such phrases as "God is Love," Indiana explains that "LOVE is purely a skeleton of all that word has meant in all the erotic and religious aspects of the theme, and to bring it down to the actual structure of calligraphy [is to reduce it] to the bare bone."(Robert Indiana in T. Brakeley, Robert Indiana, New York, 1990, p. 168) Indiana, however did not recognize the word as an artistic element until 1958 when he created a poem in tribute to modernists figures such as Guillaume Apollinaire and Gertrude Stein. Eight years later, in 1966 he transposed this form by rending it in aluminum for an exhibition at Stable Gallery in New York. The sculpture received immediate attention and was the image requested by the Museum of Modern Art to use for their Christmas cards; it was in that moment Indiana's LOVE sculpture entered American visual history. Taking his home state as his last name, Robert Indiana has always identified himself as a distinctly American artist. Within the classifications of artists Indiana has said "Only that I am American. Only that I am of my generation, too young for regional realism, surrealism, magic realism and Abstract Expressionism and too old to return to the figure." (J. Pissaro, Robert Indiana, New York: Rizzoli, 2006, p. 14) Calling himself "an American painter of signs" Indiana emerged in the New York art scene along with fellow artists Ellsworth Kelly, Andy Warhol, Jasper Johns and James Rosenquist. He gained immediate attention for his flat stencil paintings such as his 1960-61 painting The American Dream, which was purchased by the Museum of Modern Art for the permanent collection. Indiana was devoted to America and the power of language and he "challenged the myth of the American dream and explored themes of life, death, racial inequality, the disillusionment of love. It's very different from what people often associate him with --- love as anguine, sophomoric, and optimistic." (Curator Barbara Haskell in E. Kinsella, "Robert Indiana, Artist Dossier," Art + Auction, September 2013, p. 136) Indiana utilizes language and the word as his medium and subject matter. The artist has explained that the "raw materials were lying outside my studio door on the lower Manhattan waterfront. The old beams from the demolished warehouses cut down and sat upright as stelae had the breadth to bear just one word, such as 'Moon' or 'Orb,' or 'Soul' and 'Mate,' as did some of my first word paintings i.e. the diptych panels 'Eat' and 'Die,' but the sheer expanse of the wide canvases led to the proliferation of the word and whole passages and wheels of words appeared. With 'LOVE' it was back to the single word and also a return, after several years of paintings with the circle the dominant form, to the quartered canvas, or, in this case, structure…. Here the quartered field is filled with the four letters of love, as compactly and economically as possible, but with my interest in the circle still called to mind by the tilted o." (Robert Indiana i
In aktuellen Auktionen suchen
Suchen Sie jetzt in bevorstehenden Auktionen europäischer Auktionshäuser nach Ihrem Schatz!
In vergangenen Auktionen suchen
Suchen Sie jetzt in unserem Archiv mit über 27 Millionen versteigerten Losen!
In aktuellen Auktionen suchen
Suchen Sie jetzt in unserer Künstlerdatenbank!
LotSearch ausprobieren
Testen Sie LotSearch und seine Premium-Features 7 Tage - ohne Kosten!
Auktionssuche und Bieten
Preisdatenbank und Analysen
Individuelle automatische Suchaufträge
Jetzt einen Suchauftrag anlegen!
Lassen Sie sich automatisch über neue Objekte in kommenden Auktionen benachrichtigen.
Suchauftrag anlegen