Robert Indiana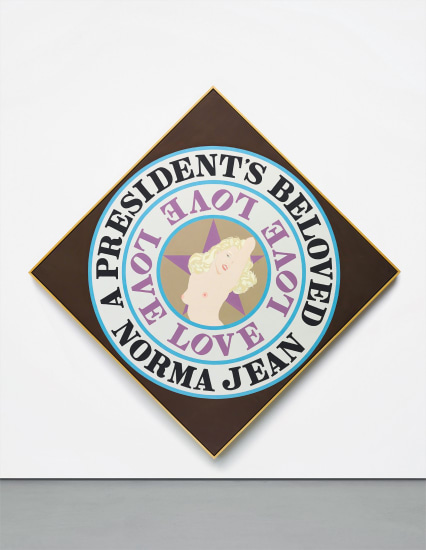 Schätzpreis: 600.000 $ - 800.000 $
Zuschlagspreis: n. a.
Robert Indiana A President's Beloved Norma Jean 2000 oil on canvas 101 3/4 x 101 3/4 in. (258.5 x 258.5 cm) Stamped with the artist's signature, date and inscription "ROBERT INDIANA VINALHAVEN 00" on the reverse. Please note that this work will be included in the forthcoming Robert Indiana catalogue raisonné being prepared by Simon Salama-Caro.
Provenance The artist Private Collection, New York Galerie Guy Pieters, Knokke Private Collection, France Exhibited Knokke, Belgium, Galerie Guy Pieters, Robert Indiana, peintures récentes, 2001 Basel, Beyeler Foundation, Eros in Modern Art, October, 2006 - February, 2007 Literature Robert Indiana, peintures récentes, exh. cat., Galerie Guy Pieters, Knokke, Belgium, 2001, n.p. (illustrated) Eros in Modern Art, exh. cat., Beyeler Foundation, Basel, 2006, n.p. (illustrated) Catalogue Essay "The American Dream, that's our folly." Robert Indiana Robert Indiana, the "American painter of signs," is often referred to as one of the leading Pop artists of the 1960s, however, he insists he is nothing of the sort. Inspired by the Hard Edge style of his close friend Ellsworth Kelly, Indiana's deeply personal body of work is an exploration of American identity through the power of language. Highly saturated hues and contrasting colors in the sentiment of Pop are what have placed Indiana on its margins, however his geometric works maintain the austerity of Minimalism in their embracement of all things American. Indiana further distances himself from his Pop peers by incorporating historical and literary reference rather than commercial imagery and by engaging with social and political themes. Additionally, each work in his oeuvre is created without irony, rather, they are instilled with autobiographical allusions that link them directly to Indiana's emotional and psychological experiences. Indiana's works transgress the visual, the verbal, the public and the private in their attempt to draw the viewer's attention past the image and towards the social and political world that exists beyond the American Dream. In A President's Beloved, 1999, we embark on this precise journey. The present lot is a remarkable example of Indiana's later works. Rare in its large scale, the work was included in the Eros in Modern Art exhibition at the Beyeler Foundation in 2006 alongside other icons of modern "eros" from artists as diverse as Jeff Koons, Pierre Bonnard, and Louise Bourgeois. Having left New York in 1978 and settling full time on a small island in Maine, Indiana developed a distinct and personal iconography that has become instantly recognizable. The motifs in the present lot are pulled from some of Indiana's past works: the central figure, Marilyn Monroe was first utilized by Indiana in the late 1960s in a work titled The Metamorphosis of Norma Jean Mortenson (1967). The source image, titled Golden Dreams is the month of January from a nude pin-up calendar of the actress from 1955. Alongside this seductive pose, Marilyn is placed against a purple star to further emphasize her unparalleled silver screen status. Marilyn is the epitome of the American Dream, representing youth, glamour, and celebrity; however, she also exemplifies the dark desperation, loneliness and desolation that haunts many of those who reach the top. In this work, Marilyn stands at the center of the painting encircled by two bands of words, the closest to her reading "Love Love Love Love" while enclosed in the outermost band are the words that make up the works title "A Presidents Beloved Norma Jean." The title of this work refers to the scandalous relationship between Marilyn and President John F. Kennedy, however, by addressing her by her birth name, Indiana also draws attention to the transformation the innocuous Norma Jean underwent in order to become the famed Marilyn Monroe. Like Marilyn, Indiana, born Robert Clark, changed his name and assumed a new identity. While Marilyn was haunted by her tumultuous affairs and erratic life, Indiana is forever bound to his "LOVE," first created for the Museum of Modern Art's Christmas card in 1965. He, like Marilyn, has become synonymous with his iconic text treatment of an all too familiar eros. Through the use of Marilyn's real name, Norma Jean, appearing in perfect block letters in the present lot, Indiana explores the disillusionme
In aktuellen Auktionen suchen
Suchen Sie jetzt in bevorstehenden Auktionen europäischer Auktionshäuser nach Ihrem Schatz!
In vergangenen Auktionen suchen
Suchen Sie jetzt in unserem Archiv mit über 27 Millionen versteigerten Losen!
In aktuellen Auktionen suchen
Suchen Sie jetzt in unserer Künstlerdatenbank!
LotSearch ausprobieren
Testen Sie LotSearch und seine Premium-Features 7 Tage - ohne Kosten!
Auktionssuche und Bieten
Preisdatenbank und Analysen
Individuelle automatische Suchaufträge
Jetzt einen Suchauftrag anlegen!
Lassen Sie sich automatisch über neue Objekte in kommenden Auktionen benachrichtigen.
Suchauftrag anlegen