Republica dos Estados Unidos do Brasil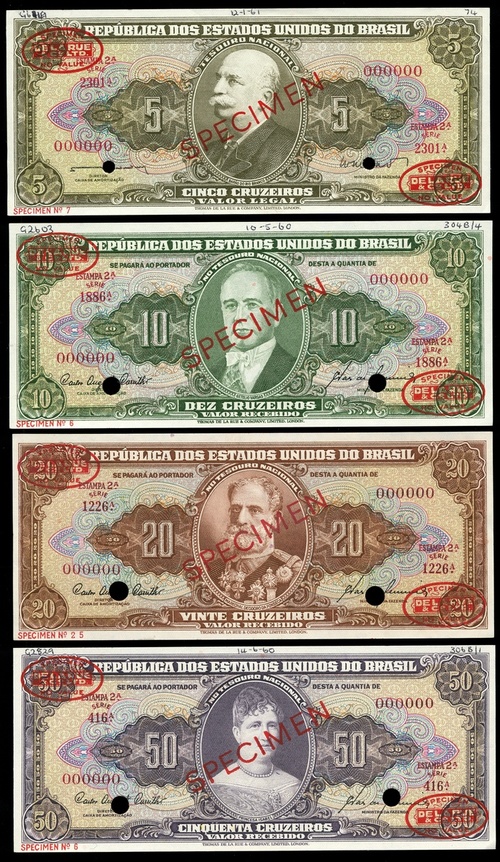 Limitpreis: 500 $ - 700 $
Zuschlagspreis: n. a.
Republica dos Estados Unidos do Brasil, a set of specimen from the Estampa 2A series, ND (1953-60), including 5 cruzeiros, dark olive, Branco at centre, 10 cruzeiros, green, G. Vargas at centre, 20 cruzeiros, brown, D. da Fonseca at centre, 50 cruzeiros, purple, Princesa Isabel at centre, 100 cruzeiros, red, Dom Pedro II at centre, 200 cruzeiros, olive, Dom Pedro I at centre, 500 cruzeiros, dark green, Joao VI at centre, 1000 cruzeiros, orange, Cabral at centre, (Pick 158s, 159s, 160s, 161s, 162s, 163s, 164s, 165s), perforated, red SPECIMEN overprints, red DLR overprints, some with printer's annotations, 500 with mounting traces at obverse and reverse and small nick at lower right corner (8)
In aktuellen Auktionen suchen
Suchen Sie jetzt in bevorstehenden Auktionen europäischer Auktionshäuser nach Ihrem Schatz!
In vergangenen Auktionen suchen
Suchen Sie jetzt in unserem Archiv mit über 27 Millionen versteigerten Losen!
In aktuellen Auktionen suchen
Suchen Sie jetzt in unserer Künstlerdatenbank!
LotSearch ausprobieren
Testen Sie LotSearch und seine Premium-Features 7 Tage - ohne Kosten!
Auktionssuche und Bieten
Preisdatenbank und Analysen
Individuelle automatische Suchaufträge
Jetzt einen Suchauftrag anlegen!
Lassen Sie sich automatisch über neue Objekte in kommenden Auktionen benachrichtigen.
Suchauftrag anlegen