Gio Ponti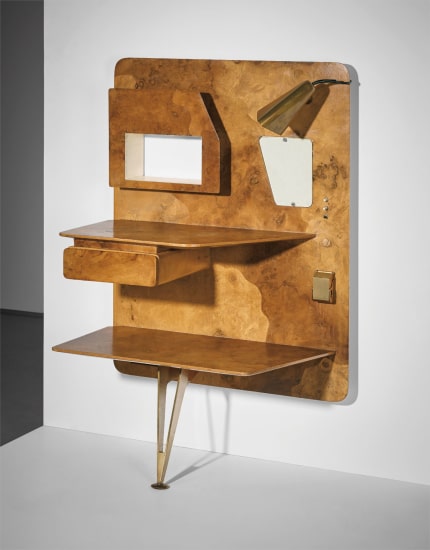 Schätzpreis: 40.000 $ - 60.000 $
Zuschlagspreis:  n. a.
Los-Nr. 436, Aufrufe: 111
Property from a Private Nordic Collection Gio Ponti "Bedside dashboard," designed for Nordiska Kompaniet 1953 Walnut root burl-veneered wood, painted brass, brass, glass, Bakelite. 42 7/8 x 27 1/2 x 14 3/4 in. (108.9 x 69.9 x 37.5 cm) Executed by Giordano Chiesa, Milan, Italy. Reverse of back panel, proper left and underside of drawer interior impressed with manufacturer's label ARREDAMENTI/CHIESA/VIA MORTARA 17/MILANO (ITALIA). Together with a certificate of authenticity from the Gio Ponti Archives.
Provenance Acquired directly from Nordiska Kompanet by a Finnish businessman working in Sweden Thence by decent Acquired directly from the family, 2002 Literature "Spedizione per Stoccolma N. 5," Domus, no. 282, May 1953, illustrated p. 36 Lisa Licitra Ponti, Gio Ponti The Complete Work 1923-1978, London, 1990, illustrated p. 164 Catalogue Essay Gio Ponti's Timeless Furniture By Laura Falconi For preserving a set of three pieces of furniture from the important series designed by Gio Ponti and executed by master cabinetmaker Giordano Chiesa for Nordiska Kompaniet, the foresight of a Nordic collector should be credited. The set comprises two multi-functional wall units of complementary use to a desk and bed, respectively, and a chest of drawers. Within the most advanced production of the Milanese architect, designer and artist, these works are an exemplary testimony to Italian design production of the time, of its florid expansion and growth to international relevance. Thanks to the generous financial aid of the Marshall Plan (European Recovery Program), in the aftermath of World War II the Italian economy quickly rebounded. In the arts, this growth can be attributed to their "formidable quality" of "enormous possibilities," "anticipating an ambitious future" (Gio Ponti "Picasso convertirà alla ceramica", Domus, no. 226, February 1948) which was "stirring emotions" in observant international authority abroad (James Plant, Gio Ponti "Espressione di Gio Ponti", Aria d'Italia, no. 8, Milan, 1954). The program granted, amongst other things, the rehabilitation and reconstruction of industrial production and artisanal manufacture, promoting the Italian product through international exhibitions and export. Gio Ponti was, and always had been, well informed on foreign production of decorative arts and design; since 1925 he had been a fond supporter of the Swedish manufacture of domestic objects and he believed the American's mass-produced office and home furniture to be the best in the field. An indefatigable promoter of other artists' creations, he was renowned for his own achievements in all fields, from architecture to decorative arts, to his impeccable direction of influential periodicals and Triennale exhibitions; Ponti was an ambassador of Italian arts and design in the international scene, able to re-launch national manufactures such as Fontana Arte and Richard Ginori and one of its biggest contributors. In 1947 and 1948 important exhibitions of Italian art and design took place in the United States. On these occasions Ponti's furniture, decorated by Piero Fornasetti and executed by Giordano Chiesa, acquired important popularity and positively influenced the production of his models by local manufacturers such as Singer & Sons, and later Altamira in New York. America was then preparing for what two years later would become the largest ever campaign on Italian Design, with dedicated exhibitions in all major cities. In the same vein as the Italian exhibitions in the United States, in 1953 Nordiska Kompaniet promoted a display of furniture by Milanese architects such as Franco Albini Carlo de Carli, Gio Ponti and a few others at their department store headquarters in Sweden. On this occasion, together with a round coffee table with glass table top and "hollow shaped" wood frame, a desk, and, amongst the most relevant, two wall units and the chest of drawers were presented. Defined by Ponti as "dashboard panels," the two wall units were accessorized with overhanging shelves, a drawer, niche for a radio, an ashtray, a magazine rack, and wall lights, book shelves and support for a telephone; these units were also fitted with picture frames for photos or drawings depending on the user's desire. Aesthetically prevailing is the texture of the walnut burl, its veins and innumerable tones of warm colors confer unity and formality to the series. The "dashboard panels" include a variety of materials with complementary qualities, from Bak
In aktuellen Auktionen suchen
Suchen Sie jetzt in bevorstehenden Auktionen europäischer Auktionshäuser nach Ihrem Schatz!
In vergangenen Auktionen suchen
Suchen Sie jetzt in unserem Archiv mit über 27 Millionen versteigerten Losen!
In aktuellen Auktionen suchen
Suchen Sie jetzt in unserer Künstlerdatenbank!
LotSearch ausprobieren
Testen Sie LotSearch und seine Premium-Features 7 Tage - ohne Kosten!
Auktionssuche und Bieten
Preisdatenbank und Analysen
Individuelle automatische Suchaufträge
Jetzt einen Suchauftrag anlegen!
Lassen Sie sich automatisch über neue Objekte in kommenden Auktionen benachrichtigen.
Suchauftrag anlegen