Gio Ponti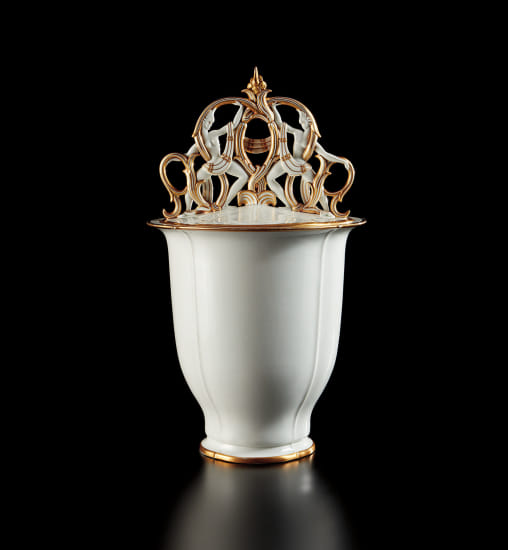 Schätzpreis: 0 $
Zuschlagspreis:  n. a.
Property from a Brazilian Collection Gio Ponti Follow Large covered vase designed 1925, executed 1929 Glazed and gilt porcelain. 26 1/4 in. (66.7 cm) high Produced by Richard-Ginori- Doccia, Italy. Underside of vase printed under the glaze RICHARD/GINORI/29 = 7. Further marked in enamel RICHARD-GINORI/PITTORIA/DI DOCCIA. Top of rim printed 22 2C (partially obscured).
Provenance Private collection, Brazil Thence by descent to the present owner Literature Mario Labò "Un renouveau de la céramique italienne: porcelaines et faiences de Richard-Ginori-" Art et Décoration, June 1926, p. 138 Paolo Portoghesi and Anty Pansera, Gio Ponti alla manifattura di Doccia, Milan, 1982, p. 40 Gio Ponti ceramiche 1923-1930: le opere del Museo Ginori di Doccia, exh. cat., Palazzo Vecchio, Florence, 1983, p. 121 Gian Carlo Bojani, Claudio Piersanti and Rita Rava eds., Gio Ponti ceramica e architettura, exh. cat., Museo Internazionale delle Ceramiche, et. al., Florence, 1987, p. 21 Ugo La Pietra ed., Gio Ponti New York, 2009, p. 26 Laura Falconi, ed., Gio Ponti Interiors, Objects, Drawings, 1920-1976, Milan, 2010, p. 37 Dario Matteoni, ed., Gio Ponti il fascino della ceramica, fascination for ceramics, exh. cat., Spazio Eventi Grattacielo Pirelli, Milan, 2011, p. 136 for a drawing, p. 154 Catalogue Essay In 1923, the young architect Gio Ponti was appointed the creative director of Richard-Ginori- one of Italy's foremost ceramic manufacturers, with the objective to modernize the company's production. The position, which Ponti held for nearly a decade while concurrently establishing his architectural studio, provided a significant opportunity early in the architect's career to develop and promote his ideas of uniting art and craftsmanship with industry. Ponti's inventive work for Richard-Ginori- whose porcelain production was based in Doccia and earthenware in San Cristoforo, extended from design to promotion, and reflected his ambition to establish high-quality mass production within the decorative arts. During this period, Ponti shaped the foundation of his multidisciplinary and collaborative approach to design, developing his own highly proficient and imaginative ideas, realized through the firm's economic and industrial resources and Ponti's own facility for forming fruitful relationships with fellow artists, designers and artisans. Ponti presented designs for Richard-Ginori-to both public and critical acclaim at the first Monza Biennales in 1923 and 1925, the latter of which included the exhibition of the present model. Ponti's designs for the firm also received the grand prize in the category of ceramics at the Paris Exposition Internationale des Arts Décoratifs et Industriels Modernes in 1925. The markings on the present example indicate the porcelain blank was executed in July 1929, however the decoration could have been added later. Ponti's designs for Richard-Ginori-combine classicism with modernity, revealing his aspiration to renew the spirit of Italy's rich cultural heritage—an impetus that can be traced throughout his prolific career. Inspired by archaeology and classical architecture, Ponti reinterpreted the firm's neo-classical iconography using a playful language, often imposing an element of humor and irony into his pictorial designs. Invigorating the firm's characteristic Empire style, which he studied in Richard-Ginori's archive, Ponti retained a simplicity of form and enriched the smooth surface of the porcelain with elegant, yet distinctly modern, decoration. Exemplifying his skillful ability to bring historical styles to life, Ponti surmounted the present vase's classically-inspired bell-shaped form with an expressive figurative design. Two mirrored figures, whose theatrical, exaggerated outlines are entwined by their drapery and the surrounding stylized rinceau motif, form a synthesized composition suggestive of movement. Through the lightness and symmetry of the vase's sinuous, pierced ornamentation, Ponti achieved an overall sense of balance and proportion, enhanced by the gilt decoration and simplicity of line, creating a dialogue between past and present, and art and industry. Read More Artist Bio Gio Ponti Italian • 1891 - 1979 Follow Among the most prolific talents to grace twentieth-century design, Gio Ponti defied categorization. Though trained as an architect, he made major
In aktuellen Auktionen suchen
Suchen Sie jetzt in bevorstehenden Auktionen europäischer Auktionshäuser nach Ihrem Schatz!
In vergangenen Auktionen suchen
Suchen Sie jetzt in unserem Archiv mit über 27 Millionen versteigerten Losen!
In aktuellen Auktionen suchen
Suchen Sie jetzt in unserer Künstlerdatenbank!
LotSearch ausprobieren
Testen Sie LotSearch und seine Premium-Features 7 Tage - ohne Kosten!
Auktionssuche und Bieten
Preisdatenbank und Analysen
Individuelle automatische Suchaufträge
Jetzt einen Suchauftrag anlegen!
Lassen Sie sich automatisch über neue Objekte in kommenden Auktionen benachrichtigen.
Suchauftrag anlegen