Pelham Francis Warner. Oxford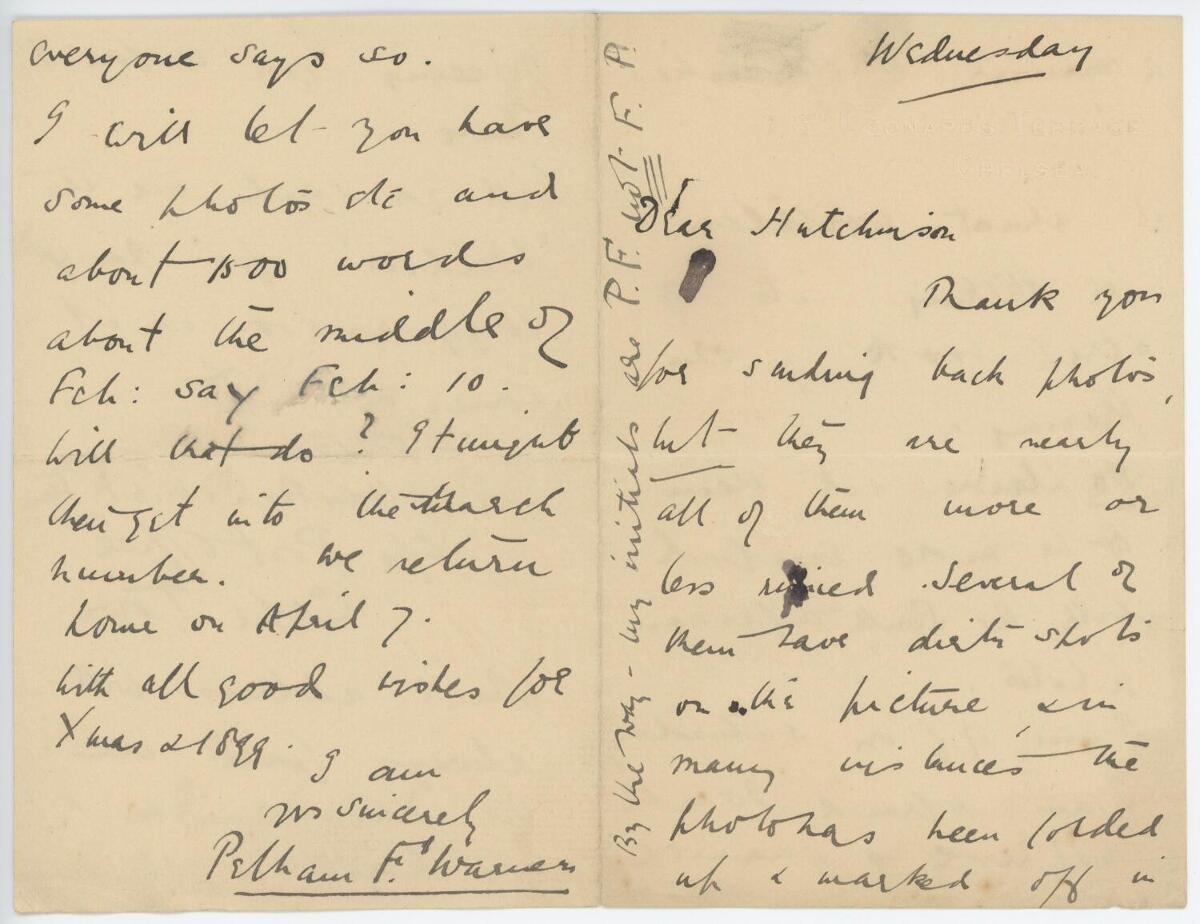 Schätzpreis: 70 £ - 100 £

ca. 88 $ - 125 $
Zuschlagspreis: n. a.
Pelham Francis Warner. Oxford University, Middlesex & England 1894-1920. Early four page handwritten letter in ink dated 'Wednesday' (probably 30th November 1898), to 'Dear Hutchinson'. Warner is writing a few days before departing for Lord Hawke's tour to South Africa in 1898/99, and opens by complaining about the condition of some recently returned photographs, 'several of them have dirty spots on the picture and in many instances the photo has been folded up and marked off in a manner which makes it almost worthless for sticking into a scrap book or framing. Do please ask them to be more careful with the South African photos'. He continues by asking for a copy of 'the "Windsor" for Jany 1899' to be sent to him in Cape Town and offers to send some photographs 'and about 1500 words about the middle of Feb... It might then get into the March number'. Nicely signed 'Pelham F. Warner'. In a side note Warner states, 'By the way - my initials are P.F. not F.P.'. Two ink blots to the first page, otherwise in good condition
The touring party led by Lord Hawke sailed from Southampton on 3rd December 1898 for the tour on which two Test matches were played. Warner making his Test debut scored 132no in England's second innings of the first Test at Johannesburg to help them to a 32 run victory. A victory by 210 runs in the second Test at Cape Town clinched the series 2-0
In aktuellen Auktionen suchen
Suchen Sie jetzt in bevorstehenden Auktionen europäischer Auktionshäuser nach Ihrem Schatz!
In vergangenen Auktionen suchen
Suchen Sie jetzt in unserem Archiv mit über 27 Millionen versteigerten Losen!
In aktuellen Auktionen suchen
Suchen Sie jetzt in unserer Künstlerdatenbank!
LotSearch ausprobieren
Testen Sie LotSearch und seine Premium-Features 7 Tage - ohne Kosten!
Auktionssuche und Bieten
Preisdatenbank und Analysen
Individuelle automatische Suchaufträge
Jetzt einen Suchauftrag anlegen!
Lassen Sie sich automatisch über neue Objekte in kommenden Auktionen benachrichtigen.
Suchauftrag anlegen