M.C.C. Tour of Australia 1911-12. Early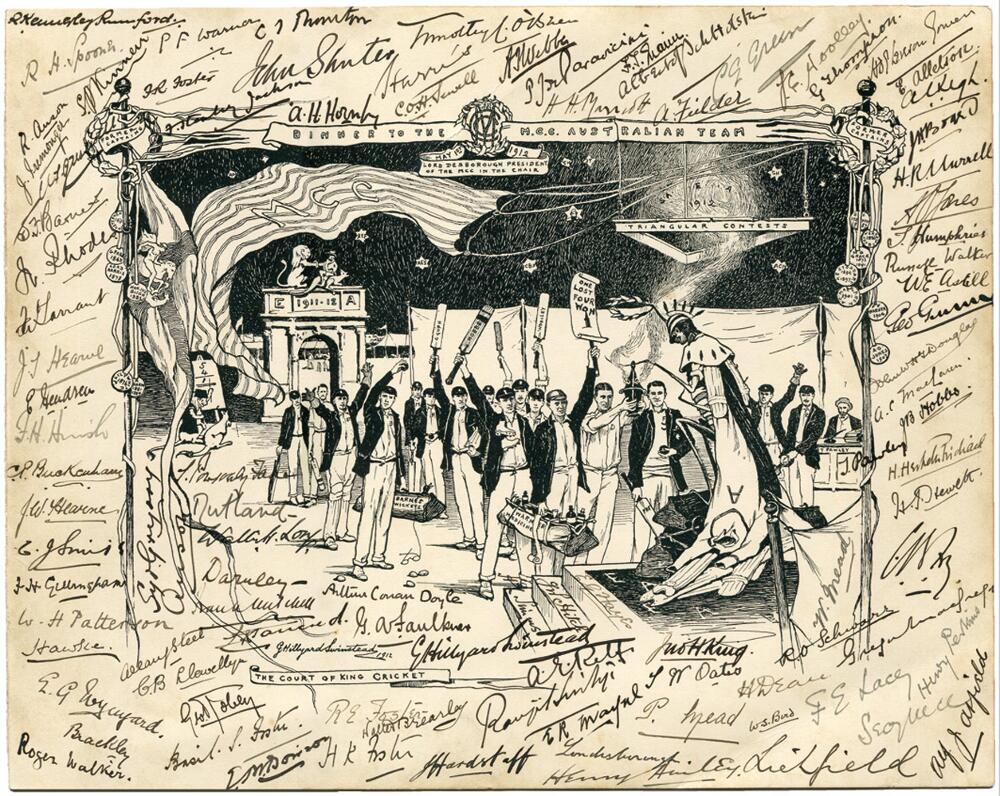 Schätzpreis: 3.000 £ - 5.000 £

ca. 4.291 $ - 7.152 $
Zuschlagspreis: n. a.
M.C.C. Tour of Australia 1911-12. Early and impressive official menu cover to the victorious M.C.C. team who returned home with the 'Ashes' having won the series by four Tests to one. The Dinner was held at The Trocadero, London on 1st May 1912. The large menu with elaborate cover design by G. Hillyard Swinstead depicts Warner and his team wearing tour blazers and caps and carrying cricket bags in 'The Court of King Cricket', Warner is holding aloft a notice staked to a stump declaring 'One lost, four won' to . Some of the players are holding up cricket bats with their names on. The Southern Cross is depicted with a starlit sky containing stars with the initials of the M.C.C. cricketers. Elaborate border with names of various England Captains, flags etc and the title to the top border is 'Dinner to the M.C.C. Australian Team, May 1st 1912. Lord Desborough, President of the M.C.C. in the Chair'. Printed signature of Swinstead and date '1912' to bottom left hand corner. Amazingly the menu has been profusely and beautifully signed in black ink by ninety seven players and guests attending the Dinner including nearly all the touring team with the exception of Vine and Strudwick, other county and Test players and guests around the borders and within the printed image. Signatures include E. Alletson, W.E. Astill, S.F. Barnes, W.S. Bird, J.H. Board, W. Brearley, H. Dean, J.W.H.T. Douglas, G.A. Faulkner, A. Fielder, B.S. Foster, F.R. Foster, H.K. Foster, R.E. Foster, C.B. Fry, F.H. Gillingham, S.E. Gregory, G. Gunn, J. Hardstaff, Lord Harris, Lord Hawke, H. Hesketh-Pritchard, H.T. Hewett, J.W. Hitch, J.B. Hobbs, A.H. Hornby, J. Humphries, J. Iremonger, F.S. Jackson, A.O. Jones, J.H. King, S.P. Kinnier, C.B. Llewllyn, G. McGregor, A.C. McLaren, H.H. Marriott, E.R. Mayne, P. Mead, W. Mead, H.R. Murrell, T.W. Oates, W.H. Patterson, K.S. Ranjitsinhji, A.E. Relf, W. Rhodes, R.O. Schwarz, J. Shuter, E.J. Smith, R.H. Spooner, A.G. Steel, L.J. Tancred, F.A. Tarrant, G. Thompson, C.I. Thornton, R.D. Walker, P.F. Warner (Cpt), A.J. Webbe, F.E. Woolley, Capt E.G. Wynyard etc. Guest signatures include A. Conan Doyle, Earl of Darnley, Viscount Anson, Lord Brackley, Earl of Litchfield, Earl of Londesborough, Sir T.C. O'Brien, P.J. de Paravicini, Sir S. Ponsonby-Fane, Duke of Rutland, H.H. Albert, Duje of Schleswig-Holstein etc and by the artist G. Hillyard Swinstead. Excellent image and in very good condition with all signatures good. The menu measures approx 12"x9.5". A very rare and highly desirable item especially in this profusely signed form
The menu cover is sold with a handwritten listing of all the signatures
In aktuellen Auktionen suchen
Suchen Sie jetzt in bevorstehenden Auktionen europäischer Auktionshäuser nach Ihrem Schatz!
In vergangenen Auktionen suchen
Suchen Sie jetzt in unserem Archiv mit über 27 Millionen versteigerten Losen!
In aktuellen Auktionen suchen
Suchen Sie jetzt in unserer Künstlerdatenbank!
LotSearch ausprobieren
Testen Sie LotSearch und seine Premium-Features 7 Tage - ohne Kosten!
Auktionssuche und Bieten
Preisdatenbank und Analysen
Individuelle automatische Suchaufträge
Jetzt einen Suchauftrag anlegen!
Lassen Sie sich automatisch über neue Objekte in kommenden Auktionen benachrichtigen.
Suchauftrag anlegen