LOUIS AUDEMARS, MADE FOR BREGUET, GOLD PERPETUAL CALENDAR QUARTER REPEATING INDEPENDENT CENTRE SECONDS POCKET WATCH WITH MOON PHASES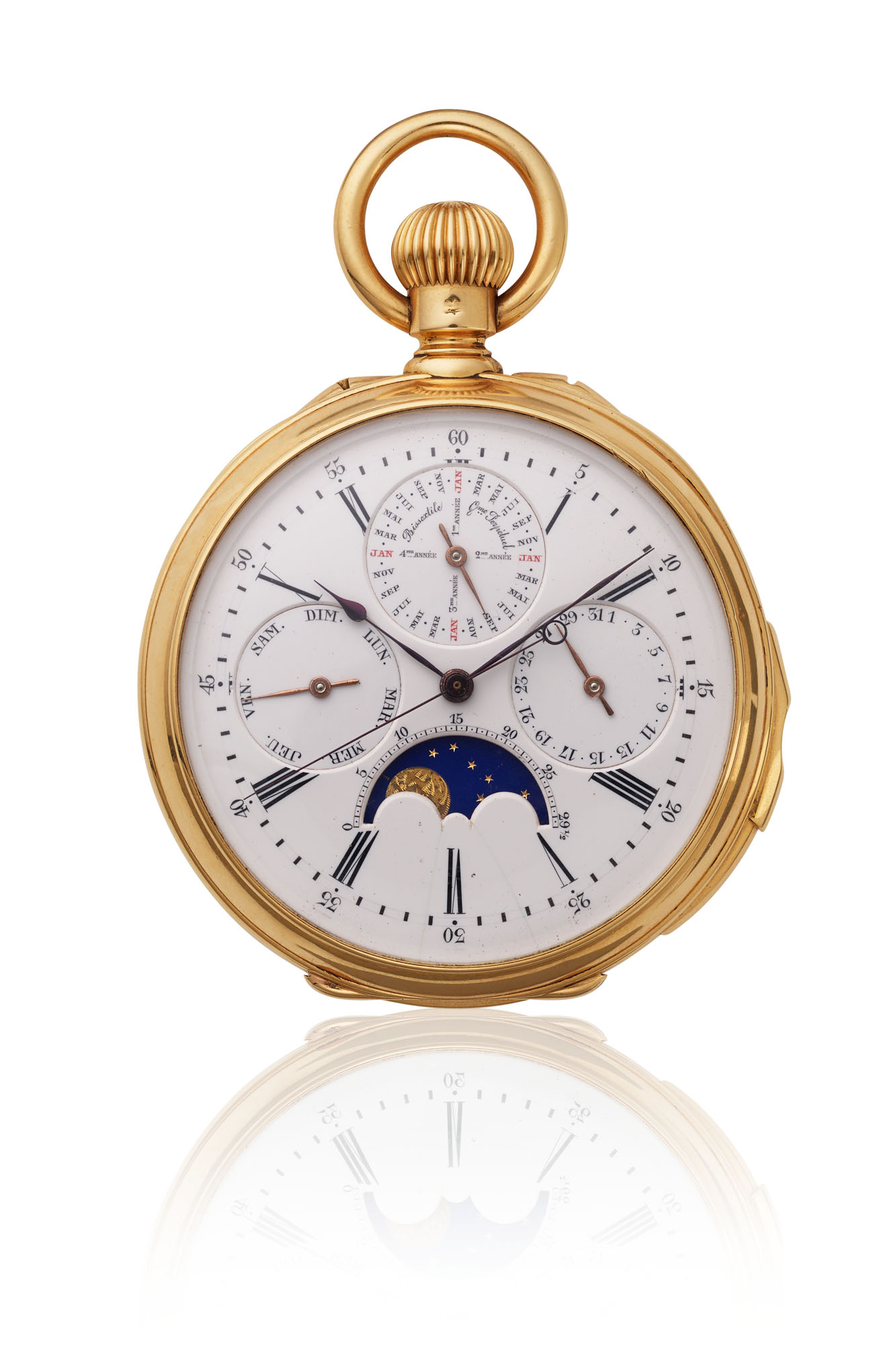 Schätzpreis: 38.000 CHF - 48.000 CHF

ca. 41.663 $ - 52.627 $
Zuschlagspreis:  n. a.
CIRCA: Sold to Messr Mir & Cottereau (Istanbul) on 22 September 1894 for 2650 francs CASE MATERIAL: 18K pink gold DIAMETER: 52 mm. diam. DIAL: Enamel MOVEMENT: Manual, keyless FUNCTIONS: Quarter repeating, independent centre seconds, perpetual calendar, moon phases + This lot is subject to standard Swiss VAT rules and 7.7% VAT will be charged on the 'hammer' and the 'buyer's premium'
Informationen zur Auktion

Auktionshaus:
Christie's
Titel:
Watches Online: Geneva Edit
Auktionsdatum:
19.11.2020
Adresse:
Christie's
King Street, St. James's 8
SW1Y 6QT London
Großbritannien und Nordirland


+44 (0)20 7839 9060

·

+44 (0)20 73892869
In aktuellen Auktionen suchen
Suchen Sie jetzt in bevorstehenden Auktionen europäischer Auktionshäuser nach Ihrem Schatz!
In vergangenen Auktionen suchen
Suchen Sie jetzt in unserem Archiv mit über 27 Millionen versteigerten Losen!
In aktuellen Auktionen suchen
Suchen Sie jetzt in unserer Künstlerdatenbank!
LotSearch ausprobieren
Testen Sie LotSearch und seine Premium-Features 7 Tage - ohne Kosten!
Auktionssuche und Bieten
Preisdatenbank und Analysen
Individuelle automatische Suchaufträge
Jetzt einen Suchauftrag anlegen!
Lassen Sie sich automatisch über neue Objekte in kommenden Auktionen benachrichtigen.
Suchauftrag anlegen