Leaf from a Bible, in Latin, manuscript on parchment [Northern France (Paris), mid-13th century]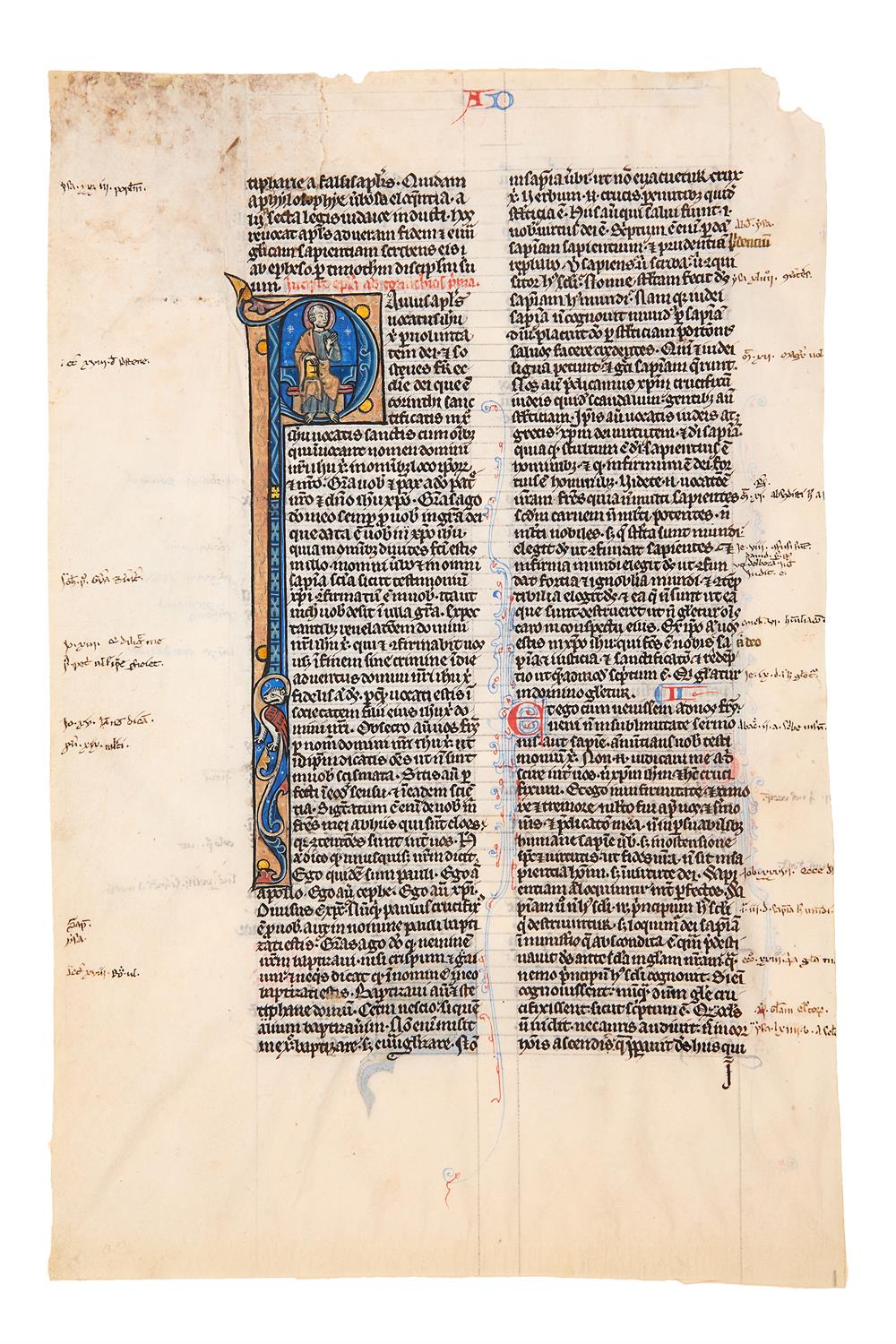 Schätzpreis: 1.500 £ - 2.000 £

ca. 1.893 $ - 2.525 $
Zuschlagspreis: n. a.
St. Paul seated and holding a golden book, in an initial from a fine Bible, in Latin, illuminated manuscript on parchment [Northern France (Paris), mid-thirteenth century] Single leaf from a Bible, with a large initial 'P' (opening "Paulus apostolus vocatus ...", Corinthians 1), in blue interlace patterns and crosses, enclosing Paul seated and resting a golden book on his knee, on dark blue grounds with stars and pale fawn grounds with large bezants, the extensions of the initial extending nearly three-quarters of the page in height and enclosing a skilfully painted drollery animal that reaches around to bite its own neck, one smaller initial on reverse in pale fawn, enclosing foliage with lacertine animals, all on blue grounds, small red initials with blue and red penwork, running capitals in alternate red or blue, red rubrics, double column of 53 lines, some smudging to smaller illuminated initial, old water damage to head of leaf causing small losses and a tear there, else good condition, 240 by 157mm. (slightly trimmed, see previous lot); tipped to card mount at head From the same parent manuscript as the previous lot.
In aktuellen Auktionen suchen
Suchen Sie jetzt in bevorstehenden Auktionen europäischer Auktionshäuser nach Ihrem Schatz!
In vergangenen Auktionen suchen
Suchen Sie jetzt in unserem Archiv mit über 27 Millionen versteigerten Losen!
In aktuellen Auktionen suchen
Suchen Sie jetzt in unserer Künstlerdatenbank!
LotSearch ausprobieren
Testen Sie LotSearch und seine Premium-Features 7 Tage - ohne Kosten!
Auktionssuche und Bieten
Preisdatenbank und Analysen
Individuelle automatische Suchaufträge
Jetzt einen Suchauftrag anlegen!
Lassen Sie sich automatisch über neue Objekte in kommenden Auktionen benachrichtigen.
Suchauftrag anlegen