Large South East Asian Khmer Avalokiteshvara Statue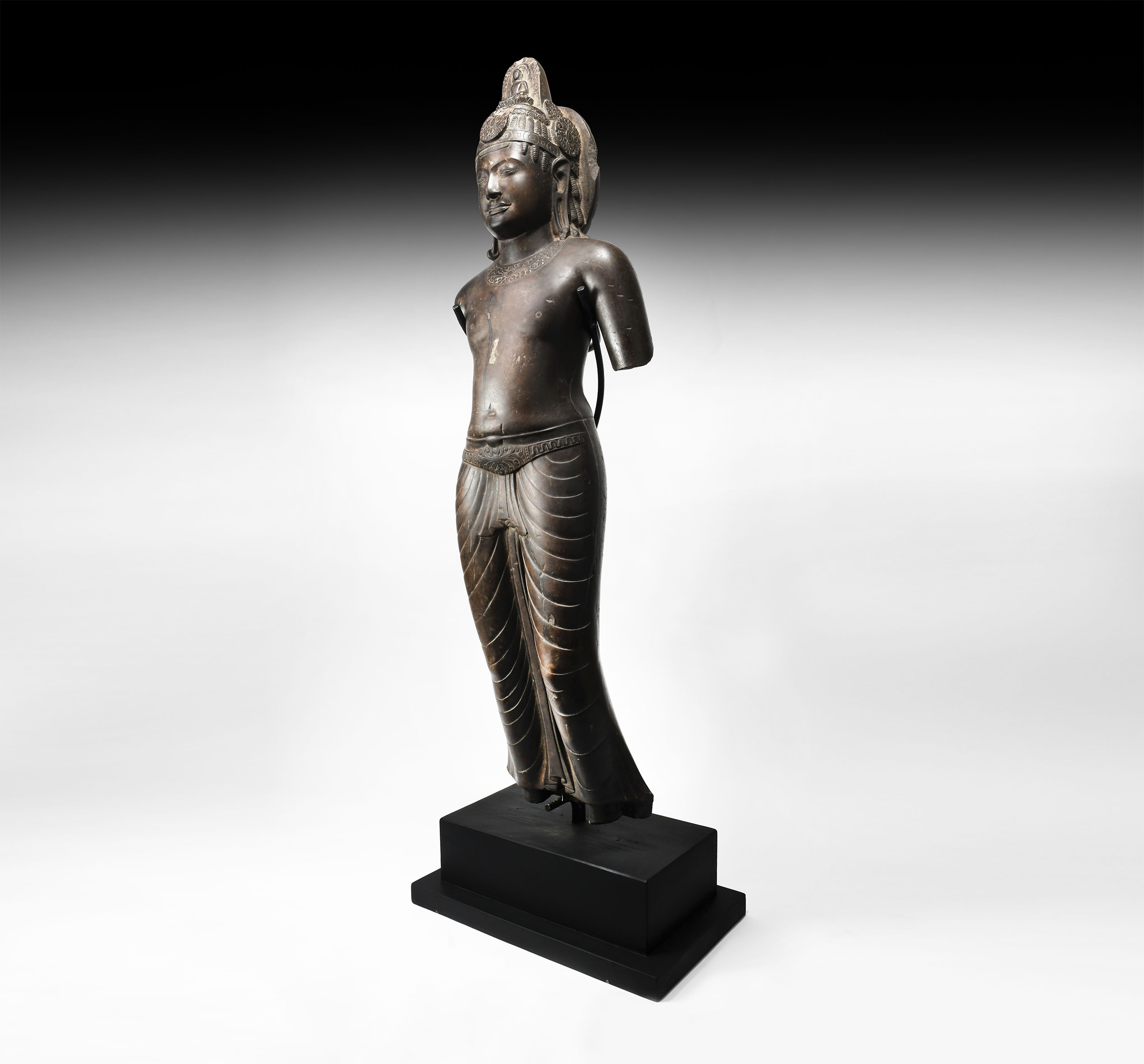 Schätzpreis: 18.000 £ - 24.000 £

ca. 23.141 $ - 30.854 $
Zuschlagspreis: n. a.
Los-Nr. 0316, Aufrufe: 138
Large South East Asian Khmer Avalokiteshvara Statue 7th-10th century AD A carved stone statue of Avalokiteśvara in male form, nimbate, wearing a tight-fitting dhoti and decorated sash; ornate lunate collar with rosette detailing, rings in the vertically-slit elongated ears, braided hairstyle with headdress featuring rosette discs and miniature figure of Buddha on a lotus-flower dais; mounted on a custom-made display stand. 117 kg, 1.62m including stand (63 3/4"). Fine condition. Provenance Property of a Cambridgeshire gentleman since 1990; previously in a private collection formed in the 1980s. Literature Cf. Auboyer, J., Beurdeley, M., Boisselier, J., Massonaud, C., and Rousset, H., Forms and Styles - Asia, Fribourg, Switzerland, 1978, p.253, nos.86, 87; accompanied by copies of the relevant book pages; cf. Van Beek, S., Tettoni, L., The Arts of Thailand, 1986, pp. 77-78. Footnotes Avalokiteśvara, a name translating as 'Lord of Compassionate Sight' or 'Lord Who Looks From On High', is the bodhisattva embodying the compassion of all Buddhas, assisting all who ask for his assistance. This bodhisattva, an enlightened being destined to become a buddha, is the most popular of the bodhisattvas and is depicted across cultures as either male or female, (a female form first originating in c.10th century China), remaining in this state in order to help humanity. Avalokiteśvara is more usually presented in male form with several heads and arms; according to myth, Avalokiteśvara's head burst open in pain when he looked on all the suffering in the world, with nine new heads being formed from the pieces. He then grew 1000 arms out of a desire to aid humanity, with an eye in the palm of each hand.
In aktuellen Auktionen suchen
Suchen Sie jetzt in bevorstehenden Auktionen europäischer Auktionshäuser nach Ihrem Schatz!
In vergangenen Auktionen suchen
Suchen Sie jetzt in unserem Archiv mit über 27 Millionen versteigerten Losen!
In aktuellen Auktionen suchen
Suchen Sie jetzt in unserer Künstlerdatenbank!
LotSearch ausprobieren
Testen Sie LotSearch und seine Premium-Features 7 Tage - ohne Kosten!
Auktionssuche und Bieten
Preisdatenbank und Analysen
Individuelle automatische Suchaufträge
Jetzt einen Suchauftrag anlegen!
Lassen Sie sich automatisch über neue Objekte in kommenden Auktionen benachrichtigen.
Suchauftrag anlegen