Important Watercolor Attributed to William Bartram, American Naturalist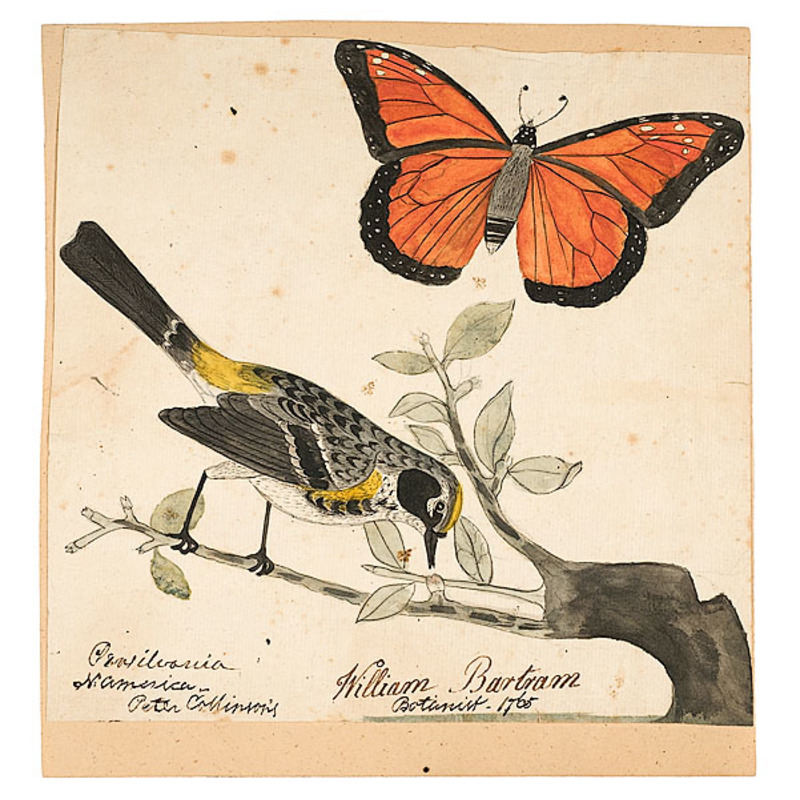 Schätzpreis: n. a.
Zuschlagspreis: 4.800 $
American, late 18th century. Watercolor sketch by William Bartram (1739-1823) of a Monarch butterfly and bird, signed Pennsylvania, North America and William Bartram, and in a later hand, Peter Collinson's, botanist-1765. Bartram was the son of a royal botanist, and from a young age showed a prodigious talent for recording his natural surroundings. He traveled extensively across the United States and recorded the culture, environment and wildlife he encountered. As a self-taught artist, his greatest success came through these studies. By 1772 Bartram had clients in England to whom he sent his renderings of animals and plants new to western science. In 1773, he began the first of his expeditions through the southern United States, which he published along with his written observations in Travels through North Carolina, Georgia, East and West Florida. As a respected naturalist, Bartram enjoyed the patronage of founding fathers like George Washington and Thomas Jefferson, who purchased Bartram's book and ordered specimens of the plants he had brought back from his journeys. Bartram collaborated with Scottish ornithologist Alexander Wilson to publish American Orinthology (1808-1814), the first set on the topic produced in the United States, predating Audubon's famous folios. On the bottom left margin, the name of Peter Collinson appears. Collinson was a wealthy London patron of Bartram who had many of the naturalist's specimens and sketches shipped to England, where he shared them with eminent scholars like Carl Linnaeus and George Edwards. Bartram's sketches rarely come to the public market; almost all are today housed in the Smithsonian Museum of American Art, the American Philosophical Society, The British Royal Library, and the London Museum of Natural History. This drawing was likely an early sketch by Bartram. It does not demonstrate the fluid draftsmanship and careful detail of his later work. The later handwriting, including the date 1765, should not be considered the year the drawing was executed, rather as holding significance to the unknown writer. In 1765 Bartram was 26, already well into a successful career as a naturalist and artist. We believe a date closer to 1753 is more appropriate based on similar drawings housed in the collection of Lord Derby. The handwriting identifying the subject and Bartram's signature are consistent with his script on known documents from 1755-1756. Cowan's would like to thank Judith Magee, Special Collections Manager, Library and Archives of the London Museum of Natural History, for her assistance with this work.
In aktuellen Auktionen suchen
Suchen Sie jetzt in bevorstehenden Auktionen europäischer Auktionshäuser nach Ihrem Schatz!
In vergangenen Auktionen suchen
Suchen Sie jetzt in unserem Archiv mit über 27 Millionen versteigerten Losen!
In aktuellen Auktionen suchen
Suchen Sie jetzt in unserer Künstlerdatenbank!
LotSearch ausprobieren
Testen Sie LotSearch und seine Premium-Features 7 Tage - ohne Kosten!
Auktionssuche und Bieten
Preisdatenbank und Analysen
Individuelle automatische Suchaufträge
Jetzt einen Suchauftrag anlegen!
Lassen Sie sich automatisch über neue Objekte in kommenden Auktionen benachrichtigen.
Suchauftrag anlegen