Hiroshi Sugimoto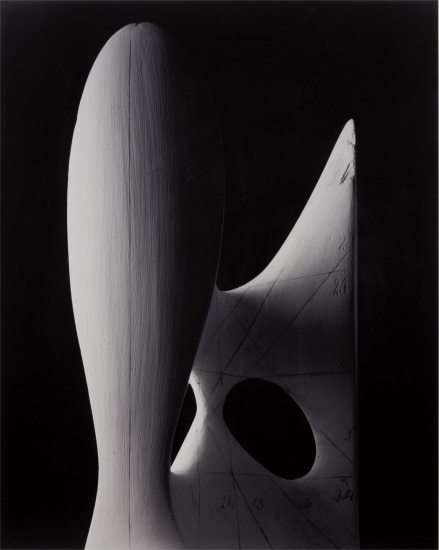 Schätzpreis: 60.000 $ - 80.000 $
Zuschlagspreis: n. a.
Hiroshi Sugimoto Conceptual Forms 0012, Diagonal Clebsch surface, cubic with 27 lines 2004 Gelatin silver print, flush-mounted to board. 58 3/4 x 47 in. (149.2 x 119.4 cm) Signed in ink, printed title, date and number 1/5 on a studio label affixed to the frame backing.
Provenance Pace Gallery, London Private Collection, Australia Literature Hatje Cantz, Hiroshi Sugimoto, p. 287 Hatje Cantz, Sugimoto: Conceptual Forms and Mathematical Models, n.p. Catalogue Essay Hiroshi Sugimoto's Conceptual Forms beautifully depict delicately monumental "stereo metric exemplars." The present lot, a German made model produced in the late-nineteenth or early-twentieth century, is a three dimensional rendering of a complex trigonometric function. With his detailed, descriptive title, Sugimoto embraces the identity of his subject rather than allowing it to disappear into pure abstraction. Just as the creation of the model transformed a nonmaterial mathematical equation into a concrete object, so too does Sugimoto, under his masterful lens, elevate the crafted educational model to the highest levels of fine art. Read More Artist Bio Hiroshi Sugimoto Japanese • 1948 Hiroshi Sugimoto's work examines the concepts of time, space and the metaphysics of human existence through breathtakingly perfect images of theaters, mathematical forms, wax figures and seascapes. His 8 x 10 inch, large-format camera and long exposures give an almost eerie serenity to his images, treating the photograph as an ethereal time capsule and challenging its associations of the 'instant.' In his famed Seascapes, Sugimoto sublimely captures the nature of water and air, sharpening and blurring the elements together into a seamless, formless entity. This reflection of the human condition and its relationship with time follows through his exploration of historical topics and timeless beauty as he uniquely replicates the world around us. View More Works
Informationen zur Auktion

Auktionshaus:
Phillips
Titel:
Photographs
Auktionsdatum:
04.04.2016
Adresse:
Phillips
New York
In aktuellen Auktionen suchen
Suchen Sie jetzt in bevorstehenden Auktionen europäischer Auktionshäuser nach Ihrem Schatz!
In vergangenen Auktionen suchen
Suchen Sie jetzt in unserem Archiv mit über 27 Millionen versteigerten Losen!
In aktuellen Auktionen suchen
Suchen Sie jetzt in unserer Künstlerdatenbank!
LotSearch ausprobieren
Testen Sie LotSearch und seine Premium-Features 7 Tage - ohne Kosten!
Auktionssuche und Bieten
Preisdatenbank und Analysen
Individuelle automatische Suchaufträge
Jetzt einen Suchauftrag anlegen!
Lassen Sie sich automatisch über neue Objekte in kommenden Auktionen benachrichtigen.
Suchauftrag anlegen