Gandharan Bodhisattva with Lotus Aureole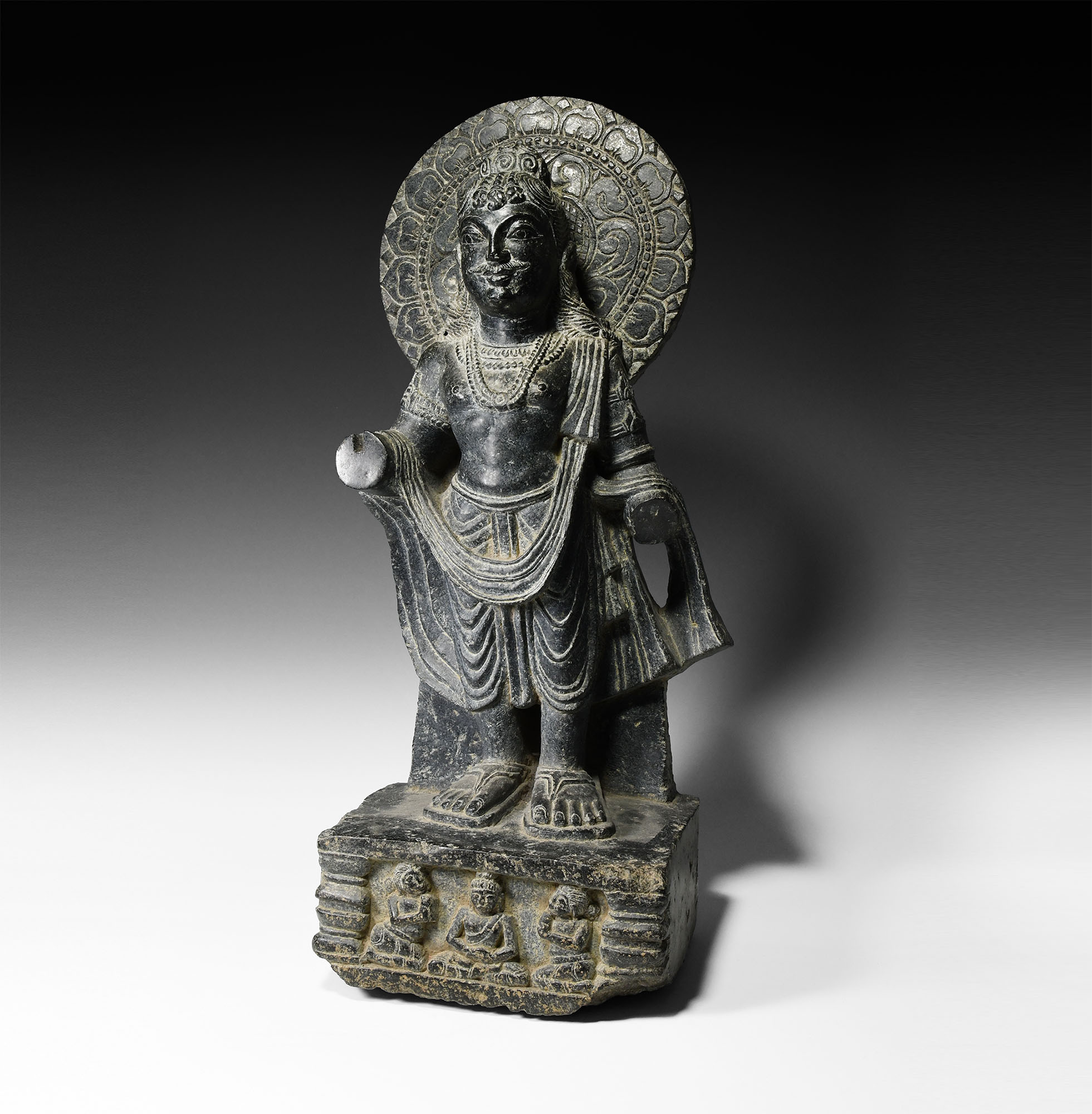 Schätzpreis: 3.000 £ - 4.000 £

ca. 3.856 $ - 5.142 $
Zuschlagspreis: n. a.
Los-Nr. 0338, Aufrufe: 128
Gandharan Bodhisattva with Lotus Aureole Kashmir, 6th century AD A powerful schist figure of a bodhisattva, possibly bodhisattva Maitreya, standing on a rectangular base with lotus-flower aureole behind, wearing a dhoti, and artfully draped scarves, sumptuous necklaces and other jewellery decorating his nude upper body, carefully dressed and bejewelled hair with curls above the temples, curls to the ushnisha, raised right hand absent, originally most likely in the abhaya gesture; the base with seated Buddha in meditation with a devotee at either side in obeisance. 32.9 kg, 62cm (24 1/2"). Fine condition. Provenance Acquired for the 'Buckingham Collection' by the late Nik Douglas (1944-2012), renowned author, curator and Asian art expert; the collection formed from the early 1960s to early 1970s; displayed at the major exhibition 'The Buddha Image: Out of Uddiyana', Tibet House, 22 West 15th Street, New York, 16 September-20 October 2010, extended to 16 November and again to 7 January 2011; where the collection of one hundred pieces was publicly valued at US$ 15M; this piece was scheduled to be included in an exhibition entitled 'On the Silk Route; Birth of The Buddha', to be held in London from November 2012, but sadly his death prevented this; accompanied by copies of several press releases and articles for the exhibition, including Artnet News, This Week in New York, Huffpost, Buddhist Art News, and copies of the relevant exhibition catalogue pages. Published Exhibited: Douglas, Nik., Out of Uddiyana. An exhibition at Tibet House New York, From the Buckingham collections, exhibit BG015, p.103; accompanied by copies of the relevant exhibition catalogue pages. Footnotes Asian art expert Nik Douglas wrote: 'This unusual and powerful stone sculpture most likely depicts Bodhisattva Maitreya - the Future Buddha. He stands frontally, in sandals, upon a wide podium the front of which is decorated by columns and a central seated Buddha in meditation with a devotee at either side in obeisance. The Bodhisattva is portrayed as an extremely handsome idealized divine being, the head large, hair piled high and bejeweled, the body largely bare to the waist which is wrapped with an Indian-style dhoti cloth. He wears sumptuous necklaces, arm-bands, ear-rings and scarves which are draped artfully. The raised right arm is missing the hand, which most likely was in the abhaya 'fear not' gesture. The left hand, also missing must have been by the lower left side. Gandhara-culture in Kashmir, circa 6th century AD.'
In aktuellen Auktionen suchen
Suchen Sie jetzt in bevorstehenden Auktionen europäischer Auktionshäuser nach Ihrem Schatz!
In vergangenen Auktionen suchen
Suchen Sie jetzt in unserem Archiv mit über 27 Millionen versteigerten Losen!
In aktuellen Auktionen suchen
Suchen Sie jetzt in unserer Künstlerdatenbank!
LotSearch ausprobieren
Testen Sie LotSearch und seine Premium-Features 7 Tage - ohne Kosten!
Auktionssuche und Bieten
Preisdatenbank und Analysen
Individuelle automatische Suchaufträge
Jetzt einen Suchauftrag anlegen!
Lassen Sie sich automatisch über neue Objekte in kommenden Auktionen benachrichtigen.
Suchauftrag anlegen