'Cricket. on Monday, July 20th 1829, and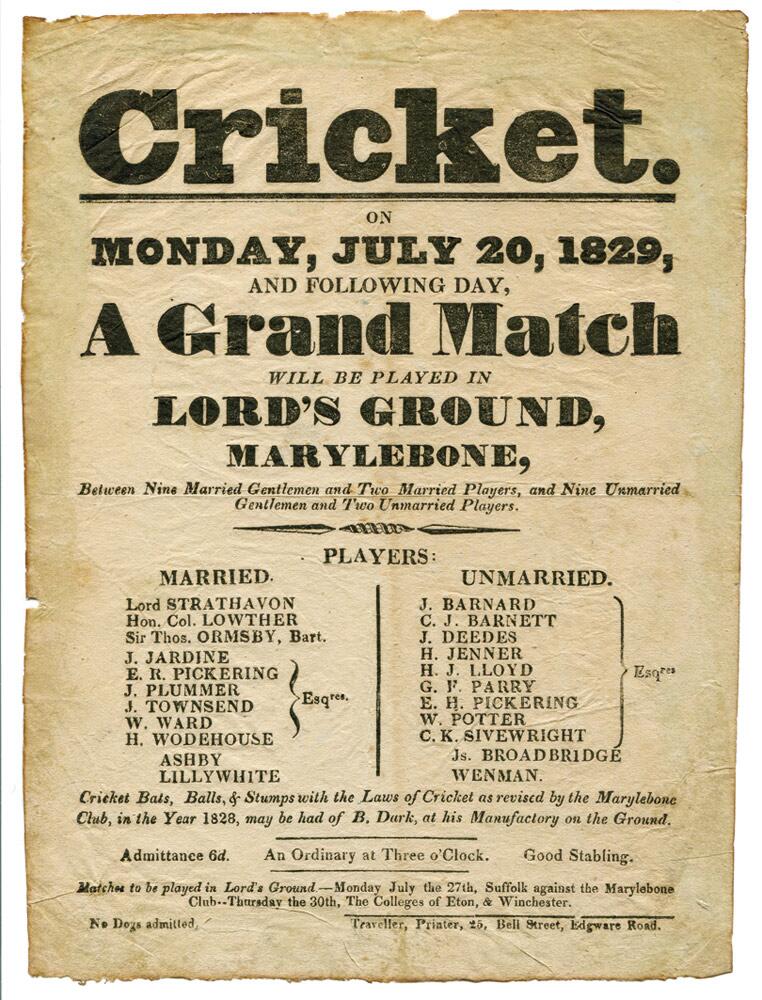 Schätzpreis: 600 £ - 800 £

ca. 858 $ - 1.144 $
Zuschlagspreis: n. a.
'Cricket. on Monday, July 20th 1829, and following day, A Grand Match will be played in Lord's Ground, Marylebone between nine married Gentlemen and two married Players, and nine unmarried Gentlemen and two unmarried Players. 'Player's. Married- Lord Strathavon, Hon Col Lowther, Sir Thos Ormsby, Bart, J. Jardine, E.R. Pickering, J. Plummer, J. Townsend, W. Ward, H. Wodehouse..... Ashby and Lillywhite [two bowlers]. Unmarried- J. Barnard, C.J. Barnett, J. Deedes, H. Jenner, H.J. Lloyd, G.F. Parry, E.H. Pickering, W. Potter, C.K. Sivewright..... Js Broadbridge and Wenman [two bowlers]. Cricket Bats, Balls & Stumps with the Laws of Cricket as revised by the Marylebone Club, in the Year 1828, may be had of B. Dark at his Manufactory on the Ground. Admittance 6d. An Ordinary [meal at fixed time and price] at three o'clock. Good Stabling. No dogs admitted'. Original and early handbill for the match played at the Lord's Ground Marylebone on the 20th July 1829 by Traveller, Printer, 25 Bell Street, Edgware Road, London. The handbill measures 7.25"x 9.75". Some minor wear to bill extremities, minor staining otherwise in good condition for its age. A rare handbill for the match - cricket
The Unmarried 'Single' team won the match by nine wickets. Wenman top scored with 21, Jardine 17 etc. Broadbridge appears to have taken eight and Lillywhite five wickets in the match
In aktuellen Auktionen suchen
Suchen Sie jetzt in bevorstehenden Auktionen europäischer Auktionshäuser nach Ihrem Schatz!
In vergangenen Auktionen suchen
Suchen Sie jetzt in unserem Archiv mit über 27 Millionen versteigerten Losen!
In aktuellen Auktionen suchen
Suchen Sie jetzt in unserer Künstlerdatenbank!
LotSearch ausprobieren
Testen Sie LotSearch und seine Premium-Features 7 Tage - ohne Kosten!
Auktionssuche und Bieten
Preisdatenbank und Analysen
Individuelle automatische Suchaufträge
Jetzt einen Suchauftrag anlegen!
Lassen Sie sich automatisch über neue Objekte in kommenden Auktionen benachrichtigen.
Suchauftrag anlegen