Collection of 1970's and 80's Reggae Dub LP's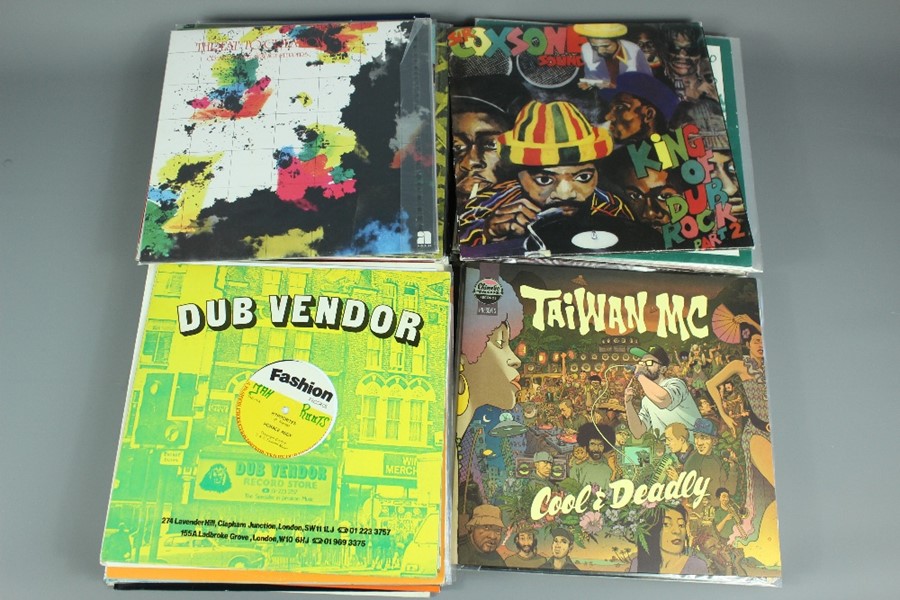 Schätzpreis: 80 £ - 120 £
Zuschlagspreis:  n. a.
Collection of 1970's, 80's Reggae and Reggae Dub (Electronic Reggae) various pressings of vinyl LP's and singles, including some Jamaica and British examples. Private collection in very good overall condition. Well known artists of this genre who form part of this collection are listed as follows: Well-known artists of the genre include Sir Coxsone, Jonah Dan meets The Bush Chemists, Sly & The Revolutionaries, Iron Eagle, Lion Youth, Joe Gibbs, Red Dragon, Lee 'Scratch' Perry, Dennis Bovell, Joe Gibbs & the Professionals, Black Solidarity, D.J Battle, Mr Spaulding, Horace Andy, The Bush Chemists, Spinster Dub, Pablo Gad, Mafia and Fluxy, Jimmy Cliff, Barrington Levy, Third World, Bunny Wailer, Admiral Bailey, Natty Dread, King Jammy, Holy Trinity, Daddy Twan, Junior Delgado, Blake n Brown, Reggae Regular (red High School record label), New Age Steppers (Action Battlefield and The New Age Steppers), Sly and Robbie, Chaka Demus & Pliers, Dub Vendor (Jah Roots), King Jammy, The Dub Specialists, Kingston Allstars meet Downton at King Tubbys 1972-1975, Harry J's 1972-1975, Horace Andy's Rare Dubs 1973-1976, Dub Syndicate, Lee Perry Mystic Warrior Dub, Necessary Mayhem, Taiwan MC, The Mighty Diamonds, Macka B, Dub Syndicate, Jah Cure. (50) Condition for this Lot - Sale 18/12/19 Most in very good condition.
In aktuellen Auktionen suchen
Suchen Sie jetzt in bevorstehenden Auktionen europäischer Auktionshäuser nach Ihrem Schatz!
In vergangenen Auktionen suchen
Suchen Sie jetzt in unserem Archiv mit über 27 Millionen versteigerten Losen!
In aktuellen Auktionen suchen
Suchen Sie jetzt in unserer Künstlerdatenbank!
LotSearch ausprobieren
Testen Sie LotSearch und seine Premium-Features 7 Tage - ohne Kosten!
Auktionssuche und Bieten
Preisdatenbank und Analysen
Individuelle automatische Suchaufträge
Jetzt einen Suchauftrag anlegen!
Lassen Sie sich automatisch über neue Objekte in kommenden Auktionen benachrichtigen.
Suchauftrag anlegen