Buffalo Bill Cody with Survivors of the Battle of Balaclava, at Manchester, England, 1891 (1 of 2)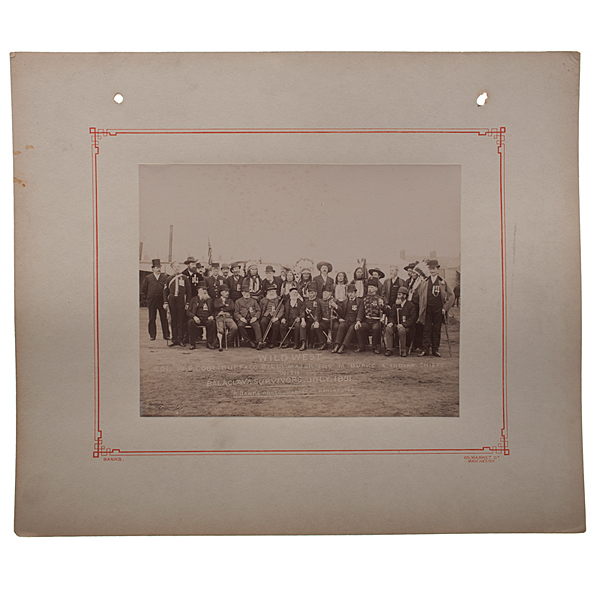 Schätzpreis: n. a.
Zuschlagspreis: 360 $
6.375 x 8 in. print on the 12 x 14 in. mount of photographer R. Banks of Manchester, England. Titled in the negative Wild West / Col. W.F. Cody (Buffalo Bill) Major Jno. M. Burke & Indian Chiefs with Balaclava Survivors, July 1891 / R. Banks, Photo. Market St. Manchester, and with Banks' blindstamp in the lower left corner of the print. The veterans of the famous Crimean War battle wear their medals and a few even wear their uniforms. Note the man with a wooden leg at the left side of the front row. Provenance: Descended directly in the family of William F. Buffalo Bill Cody Condition: Light soiling and two tack or binder holes in the upper margin, else very good.
In aktuellen Auktionen suchen
Suchen Sie jetzt in bevorstehenden Auktionen europäischer Auktionshäuser nach Ihrem Schatz!
In vergangenen Auktionen suchen
Suchen Sie jetzt in unserem Archiv mit über 27 Millionen versteigerten Losen!
In aktuellen Auktionen suchen
Suchen Sie jetzt in unserer Künstlerdatenbank!
LotSearch ausprobieren
Testen Sie LotSearch und seine Premium-Features 7 Tage - ohne Kosten!
Auktionssuche und Bieten
Preisdatenbank und Analysen
Individuelle automatische Suchaufträge
Jetzt einen Suchauftrag anlegen!
Lassen Sie sich automatisch über neue Objekte in kommenden Auktionen benachrichtigen.
Suchauftrag anlegen