An Ottoman voided velvet and metal-thread panel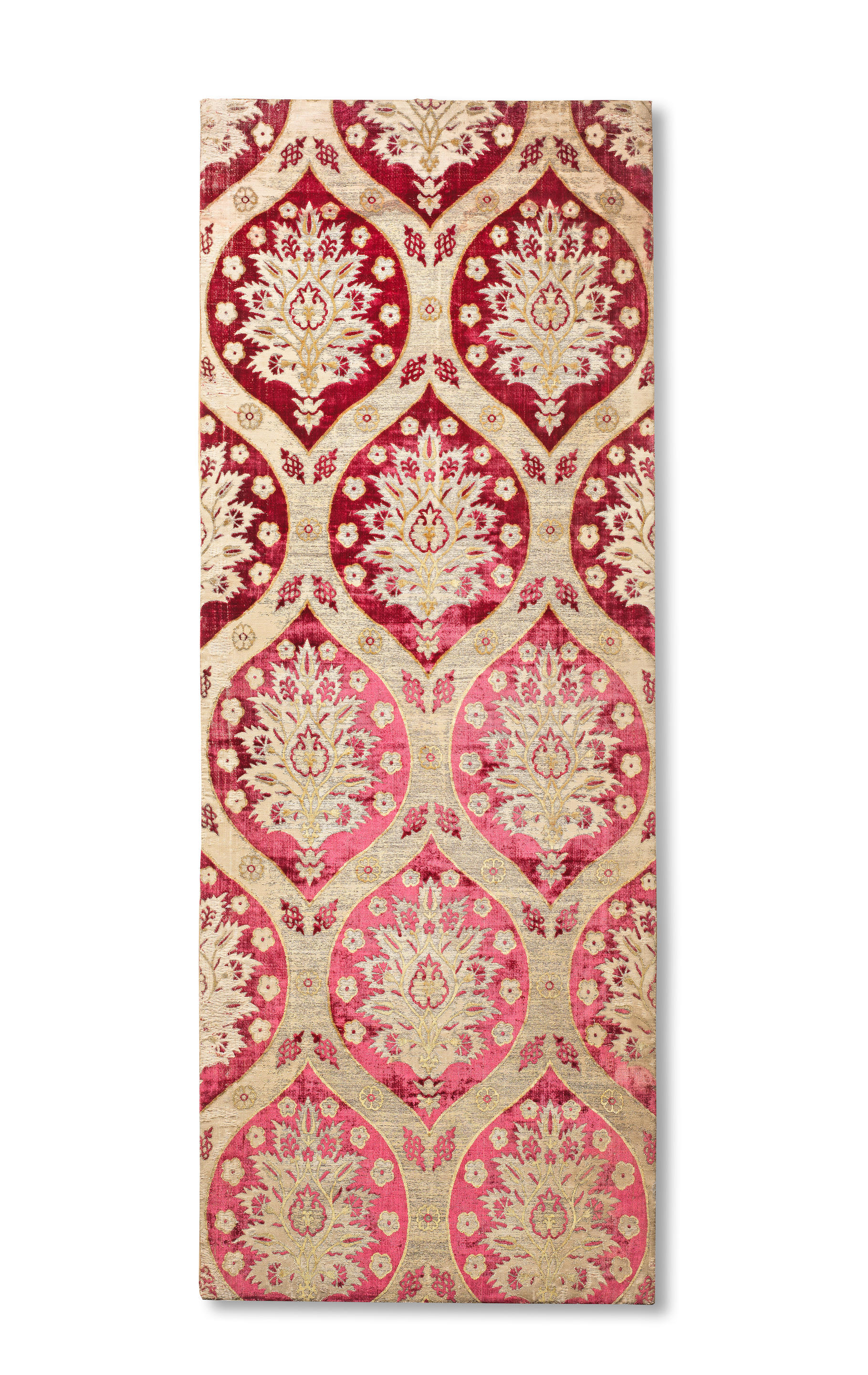 Schätzpreis: 15.000 £ - 20.000 £

ca. 19.293 $ - 25.725 $
Zuschlagspreis: n. a.
An Ottoman voided velvet and metal-thread panel Turkey, 17th Century of rectangular form, the red silk pile voided with a repeat design of ogival medallions containing serrated palmettes overlaid with sprays of tulips, carnations and hyacinths, surrounded by flowerheads, the trellis overlaid with alternating knot and flowerhead motifs, framed 159 x 61 cm. Fußnoten Provenance The collection of Princess Alia Al Hussein of Jordan. Inherited directly from her mother, Princess Dina Bint Abdul Hamid, former Queen of Jordan and Sharifa of Mecca. The serrated palmette was a popular motif on Ottoman velvets. It was either free-floating, or part of a trellis such as on this panel. For a similar velvet panel, see Nurhan Atasoy, et al, Ipek. The Crescent and the Rose: Imperial Ottoman silks and Velvets, London, 2001, fig. 336.
Informationen zur Auktion

Auktionshaus:
Bonhams London
Titel:
Old Master Paintings
Auktionsdatum:
23.10.2019
Adresse:
Bonhams London
London, Knightsbridge Montpelier Street Knightsbridge London SW7 1HH Tel: +44 20 7393 3900 Fax : +44 20 7393 3905 [email protected]
In aktuellen Auktionen suchen
Suchen Sie jetzt in bevorstehenden Auktionen europäischer Auktionshäuser nach Ihrem Schatz!
In vergangenen Auktionen suchen
Suchen Sie jetzt in unserem Archiv mit über 27 Millionen versteigerten Losen!
In aktuellen Auktionen suchen
Suchen Sie jetzt in unserer Künstlerdatenbank!
LotSearch ausprobieren
Testen Sie LotSearch und seine Premium-Features 7 Tage - ohne Kosten!
Auktionssuche und Bieten
Preisdatenbank und Analysen
Individuelle automatische Suchaufträge
Jetzt einen Suchauftrag anlegen!
Lassen Sie sich automatisch über neue Objekte in kommenden Auktionen benachrichtigen.
Suchauftrag anlegen