An interesting George III silver triple-cased small verge pocket watch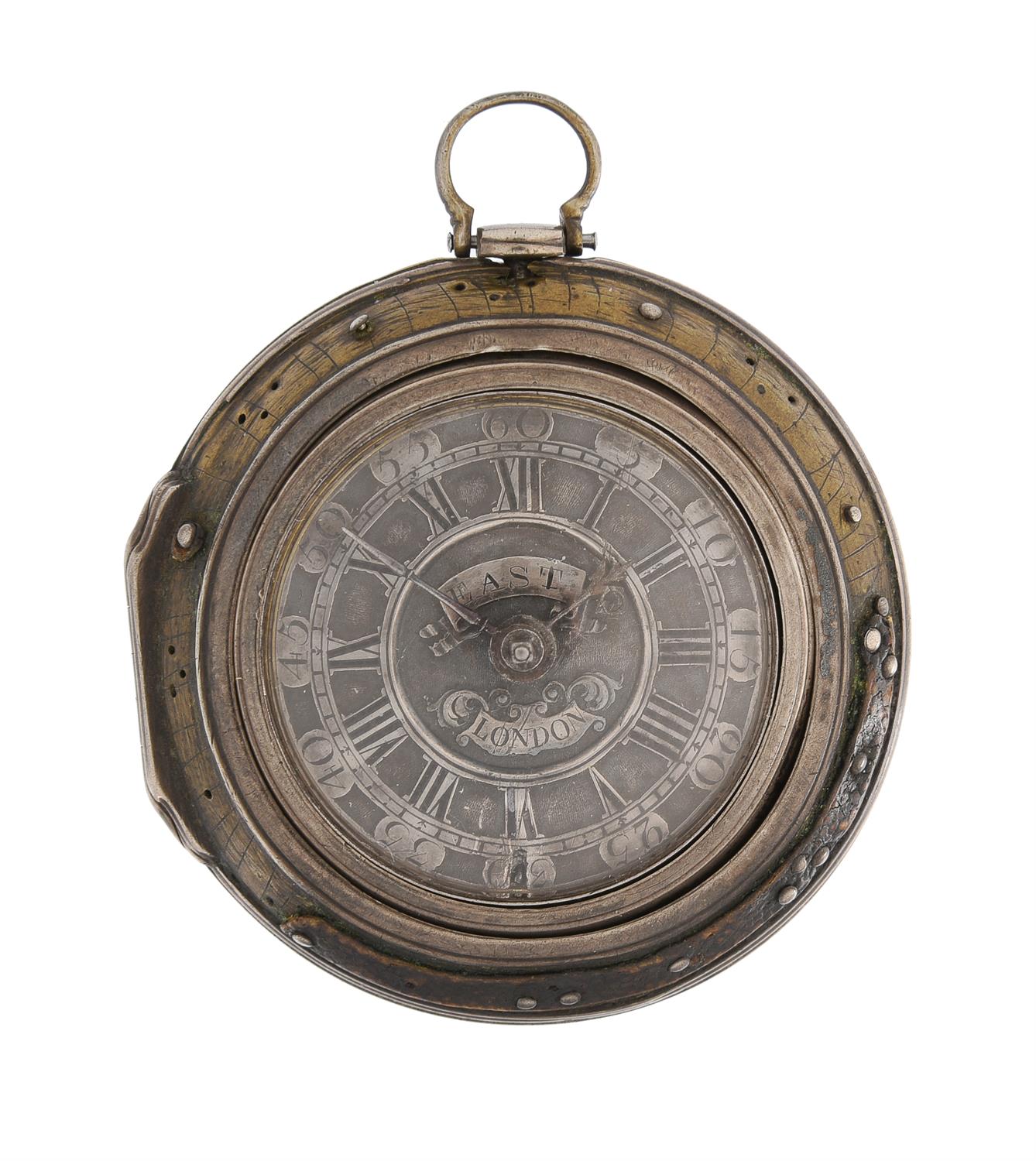 Schätzpreis: 1.000 £ - 1.500 £

ca. 1.394 $ - 2.091 $
Zuschlagspreis:  1.400 £
ca. 1.952 $
An interesting George III silver triple-cased small verge pocket watch Edward East London, second half of the 18th century The gilt full plate single fusee verge movement with four square section baluster pillars pinned through the backplate, scroll-pierced stop-iron block and sprung three-arm steel balance with Tompion type regulation, the backplate with asymmetric foliate scroll pierced and engraved balance cock with geometric bordered rim and leafy trail engraved matted foot flanked by silvered regulation disc within conforming engraved infill opposing signature Edw. East, LONDON and serial number 3966, the pillar-plate fitted with circular silver champleve dial with relief-chased ribbon banners engraved EAST, LONDON to the finely matted centre, within Roman numeral chapter ring with Arabic cartouche five minute numerals to outer track, with blued steel beetle and poker hands and in plain silver inner case with suspension post and ring at twelve o'clock, the second case with fine moulded detail to the bezel edge and outer rim, the outer case matching but with brass shells and overlaid with pinned morocco leather, inner case with indistinct date marks possibly for London 1776 and makers mark R.P for Richard Palmer I, the dial 33mm diameter; the inner case 38mm diameter; the outer case 53mm (2.125ins) diameter. The current lot would appear to almost certainly have been made by the maker of this name who is recorded in Baillie, G.H. Watchmakers & Clockmakers of the World as apprenticed in 1736 and gaining his freedom of the Clockmakers' Company in 1743. It is not known whether this Edward East was directly descended from his esteemed 'Golden Age' namesake (who died in 1696), however Loomes notes (in The Early Clockmakers of Britain 1286-1700) that a son of the same name perhaps followed in his footsteps in becoming a clockmaker, and was the father to Edmund East who is recorded by Baillie as working from 1696. Notwithstanding the uncertainties regarding the exact origins of the maker of the current lot it is an interesting example. The maker's mark of the case (which appears original to the movement and dial) is still fairly clear and confirms that it was made by Richard Palmer I who was apparently registered this stamp in 1769. The movement also has some details which would confirm a date of around this time, most notable the matting to the balance cock foot and the geometric border around the rim of the cock itself. However there are many of the features which are particularly archaic for a watch of this date, in particular the champlevé dial, which by this time was very rarely used in favour of white enamel dials, the style of the engraved signature to the backplate also perhaps appears a little old-fashioned. With these observations in mind it may perhaps be appropriate to speculate that the maker of the current lot perhaps sought to capture the feel of examples emulating from his earlier esteemed namesake in order to set his work aside from his competitors.
In aktuellen Auktionen suchen
Suchen Sie jetzt in bevorstehenden Auktionen europäischer Auktionshäuser nach Ihrem Schatz!
In vergangenen Auktionen suchen
Suchen Sie jetzt in unserem Archiv mit über 27 Millionen versteigerten Losen!
In aktuellen Auktionen suchen
Suchen Sie jetzt in unserer Künstlerdatenbank!
LotSearch ausprobieren
Testen Sie LotSearch und seine Premium-Features 7 Tage - ohne Kosten!
Auktionssuche und Bieten
Preisdatenbank und Analysen
Individuelle automatische Suchaufträge
Jetzt einen Suchauftrag anlegen!
Lassen Sie sich automatisch über neue Objekte in kommenden Auktionen benachrichtigen.
Suchauftrag anlegen