An important documentary Lowestoft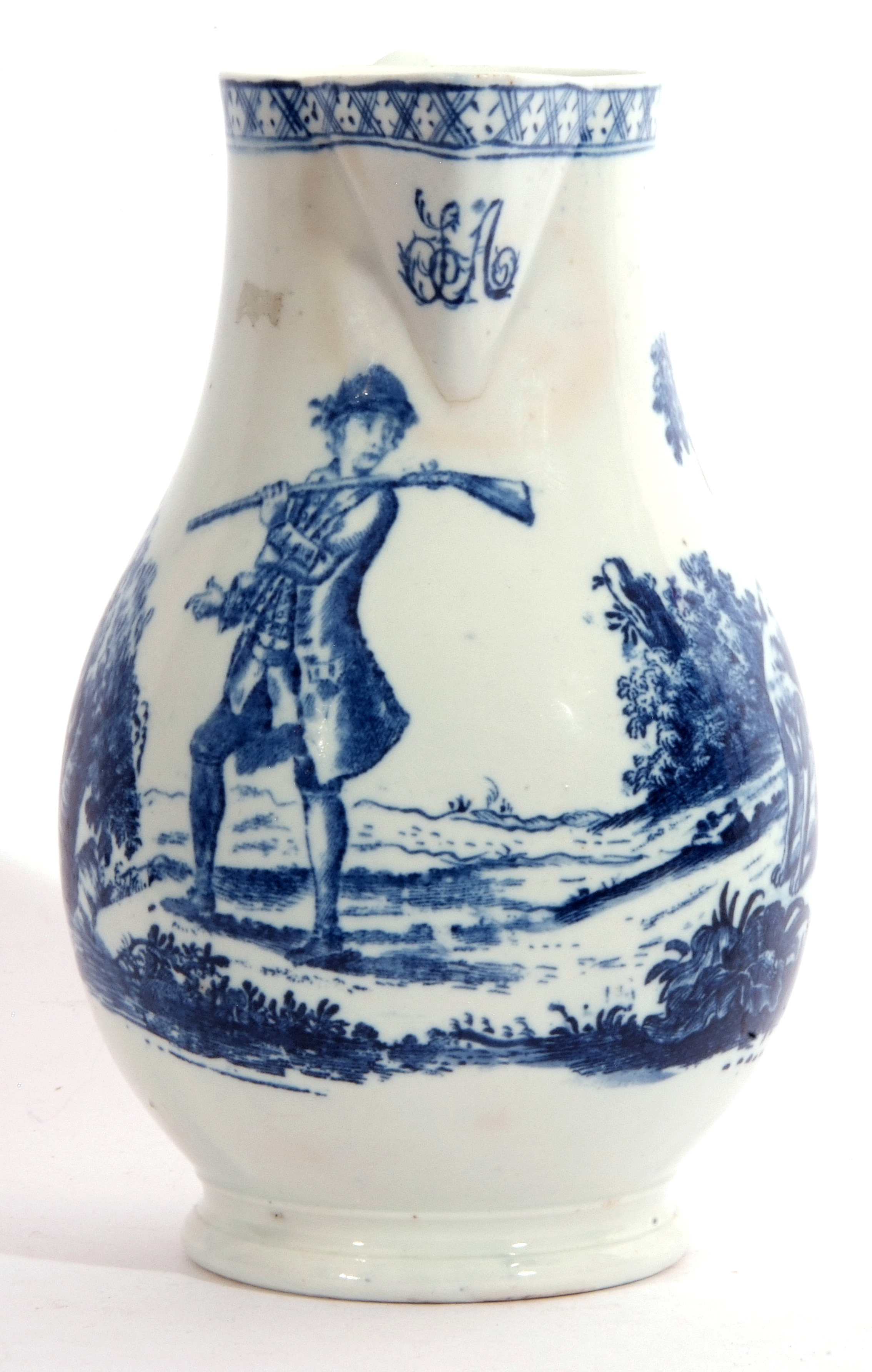 Schätzpreis: 5.000 £ - 7.000 £

ca. 6.953 $ - 9.735 $
An important documentary Lowestoft porcelain jug decorated with a print of a hound and huntsmen, possibly after the painting by A F Desportes, (see Sheena Smith Lowestoft Porcelain in Norwich Castle Museum), the lip of the jug inscribed with the initials "SA" for Samuel Aldred, 19cm high. Provenance: The Worrell Collection No 33, according to the catalogue the jug was previously in the collection of Robert Brown William Rix Seago, F A Crisp and Mrs M M Paul collections, purchased by William Rix Seago from Robert Brown's great grandson of the original potter of that name and mentioned by him in his affidavit made 12th December 1895, purchased by F A Crisp, who published the affidavit in his catalogue of Lowestoft China, where the jug is referred to as "Item 6" and listed in the catalogue of the F A Crisp collection sold Sotheby's 14th February 1935, Lot 103, exhibited in the Lowestoft China Bicentenary Exhibition Ipswich 1957, exhibit no 85, illustrated by Bernard Watney in his book "English Blue and White Porcelain of the 18th century" 1963, plate 85b. Traditionally, the initials on the jug are said to be those of Samuel Aldred, son of Obed Aldred, one of the original partners in the Lowestoft porcelain factory. The copper plate for the transfers is also said to have been supplied by Mr Gamble of Bungay and said to be the first example of copper plate printing on Lowestoft porcelain of the period (see Sheena Smith Lowestoft Porcelain in the Norwich Castle Museum, page 152). The jug is well documented and the only known inscribed piece of Lowestoft porcelain with a possible direct link to one of the owners of the factory.
Informationen zur Auktion

Auktionshaus:
Keys Fine Art Auctioneers
Titel:
Two Day Fine Sale
Auktionsdatum:
12.05.2021 - 13.05.2021
Adresse:
Keys Fine Art Auctioneers
Off Palmers Lane
Aylsham, Norwich
NR11 6JA Norfolk
Großbritannien und Nordirland


[email protected]

·

+44 (0)1263 733195

·

+44 (0)1263 731222
In aktuellen Auktionen suchen
Suchen Sie jetzt in bevorstehenden Auktionen europäischer Auktionshäuser nach Ihrem Schatz!
In vergangenen Auktionen suchen
Suchen Sie jetzt in unserem Archiv mit über 27 Millionen versteigerten Losen!
In aktuellen Auktionen suchen
Suchen Sie jetzt in unserer Künstlerdatenbank!
LotSearch ausprobieren
Testen Sie LotSearch und seine Premium-Features 7 Tage - ohne Kosten!
Auktionssuche und Bieten
Preisdatenbank und Analysen
Individuelle automatische Suchaufträge
Jetzt einen Suchauftrag anlegen!
Lassen Sie sich automatisch über neue Objekte in kommenden Auktionen benachrichtigen.
Suchauftrag anlegen