An Antwerp Historical Tapestry from The Story of Emperor Octavian Augustus, circa 1660-1690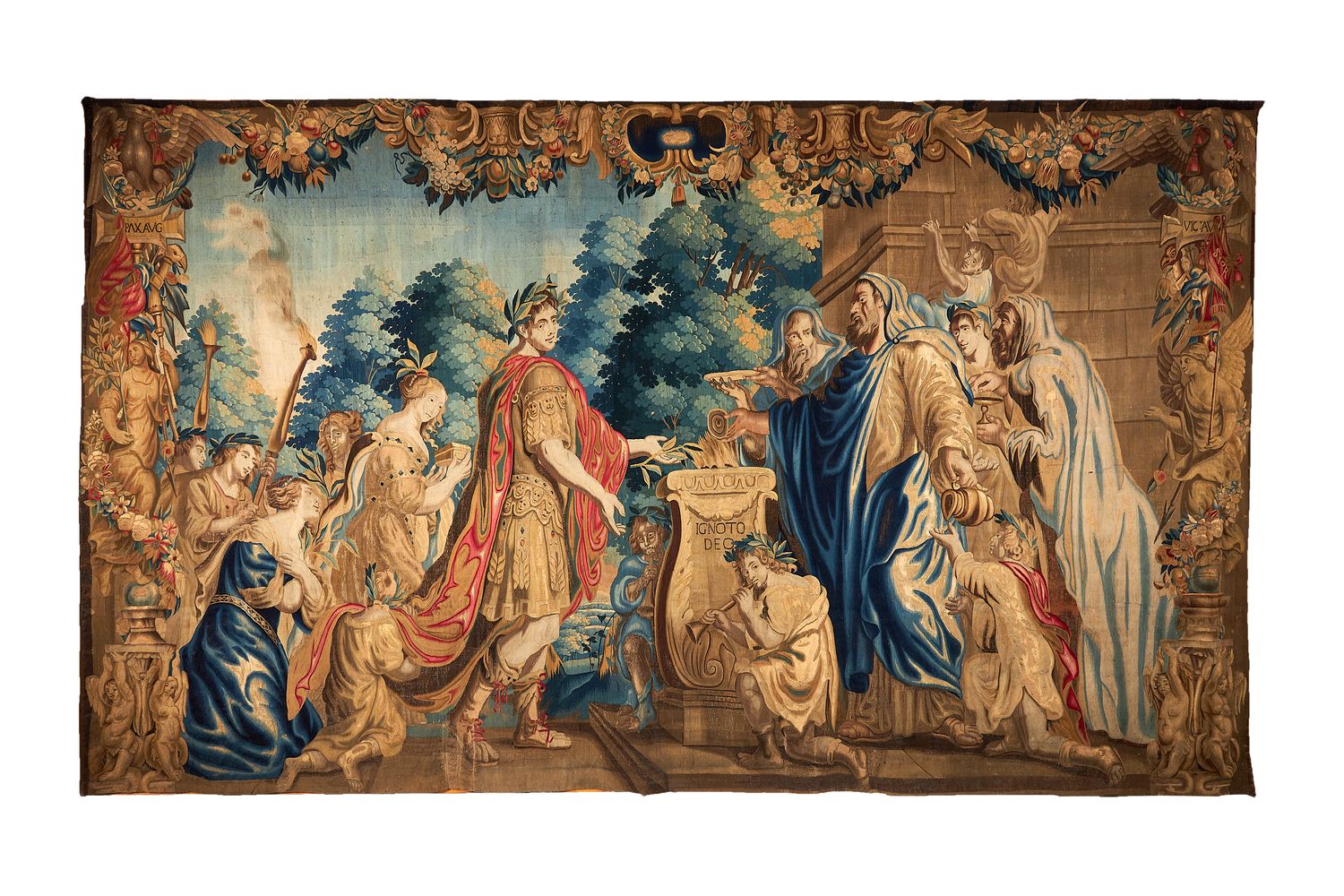 Schätzpreis: 0 £
Zuschlagspreis:  14.000 £
ca. 18.032 $
An Antwerp Historical Tapestry, probably by the workshop of Jan Frans Cornelissen or Anna Maria Wauters, The Sacrifice to the Unknown God, from The Story of Emperor Octavian Augustus, circa 1660-1690, the design attributed to Justus van Egmont woven in wools and silks, depicting Augustus, crowned with laurel, standing before an altar with inscription IGNOTO DEO, surrounded by priests, musicians and further kneeling and standing entourage, the fruiting and festooned borders woven with maidens personifying Peace and Victory respectively holding aloft military trophies headed by Imperial eagles, and with central cabochon to the upper swagged and flowering border, 271cm x 457cm The present series is first recorded in 1659, and takes its inspiration from the life of Augustus (63 BC - 14AD), the first Roman Emperor, as recorded by Suetonius. The son of a senator, Augustus served under Julius Caesar and was subsequently adopted by him. After the demise of Lepidus and Mark Antony (see the Brussels tapestry presented in this sale), with whom Augustus had entered into a triumvirate to rule the Roman republic, he became the sole ruler of Rome. His rule is mainly remembered as the start of the Pax Romana, an era of relative stability and peace. Justus van Egmont had studied under Rubens and Simon Vouet and is known to have designed various tapestry cycles with Roman subject matter. A suite of tapestries attributed to the family-run Antwerp workshop of Wauters and Cornelissen with the same border design, reputedly from the collection of Maria Cristina, Queen of Spain, was sold at Christie's, 10 November 2005 (lots 92-103). Eight panels, whose different borders also include the cabochon motif, are at the Kunsthistorisches Museum, Vienna. The present episode is relatively rare, though a known surviving example is at the Museu de Sao Roque, Lisbon. A fragmentary panel of the central section is at Cotehele, Cornwall. Parts of the series, again with similar borders, are at Hardwick Hall, Derbyshire.
In aktuellen Auktionen suchen
Suchen Sie jetzt in bevorstehenden Auktionen europäischer Auktionshäuser nach Ihrem Schatz!
In vergangenen Auktionen suchen
Suchen Sie jetzt in unserem Archiv mit über 27 Millionen versteigerten Losen!
In aktuellen Auktionen suchen
Suchen Sie jetzt in unserer Künstlerdatenbank!
LotSearch ausprobieren
Testen Sie LotSearch und seine Premium-Features 7 Tage - ohne Kosten!
Auktionssuche und Bieten
Preisdatenbank und Analysen
Individuelle automatische Suchaufträge
Jetzt einen Suchauftrag anlegen!
Lassen Sie sich automatisch über neue Objekte in kommenden Auktionen benachrichtigen.
Suchauftrag anlegen