A MEISSEN PORCELAIN ARMORIAL FOUR-LIGHT CANDELABRUM FROM THE SWAN SERVICE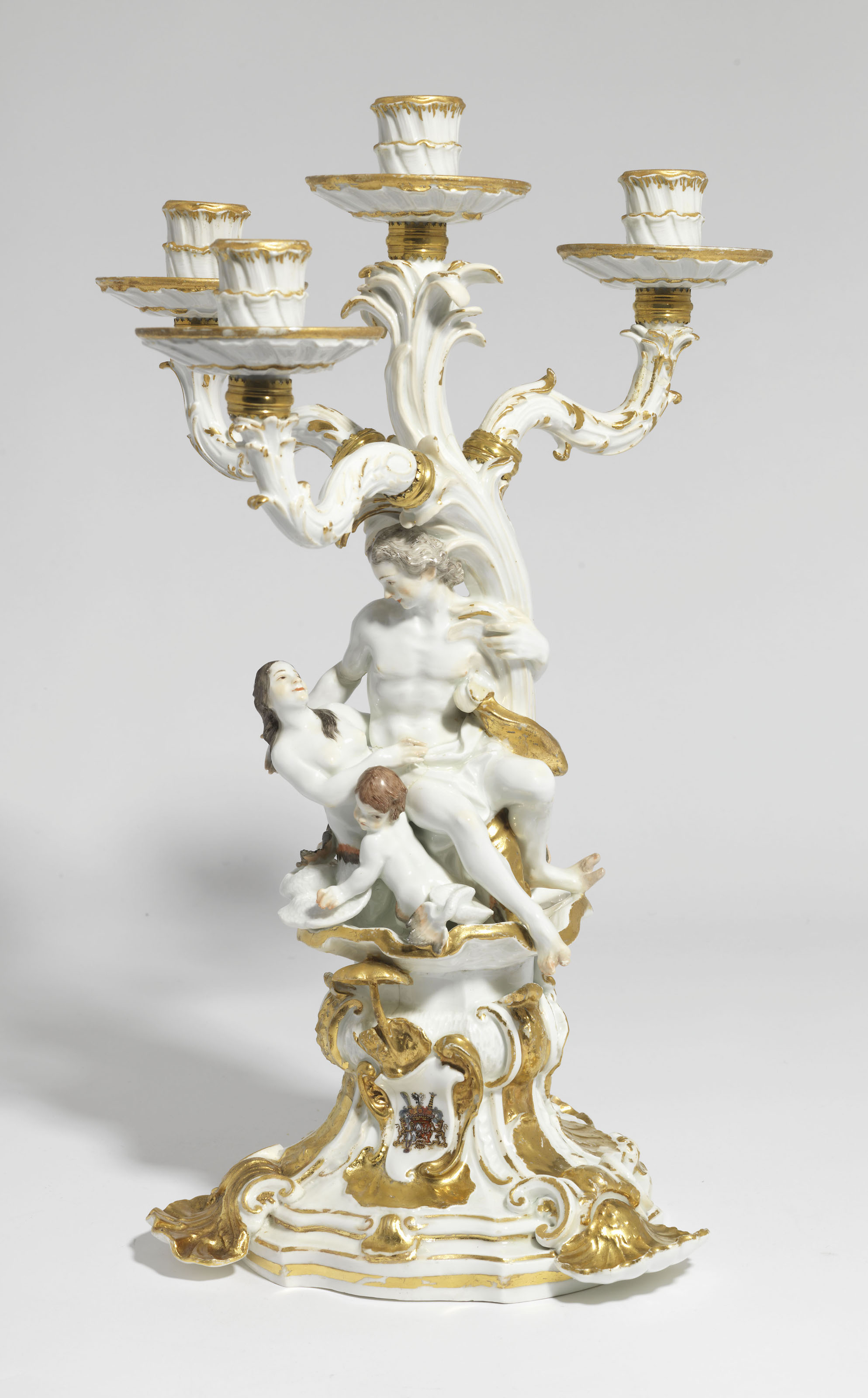 Schätzpreis: 65.000 £ - 100.000 £

ca. 84.060 $ - 129.323 $
Zuschlagspreis: n. a.
A MEISSEN PORCELAIN ARMORIAL FOUR-LIGHT CANDELABRUM FROM THE SWAN SERVICE CIRCA 1739-40 Modelled by J.J. Kändler and J.F. Eberlein , with Acis and a fish-tailed nymph seated on a dolphin, accompanied by two baby tritons and supported on an upturned shell, the tripartite pedestal base with three scrolls each issuing a gilt shell, each side moulded with a cartouche painted with the arms of Brühl and Kolowrat-Krakowska, the central reed-moulded column with four ormolu-mounted branches each with a shell-moulded candle sconce and drip pan 20 1/8 in. (51.2 cm.) high Provenance Heinrich Count Brühl, Schloss Pförten, and thence by descent. Acquired by a member of the Brühl family from Frye & Sohn, Münster, December 1990, and by descent to the present owner.
In aktuellen Auktionen suchen
Suchen Sie jetzt in bevorstehenden Auktionen europäischer Auktionshäuser nach Ihrem Schatz!
In vergangenen Auktionen suchen
Suchen Sie jetzt in unserem Archiv mit über 27 Millionen versteigerten Losen!
In aktuellen Auktionen suchen
Suchen Sie jetzt in unserer Künstlerdatenbank!
LotSearch ausprobieren
Testen Sie LotSearch und seine Premium-Features 7 Tage - ohne Kosten!
Auktionssuche und Bieten
Preisdatenbank und Analysen
Individuelle automatische Suchaufträge
Jetzt einen Suchauftrag anlegen!
Lassen Sie sich automatisch über neue Objekte in kommenden Auktionen benachrichtigen.
Suchauftrag anlegen