A LAPIS LAZULI, TURQUOISE AND AQUAMARINE COURT NECKLACE, CHAOZHU , AND A LAPIS LAZULI AND CORAL ROSARY BRACELET, SHOU CHUAN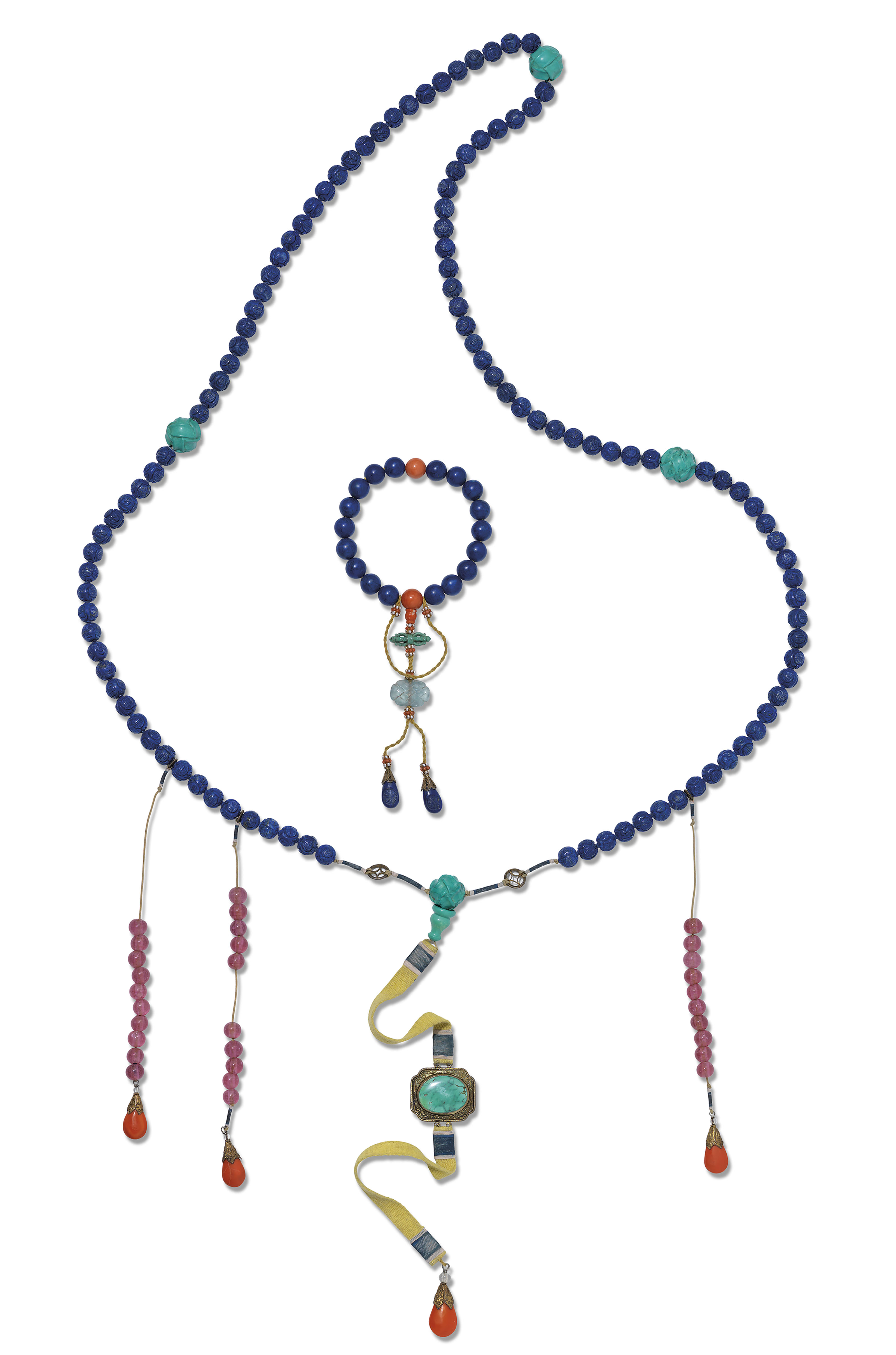 Schätzpreis: 5.000 £ - 8.000 £

ca. 6.121 $ - 9.794 $
Zuschlagspreis: n. a.
A LAPIS LAZULI, TURQUOISE AND AQUAMARINE COURT NECKLACE, CHAOZHU , AND A LAPIS LAZULI AND CORAL ROSARY BRACELET, SHOU CHUAN QING DYNASTY (1644-1911) The necklace includes one hundred and eight lapis lazuli beads carved with shou characters, separated by three larger fotou turquoise beads, each carved as a knot, a two-part double gourd-form turquoise fotouta and a gilt metal-mounted turquoise beiyun suspending a drop in orange glass imitating coral hang from the centre. There are three strings of jinian comprised of pierced pink glass beads imitating tourmaline and suspending orange glass drops in imitation of coral. The rosary bracelet is comprised of eighteen lapis lazuli beads of even tone, spaced by two fotou coral beads. A double-gourd bead hangs from the centre suspending a turquoise vajra and an aquamarine pendant and two drop-shaped lapis lazuli toggles carved with shou characters. The string is decorated with tiny seed pearls. Approximately 56 ¾ in. (144 cm.) long (the necklace) and approximately 3 ½ in. (9 cm.) diam. (the bracelet)
In aktuellen Auktionen suchen
Suchen Sie jetzt in bevorstehenden Auktionen europäischer Auktionshäuser nach Ihrem Schatz!
In vergangenen Auktionen suchen
Suchen Sie jetzt in unserem Archiv mit über 27 Millionen versteigerten Losen!
In aktuellen Auktionen suchen
Suchen Sie jetzt in unserer Künstlerdatenbank!
LotSearch ausprobieren
Testen Sie LotSearch und seine Premium-Features 7 Tage - ohne Kosten!
Auktionssuche und Bieten
Preisdatenbank und Analysen
Individuelle automatische Suchaufträge
Jetzt einen Suchauftrag anlegen!
Lassen Sie sich automatisch über neue Objekte in kommenden Auktionen benachrichtigen.
Suchauftrag anlegen