A CARVED YAOZHOU CELADON BOWL AND A YAOZHOU DISH AND A CARVED CELADON-GLAZED DISH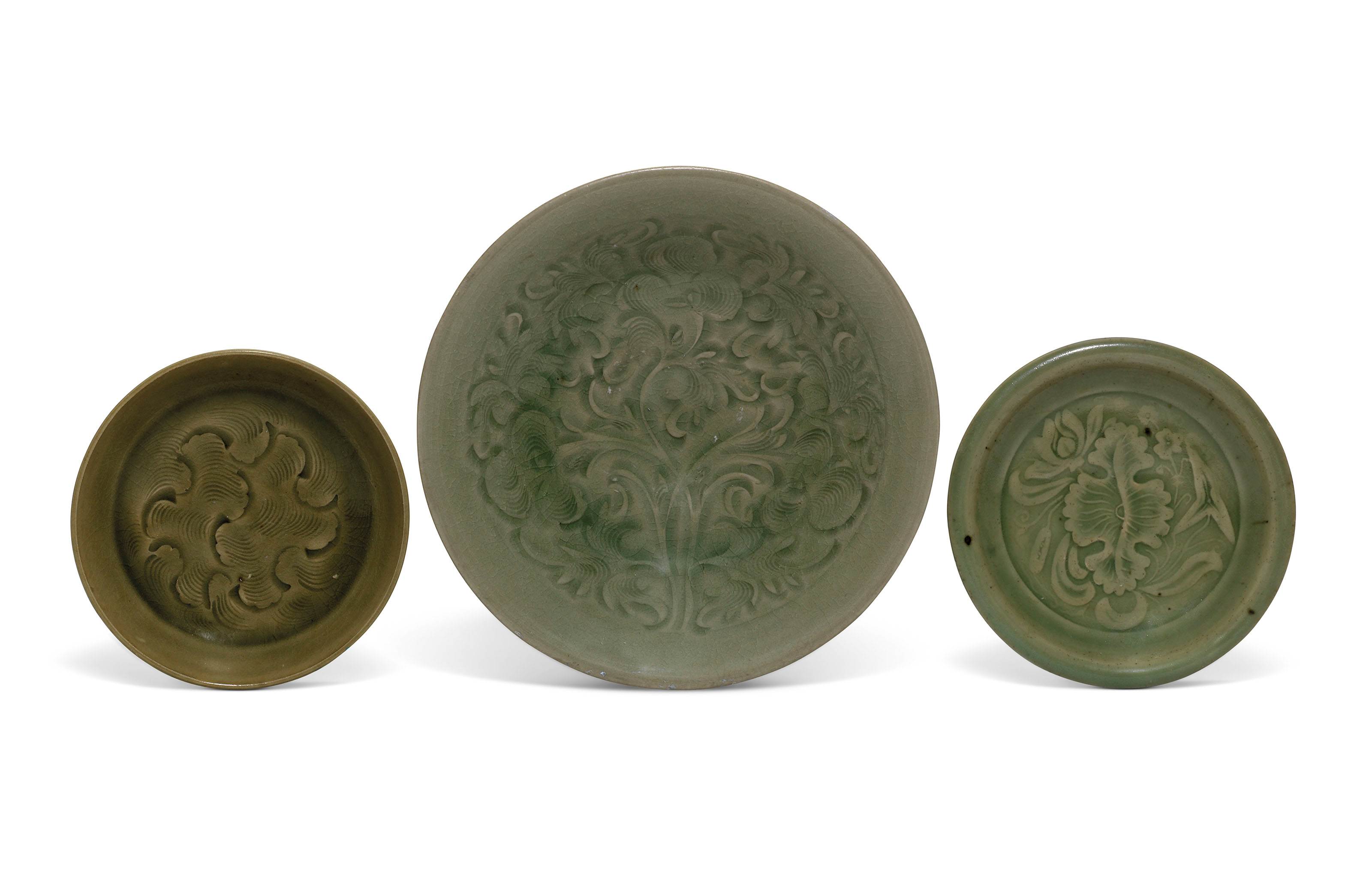 Schätzpreis: 5.000 £ - 8.000 £

ca. 6.451 $ - 10.323 $
Zuschlagspreis: 12.500 £
ca. 16.129 $
A CARVED YAOZHOU CELADON BOWL AND A YAOZHOU DISH AND A CARVED CELADON-GLAZED DISH SONG DYNASTY (960-1279) The conical bowl is decorated with a freely carved design of stylised peony stems, their curly leaves enhanced with a combed decoration, covered all over with a crackle-suffused glaze of olive-green tone that stops in a neat line above the foot. The Yaozhou dish is carved with wave design with combed decoration below a crackle-suffused glaze of deep olive tone. The second dish is carved with a leafy floral spray including a lotus bloom. The largest 4 7/8 in. (12.5 cm.) diam Provenance The Yaozhou bowl, with Jan van Beers, London, 30 April 1999. One Yaozhou dish, with Luen Chai, Hong Kong, 23 August 2000.
In aktuellen Auktionen suchen
Suchen Sie jetzt in bevorstehenden Auktionen europäischer Auktionshäuser nach Ihrem Schatz!
In vergangenen Auktionen suchen
Suchen Sie jetzt in unserem Archiv mit über 27 Millionen versteigerten Losen!
In aktuellen Auktionen suchen
Suchen Sie jetzt in unserer Künstlerdatenbank!
LotSearch ausprobieren
Testen Sie LotSearch und seine Premium-Features 7 Tage - ohne Kosten!
Auktionssuche und Bieten
Preisdatenbank und Analysen
Individuelle automatische Suchaufträge
Jetzt einen Suchauftrag anlegen!
Lassen Sie sich automatisch über neue Objekte in kommenden Auktionen benachrichtigen.
Suchauftrag anlegen