Gio Ponti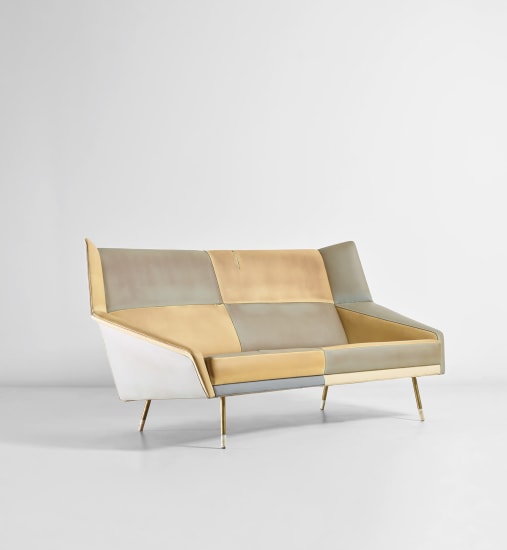 Schätzpreis: 70.000 £ - 90.000 £

ca. 92.255 $ - 118.613 $
Zuschlagspreis:  n. a.
13Gio PontiPrototype 'Mariposa' sofa, designed for the XI Milan Triennalecirca 1957 Vinyl, brass, painted brass. 80 x 167 x 89.5 cm (31 1/2 x 65 3/4 x 35 1/4 in.) Produced by Cassina, Meda, Italy. Together with a certificate of expertise from the Gio Ponti Archives. Estimate £70,000 - 90,000 Place Advance BidContact Specialist Madalena Horta E Costa Head of Sale, Associate Specialist +44 20 7318 4019 [email protected]
Condition ReportSign UporLog InDescriptionOur Buyer's Premium has been updated. View our Conditions of Sale.ProvenanceVia Giuseppe Dezza 49, Milan Private collection, MilanExhibitedXI Milan Triennale, 1957 'Espressioni di Gio Ponti', Triennale, Milan, 6 May-24 July 2011Literature''Proposte per la casa' alla XI Triennale', Domus, no. 337, December 1957, illustrated p. 33 Laura Falconi, Gio Ponti Interiors, Objects, Drawings 1920-1976, Milan, 2004, illustrated p. 183 Ugo La Pietra ed., Gio Ponti L'arte si innamora dell'industria, New York, 2009, illustrated p. 239Catalogue EssayAn Exceptional Work: Gio Ponti's Prototype 'Mariposa' Sofa There are two reasons that make the present two-seater sofa a truly exceptional work. The first being that whilst conceived for a serial production, the design never went into production and only two examples are known to have been made: the present prototype sofa, which was exhibited at the XI Milan Triennale in 1957; and the sofa designed by Gio Ponti for Villa Planchart, Caracas (1955), which today still remains part of the furnishings of this important architectural masterpiece. Secondly, among all of Ponti's designs from the post war period, this sofa is the highest expression of his work at the dawn of industrial design, for which Ponti was a pivotal figure. Through the play of lines and proportions the present lot masterfully illustrates the interplay between architecture and design that is central to Ponti's work. Conceived for the furnishings of Villa Planchart ̶ the name 'Mariposa' (butterfly in Spanish) is where the name originates from ̶ it is inspired in its forms and surfaces by the roofs of Ponti's Venezuelan villas, which were designed to suggest the lightness of butterflies. The play between surfaces and colour is conceived to offer continuous changes in the appearance of the volume of the piece of furniture, depending on the viewpoint. The same principal governs Ponti's most important architectural projects, starting from his Villas in Caracas and Teheran, through to his Montedoria office building, the Denver Art Museum and the Assicurazioni Savoia, among others. The present model also marks a turning point in furniture design as Ponti abandoned the wooden legs and other traditional materials he had used in the past. Instead he chose thin metal tubular legs that separated the floor from the volume of the seat, which Ponti began upholstering with novel materials such as Vipla, all in the name of 'modern design'. Salvatore Licitra Founder and Curator, Gio Ponti Archives.Read MoreArtist BiographyGio PontiItalian • 1891 - 1979Follow Among the most prolific talents to grace twentieth-century design, Gio Ponti defied categorization. Though trained as an architect, he made major contributions to the decorative arts, designing in such disparate materials as ceramics, glass, wood and metal. A gale force of interdisciplinary creativity, Ponti embraced new materials like plastic and aluminum but employed traditional materials such as marble and wood in original, unconventional ways.In the industrial realm, he designed buildings, cars, machinery and appliances — notably, the La Cornuta espresso machine for La Pavoni — and founded the ADI (Industrial Designer Association). Among the most special works by Gio Ponti are those that he made in collaboration with master craftsmen such as the cabinetmaker Giordano Chiesa, the illustrator Piero Fornasetti and the enamellist Paolo de Poli.View More Works
In aktuellen Auktionen suchen
Suchen Sie jetzt in bevorstehenden Auktionen europäischer Auktionshäuser nach Ihrem Schatz!
In vergangenen Auktionen suchen
Suchen Sie jetzt in unserem Archiv mit über 27 Millionen versteigerten Losen!
In aktuellen Auktionen suchen
Suchen Sie jetzt in unserer Künstlerdatenbank!
LotSearch ausprobieren
Testen Sie LotSearch und seine Premium-Features 7 Tage - ohne Kosten!
Auktionssuche und Bieten
Preisdatenbank und Analysen
Individuelle automatische Suchaufträge
Jetzt einen Suchauftrag anlegen!
Lassen Sie sich automatisch über neue Objekte in kommenden Auktionen benachrichtigen.
Suchauftrag anlegen