Altes Spielzeug ist ein begehrter Bereich bei Auktionen. Nostalgischer Charme oder vielleicht auch alte Kindheitserinnerungen sind Motivatoren für deren Erwerb. Hart umkämpft sind frühe Blechspielzeuge wie Eisenbahnen, Karusselle, Schiffe oder Autos, bewegliche Figuren und Automaten, aber auch Puppen, Teddys, Plüschtiere, Puppenstuben, Kaufläden und deren vielfältiger Zubehör etc., besonders wenn sie dann noch in einem sehr guten oder kompletten Zustand auftauchen. Firmennamen wie Märklin oder Armand/Marseille, Steiff oder Schuco, Käthe Kruse oder selbst seltene Barbie-Puppen lassen die Sammlerherzen höher schlagen. Andere Spielzeugkategorien wie zum Beispiel Steinbaukästen, optisches Spielzeug wie die Laterna Magica, Lege- und Würfelspiele, Kartenspiele, Zauberkästen, Lernspielzeug uvm. finden immer ihren Liebhaber.
---
An early 20th century Steiff style teddy bear with plush golden fur, glass eyes, stitched snout, hump back and jointed limbs, 30cm high...
Preis: 200 £ - 300 £
ca. 257 $ - 386 $
Four early 20th century Armand Marseille bisque head dolls, a Heubach Koppelsdorf bisque head doll and two modern dolls, the tallest 57cm, (7...
Preis: 150 £ - 200 £
ca. 193 $ - 257 $
Mädchenpuppe von Armand Marseille um 1894 Biskuitkurbelkopf. Geöffneter Mund mit Porzellanzähnen. Schlafaugen. Braune Echthaarperücke. Gliedergelenkkörper. L. 26 cm. Kopfmarke: "1894, A. M. 0, DEP...
Datum: 05.12.2019 - 07.12.2019
FILM POSTER: 'STAR WARS: EPISODE IV: A NEW HOPE' (1977) Paramount Pictures, Style A, One Sheet, International poster, Litho in USA. next to Union logo, NSS no. 77 / 21 - 0, three line NSS paragraph, without PG ratings box lower left, purple stamp lower centre 'Kenya Film Censorship Board, Nairobi, Approved', artwork Tom Jung, 103cm x 67.5cm within mount, framed and glazed. 1890...
Preis: 200 £ - 300 £
ca. 257 $ - 386 $
A Tom Jung original Star Wars: Episode IV–A New Hope concept artwork for the one sheet poster Twentieth Century-Fox, 1977. Acrylic, color pencil, airbrush on illustration board, signed ("Tom Jung") to bottom. Jung's impressive career boasts movie poster illustrations and storyboard art for such films as The Towering Inferno (1974), The Empire Strikes Back (1980), and Raging Bull (1980), among many...
Preis: 40.000 $ - 60.000 $
Datum: 10.12.2019 - 11.12.2019
A Tom Jung original Star Wars: Episode IV - A New Hope concept artwork for the half sheet poster with additional sketches Twentieth Century-Fox, 1977. Pencil drawing on illustration paper, with annotations to margins and rough sketches on the reverse, with a coffee stain in the lower right-hand corner; accompanied by 3 sketches on tracing paper of Ben Obi-Wan Kenobi, Luke Skywalker, and Princess...
Preis: 25.000 $ - 30.000 $
Datum: 10.12.2019 - 11.12.2019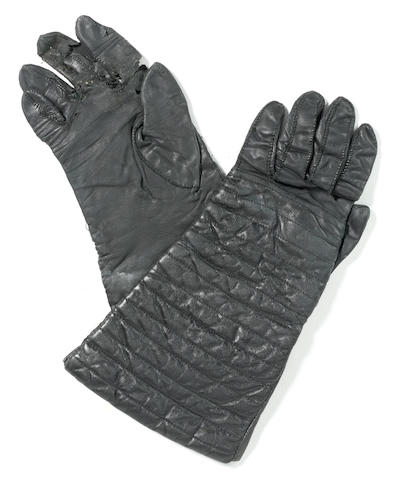 A pair of screen-worn black gloves from Star Wars: Episode IV–A New Hope, worn by Kermit Eller as Darth Vader in personal appearances Lucasfilm, 1977. Black leather gauntlet-style mid-length gloves with a stitched stripe quilted pattern that ends at the knuckle. Worn in the film and subsequently used by Eller from 1977-79 in appearances as Darth Vader; retained by him with permission when the old...
Preis: 40.000 $ - 60.000 $
Datum: 10.12.2019 - 11.12.2019
Baranger Studios electric animated wooden soldiers store display, this is one of the storybook theme motions introduced in 1950, numbered M-175 in John Daniels' book Baranger -Window Displays in Motion and described: ''There is lots of action as these toy soldiers move to a different beat. This motion is an absolute delight with action that surprises. The nine bandsmen and two drum majors march in...
Large collection of Manoil and Barclay toy soldiers, to include tents and equipment with many hard to find figures. Condition:Various conditions, overall good to very good condition...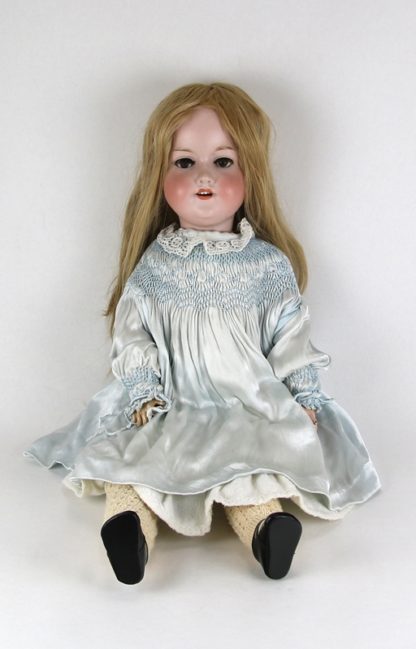 Armand Marseille um 1900. Beweglicher Gliederkörper und zart bemalter Porzellankopf mit offenem Mund mit vier Zähnchen, gemalten Augenbrauen und Schlafaugen. Hinten gemarkt mit Schriftzug, Kürzel A. 9 M. und Formnummer 390. Sehr schöne Kleidung wohl original. Größe ca. 54 cm. Schöner Zustand...
Preis: 200 € - 300 €
ca. 220 $ - 330 $
LotSearch ausprobieren
Testen Sie LotSearch und seine Premium-Features 7 Tage - ohne Kosten!
Auktionssuche und Bieten
Preisdatenbank und Analysen
Individuelle automatische Suchaufträge