Als Plastik bezeichnet man ein dreidimensionales, körperhaftes Objekt der bildenden Kunst. Die Begriffe Plastik und Skulptur sind weitgehend deckungsgleich. Sowohl für die Bildhauerkunst insgesamt als Kunstgattung sowie für ein einzelnes Kunstwerk können beide Bezeichnungen verwendet werden. Ursprünglich gab es eine differenzierte Bedeutung, die jedoch heute nicht mehr so eindeutig verwendet wird: eine Plastik entsteht durch Auftragen von Material und Modellieren, eine Skulptur durch Hauen und Schnitzen.
Mit berühmten Kunstobjekten dieser Art verbindet man so bekannte Namen wie Alberto Giacometti, Jeff Koons, Amedeo Modigliani und Constantin Brancusi, Joseph Beuys etc.
---
Italian Grand Tour Carved and Painted Marble Bust of the Augustus of Prima Porta ca. 1900, the ruler represented as a general and wearing a breastplate richly decorated with mythological and allegorical figures, after the 1st century life-sized marble now conserved at the Vatican Museum, Rome. h. 18", w. 14-1/2", d. 9...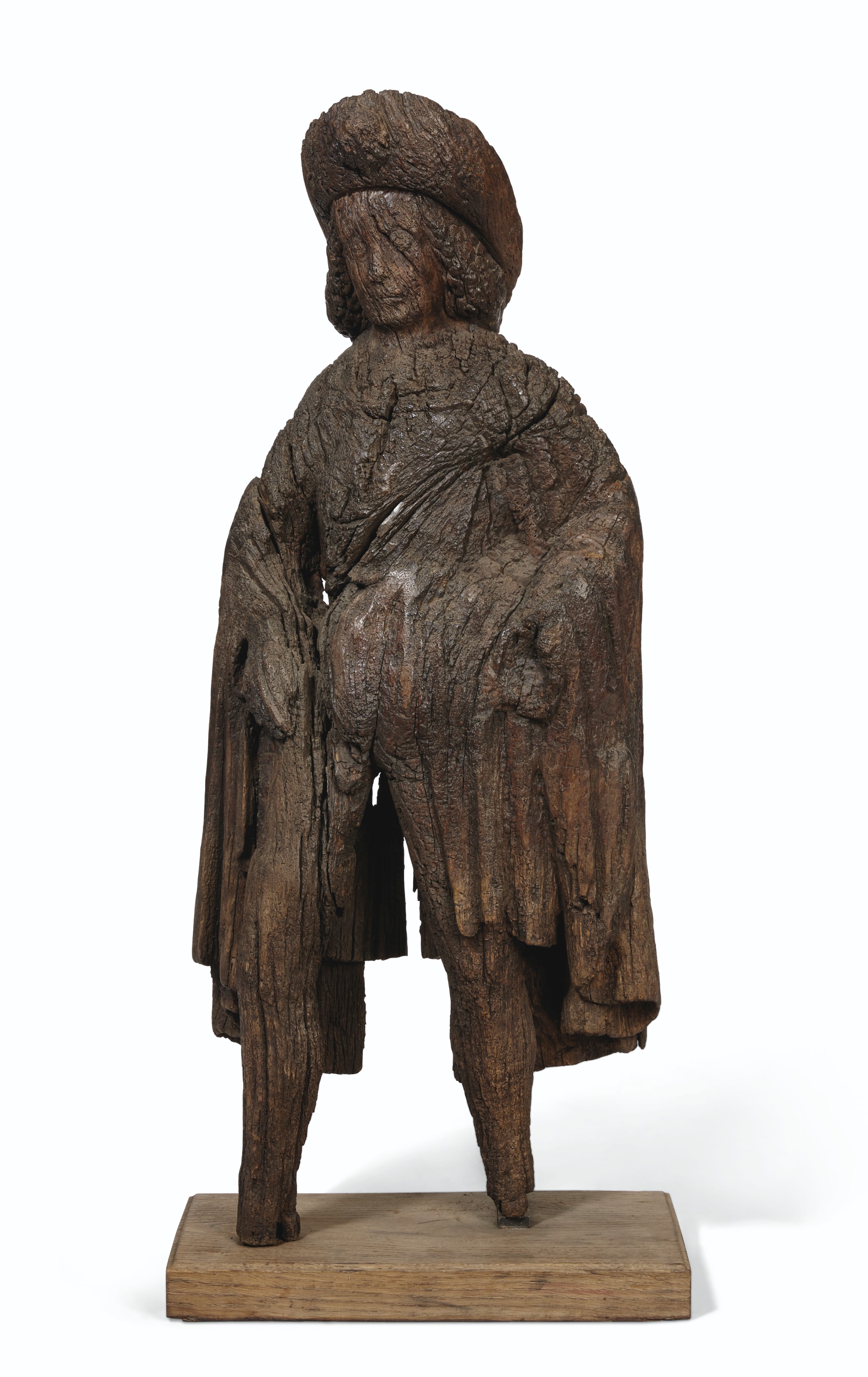 AN OAK FIGURE OF A STANDING MAN NORTHERN EUROPEAN, PROBABLY 17TH CENTURY On a later base 49 in. (124.5 cm.) high; 21 in. (53 cm.) wide, 11 in. (28 cm.) deep, the base...
Datum: 21.08.2019 - 22.08.2019
A Patinated Bronze Figure of a Reclining Nude Black Female Cast from a Model by Franz Hagenauer for Werkstätten Hagenauer wood stamped 'FRANZ/HAGENAUER WIEN/MADE IN AUSTRIA/WHW/Handmade, circa 1950s' the figure raised on a biomorphic walnut base 42cm long...
Preis: 1.200 £ - 1.500 £
ca. 1.493 $ - 1.866 $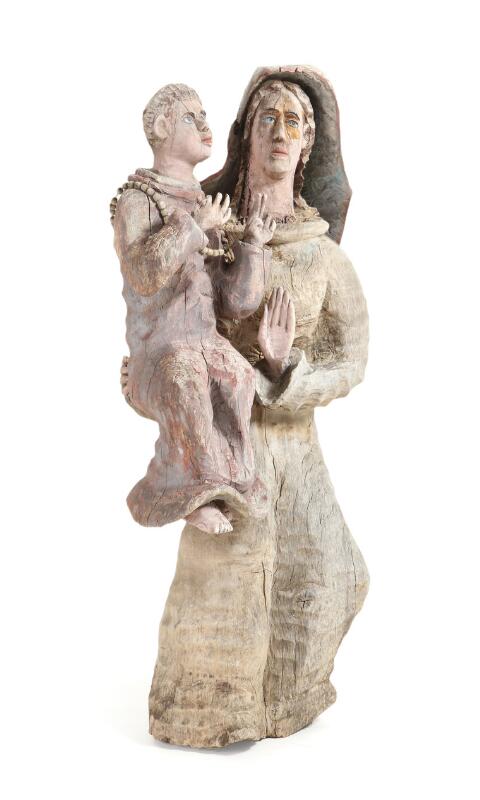 An early 20th century painted and carved wood figure group depicting Madonna and the child. H. 164 cm.
Peelings. Cracks in the wood. Chips...
Preis: 6.000 DKK - 8.000 DKK
ca. 892 $ - 1.189 $
'Liseuse': An Ivory and Patinated Bronze Figure Cast and Carved From a Model by Albert Ernest de Carrier-Belleuse signed 'A.CARRIER-BELLEUSE' in the cast, circa 1900 modelled as a medieval lady in court dress reading a book, and raised on a bronze plinth bearing the plaque: 'LISEUSE/PAR CARRIER_BELLEUSE/GRAND PRIZ DU SALON' 40.5cm high Verkaufsraum-Bekanntmachungen Please note this lot contains...
Preis: 1.200 £ - 1.800 £
ca. 1.493 $ - 2.240 $
'Bacchante': A Patinated Bronze Figure Cast From a Model by Georges Omerth signed 'G.Omerth' in the bronze, circa 1900 modelled as a semi-clad bacchante sitting on a pedestal holding up a bunch of grapes in each hand 42cm high...
Preis: 1.000 £ - 1.500 £
ca. 1.244 $ - 1.866 $
A Patinated Bronze Figure of a Nude Female Cast From a Model by Otto Poertzel signed'Prof. O. Poertzel' in the cast, circa 1920 the figure of Classical-style and draped in a shawl with a Greek key border, mounted on a bronze base 49.3cm high...
Preis: 1.500 £ - 2.000 £
ca. 1.866 $ - 2.488 $
A Patinated Bronze Figure of a Panther Cast From a Model by Max le Verrier marble engraved 'M.leVerrier', circa 1930 modelled as a pacing panther and raised on a black marble plinth 63cm long Fußnoten Please note this figure is cast in Le Verrier 'art metal', not bronze as stated in the description...
Preis: 1.200 £ - 1.400 £
ca. 1.493 $ - 1.742 $
A Large Green Patinated Bronze Figure of an Native American Cast From a Model by Bruno Zach SIGNED 'Bruno Zach' IN THE THE BRONZE, CIRCA 1925 modelled as an native American in traditional costume and feather headdress, and seated on a rearing horse holding a rifle over his lap 62.5cm high...
Preis: 3.500 £ - 5.000 £
ca. 4.355 $ - 6.222 $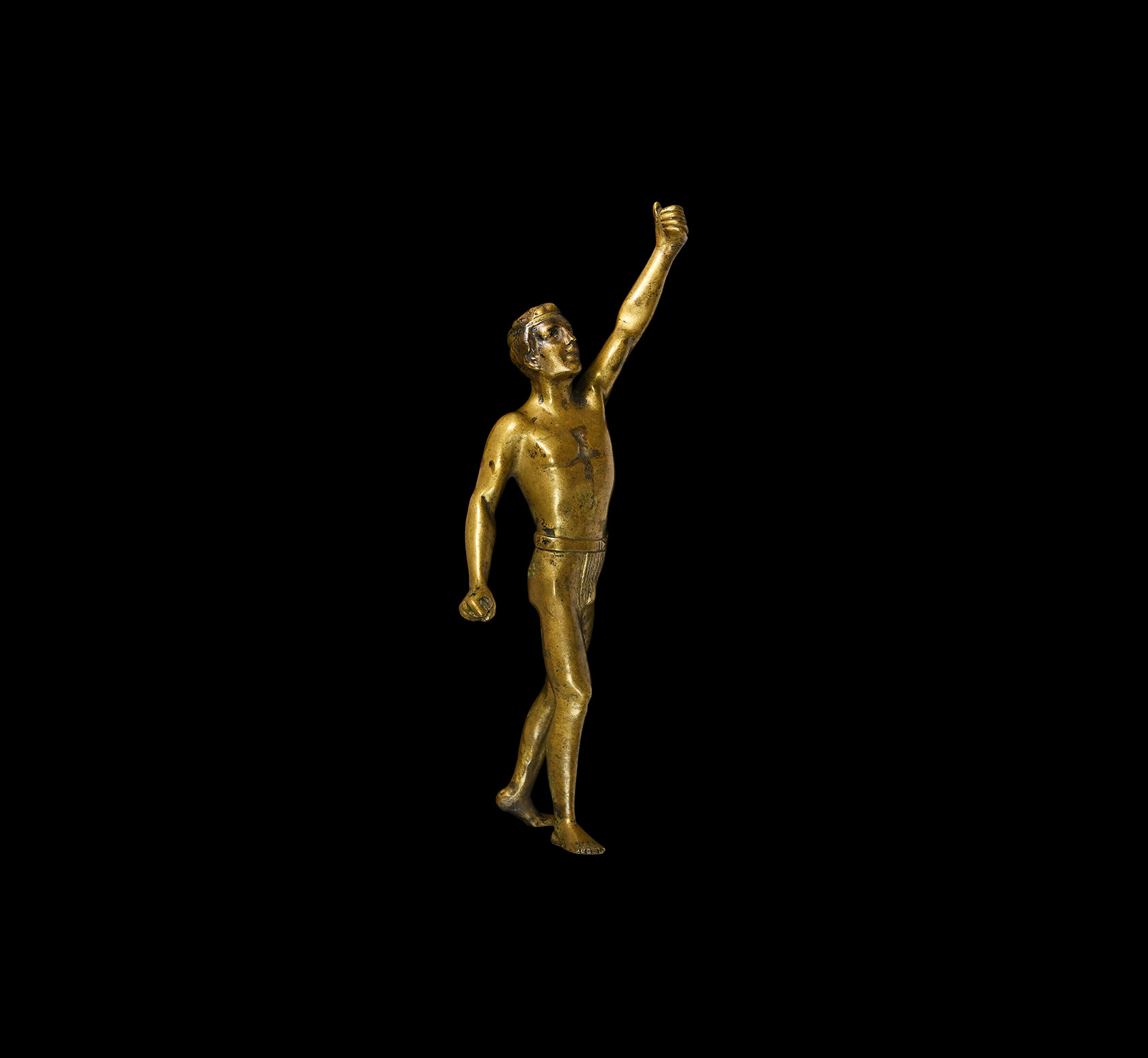 Olympic Bronze Figure 20th century AD A bronze figure of an athlete standing with left arm thrust upwards, wearing a belt with panel beneath, right hand clenched; possibly connected to the Helsinki Olympics of 1952. 1.5 kg, 29cm (11 1/2"). Fine condition. [No Reserve] Provenance Property of a European gentleman living in London; acquired on the UK art market...
Preis: 80 £ - 100 £
ca. 97 $ - 121 $
Datum: 03.09.2019 - 09.09.2019
LotSearch ausprobieren
Testen Sie LotSearch und seine Premium-Features 7 Tage - ohne Kosten!
Auktionssuche und Bieten
Preisdatenbank und Analysen
Individuelle automatische Suchaufträge