Als Plastik bezeichnet man ein dreidimensionales, körperhaftes Objekt der bildenden Kunst. Die Begriffe Plastik und Skulptur sind weitgehend deckungsgleich. Sowohl für die Bildhauerkunst insgesamt als Kunstgattung sowie für ein einzelnes Kunstwerk können beide Bezeichnungen verwendet werden. Ursprünglich gab es eine differenzierte Bedeutung, die jedoch heute nicht mehr so eindeutig verwendet wird: eine Plastik entsteht durch Auftragen von Material und Modellieren, eine Skulptur durch Hauen und Schnitzen.
Mit berühmten Kunstobjekten dieser Art verbindet man so bekannte Namen wie Alberto Giacometti, Jeff Koons, Amedeo Modigliani und Constantin Brancusi, Joseph Beuys etc.
---
Tito Angelini, (Italian fl. 1806 - 1878), a sculpted white marble bust of a lady, portrayed facing forwards, with plaited hair and a ruched collar with a rose placed to the décolletage, on a circular socle, signed and dated COM.RE. T. ANGELINI 1876 to the rear, 69cm high, 47cm wide Tito Angelini spent most of his career in Naples, where he became professor and director of the Accademia di Belle...
Preis: 700 £ - 900 £
ca. 900 $ - 1.158 $
A Mediaeval carved and stained oak figure of a seated female saint, English or French, probably 13th/14th century, portrayed in formal posture and heavily draped, looking straight ahead with plaited hair behind her, a Bible at her chest, seated on a rectangular bench, above an integral loosely rectangular base, 35cm high Close parallels for the formal posture and general arrangement of this figure...
Preis: 400 £ - 600 £
ca. 514 $ - 772 $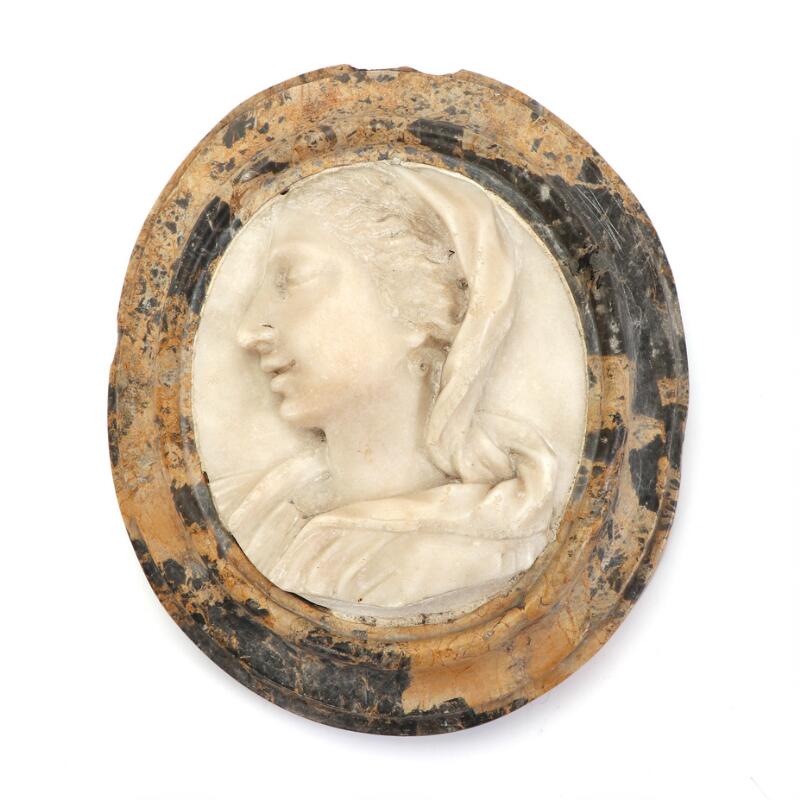 A 18th century probabably Italian marble relief portrait of a 'quattrocento' young woman set in a russet profiled marble "frame". H. 16/24 cm.
Chips along edges of "frame...
Preis: 2.000 DKK
ca. 296 $
A polychrome wood figure, Central Italy, 14/1500s 30x30x145cm...
Preis: 7.000 € - 8.000 €
ca. 7.758 $ - 8.866 $
Karl Perl (Austrian, 1876-1965) Bronze Figure of a Female Dancer, Vienna, c. 1930, green patinated sculpture set on marble base, signature "K. Perl," foundry mark, stamped "Austria," total ht. 12 1/2 in...
A gilt bronze figure of a seated bodhisattva Ming dynasty Perhaps Mahasthamaprapta (Ch: Da Shizhi pusa) as suggested by the ewer centering the figure's elaborate diadem, here attired in princely garb supporting a cup in his resting left hand and an unidentified implement in his upheld right. 8 3/4in (22.2cm) high...
Datum: 17.12.2019 - 18.12.2019
A gilt bronze figure of Vajrapani Circa 14th century Displaying typical wrathful iconography, holding his eponymous vajra upright in his right hand and attired in snakes and severed heads, standing in pratyalidhasana upon two supine human beings cast to a thin lotus petal stand. 4 1/8in (10.4cm) high...
Datum: 17.12.2019 - 18.12.2019
A Sino-Tibetan Gilt-Bronze Figure of Four-Armed Avalokiteshvara, Chenrizig or Shadakshari Qing dynasty Seated dhyanasana on a waisted lotus base with slender petals, two hands holding a jewel and in a devotional gesture in front of the deity's jeweled chest and holding an akshamala (rosary) in the upper right hand and a lotus in the left, draped in clinging robes and wearing a crown, an Amitabha...
Datum: 17.12.2019 - 18.12.2019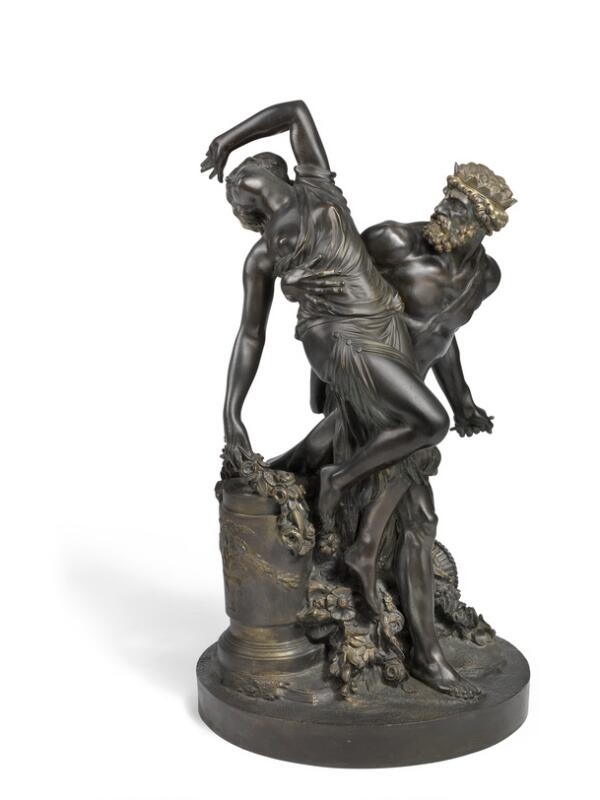 "The Rape of Proserpina", patinated bronze figure. 19th century. H. 50 cm. Diam. 27 cm. Provenance: Stopalo.
Wear due to age and use...
Preis: 18.000 DKK
ca. 2.667 $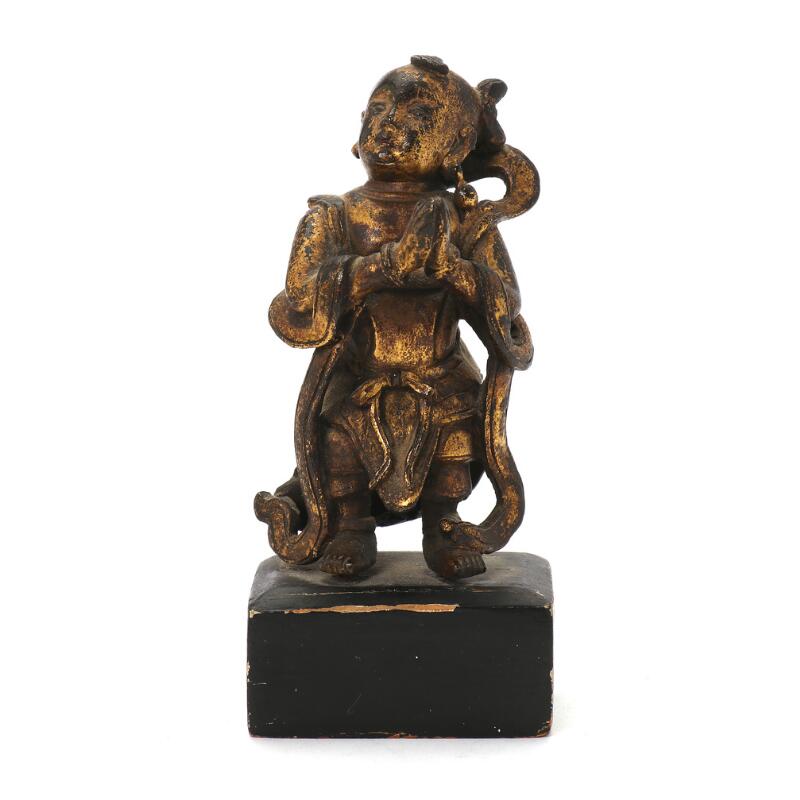 A Chinese Ming gilt bronze figure of an acolyte. Wooden base. H. 9.5/12.5 cm.
Wear due to age. Stole broken...
Preis: 4.000 DKK
ca. 592 $
LotSearch ausprobieren
Testen Sie LotSearch und seine Premium-Features 7 Tage - ohne Kosten!
Auktionssuche und Bieten
Preisdatenbank und Analysen
Individuelle automatische Suchaufträge