Hier finden sich Objekte und Accessoires, die aus Silber bzw. mit einer Silberlegierung versehen sind. Oft stammen sie aus großen Anwesen, Schlössern, Hotels oder Schiffen. Die Auswahl in dieser Kategorie ist in Auktionen meist sehr groß: Man findet z.B. Silberbesteck, Silberrahmen, Zierschalen, Kerzenleuchter, Zigarettenetuis, Tabletts, Vasen, Tee- und Speiseservice, Kannen, Kelche und Becher, Dosen, Kämme und Bürsten etc. Silberschmuck findet man hier jedoch nicht, sondern in der Kategorie "Schmuck".
---
An Edwardian silver spirit lamp by James Dixon & Sons, Sheffield 1904 Classical form, with simulated riveted panels, with a central well, a removable wick holder and a removable taper holder, engraved with two crests, length 17cm, weight total 10.5oz. Fußnoten The Property of a Private European Collector. 'The Seawolf Collection' Published in The Seawolf Collection, a personal touch, late 19th and...
Preis: 300 £ - 500 £
ca. 373 $ - 622 $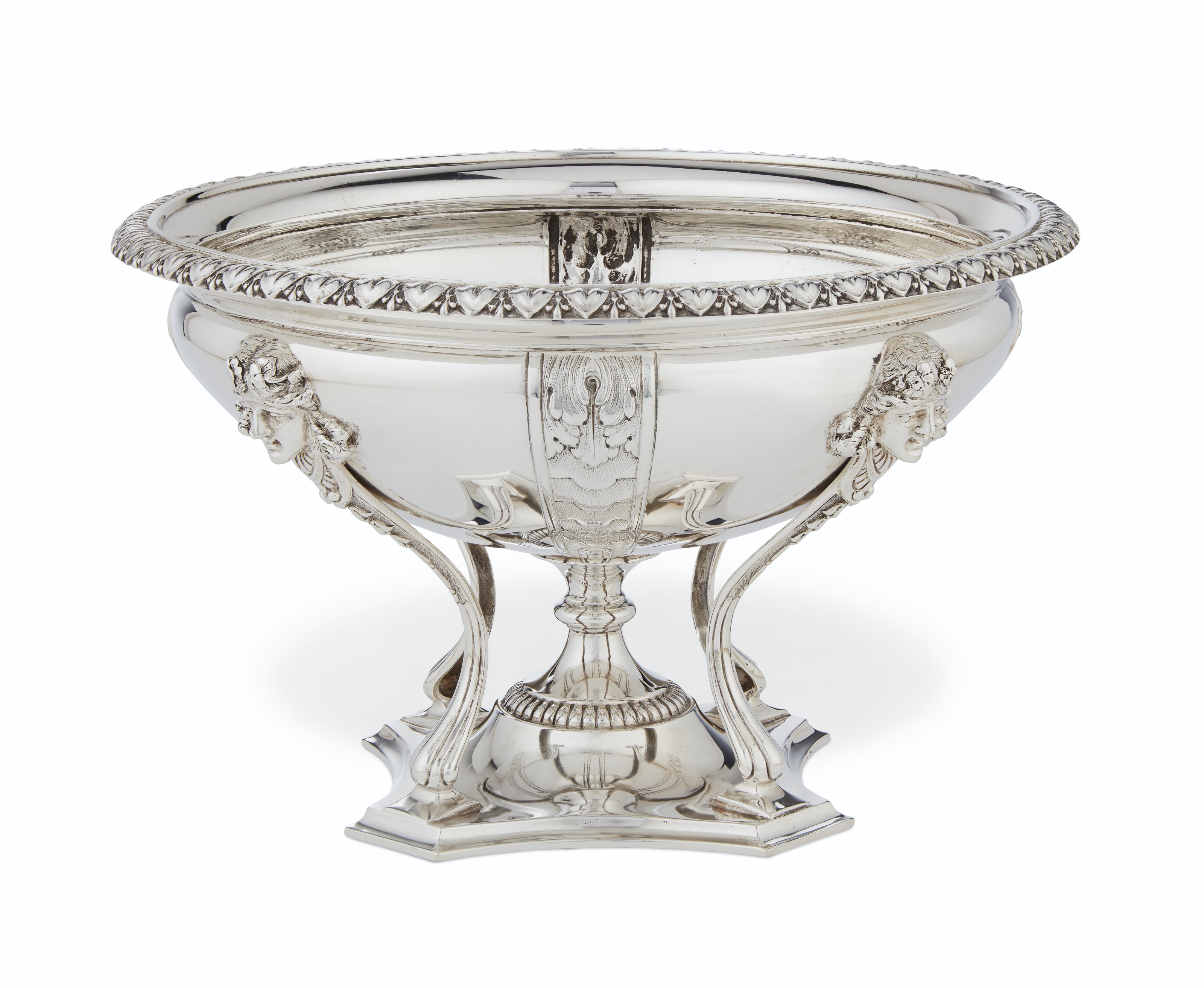 AN EDWARDIAN SILVER CENTERPIECE BOWL MARK OF EDWARD BARNARD & SONS, LONDON, 1912 On shaped square base, the circular bowl raised on scroll supports headed by masks, chased with panels topped with acanthus, marked to side 10 1/4 in. (26 cm.) diameter 49 oz. 2 dwt. (1,527 gr.) Provenance Acquired William Doyle Galleries, New York, 23 April 1997, lot 419...
Datum: 21.08.2019 - 22.08.2019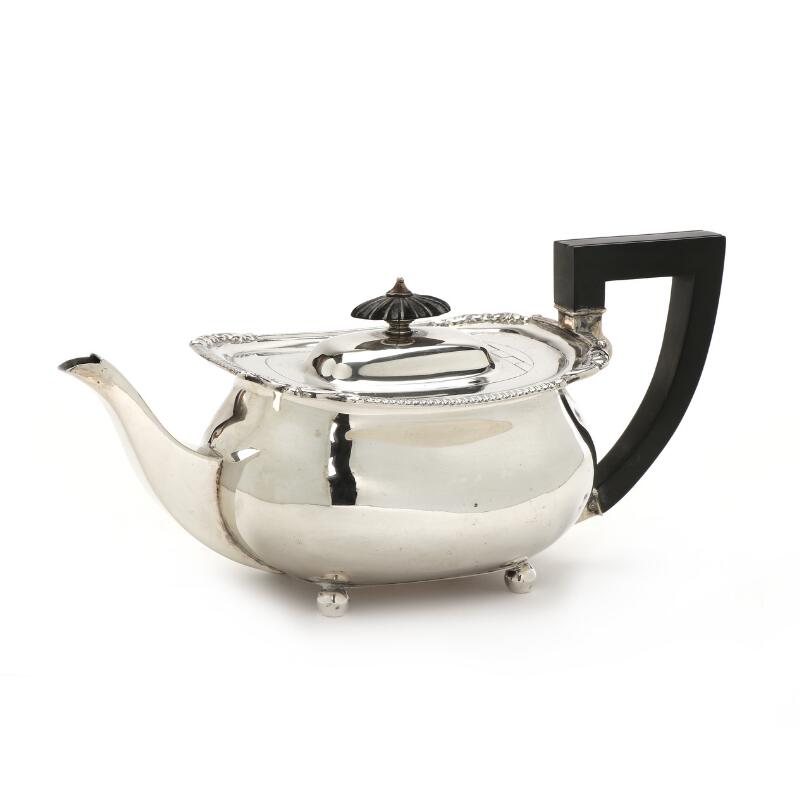 An Edwardian silver teapot, ivory finial and bakelite handle, one side with punched coat-of arms, maker William Hutton & Sons Ltd, London 1901. Weight 618 g. H. 12.5 cm W. 26 cm.
Normal patina due to age and use, including scratches and marks...
Preis: 3.000 DKK - 4.000 DKK
ca. 446 $ - 594 $
Edwardian Sterling Silver Tea and Coffee Set with Associated Tray the set hallmarked London, 1905-1909, by Page, Keen & Page of Plymouth; the tray by Lebkuecher & Co. of Newark, New Jersey for Udall & Ballou, New York, New York, including a coffeepot, h. 8-1/4", l. 10", a teapot, h. 5-1/2", l. 11-3/4", a cream jug, h. 3-3/4", l. 5-1/2", and an open sugar bowl, h. 4-1/2", l. 6-3/4", each of bulbous...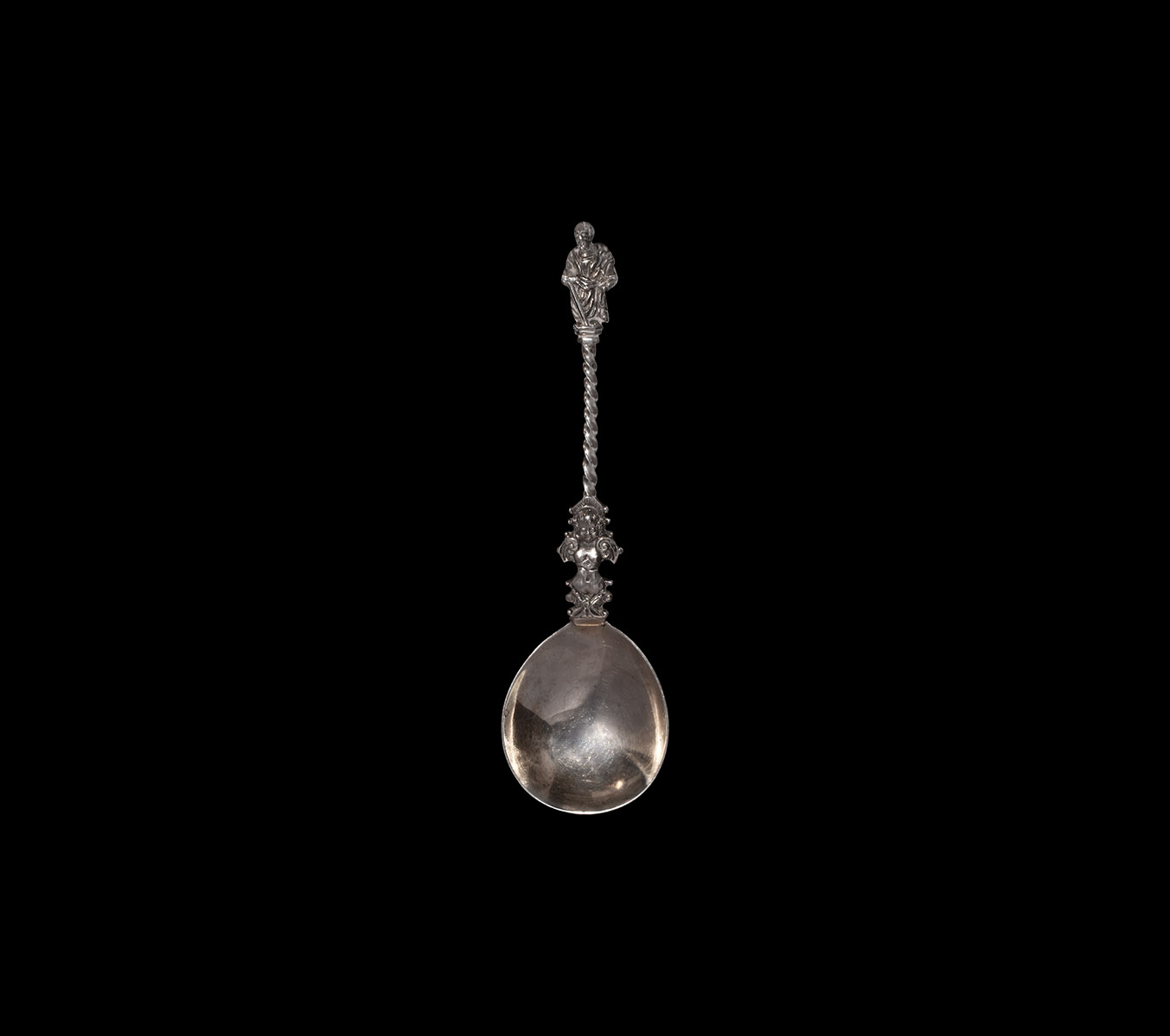 Victorian Silver Apostle Spoon Hallmarked 1895 A silver apostle spoon with broad discoid bowl, facing triton to the neck, twisted shank, tiered spandrel and figure of St Paul with staff modelled in the round; hallmarked for London and maker's mark of William Hutton & Sons. 40 grams, 17.5cm (7"). Fine condition. Provenance Property of a gentleman; acquired in the 1970s...
Preis: 50 £ - 70 £
ca. 60 $ - 85 $
Datum: 03.09.2019 - 09.09.2019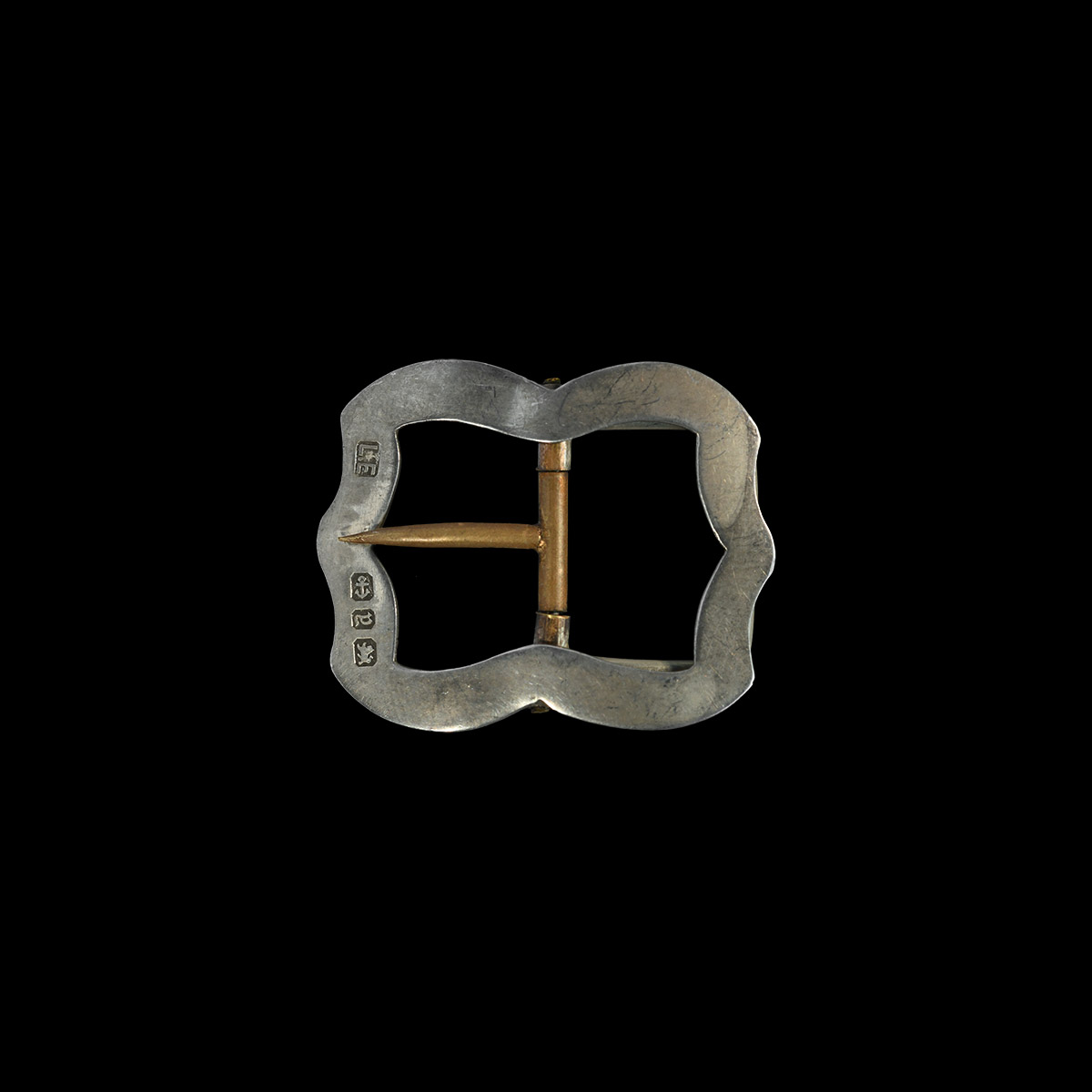 Victorian Silver Shoe Buckle Hallmarked 1847 AD A silver buckle with brass tongue and rectangular mounting clip; hallmarked with the lion passant, lower-case blackletter 'y' (1847) and anchor (Birmingham Assay office), maker's mark 'L.E' for Lawrence Emmanuel of Warstone Parade, Birmingham. 5.6 grams, 37mm (1 1/2"). Fine condition. [No Reserve] Provenance From a Suffolk family collection; by...
Preis: 30 £ - 40 £
ca. 36 $ - 48 $
Datum: 03.09.2019 - 09.09.2019
A LATE VICTORIAN AND TWENTIETH CENTURY SILVER TABLE SERVICE MARK OF WILLIAM HUTTON AND SONS LIMITED, LONDON, 1898; FRANCIS HIGGINS, LONDON, 1896; MARK OF MARTIN HALL AND COMPANY, SHEFFIELD, 1911; MARK OF TERRY SHAVERIN, SHEFFIELD, 1997 AND 199 pattern and comprising: Twelve table spoons, Twelve table forks Twelve dessert spoons, Twelve dessert forks Twelve teaspoons, Six egg spoons with gilt bowl...
Preis: 1.500 £ - 2.500 £
ca. 1.812 $ - 3.020 $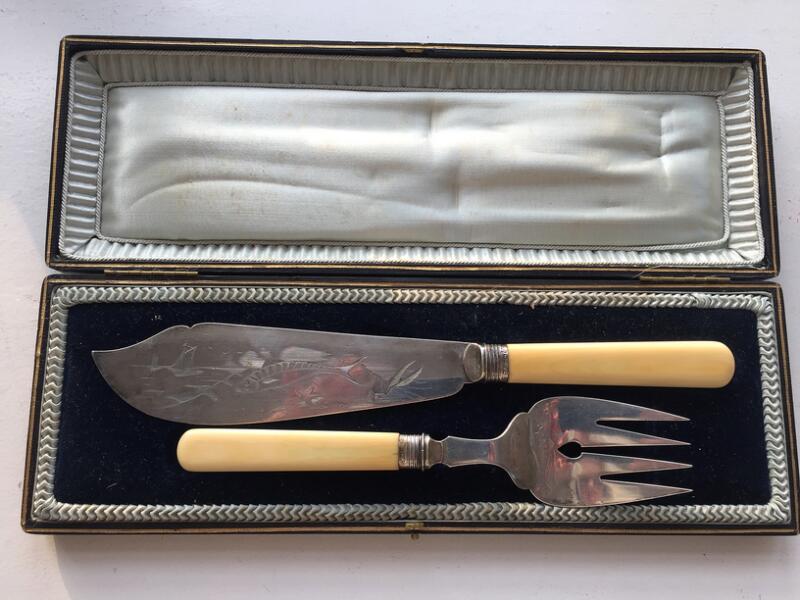 An English silver serving set with bone handles, blades engraved with ornamentation, mounting of sterling silver, blade and fork stamped IA&SA, cuff of silver stamped JN, Sheffield 1885. L. fork 23 cm. L. knife 29.5 cm. Original box. An English silverplate fish cutlery, stamped HA, EA, FA. Consisting of 6 fish forks and 6 fish knives. L. fork 19 cm. L. knife 22 cm. Original mahogany box inlaid...
Preis: 24 DKK - 2.019 DKK
ca. 3 $ - 300 $
Silber 800, streifendekoriertes Gehäuse, ca. 9,7 x 7,6 mm, 109,2 gøS109...
Silber 800, Gesamtgewicht 515,4 g, gebraucht øS515...
LotSearch ausprobieren
Testen Sie LotSearch und seine Premium-Features 7 Tage - ohne Kosten!
Auktionssuche und Bieten
Preisdatenbank und Analysen
Individuelle automatische Suchaufträge