Es gibt eine riesige Auswahl an Schmuckstücken in jeder nur erdenklichen Ausführung, Größe, Form und Material, von schlicht bis königlich, vom eher niedrigen Preis bis zu astronomischen Summen. Hier bestimmt das teuerste verwendete Material den Ausrufpreis. Dies können beispielsweise Objekte aus Gold, Silber oder Platin, Holz oder Horn sein wie Ringe, Ketten und Colliers, Ohrringe und Ohrstecker, Armbänder und Armreife, Anhänger und Broschen, Diademe und anderer Haarschmuck etc.
Ebenso von Interesse sind Edelsteine und Perlen, die in den Schmuckstücken verarbeitet sind, wie z.B. Brillanten, Diamanten, Saphire, Rubine, Amethyste, Smaragde, Tahiti- und Süßwasserperlen etc.. Auch in Edelstein-Auktionen werden sie als einfacher Stein angeboten. Hier bestimmen Reinheit und Größe den Wert des Steins. Von Antikschmuck spricht man, wenn die Schmuckstücke vor dem Zweiten Weltkrieg gefertigt wurden.  
---
Goldfarbene Hardware, kurze Form mit breiten Gliedern. Länge ca 40cm. Leichte Altersspuren. | CHRISTIAN DIOR VINTAGE costume jewelry necklace. Gold colored hardware, short shape with wide links. Length ca 40cm. Slight signs of age...
A silver Jasper ware brooch, formed as a lady quarter profile, in decorative mount, a mesh ware costume bracelet containing an Accurist watch box. (a quantity...
Costume jewellery and effects, beads, bangles, necklaces, etc., contained in a jewellery casket, further leaf and other brooches. (a quantity...
Thomas Collier (1840-1891) Low tide, Cromer Signed Thos Collier (lower right) and inscribed and dated July 25th 1876 (lower left) Pencil and watercolour 15 x 34.75cm; 6 x 13½in...
Preis: 80 £ - 120 £
ca. 109 $ - 164 $
Circle of Edward Collier Still life with musical instruments, scores and books on a table draped with a rug Oil on canvas 72 x 119.5cm; 28¾ x 47in Provenance: Sotheby's, London, 11 October 1946, lot 35, where purchased by Edward Croft-Murray; From the collection of Edward Croft-Murray (1907-1980) Exhibited: London, Victoria and Albert Museum, William & Mary and their Time, June-August 1950, no. 4...
Preis: 3.000 £ - 5.000 £
ca. 4.124 $ - 6.874 $
An Italian Silver and Bamboo Tahiti Pattern Ice Bucket, Buccellati, Padova, Modernthe spot-hammered body supported by a stepped base, with a natural bamboo ring handle mounted to the rimmarked on base Buccellati, Italy, Sterling, 925, and 44-PD for Vitali Bruno E Figli SNC 57 oz 15 dwt gross1797.5 gheight 9 3/4 in.24.8 cmCondition reportThree of the silver mounts for the handle pushed slightly...
A Set of Four Italian Silver and Bamboo Tahiti Pattern Candlesticks, Buccellati, Milan, Modernthe natural bamboo and ribbed silver stems between spot-hammered circular feet and campana nozzlesmarked on bases and inside sconces Buccellati, Italy, 925, 1623 MI, sterling 9 1/4 in.23.5 cmCondition reportIn excellent condition; bamboo has natural variations. The lot is sold in the condition it is in at...
A Hotpoint Iced Diamond freezer...
probably German, Idar-Oberstein, the model in the manner of Manfred Wild or Andreas Zadora von Gerlof the bird of prey with diamond set eyes, it talons chained to the perch with baluster support on spreading circular foot, the model fitted within a burr veneered and gilt brass mounted presentation case, the falcon, 28cm high, the presentation box, 37cm high, 26.5cm wide and 23.5cm deep (3...
Preis: 1.500 £ - 2.500 £
ca. 2.086 $ - 3.476 $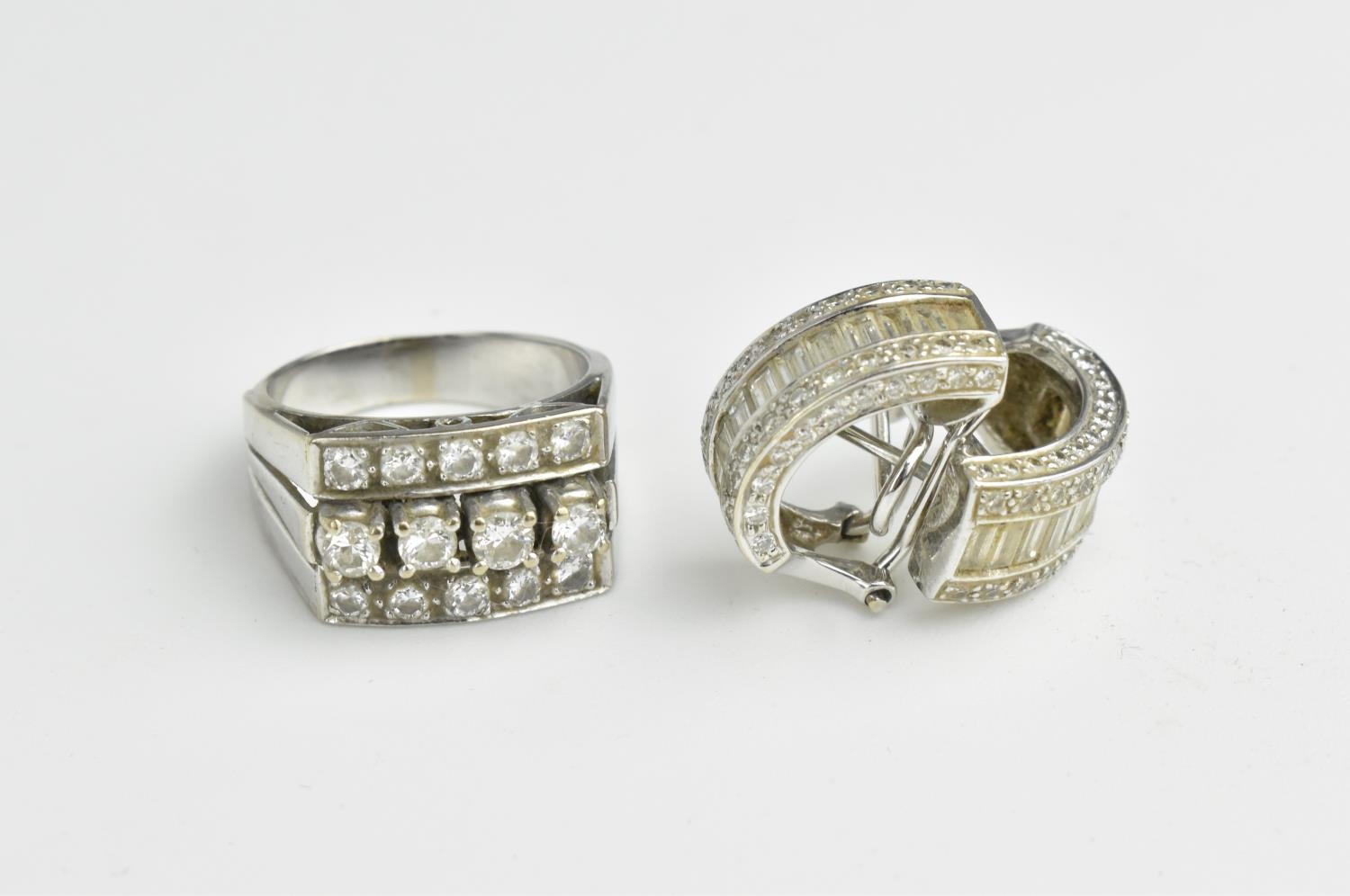 An 18ct gold white gold and diamond ring, together with a pair of 18ct white gold and diamond earrings, the ring of structural form with central line of four diamonds, roughly 0.064ct each, between two lines of five smaller diamonds, size L, the earrings with a central row of baguette cut diamonds flanked by diamond accents, combined weight with ring 12 grams...
Preis: 400 £ - 600 £
ca. 551 $ - 827 $
LotSearch ausprobieren
Testen Sie LotSearch und seine Premium-Features 7 Tage - ohne Kosten!
Auktionssuche und Bieten
Preisdatenbank und Analysen
Individuelle automatische Suchaufträge