Es gibt eine riesige Auswahl an Schmuckstücken in jeder nur erdenklichen Ausführung, Größe, Form und Material, von schlicht bis königlich, vom eher niedrigen Preis bis zu astronomischen Summen. Hier bestimmt das teuerste verwendete Material den Ausrufpreis. Dies können beispielsweise Objekte aus Gold, Silber oder Platin, Holz oder Horn sein wie Ringe, Ketten und Colliers, Ohrringe und Ohrstecker, Armbänder und Armreife, Anhänger und Broschen, Diademe und anderer Haarschmuck etc.
Ebenso von Interesse sind Edelsteine und Perlen, die in den Schmuckstücken verarbeitet sind, wie z.B. Brillanten, Diamanten, Saphire, Rubine, Amethyste, Smaragde, Tahiti- und Süßwasserperlen etc.. Auch in Edelstein-Auktionen werden sie als einfacher Stein angeboten. Hier bestimmen Reinheit und Größe den Wert des Steins. Von Antikschmuck spricht man, wenn die Schmuckstücke vor dem Zweiten Weltkrieg gefertigt wurden.
---
Gold, Platinum, Cabochon Sapphire and Diamond Owl Brooch/Ring, David Webb 18 kt., small round & single-cut diamonds, 2 round cabochon sapphire eyes, inner guard signed Webb , convertible into openwork textured gold dome ring & owl brooch , ap. 18.4 dwts. Size 5 1/2, with inner guard. C The Mollie Brewster Broussard Collection...
Gold, Turquoise and Diamond Bracelet and Ring 14 kt., 9 oval & 18 round turquoise, 11 round diamonds ap. 1.00 ct., one diamond missing , ap. 44 dwts. Length 6 3/4 inches. Size 5. C The Mollie Brewster Broussard Collection
Turquoise: medium turquoise blue to slightly greenish turquoise blue, good luster. Diamonds: G-H-VS-SI. Bright yellow gold. Bracelet width 3/4 inch. Ring width 1 1/8 inches...
Frankreich 1970er Jahre. Platin. Umlaufend filigrane Rechteckglieder, vollständig besetzt mit 40 Diamant-Brillanten von zus. 2,00 ct V.V.S., Weiß, und drei Aquamarinen im Princess-Cut von zus. 6,60 ct. Feingehaltsstempel.
L. 17,8 cm. 17,2 gr.
Provenienz: Privatsammlung Berlin.

Diamond bracelet with aquamarines
France 1970s. Platinum. All-round filigree rectangular links, completely set with 40...
Preis: 3.000 €
ca. 3.317 $
EDELSTEIN-RING Gelbgold. Ringmaß ca. 57, Ges.-Gew. ca. 4,8 g. Gest. 585. Navetteförmiger Ringkopf mit fünf Brillanten, davon einer fancy-yellow, zusammen ca. 0,23 ct., sieben Saphire in Navetteform, zusammen mindestens 1,3 ct...
EDELSTEIN-RING Wohl Schweden, 1950er Weißgold. Ringmaß ca. 50, Ges.-Gew. ca. 4,2 g. Gest. 18 K. Vier Brillanten, zusammen ca. 0,16 ct., vier Smaragde im Navetteschliff, zusammen ca. 0,3 ct...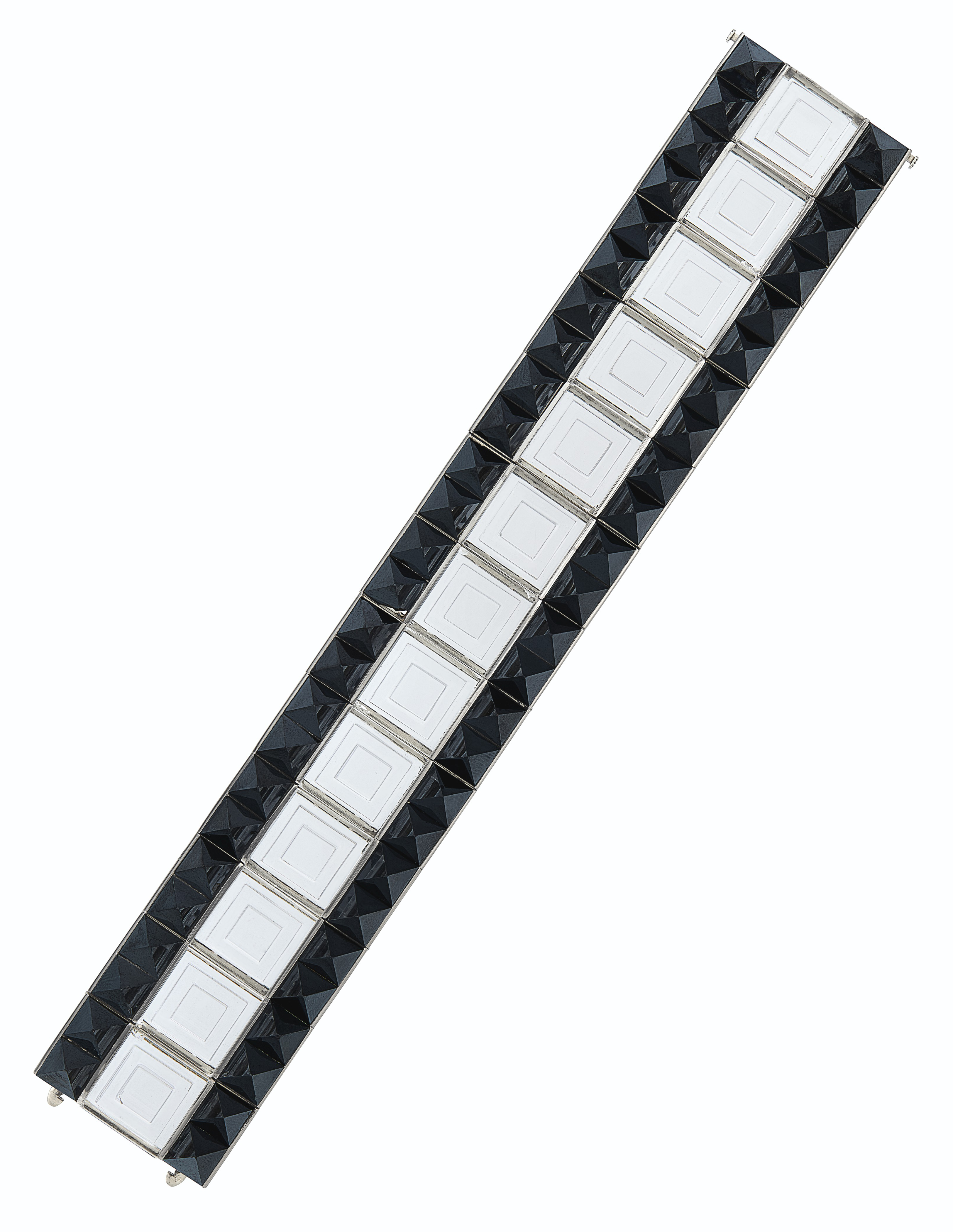 ART DECO ROCK CRYSTAL AND HEMATITE 'ESCALIER BORDÉ' BRACELET, SUZANNE BELPERRON FOR RENÉ BOIVIN Rock crystal plaques, pyramidal-shaped hematite, platinum and 18k white gold (French marks), 7 ½ ins., 1930, unsigned, inscribed 'Jacques á Betty, 1st Dec 1930' Madame Françoise Cailles, 2018: Certificate of Authenticity Provenance Sotheby's, Geneva, 13 May 2014, lot 464...
Preis: 150.000 $ - 250.000 $
René BOIVIN (1864-1917) Clip de revers "tête de cheval" en or jaune, 18k 750‰, la tête sommée d'une émeraude cabochon taillée en pain de sucre et montée en serti clos, la crinière faite de chaînes maille colonne, l'encolure sertie de deux diamants de taille ancienne ponctués de six diamants taillés en rose, en suspension, un ensemble de boules mobiles en or. L'œil est serti d'un diamant taillé en...
Preis: 10.000 € - 12.000 €
ca. 11.072 $ - 13.287 $
A diamond single-stone ring, and a diamond half-hoop eternity ring 1st: The princess-cut diamond weighing 3.00 carats, between channel-set brilliant-cut diamond shoulders, 2nd: Channel-set to the front with brilliant-cut diamonds, mounted in 9 carat white gold, 2nd: diamonds approx. 0.50ct total, London hallmark, ring sizes both approx. J (2) Fußnoten Accompanied by a report from the Antwerpse...
Preis: 2.000 £ - 3.000 £
ca. 2.628 $ - 3.943 $
Datum: 11.12.2019 - 12.12.2019
A late 19th century sapphire and diamond giardinetto brooch, French Designed as a floral and foliate knifewire arrangement, set throughout with circular-cut and pear-shaped sapphires, old brilliant and rose-cut diamonds, mounted in silver and gold, numbered, later brooch fitting with indistinct maker's mark and French assay mark, diamonds approx. 0.55ct total, length 3.0cm...
Preis: 1.500 £ - 2.000 £
ca. 1.971 $ - 2.628 $
Datum: 11.12.2019 - 12.12.2019
A fancy coloured diamond and diamond three-stone ring The brilliant-cut diamond of orangy yellow tint weighing 0.53 carat, between brilliant-cut diamond shoulders, mounted in platinum, maker's mark AMG, partial UK hallmark, ring size approx. Q½ Fußnoten Accompanied by a report from the GIA stating that the diamond weighing 0.53 carat is natural Fancy Vivid Orangy Yellow colour. Report number...
Preis: 2.000 £ - 3.000 £
ca. 2.628 $ - 3.943 $
Datum: 11.12.2019 - 12.12.2019
LotSearch ausprobieren
Testen Sie LotSearch und seine Premium-Features 7 Tage - ohne Kosten!
Auktionssuche und Bieten
Preisdatenbank und Analysen
Individuelle automatische Suchaufträge