Wenn man im europäischen Umfeld von Porzellan spricht, denkt man schnell an Meissen. Unweit von Dresden entstand Anfang des 18. Jahrhunderts die erste europäische Porzellanmanufaktur. Kurz zuvor hatten Johann Friedrich Böttger und Ehrenfried Walther von Tschirnhaus das "Weiße Gold" erfunden. Diese Erfindung war reiner Zufall: Böttgers Prahlerei, aus wertlosen Materialien Gold herstellen zu können, verleiteten August den Starken dazu, ihn zu inhaftieren und unter seiner Aufsicht genau dies zu tun. Anstelle von Gold erfand Böttger zusammen mit Tschirnhaus das Weiße Gold – Porzellan.
Nur kurze Zeit später entstanden in vielen europäischen Regionen Porzellanmanufakturen, finanziell gefördert von den jeweiligen Regenten. Zu den gesuchtesten Marken in dieser Sparte zählen neben Meissen die Firma KPM, Königliche Porzellan-Manufaktur in Berlin von Friedrich dem Großen 1763 gegründet und die Manufacture royale de porcelaine de Sèvre, die Im Jahr 1740 als vierte Porzellanmanufaktur Frankreichs im Château de Vincennes am Stadtrand von Paris als Privatunternehmen gegründet wurde. Porzellanobjekte wie Geschirr, Figuren, Vasen, Kerzenleuchter und viele andere Wohnaccessoires sind auf Auktionen sehr gesucht. Je bedeutender die Manufaktur oder der Modelleur, umso teurer der Preis.
---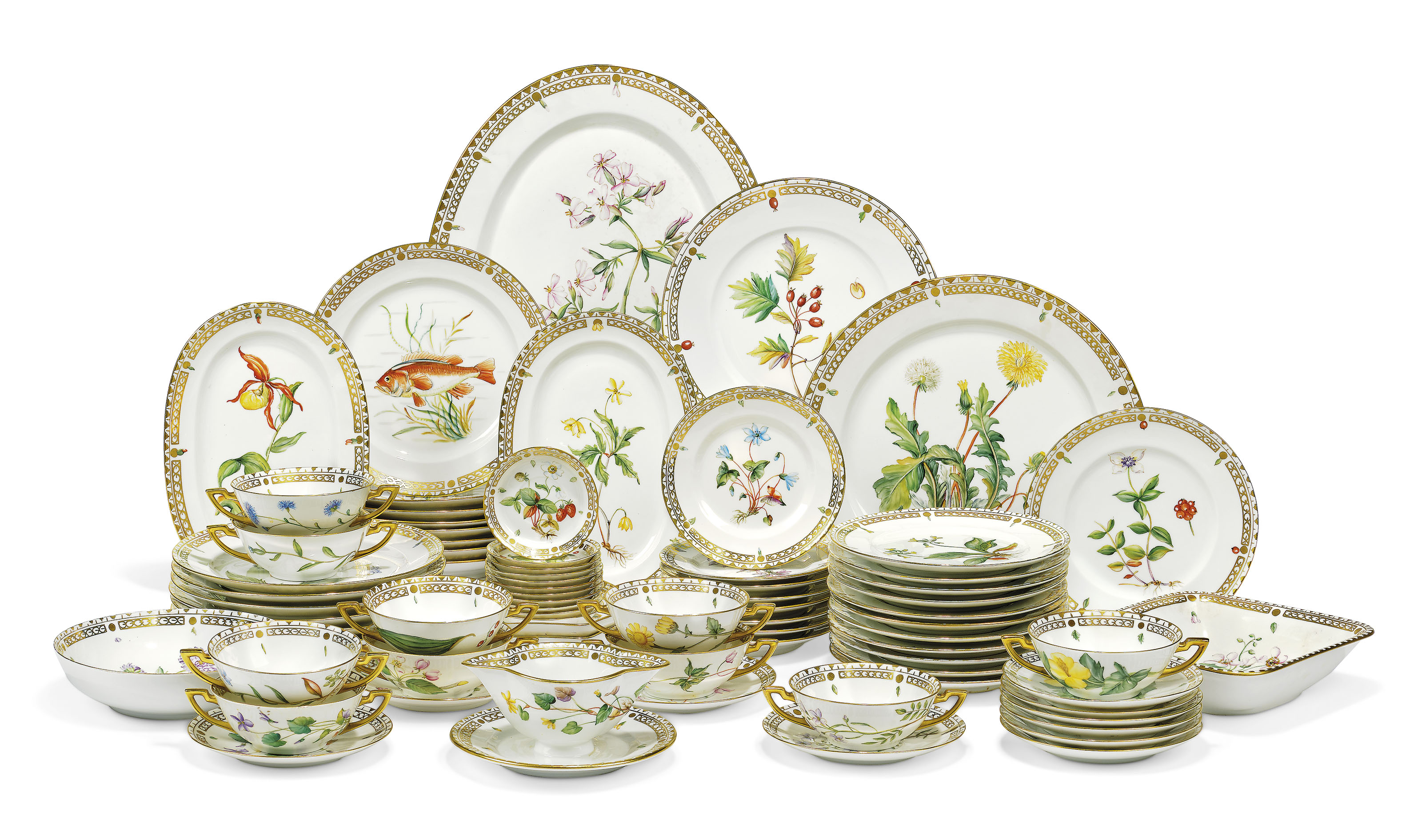 A COMPOSITE ROYAL COPENHAGEN AND BING & GRØNDAHL PORCELAIN PART TABLE-SERVICE 20TH CENTURY, CANCELLED TRIPLE WAVE MARKS AND PRINTED FACTORY MARKS FOR BOTH ROYAL COPENHAGEN AND BING & GRØNDAHL Each piece painted with botanical specimens or specimens of fish, comprising; one large oval shaped serving-dish, one large circular serving-dish, two small oval shaped serving-dishes, one square shaped bowl...
Preis: 3.000 £ - 5.000 £
ca. 3.624 $ - 6.041 $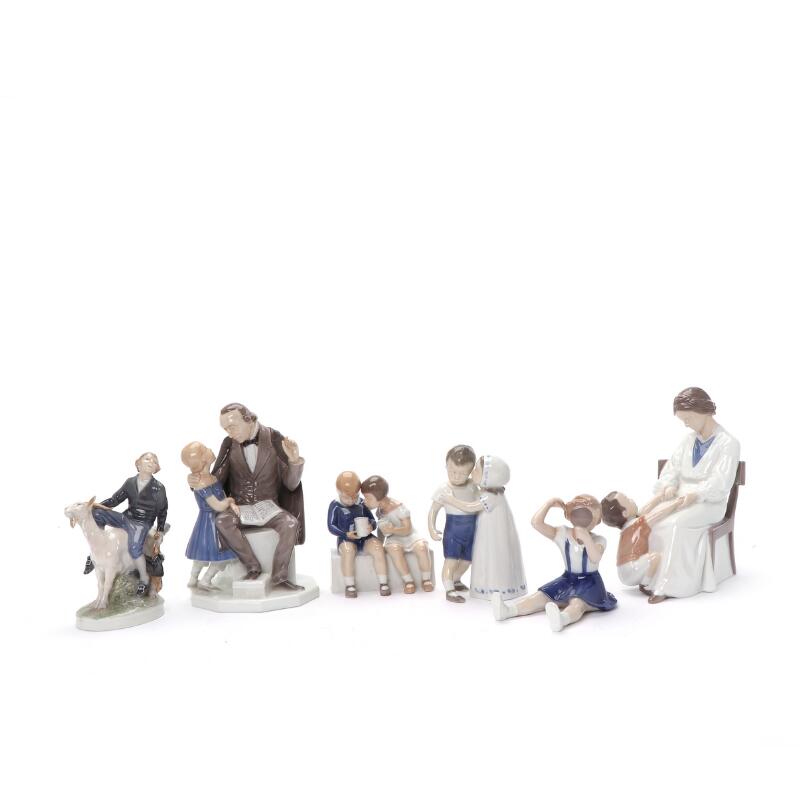 Collection of six various porcelain figurines. 2175, 1614, 1642, 1228, 2318 and 2037. Bing & Grøndahl and Royal Copenhagen. H. 14–24 cm. (6)
2037 is 2nd assortment...
Preis: 3.000 DKK
ca. 446 $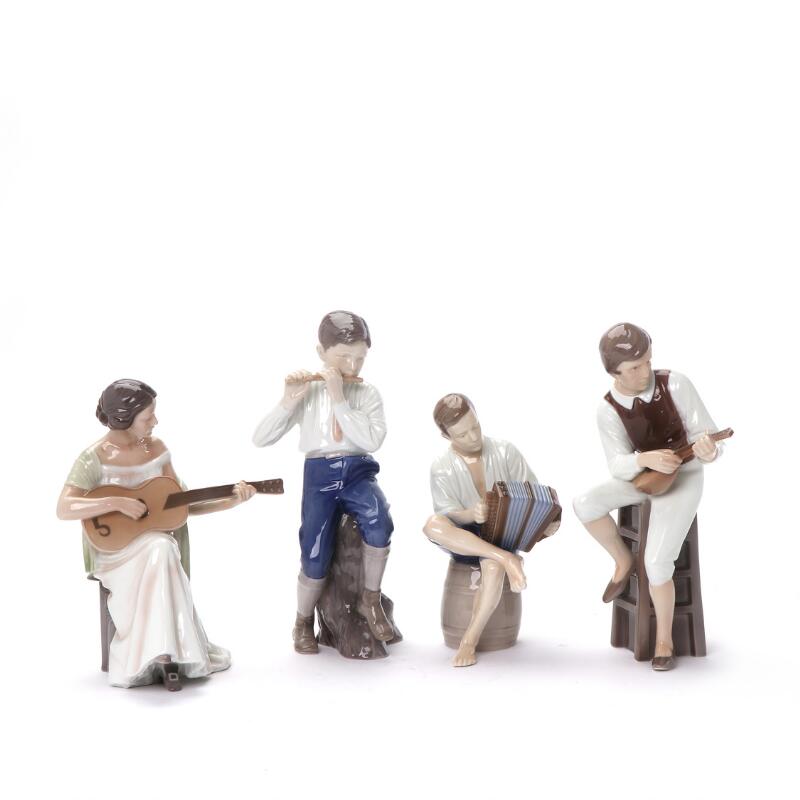 A collection of four porcelain figurines. 1600, 1897, 1661 and 1684. Bing & Grøndahl. H. 22–39 cm.(4)
No remarks...
Preis: 3.000 DKK
ca. 446 $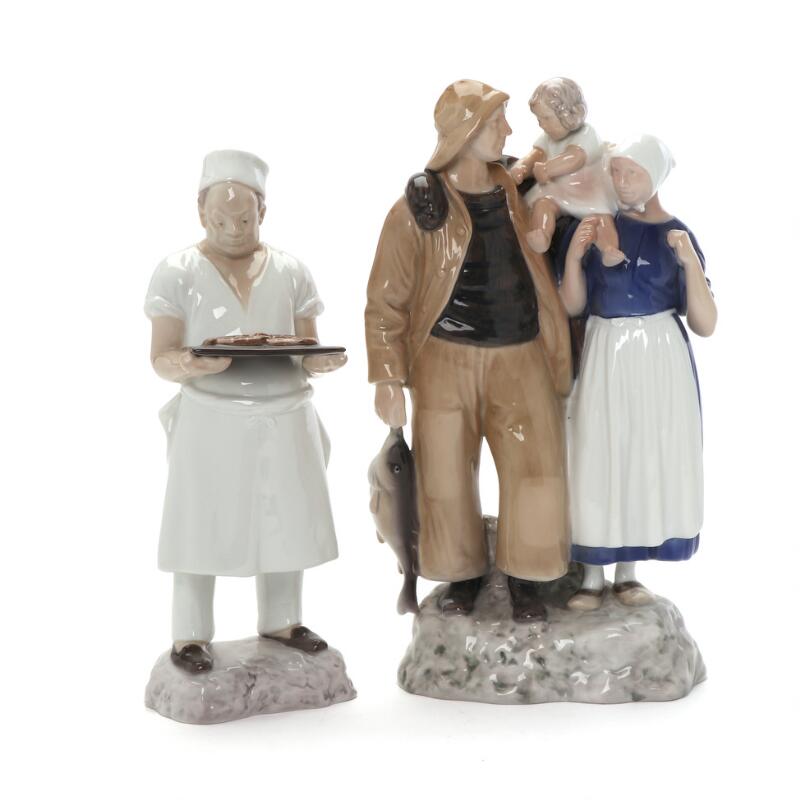 Fishermans family and Baker. Two porcelain figurines decorated in colours. 2025 and 2223. Bing & Grøndahl. H. 29 and 32 cm. (2)
No remarks...
Preis: 1.500 DKK - 2.000 DKK
ca. 223 $ - 297 $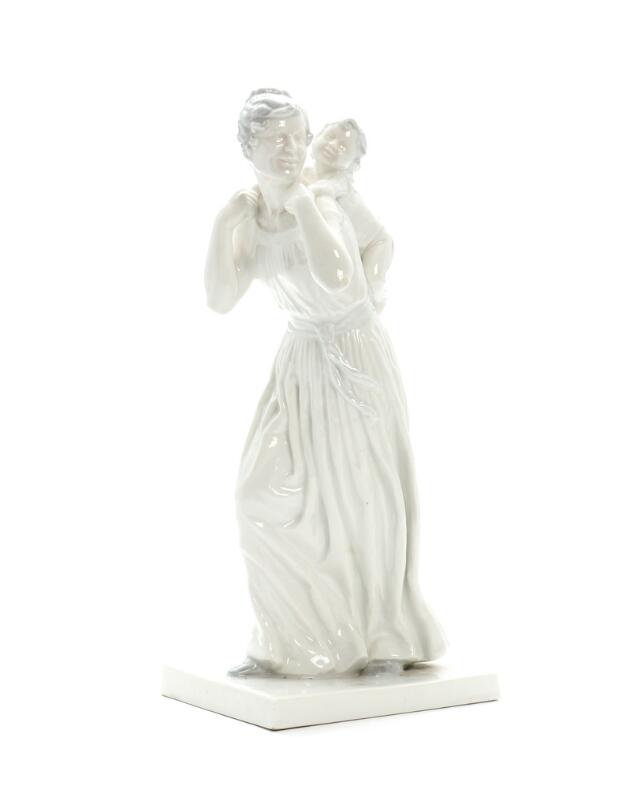 A Bing & Grøndahl porcelain figurine in the form of woman carrying a child. Signed Edith Willumsen. No. 1592. H. 29.5 cm.
No remarks...
Preis: 3.000 DKK
ca. 446 $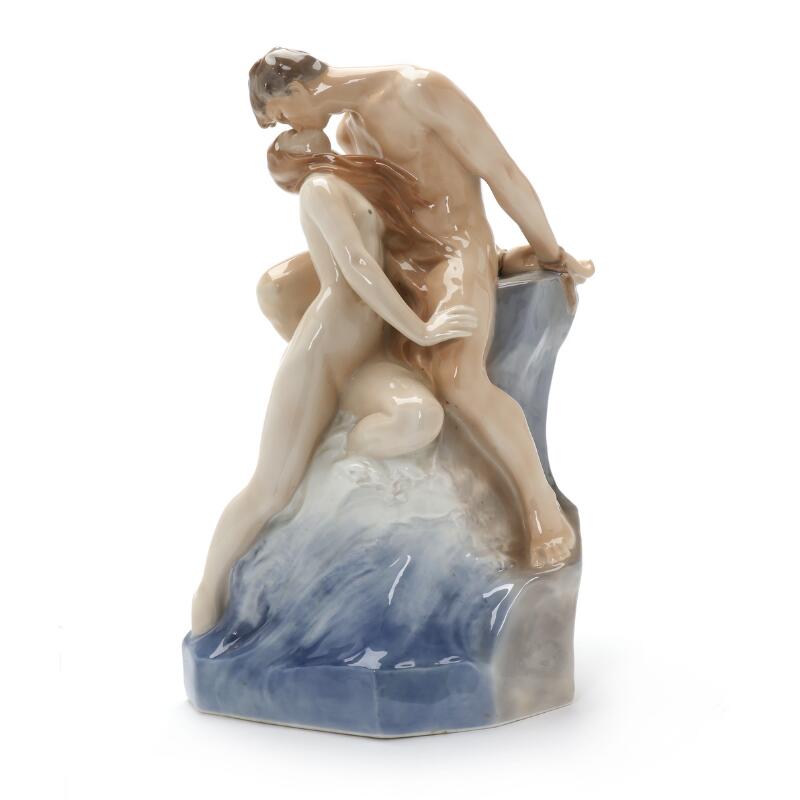 "Wave and Rock". A porcelain figure group decorated in colours. 1132. Royal Copenhagen. H. 47 cm.
2rd sort. Glaze hole with one finger - male...
Preis: 4.000 DKK
ca. 594 $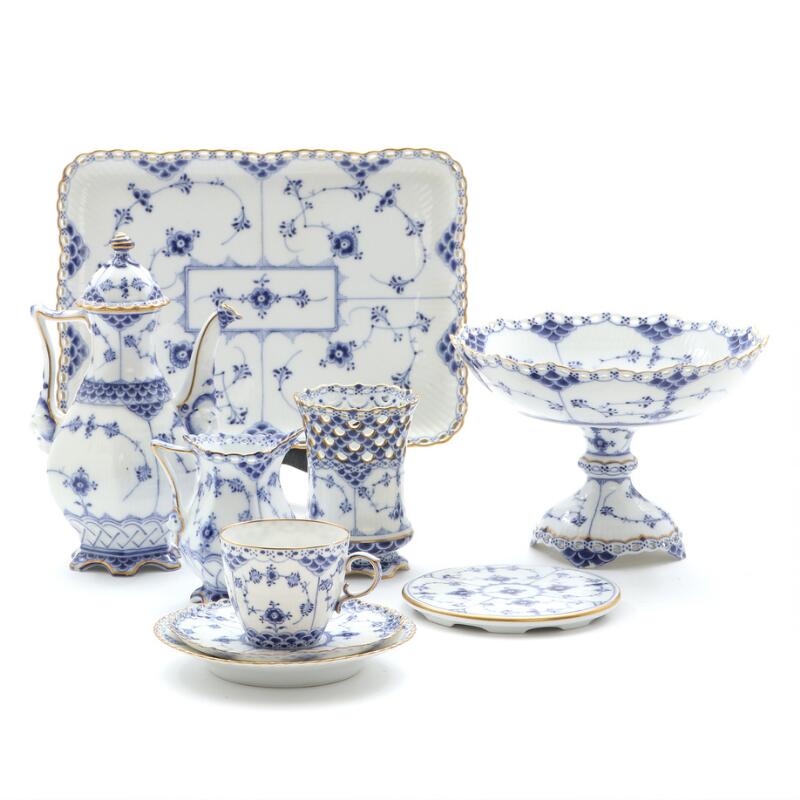 "Blue Fluted Full Lace and Plain with gold". Part of a Royal Copenhagen porcelain coffee set in underglaze blue and gold. (22) Full Lace: 5 coffee cups no. 1035, 1 saucer no. 1035, 10 pastry plates no. 1088, bowl on high foot no. 1020, creamer no. 1032, cup no. 1016, tray no. 1156 and coffee pot no. 1030. Plain: coaster no. 452.
Creamer no. 1032 with blasting at one point. Cup no. 1016 with two...
Preis: 12.000 DKK - 15.000 DKK
ca. 1.784 $ - 2.231 $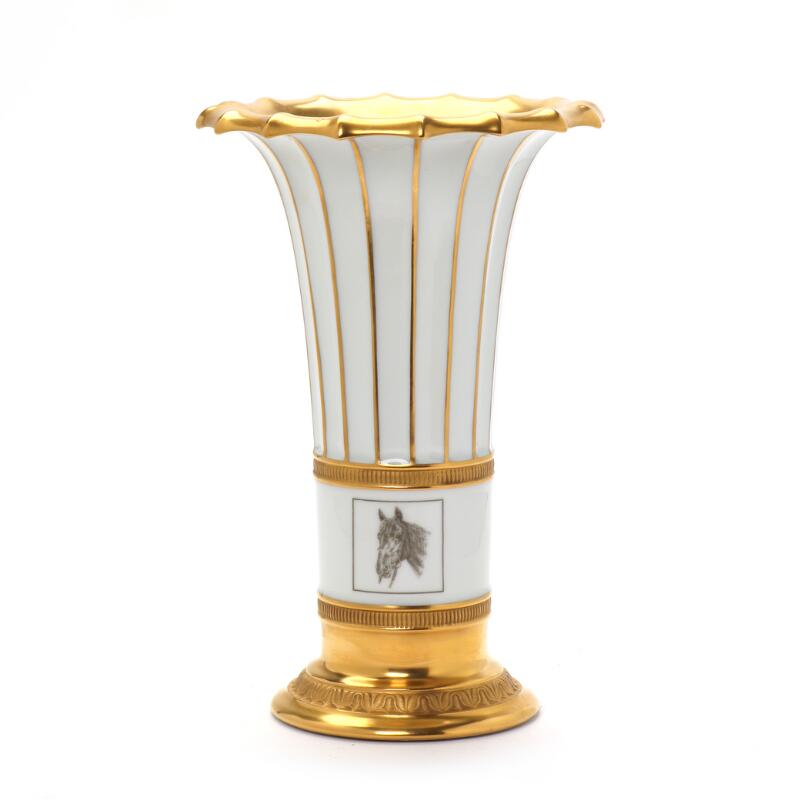 A so-called Hetsch partly gilt porcelain vase, Danish Derby trophy 1985. 740/8569. Royal Copenhagen. H. 26 cm.
No remarks...
Preis: 2.000 DKK
ca. 297 $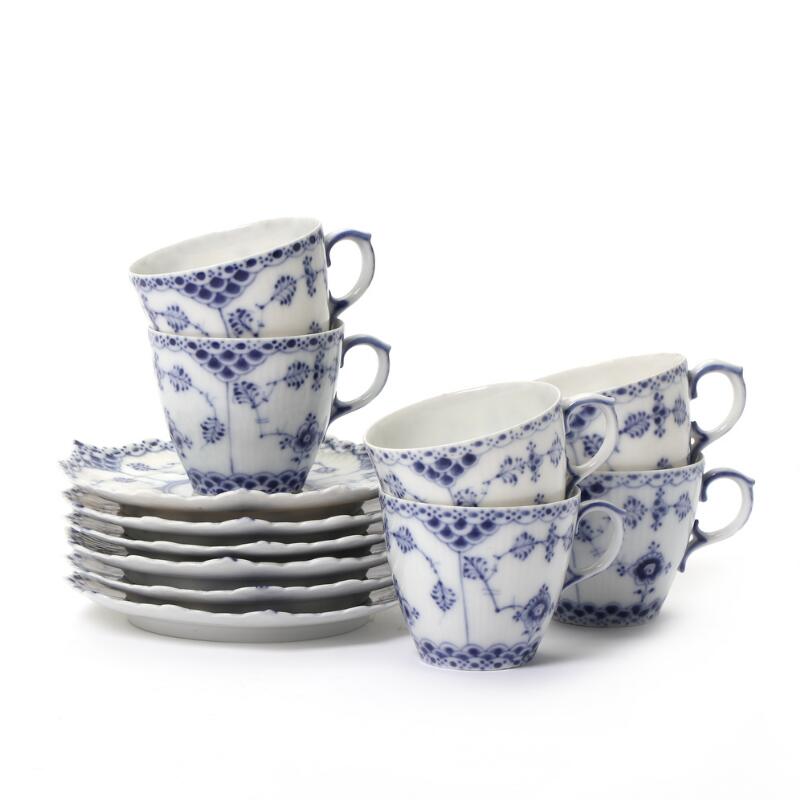 Six "Blue Fluted Full Lace" mocha cups and six saucers painted in underglaze blue. 1038. Royal Copenhagen. (12)
One saucer chipped at tip...
Preis: 2.000 DKK
ca. 297 $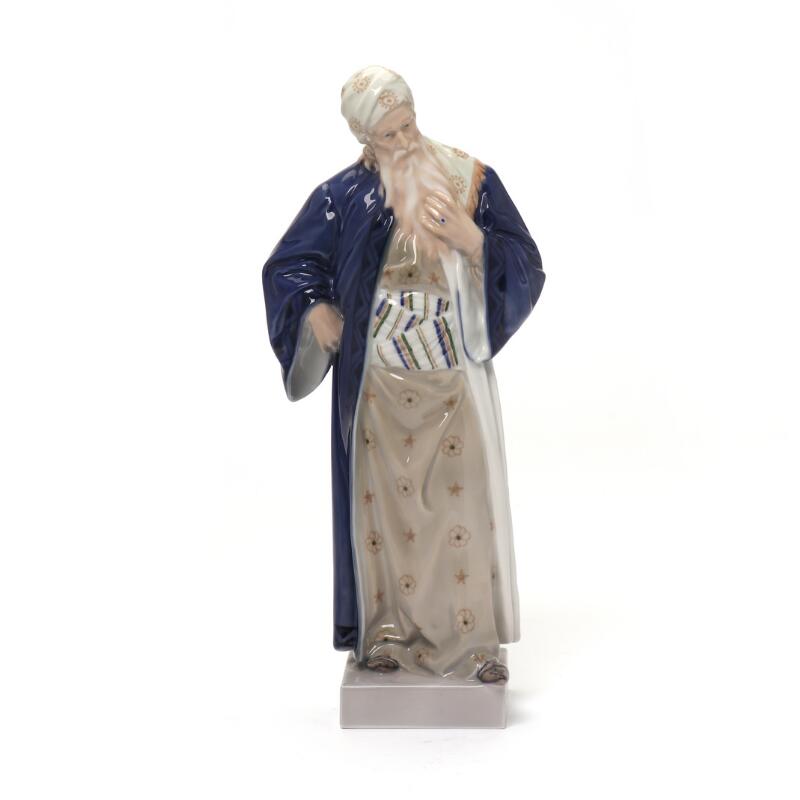 "Nathan den Vise" porcelain figur decorated in underglaze colours. 1413. Royal Copenhagen. H. 35 cm...
Preis: 2.000 DKK
ca. 297 $
LotSearch ausprobieren
Testen Sie LotSearch und seine Premium-Features 7 Tage - ohne Kosten!
Auktionssuche und Bieten
Preisdatenbank und Analysen
Individuelle automatische Suchaufträge