Hört man den Namen Stradivari, Guarneri oder Amati, dann werden zumindest die Herzen der Geigen-, Bratschen und Cellospieler höher schlagen. Die italienischen Instrumentenbauer waren die Meister ihres Fachs. Wenn sie überhaupt einmal auftauchen erzielen Stradivaris auf Auktionen immer wieder Höchstpreise. Ebenso verhält es sich mit Noten / Partituren berühmter Komponisten wie Johann Sebastian Bach, Mozart oder Beethoven. So wechselte beispielweise bei Christie's 2016 ein bis zum Rand vollgeschriebenes Notenmanuskript von Johann Sebastian Bach für 2,5 Millionen den Besitzer.
Jedoch muss es nicht unbedingt eine Stradivari sein, um spektakuläre Auktionsergebnisse zu erzielen: Eine Geige von Kapellmeister Wallace Hartley, der auf dem Ozeandampfer "Titanic" bis zu deren Untergang gespielt hatte und danach ertrank, wurde für umgerechnet 1,2 Millionen Euro 2013 versteigert.
Weiterhin sind auch Instrumente, die einmal von bekannten Sängern, Popstars und Idolen aus neuerer Zeit wie Elvis Presley, den Beatles, John Lennon oder Eric Clapton etc. bespielt wurden, gesucht und erzielen bei ihren Fans hohe Verkaufspreise.
---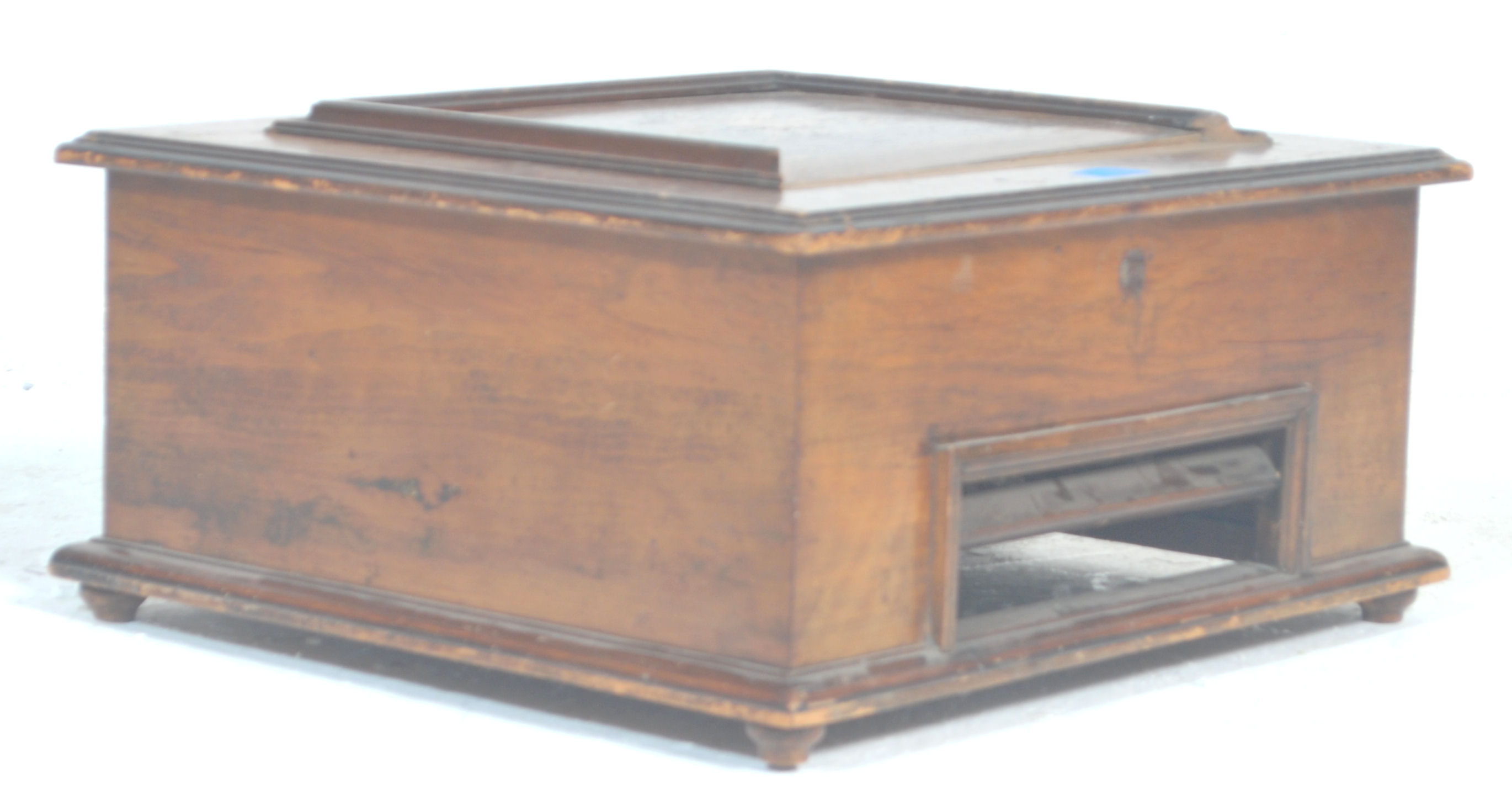 An early 20th Century table top polyphon case of square form having a panelled lid with inlaid marquetry floral design lid, opening to reveal a printed castle panel to the interior, the polyphon being replaced by a vintage gramophone...
Preis: 40 £ - 60 £
ca. 52 $ - 78 $
Datum: 06.08.2020 - 07.08.2020
viii, 193 pp. 25.5x17.7 cm (10x7"), printed green wrappers. Signed by Cecil B. DeMille at top of front wrapper. The opening brief by the legal team of movie mogul Cecil B. DeMille suing for reinstatement by the American Federation of Radio Artists following his dismissal due to his refusal to pay one dollar ($1) in dues. The arch-conservative DeMille had thus been forced to resign from his...
Japan, Toa Electric Co., Ltd., elektrisches Megaphon mit automatischer Notfallsirene, Schultergurt, Model ER-370, 12 V, max. 16 W rot, weiß, die Fa. Toa entwickelte 1954 das erste elektrische Megaphon mit klarem Klang über weite Entfernungen, Fkt. ungepr., Alterssp...
Si gepr., vergold., ovaler konischer Korpus, umlaufend reliefierter u. grav. Dekor, reich gearbeitet, Blumen- u. Blattranken, umlaufend grüner Steinbesatz, zwei Scharnierdeckeln, innen drin Spiegel u. Spieluhr, läuft an, min. Alterssp., L/H ca. 6,5/2,5cm...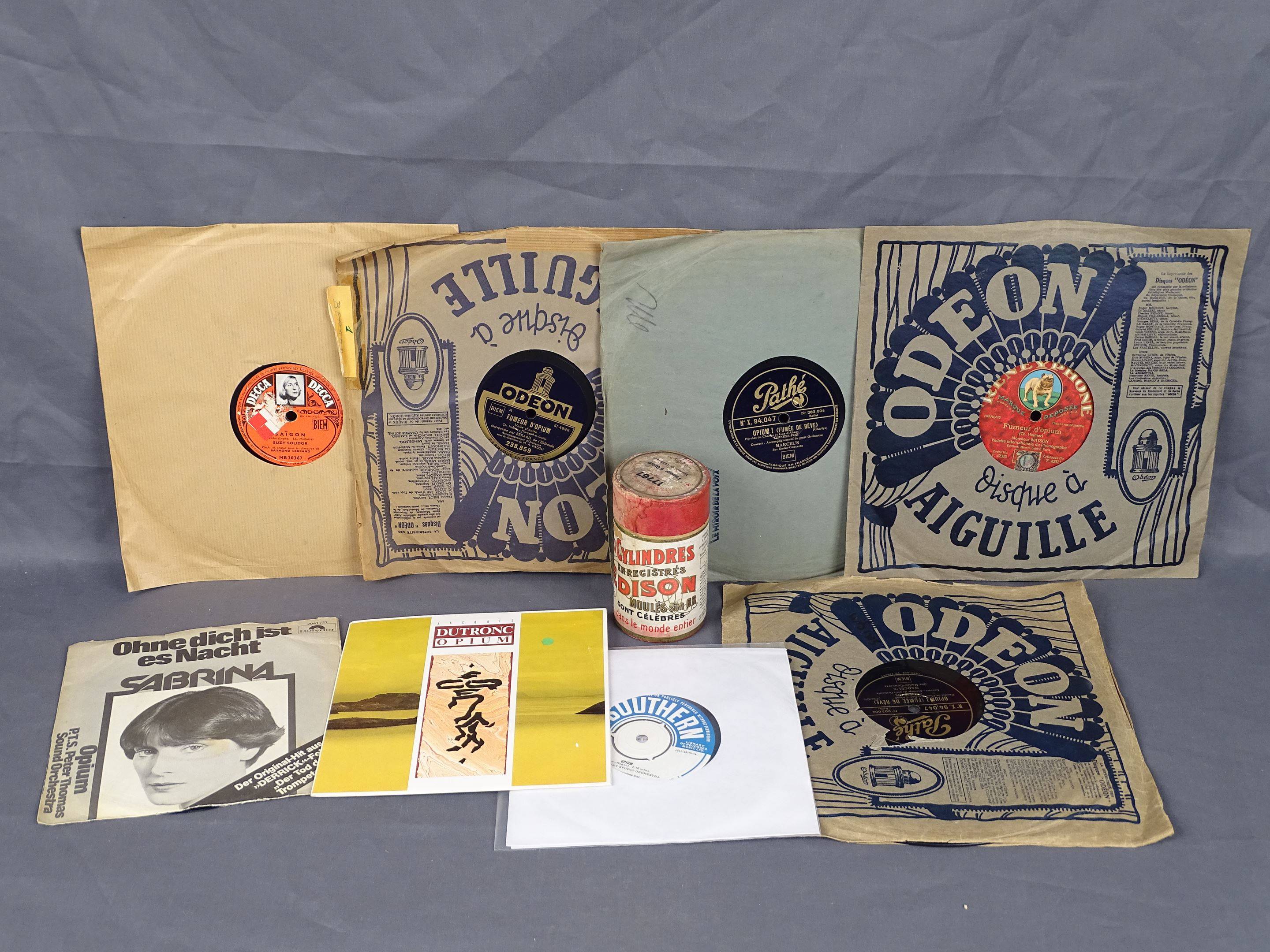 Cinq Disques 78 tours, trois disques 45 tours, et un cylindre de gramophone sur le thème de l'Opium...
Preis: 30 € - 40 €
ca. 35 $ - 46 $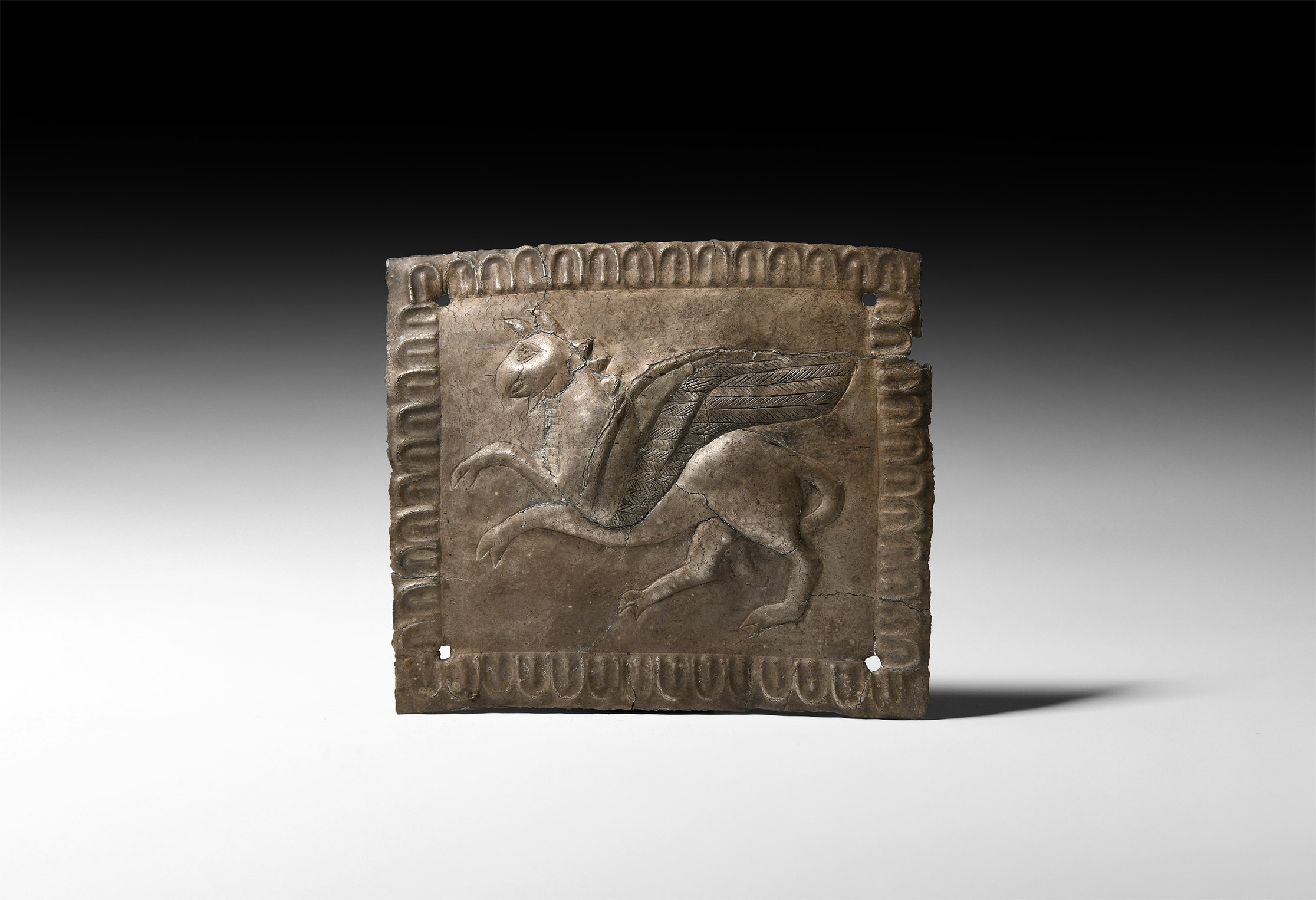 Greek Silver Plaque with Gryphon 5th-3rd century BC A sheet silver appliqué with attachment hole to each corner, band of ovolo repoussé ornament to the edges, central repoussé gryphon advancing with wings folded. 32 grams, 86mm (3 1/2"). Fine condition. Provenance From a private New York collection; previously in a private German collection, since the 1980s...
Preis: 400 £ - 600 £
ca. 514 $ - 771 $
Datum: 01.09.2020 - 06.09.2020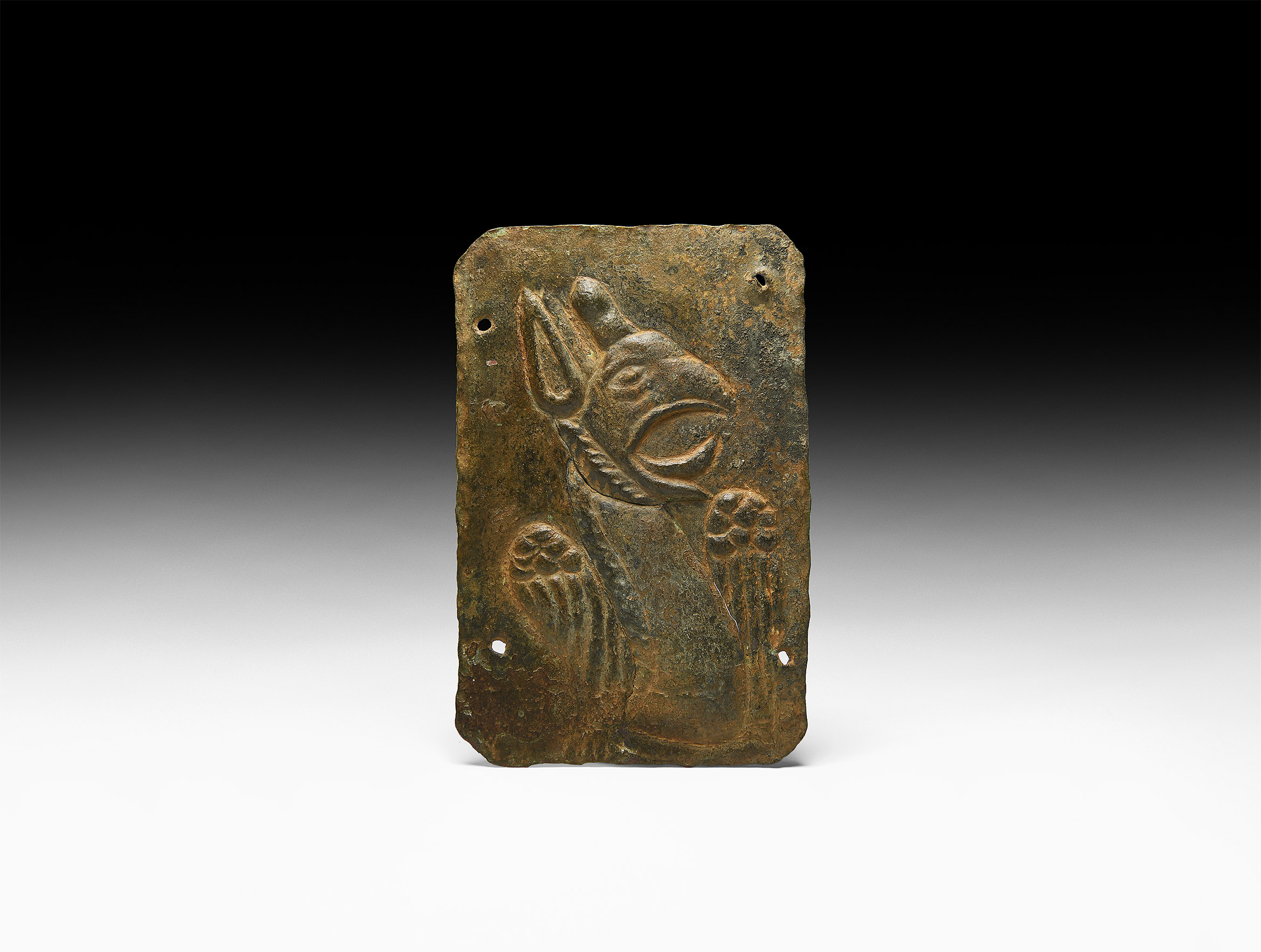 Greek Mount with Gryphon 7th-5th century BC A bronze rectangular mount with low-relief repoussé gryphon facing right, open beak with curved pointed tongue and a feather collar around the neck, leaf-shaped ears, a conical knop on the crown of the head, small, partly open, wings to each side of the curved neck; pierced through the rim for suspension. 48 grams, 12cm (4 3/4"). Fine condition. [No...
Preis: 300 £ - 400 £
ca. 385 $ - 514 $
Datum: 01.09.2020 - 06.09.2020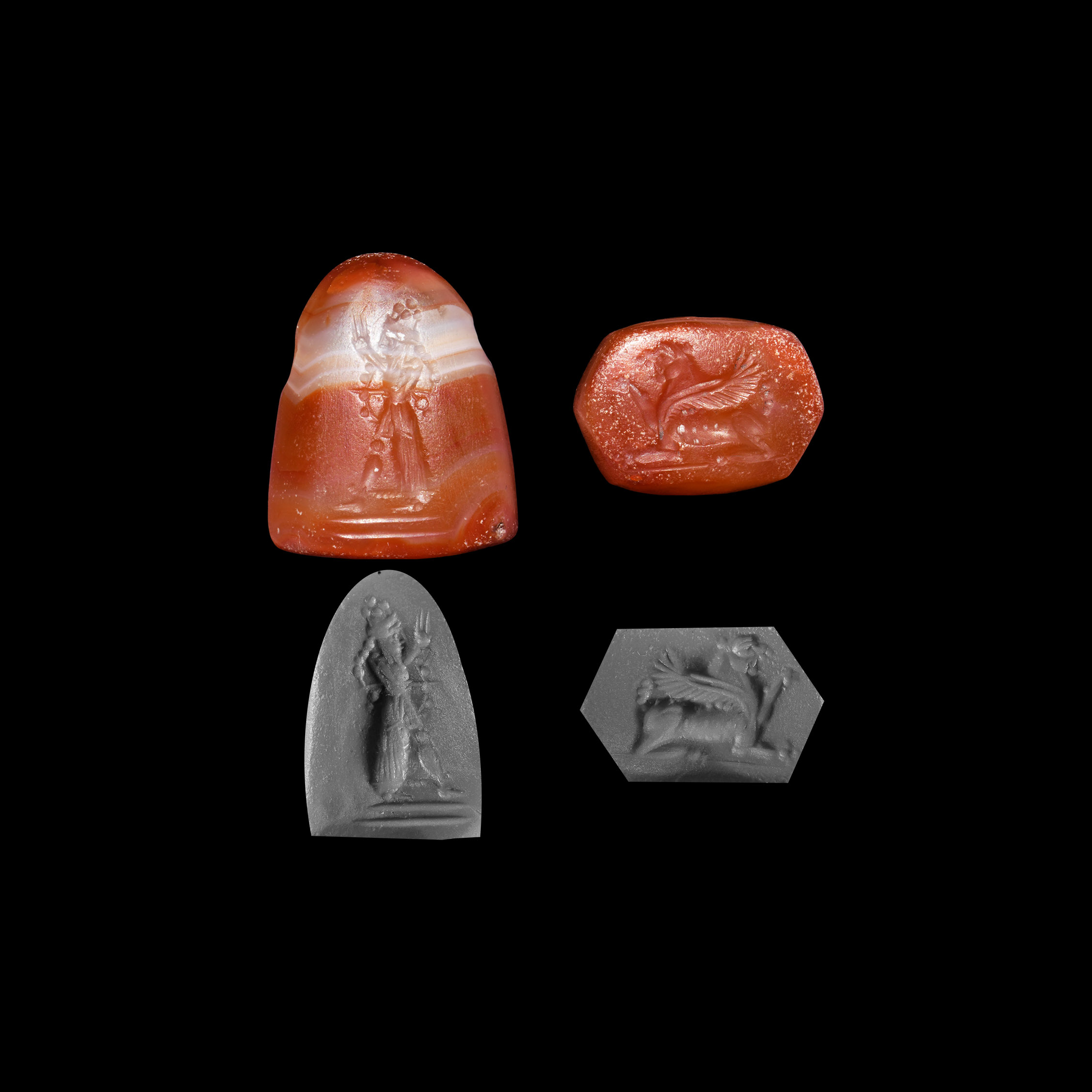 Western Asiatic Sassanian Gryphon Stamp Seal 3rd-7th century AD A carnelian stamp seal with intaglio advancing gryphon with one foreleg raised, standing robed figure with his arms raised to the side; accompanied by a museum-quality impression. 6.44 grams, 23mm (1"). Very fine condition. Provenance Property of a Middlesex gentleman; previously in the collection of a Middlesex lady by descent...
Preis: 700 £ - 900 £
ca. 899 $ - 1.157 $
Datum: 01.09.2020 - 06.09.2020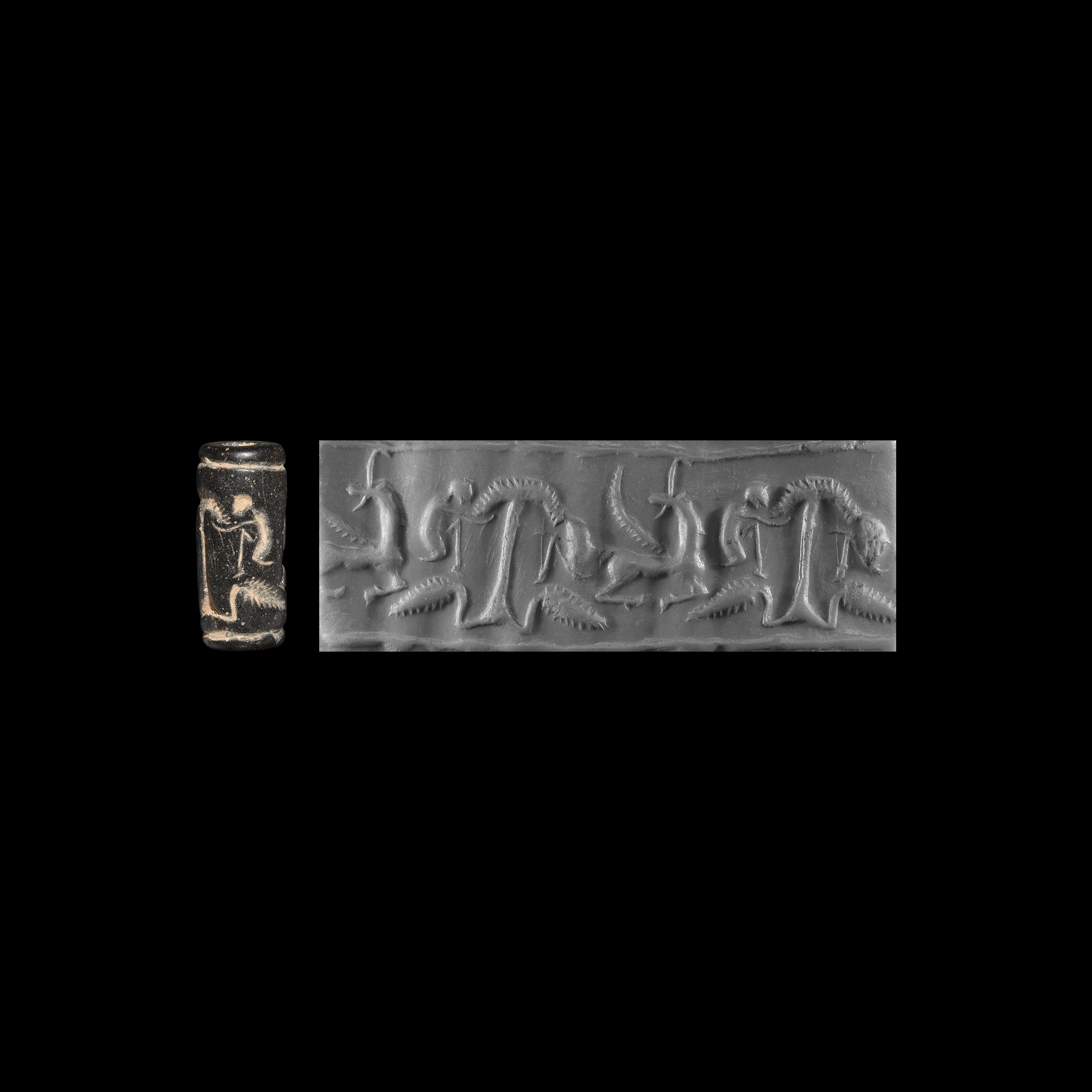 Western Asiatic Cylinder Seal with Gryphon 2nd millennium BC A black jasper cylinder seal with winged regardant gryphon, two figures crouching with T-shaped object (bow-drill?) between; accompanied by a museum-quality impression. 4.46 grams, 27.16mm (1"). Fine condition. Provenance From the private collection of a North West London lady; previously with a central London gallery; formerly acquired...
Preis: 180 £ - 240 £
ca. 231 $ - 308 $
Datum: 01.09.2020 - 06.09.2020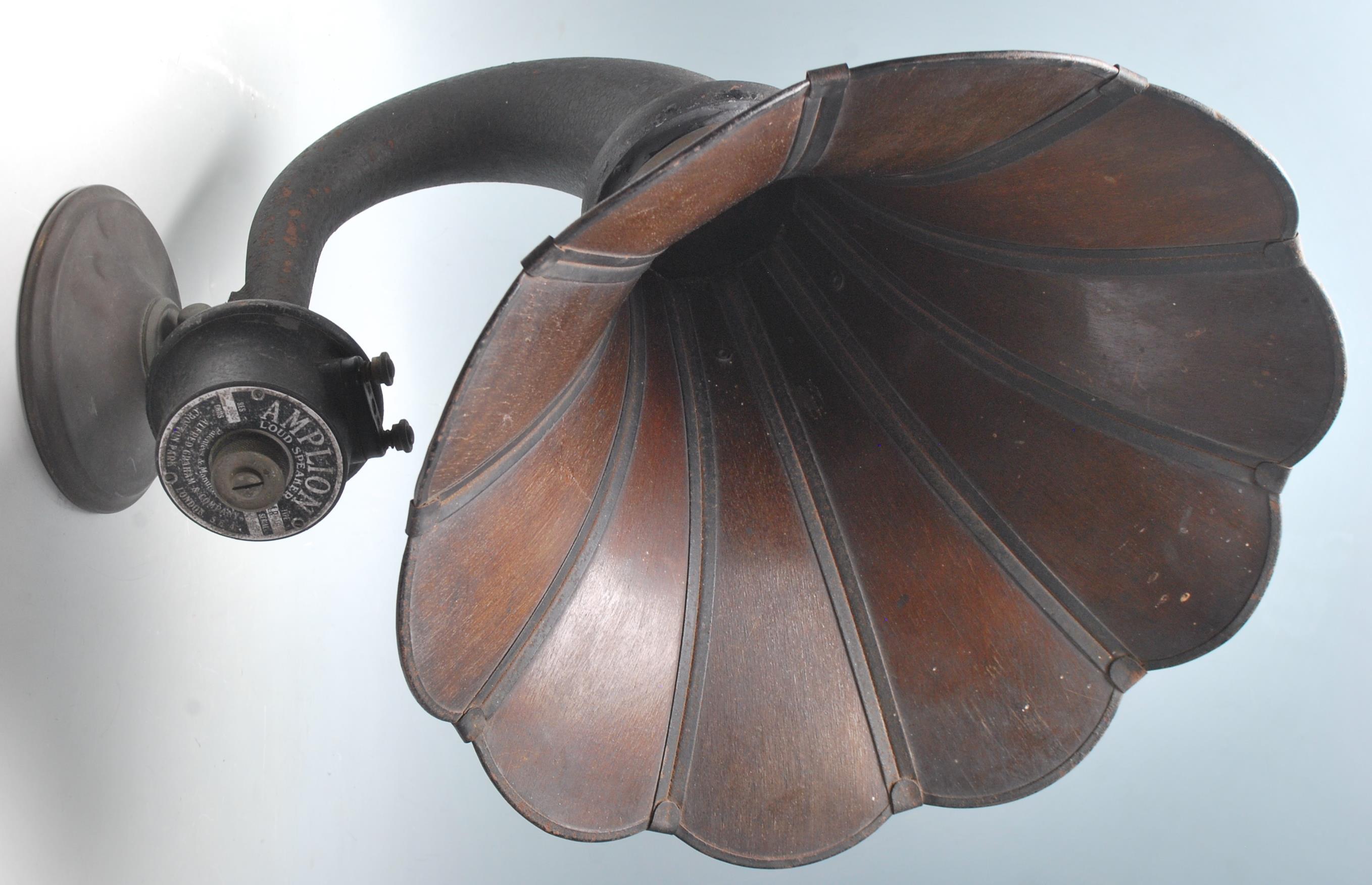 A vintage 1930's Art Deco gramophone horn Amplion Loudspeaker having a panelled mahogany horn with scalloped ends to each panel, raised on a round plinth base. Measures 52cm tall...
Preis: 50 £ - 80 £
ca. 65 $ - 104 $
Datum: 06.08.2020 - 07.08.2020
LotSearch ausprobieren
Testen Sie LotSearch und seine Premium-Features 7 Tage - ohne Kosten!
Auktionssuche und Bieten
Preisdatenbank und Analysen
Individuelle automatische Suchaufträge