Als Jugendstil bezeichnet man die kunstgeschichtliche Epoche an der Wende vom 19. Zum 20. Jahrhundert. Merkmale des Jugendstils sind dekorative fließende Linien, florale Ornamente oder auch geometrische Formen. Als ein herausragender Künstler des Jugendstils im grafischen Bereich gilt der Tscheche Alfons Mucha, dessen Plakatentwürfe die Elemente des Jugendstils auf eine perfekte Weise kombinieren.
n der Glaskunst gelten die Glasskulpturen René Laliques als gesuchte Jugendstilobjekte. Die Stilrichtung Art Déco hat sich aus dem Jugendstil entwickelt. Im Namen schon verankert ist die Wichtigkeit des Dekorativen. Die künstlerischen Vertreter des Art Déco setzen die geschwungenen Linien des Jugendstils in klarere Formen um und schaffen so eine neuartige Bildsprache, die schmückend und reduziert zugleich sind. Die Malerin Tamara de Lempicka gehört zu den bekannten Künstlern des Art Décos.  
---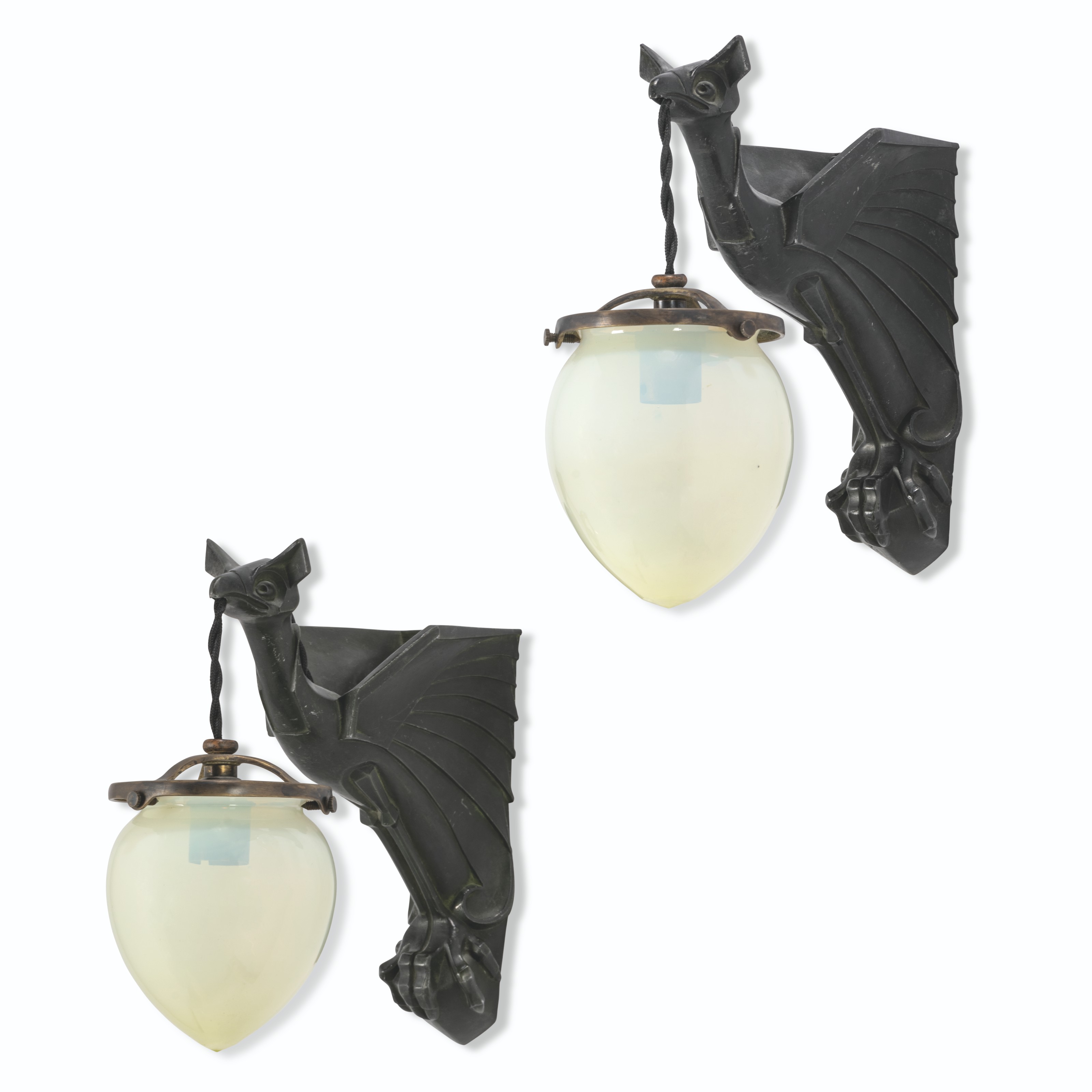 A PAIR OF ART DECO PATINATED-BRONZE AND GLASS WALL-LIGHTS BY MAX LEVERRIER, CIRCA 1930 Decorated with winged griffins holding a white opaline bulb-shaped shade, signed in the cast 'LEVRIER' 8 in. (20 cm.) high; 4 in. (10 cm.) wide; 8 1⁄2 in. (21.5 cm.) deep, approximately...
Preis: 1.000 £ - 2.000 £
ca. 1.354 $ - 2.709 $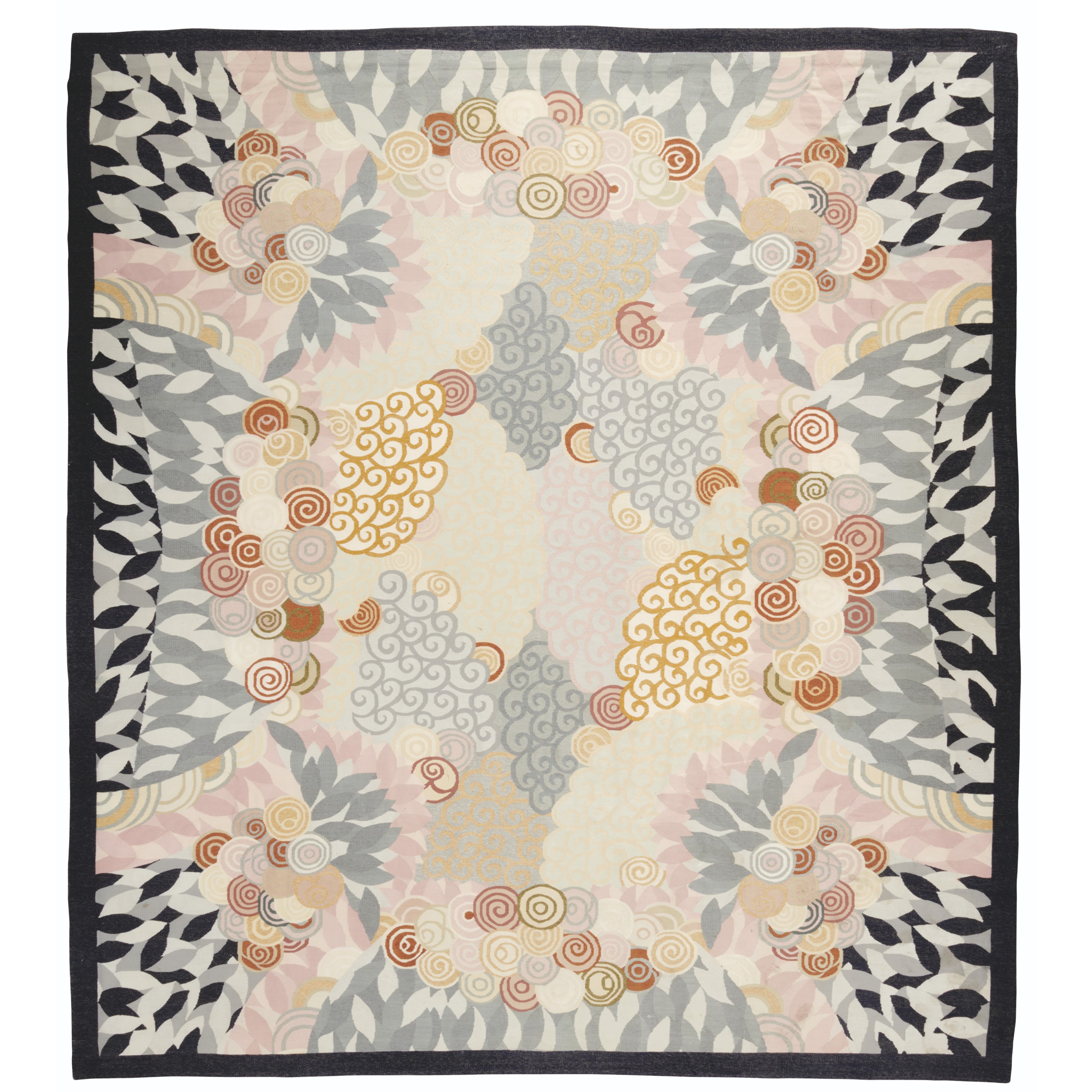 A FRENCH ART DECO JAPONAISE WOOL CARPET DESIGNED BY EDOUARD BENEDICTUS, CIRCA 1925 14 ft. 4 in. x 11 ft. 1 in. (440 x 340 cm...
Preis: 8.000 £ - 12.000 £
ca. 10.837 $ - 16.255 $
A three-piece Art Deco tea set plus a silver hot water pot, by Elkington and Co., Birmingham 1936, the hot water pot by E. Viner, Sheffield 1942, panelled rectangular form, geometric scroll handle, length handle to spout 27cm, approx. total weight 48.8oz. (4...
Preis: 500 £ - 700 £
ca. 677 $ - 948 $
American Art Deco silver cigar boxTiffany & Co., New Yorkcirca 1930 with etched scroll and foliate panels, bail handles, and cedar-lined interior, the front monogrammed CFG above keyholemarked on base and numbered 21365-1635122 oz 5 dwt gross3807 glength 11 5/8 in.29.5 cmCondition reportIn overall good condition with expected minor surface nicks/scratches to the silver. The cedar lining with some...
Preis: 25.000 $ - 35.000 $
A FRENCH ART NOUVEAU OAK LARGE STAND CIRCA 1905, POSSIBLY AFTER A DESIGN BY HENRI-JULES-FERDINAND BELLERY-DESFONTAINES The square top with re-entrant corners on four square tapering legs carved to the top with fruit and leaves, joined by shaped stretchers; together with a French Art Nouveau oak stand, of tripod form with a rotating top 48 1⁄2 in. (123 cm.) high; 24 in. (61 cm.) wide; 24 1⁄2 in...
Preis: 1.500 £ - 2.500 £
ca. 2.031 $ - 3.386 $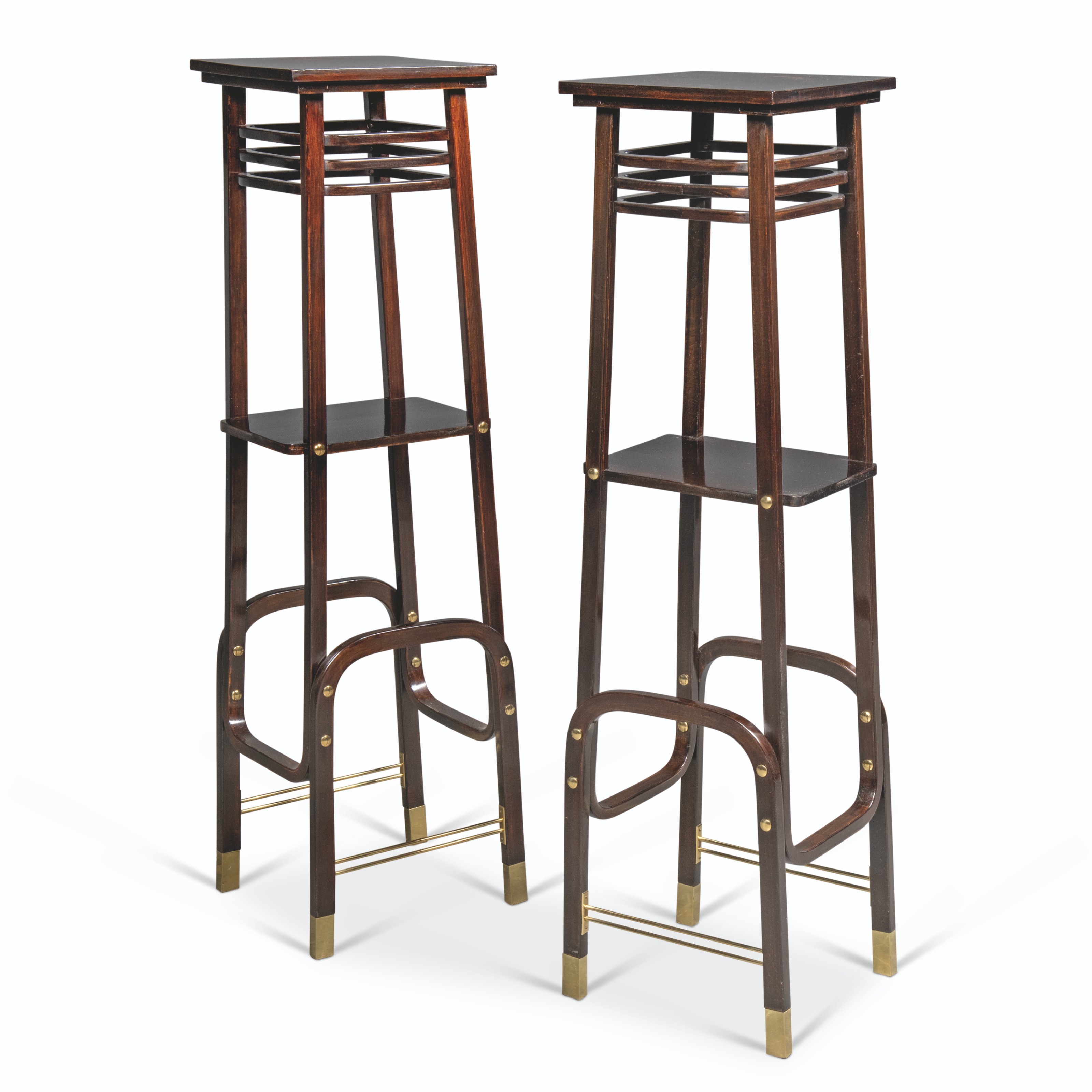 A PAIR OF AUSTRIAN ART NOUVEAU EBONISED BEECH AND BRASS MOUNTED STANDS DESIGNED BY MARCEL KAMMERER, MANUFACTURED BY GEBRUDER THONET, CIRCA 1905 Each with a square top on square-section legs joined by an undertier and brass stretchers, both with paper label THONET/WIEN 51 in. (129.5 cm.) high; 12 3⁄4 in. (32.5 cm.) wide; 13 1⁄4 in. (33.5 cm.) deep; the tops 13 in. (33 cm.) square...
Preis: 3.000 £ - 5.000 £
ca. 4.063 $ - 6.773 $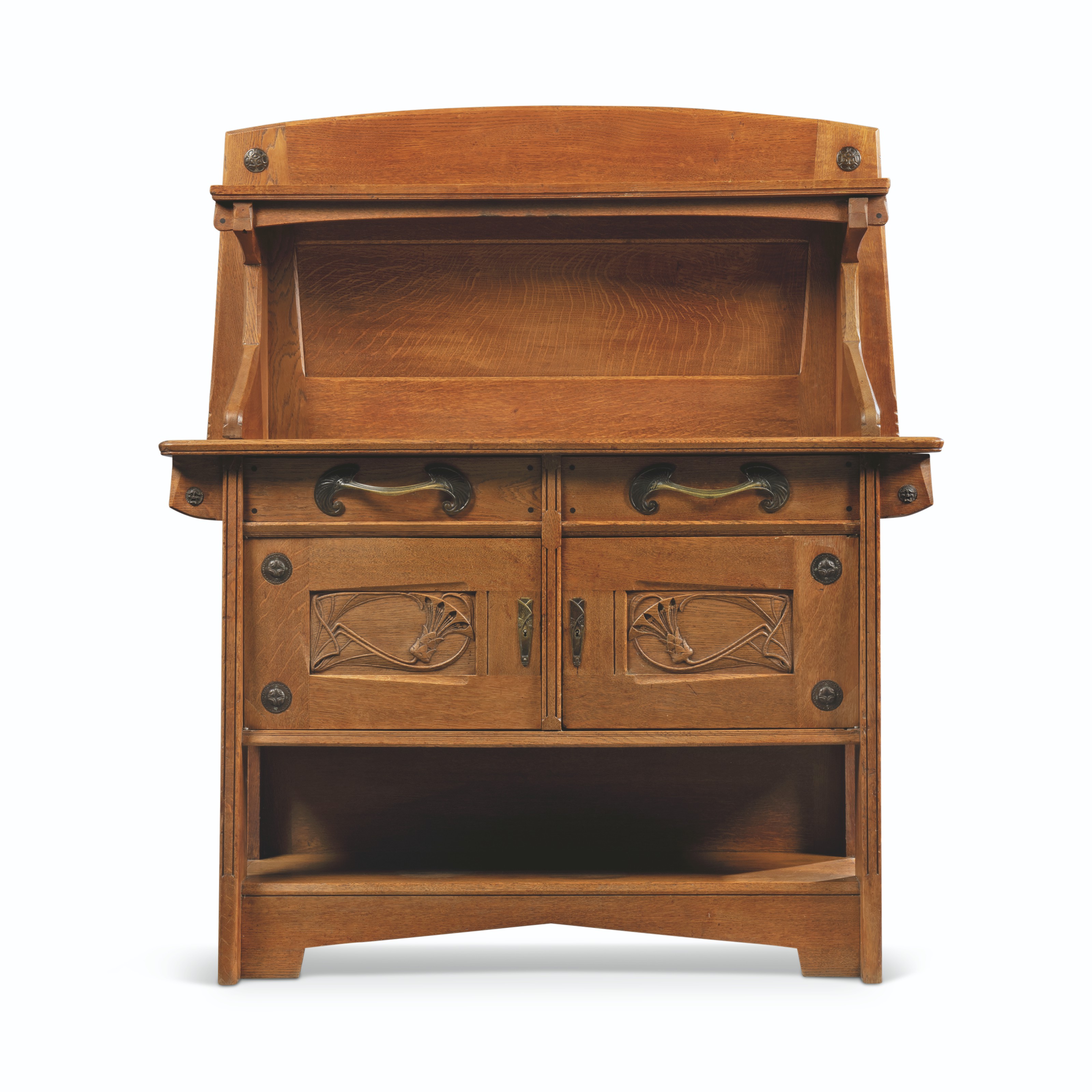 AN ART NOUVEAU BRASS AND PATINATED-BRONZE-MOUNTED OAK SIDEBOARD BY LEON-ALBERT JALLOT (1874-1967), FRANCE, CIRCA 1905 Decorated with carved pine tree motifs and with large patinated brass handles and roundels 59 1⁄2 in. (151.5 cm.) high; 51 1⁄2 in. (131 cm.) wide; 17 3⁄4 in. (45 cm.) deep...
Preis: 3.000 £ - 5.000 £
ca. 4.063 $ - 6.773 $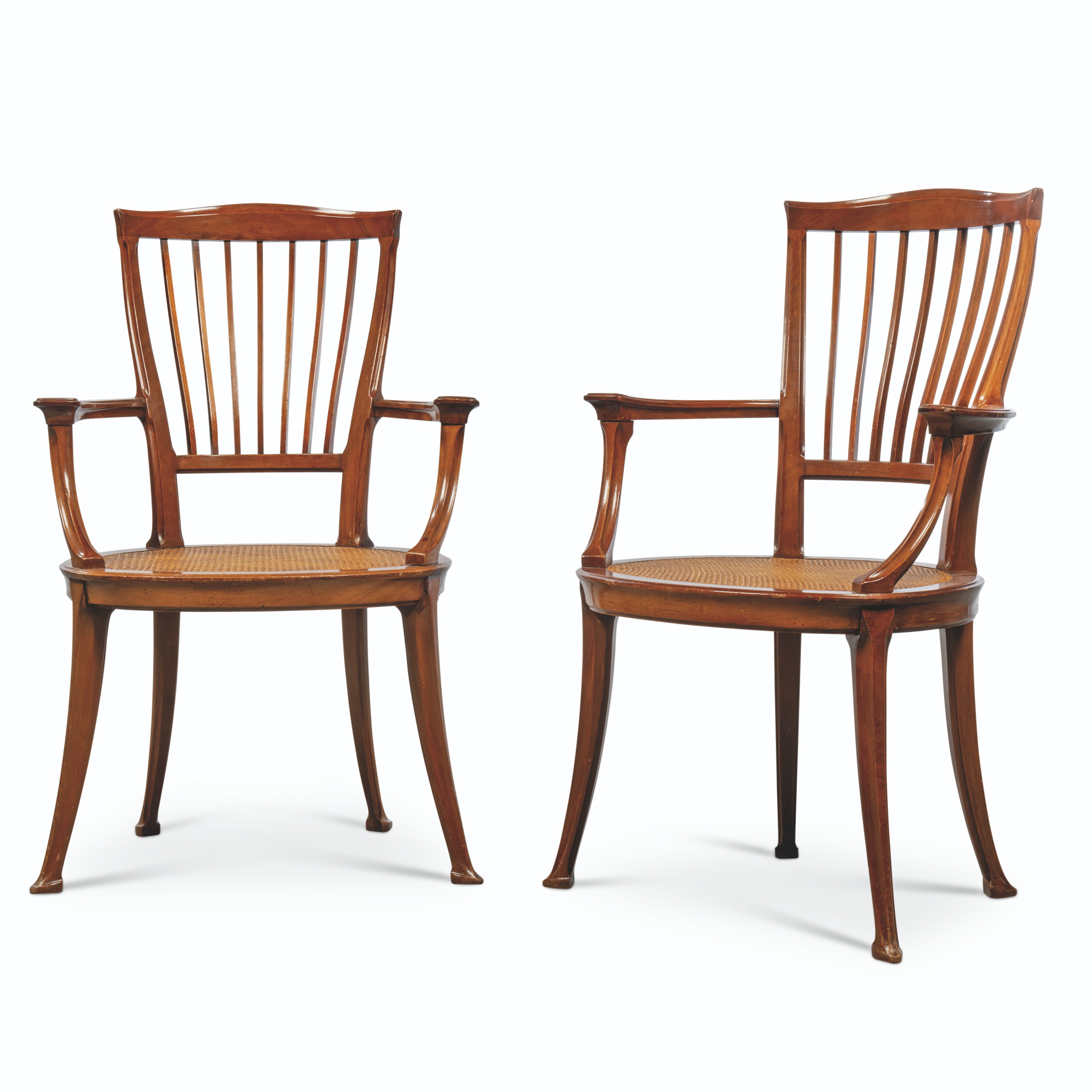 A PAIR OF FRENCH ART NOUVEAU CARVED MAHOGANY OPEN ARMCHAIRS ATTRIBUTED TO CHARLES PLUMET AND TONY SELMERSHEIM, CIRCA 1905 Each with a curved pierced back and curved arms on splayed legs, with caned seats 38 3⁄4 in. (98.5 cm.) high; 25 in. (64 cm.) wide; 19 3⁄4 in. (50 cm.) deep...
Preis: 500 £ - 800 £
ca. 677 $ - 1.083 $
American Art Nouveau silver-gilt and cut-glass claret jugGorham Mfg. Co., Providence, RI, the glass by Daum, Nancy1896 the collar chased with daisies on matted ground, the glass also cut with daisies with gilt accents on frosted ground, the hinged cover with flower sprig finial over chased matching budsmarked on base with maker and retailer mark of Spaulding & Co., the collar and cover also...
Pentagonal art deco custom chandelier. 75x62.5x62.5 cm (29½x24½x24½"), blue and white opaque glass panels, in ornamental bronze frame and mounts. Located at 1350 Market Street in San Francisco, The Fox Theater was the city's premier art deco movie palace designed by architect, Thomas W. Lamb. The legendary Fox opened in 1929, and operated until 1963. It was a landmark in the noir-tinged heyday of...
LotSearch ausprobieren
Testen Sie LotSearch und seine Premium-Features 7 Tage - ohne Kosten!
Auktionssuche und Bieten
Preisdatenbank und Analysen
Individuelle automatische Suchaufträge