Historika, Studentika, Militaria
Studentisches Brauchtum und Rituale wurden besonders vor dem ersten Weltkrieg gefördert. Fast jeder Student war damals in einer studentischen Vereinigung. Die äußeren Erkennungszeichen von Studentenverbindungen wie zum Beispiel Band, Mütze und Zipfelbund waren der Stolz eines jeden Studenten. Diese Devotionalien des studentischen Brauchtums tauchen immer wieder in Auktionen unter "Studentika" auf.
Militaria sind historische Objekte, die mit Militär, Soldatentum, Krieg und Kriegszeiten in Verbindung gebracht werden. Ob Pickelhaube, militärischer Orden, Fotos, Briefe von der Front – derartige Objekte finden sich unter der Rubrik "Militaria". Historika ist allgemeiner und bezeichnet Zeugnisse / Artefakte aus einer Zeit von ca. 1850-1915. Ein studentischer oder militärischer Zusammenhang muss nicht unbedingt bestehen.
---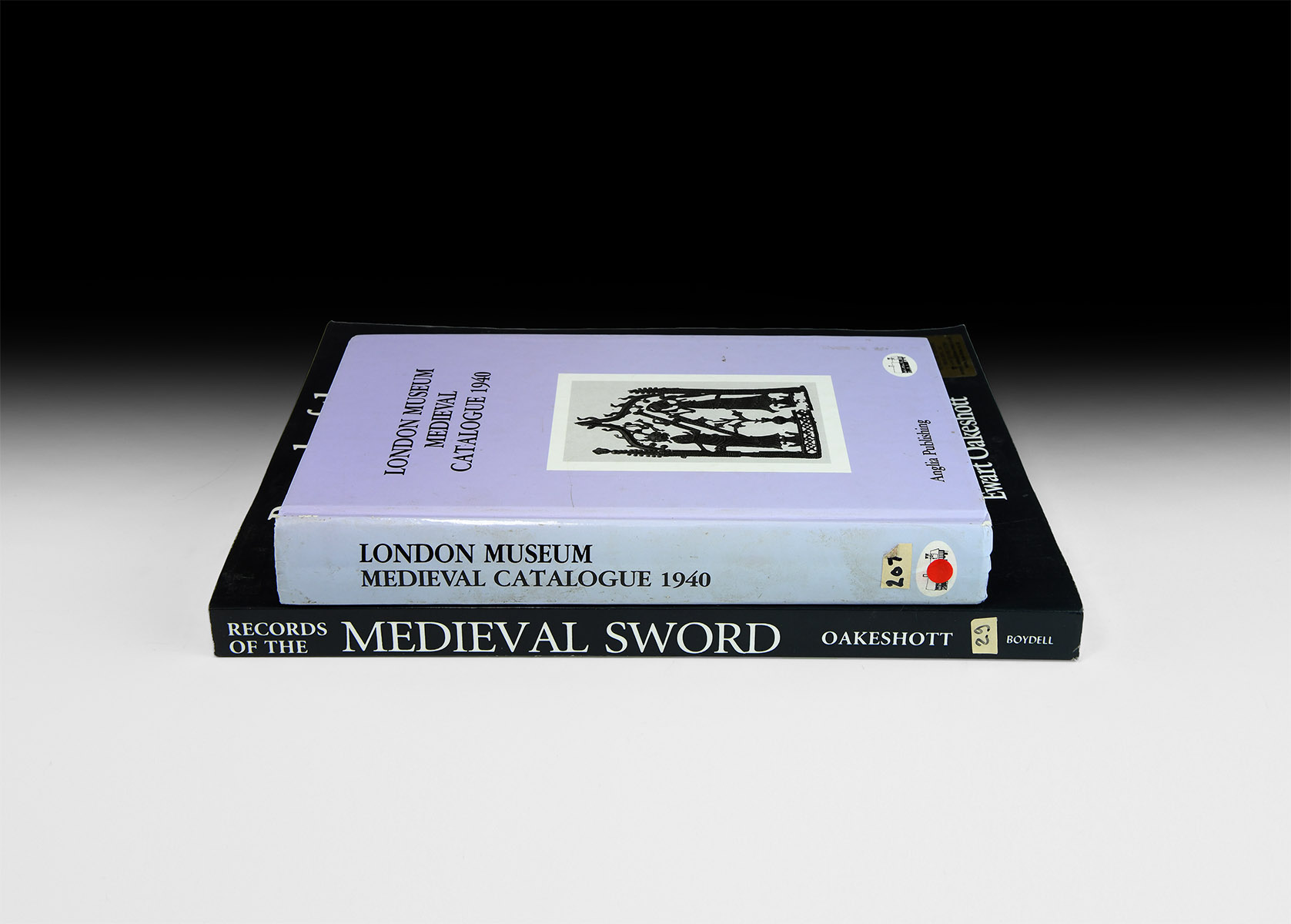 Archaeological Books 'The Medieval Sword' and 'London Museum Medieval Catalogue' 1991, 1993 AD Wheeler, M. London Museum Medieval Catalogue, London, 1940 (reprinted Ipswich, 1993), 329pp, hardback, line drawings, monochrome plates; Oakeshott, E. Records of the Medieval Sword, Woodbridge, 1991, 306pp, card covers, line drawings, monochrome plates. 1.7 kg total, largest 27.5 x 21.7cm (10 3/4 x 8...
Preis: 30 £ - 40 £
ca. 36 $ - 48 $
Datum: 03.09.2019 - 09.09.2019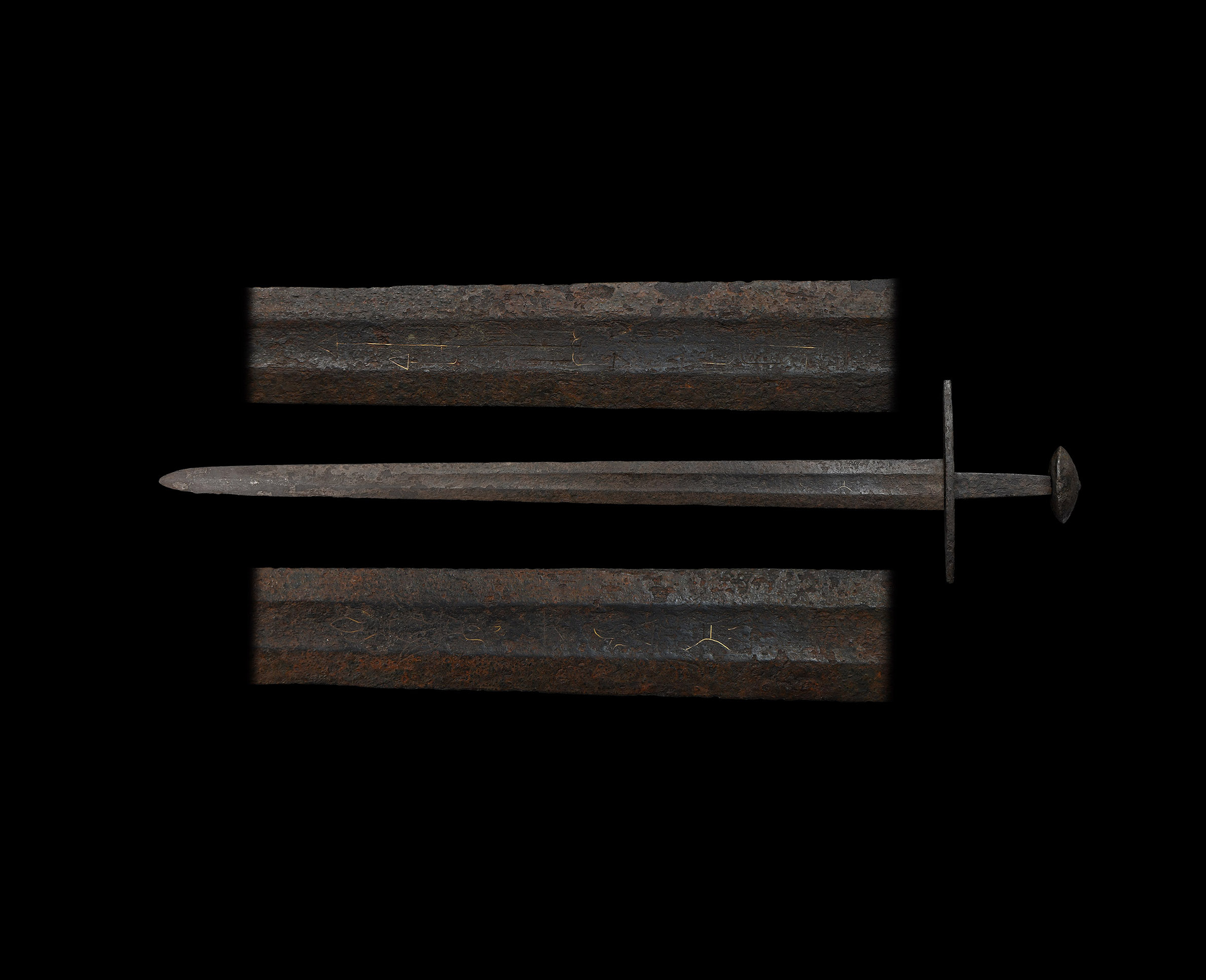 Medieval Long Sword with Fish-Dragons and Tridents Mid 10th-late 12th century AD An Oakeshott Type Xa or Petersen type X long sword, the blade is elegant, finely tapering and fitted with well-formed fullers running down to within few centimetres of the point, the cutting edges are also in good condition and bear evidence of battlefield use; on both sides the fullers are decorated with laten...
Preis: 2.500 £ - 3.500 £
ca. 3.042 $ - 4.258 $
Datum: 03.09.2019 - 09.09.2019
Kaukasus, um 1900
L. 41 cm
Aufwendig gestaltete Waffe. Der Beingriff ist mit plastischen Silberappliken, Schmucksteinen und kleinen Einlagen verziert. Die Klinge ist geätzt mit Kalligraphie überzogen. Scheide überzogen mit rotem Samt und besetzt mit repoussé-Silberappliken.
Min. Gebrauchssp. Gut erhalten...
Preis: 1.250 €
ca. 1.386 $
.45 caliber, 7.5"-barrel length, S/N 3448. Left side of the frame has two-line patent marking with U.S. One-piece walnut grips. All matching numbers. Condition: All metal has nice even gray to brown look. Some dark brown staining. Military sub-inspectors initials in all the correct places. Grips show use with some nicks and dings. Mechanically fine. Bore is fair, but might clean to better. Nice...
FRASER, Edward & CARR-LAUGHTON, LG - The Royal Marine Artillery 1804-1923 2 vols, original cloth rubbed at tips, maps and plates, stout 4to, 1930...
Preis: 100 £ - 150 £
ca. 121 $ - 182 $
40 pp.11x13.5 cm (4¼x5¼"), original wrappers stamped in red and brown. A catalogue with price list for Colt revolvers and automatic pistols. Rubber-stamped message "not ready for delivery" on the page featuring the Colt Automatic Pistol Military Model 1911. OCLC/WorldCat locates only one copy of this catalogue at the Connecticut Historical Society Resources Center...
Indien, 19./20. Jh.
L. 48/77 cm
U.a. ein "katar", ein Stossdolch mit beidseitig integrierten Steinschlosspistolen und ein "kharga" Schwert Klinge mit reicher ornamentaler Ziergravur.
Provenienz: Aus einer deutschen Privatsammlung, in Indien gesammelt, seit 1970 in Deutschland. - Das "kharga" Schwert mit ergänzter Klinge, Griff 19. Jh. mit Silbertauschierung. Berieben...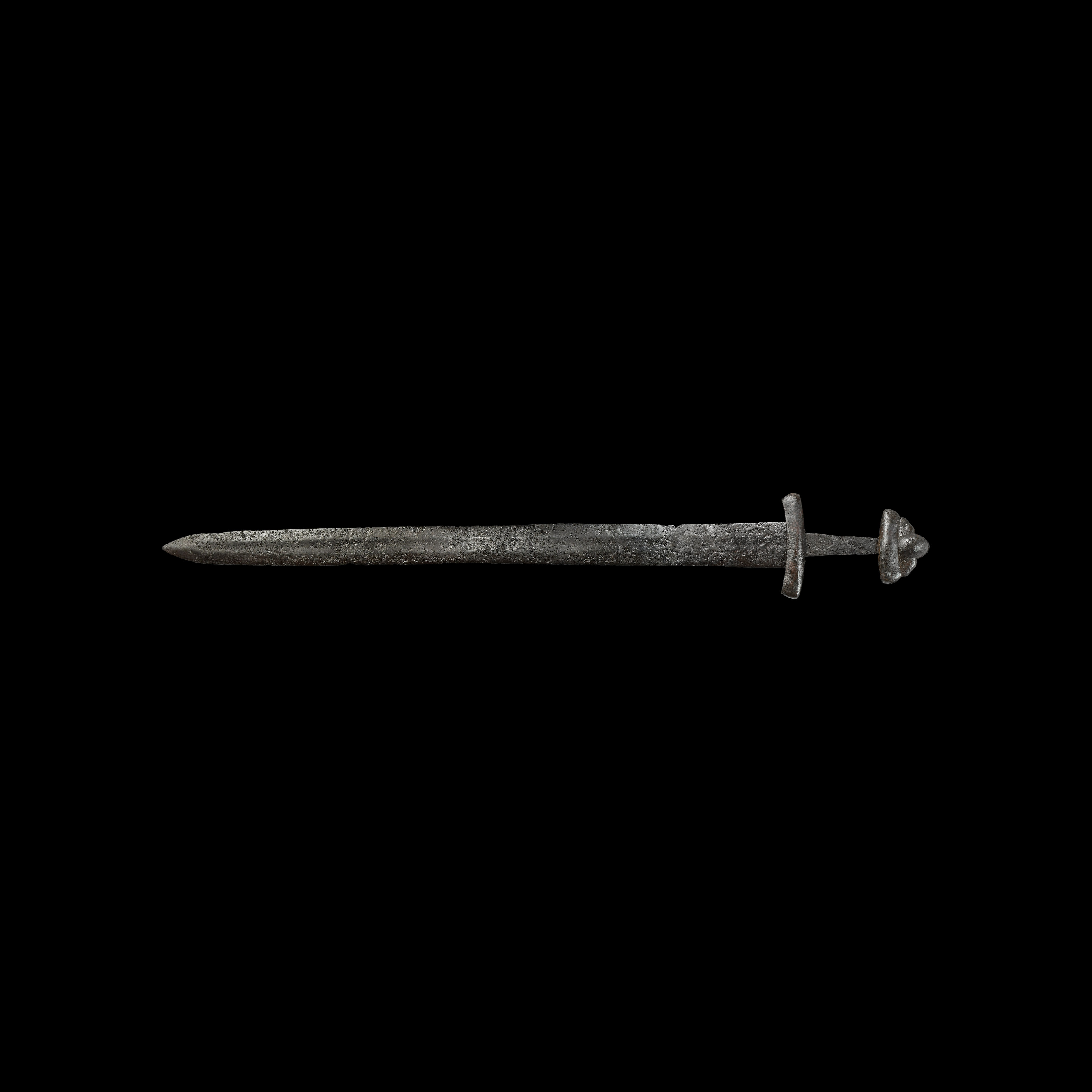 Viking Sword with Tri-Lobed Pommel Late 10th-early 11th century AD A Petersen Type L variant Viking sword, the pattern-welded tapered blade with a width of about 5.7cm at the cross-guard, the point and cutting edges well preserved with traces of battlefield use clearly visible along its length; the tapered fullers are 2.2cm at their origin adjacent to the cross-guard; oppositely curved guards are...
Preis: 5.000 £ - 7.000 £
ca. 6.084 $ - 8.517 $
Datum: 03.09.2019 - 09.09.2019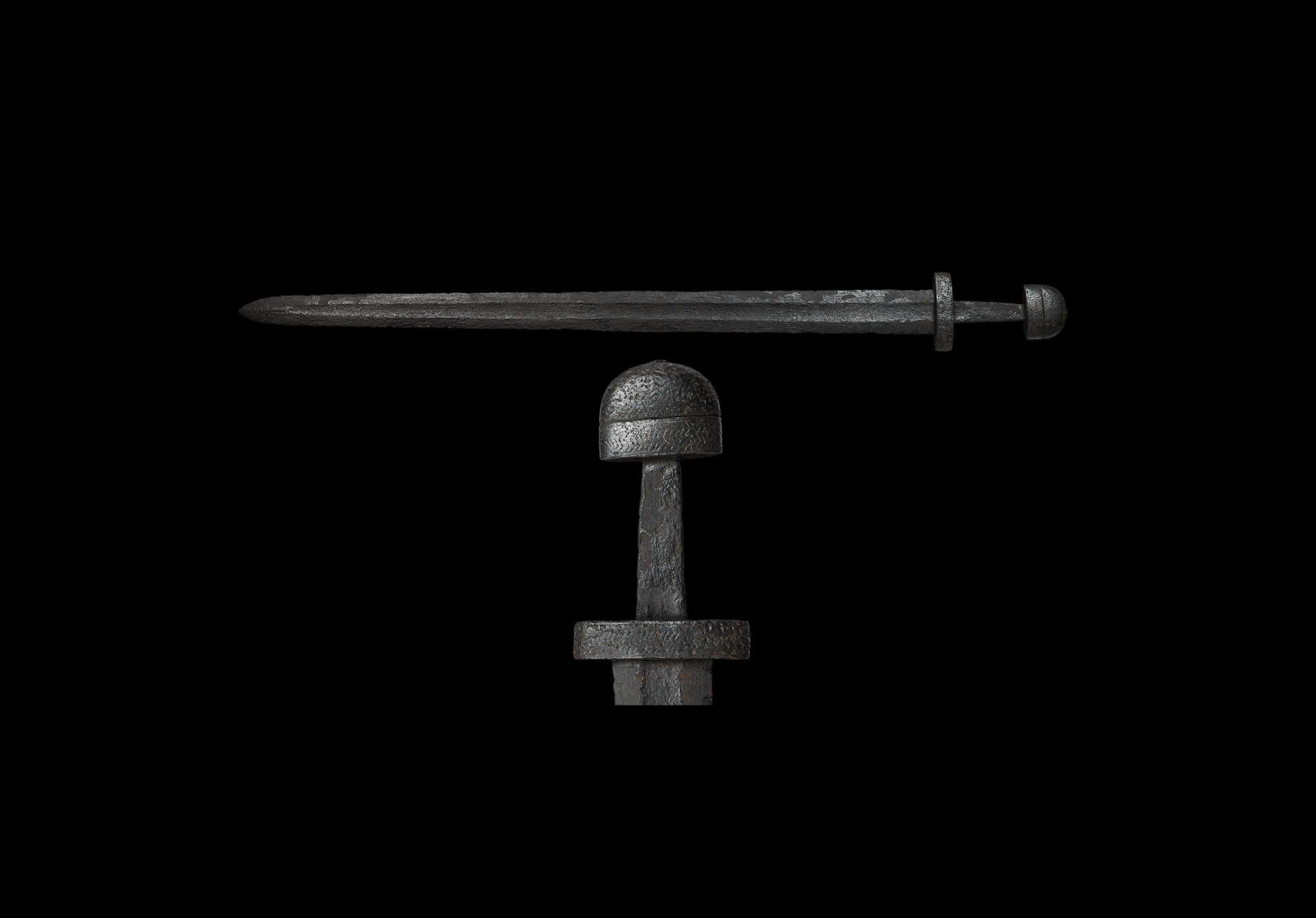 Viking Peterson Type X Sword with Inlaid Hilt 10th-11th century AD An iron pattern-welded sword, the hilt is in excellent condition with only light pitting, the blade is double edged and tapering, showing well defined shallow fullers and wide cutting edges, the fullers are occupying not less than one third of the entire width and running to a point about 19 cm from the tip; the hilt is massive and...
Preis: 3.000 £ - 4.000 £
ca. 3.650 $ - 4.867 $
Datum: 03.09.2019 - 09.09.2019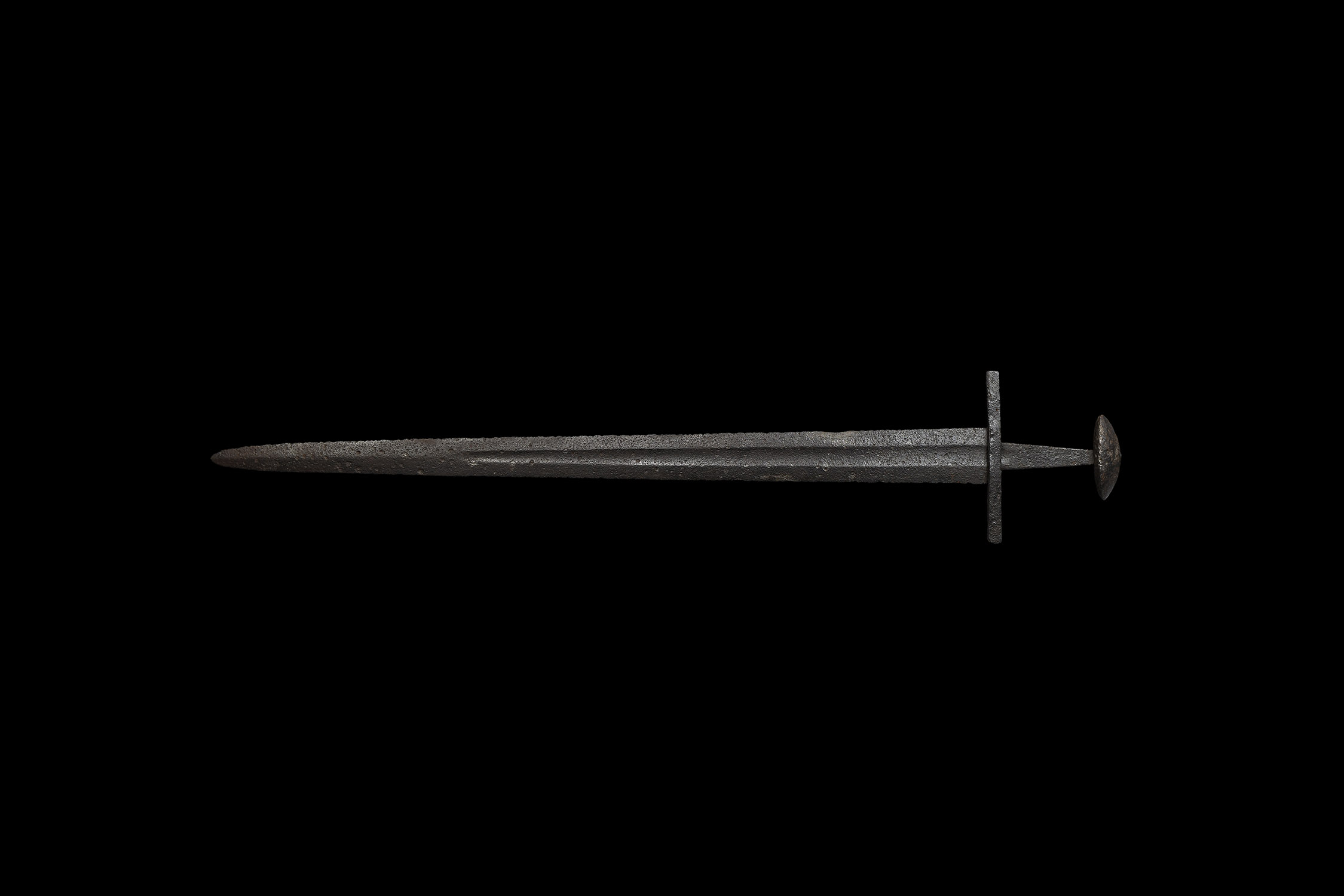 Viking Sword with Long Fuller Mid 10th-early 11th century AD A long double cutting Sword, the blade finely tapered and beautifully proportioned, thin in section with an ovoid transition type pommel; the blade carries its central fuller on each side, occupying about half of the blade width; the tang is of remarkable robust character, in such a way giving great strength to the hilt which is...
Preis: 2.000 £ - 3.000 £
ca. 2.433 $ - 3.650 $
Datum: 03.09.2019 - 09.09.2019
LotSearch ausprobieren
Testen Sie LotSearch und seine Premium-Features 7 Tage - ohne Kosten!
Auktionssuche und Bieten
Preisdatenbank und Analysen
Individuelle automatische Suchaufträge