Mit der Erfindung des ersten fotografischen Verfahrens - der Daguerreotypie – eroberte die Fotografie in kürzester Zeit die ganze Welt. Daguerreotypien und die kurz darauf entstandenen Ambrotypien sind Originale – es gibt genau diese Aufnahme nur ein einziges Mal. Das erste fotografische Negativverfahren war 1840 die Kalotypie. Nun war es möglich, theoretisch unendlich viele Abzüge eines Fotos zu erstellen. Eine frühe Weiterentwicklung war die Stereofotografie – damit kam die dritte Dimension ins Foto, welche auch im Bereich der Landschaftsfotografie sowie in Aufnahmen von Sehenswürdigkeiten in fremden Städten und Ländern vielfältig eingesetzt wurde. Waren es in der Frühzeit der Fotografie hauptsächlich Portraitaufnahmen hielt sie in der Folgezeit Einzug in Bereiche wie Landschaftsfotografie, Berichterstattung, Kunst oder Erotik. Die Farbfotografie stellte einen weiteren Meilenstein in der Geschichte der Fotografie dar.

Heute gehören Fotografien zu den Beständen von Museen, das Sammeln von herausragenden Fotografien ist ein hart umkämpftes Sammelgebiet. Einen Ausnahmepreis von 433.000 Euro musste ein Bieter auf einer Versteigerung für ein Foto von Henri Cartier-Bresson bezahlen. Aber nicht nur alte Fotografien sondern auch modernere Fotos namhafter Fotografen wie zum Beispiel Helmut Newton, Ansel Adams, Annie Leibovitz erzielen hohe Preise. Es ist die Faszination des Moments – festgehalten mit einem Fotoapparat – die nicht nur die Sammlergemeinde in Erstaunen und Begeisterung versetzten kann.
 
---
Signed Helmut Newton and numbered 2888/10.000. Total edition of 10.000 + 200 AP. Book published by Taschen, Monte Carlo, 1999, 71 x 51 cm. With a metal table designed by Phillippe Starck and the original box. This example is still in it's original wrapping, never opened.
Taschen, Monte Carlo...
Preis: 100.000 SEK - 125.000 SEK
ca. 11.599 $ - 14.499 $
Signed Nick Brandt and numbered 14/20. Archival pigment print, image 44 x 68 cm. Including frame 68 x 93 cm.
Hasted Kraeutler Gallery, New York...
Preis: 30.000 SEK - 40.000 SEK
ca. 3.479 $ - 4.639 $
Signed Nick Brandt and numbered 11/20. Archival pigment print, image 40 x 74.5 cm.
Acquired directly from the photographer. Stockholms Auktionsverk, Nutida, November 2015...
Preis: 40.000 SEK - 50.000 SEK
ca. 4.639 $ - 5.799 $
Signed Nick Brandt and numbered 3/25. Platinum palladium print, image 70 x 70 cm. Sheet 80 x 75 cm.
Fahey/Klein Gallery, Los Angeles...
Preis: 100.000 SEK - 125.000 SEK
ca. 11.599 $ - 14.499 $
Signed Nick Brandt and numbered AP 2/2. Total edition of 8 + 2 AP. Pigment print, image 97 x 103 cm. Including frame 123 x 138 cm...
Preis: 60.000 SEK - 80.000 SEK
ca. 6.959 $ - 9.279 $
FONTANA ARTE EDITEUR Cadre-photo - circa 1937 Structure en laiton et deux dalles de verre dont un teinté rose 29,50 × 22,50 × 12 cm Bibliographie : Domus n°111, mars 1937, n. p. Brass, pink tinted and transparent glass photo frame by Fontana Arte Editor circa 1937 11.61 × 8.86 × 4.72 in...
Preis: 1.000 € - 2.000 €
ca. 1.157 $ - 2.315 $
(Circus, Equestrian)A group of seven broadsides featuring horsemanship in the early circus A Representation of the Surprizing Performances of Mr. Price. [London]: J. Williams, [ca. 1767]. Engraved broadside (200 x 215 mm). Woodcut engraving of Price on horseback with two performers at center, surrounded by a border of eight more woodcut vignettes, each with printed caption, tipped on to a sheet of...
Datum: 27.10.2021 - 28.10.2021
General Tom Thumb (Charles Sherwood Stratton)A group of playbills and portraits Mr. Jones's Benefit. Theatre Royal, Covent-Garden ... Tom Thumb the Great. [London]: F. [...], 1816. Letterpress playbill (442 x 186 mm). Printed in a profusion of type sizes; browning and wear to head and foot, small chips to left margin, at foot affecting text, old folds. — Charles Stratton known as General Tom...
Datum: 27.10.2021 - 28.10.2021
Signed Florian Maier-Aichen and numbered 1/6 verso. C-print 62.5 x 79.5 cm including frame.
Blum & Poe, Los Angeles.
Florian Maier-Aichen's photographic images of landscapes convey a surrealist and painterly impression. Using sophisticated photographic techniques, he is not afraid of experimenting, merging digital technology with traditional photographic craftsmanship. Maier-Aichen manipulates his...
Preis: 100.000 SEK - 150.000 SEK
ca. 11.599 $ - 17.398 $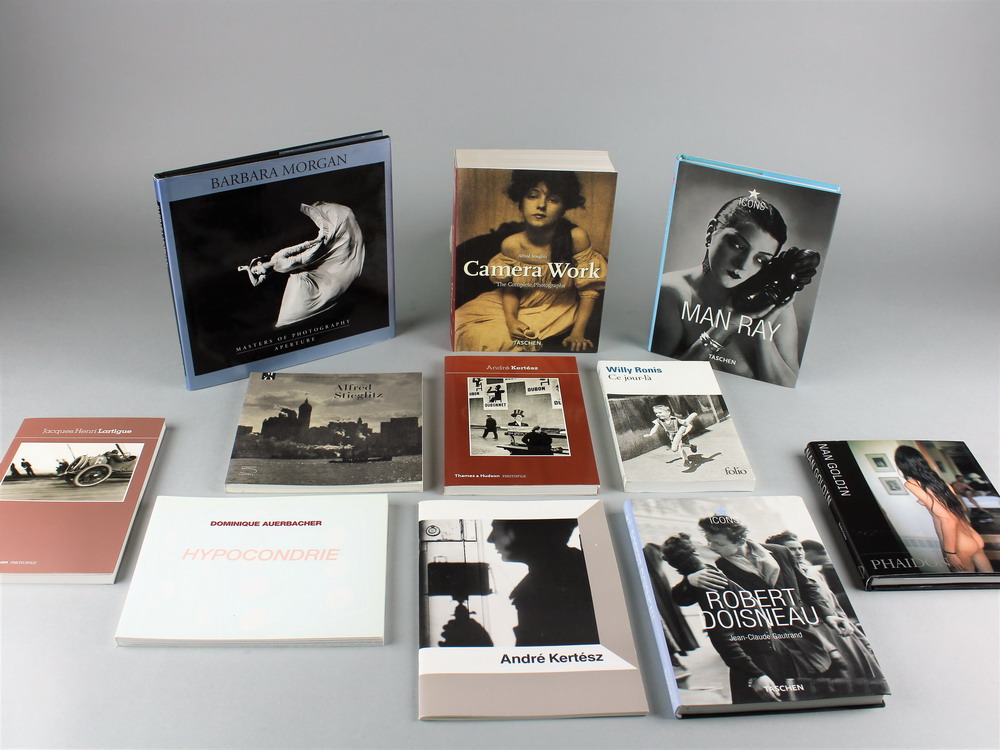 Little books Robert Doisneau Taschen Nan Goldin, Phaidon André Kertész, Thames and Hudson Andrë Kertész, The National Museum of Photography, Bradford Jacques Henri Lartigue, Thames and Hudson Barbara Morgan, Aperture - Paolo Roversi, Photo Poche Man Ray, Taschen Alfred Stieglitz, 5 Continents edition Alfred Stieglitz , Camera wok, the Complete Photographs, Taschen, 2008 Willy Ronis, Ce-jour-la...
Preis: 140 € - 180 €
ca. 163 $ - 209 $
Datum: 31.10.2021 - 03.11.2021
LotSearch ausprobieren
Testen Sie LotSearch und seine Premium-Features 7 Tage - ohne Kosten!
Auktionssuche und Bieten
Preisdatenbank und Analysen
Individuelle automatische Suchaufträge