Mit der Erfindung des ersten fotografischen Verfahrens - der Daguerreotypie – eroberte die Fotografie in kürzester Zeit die ganze Welt. Daguerreotypien und die kurz darauf entstandenen Ambrotypien sind Originale – es gibt genau diese Aufnahme nur ein einziges Mal. Das erste fotografische Negativverfahren war 1840 die Kalotypie. Nun war es möglich, theoretisch unendlich viele Abzüge eines Fotos zu erstellen. Eine frühe Weiterentwicklung war die Stereofotografie – damit kam die dritte Dimension ins Foto, welche auch im Bereich der Landschaftsfotografie sowie in Aufnahmen von Sehenswürdigkeiten in fremden Städten und Ländern vielfältig eingesetzt wurde. Waren es in der Frühzeit der Fotografie hauptsächlich Portraitaufnahmen hielt sie in der Folgezeit Einzug in Bereiche wie Landschaftsfotografie, Berichterstattung, Kunst oder Erotik. Die Farbfotografie stellte einen weiteren Meilenstein in der Geschichte der Fotografie dar.

Heute gehören Fotografien zu den Beständen von Museen, das Sammeln von herausragenden Fotografien ist ein hart umkämpftes Sammelgebiet. Einen Ausnahmepreis von 433.000 Euro musste ein Bieter auf einer Versteigerung für ein Foto von Henri Cartier-Bresson bezahlen. Aber nicht nur alte Fotografien sondern auch modernere Fotos namhafter Fotografen wie zum Beispiel Helmut Newton, Ansel Adams, Annie Leibovitz erzielen hohe Preise. Es ist die Faszination des Moments – festgehalten mit einem Fotoapparat – die nicht nur die Sammlergemeinde in Erstaunen und Begeisterung versetzten kann.

---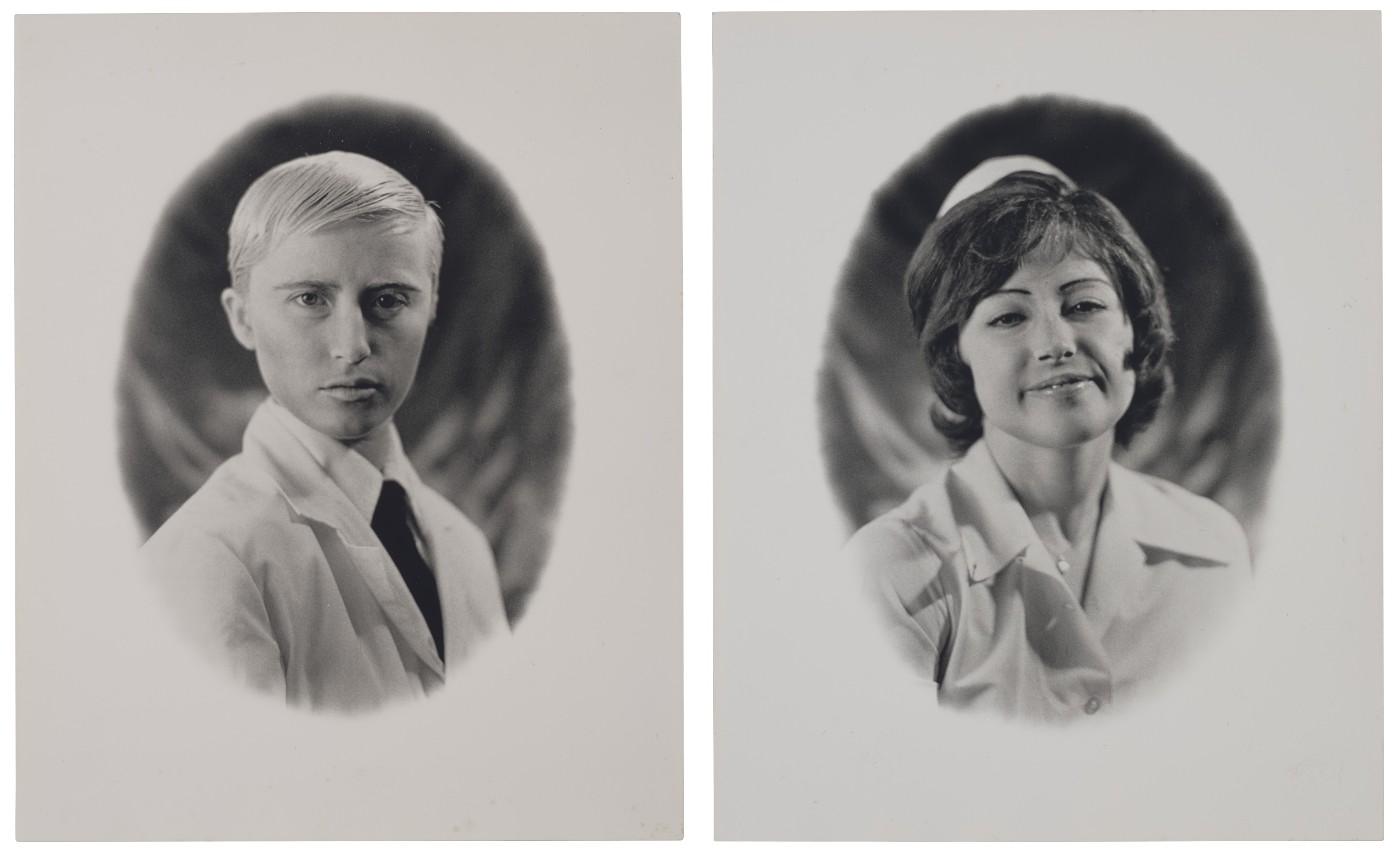 Cindy Sherman (b. 1954) Untitled (Doctor and Nurse) each signed, titled, numbered and dedicated 'Cindy Sherman 9/15 AP 1980-1987' (on the reverse) diptych—gelatin silver prints each sheet: 10 x 8 in. (25.4 x 20.3 cm.) Executed in 1980-1987. These works are the ninth of 15 artist's proofs aside from an edition of 125. Please note this lot is the property of a private individual. Provenance Acquired...
Jeff Wall (b. 1946) Untitled (Edition for Parkett) signed with the artist's initials, numbered and dated '29/55 JW 97' (on the reverse) gelatin silver contact print sheet: 15 x 161⁄2 in. (38.1 x 41.9 cm.) image: 75⁄8 x 95⁄8 in. (19.4 x 24.4 cm.) Executed in 1997. This work number 29 from an edition of 55 plus...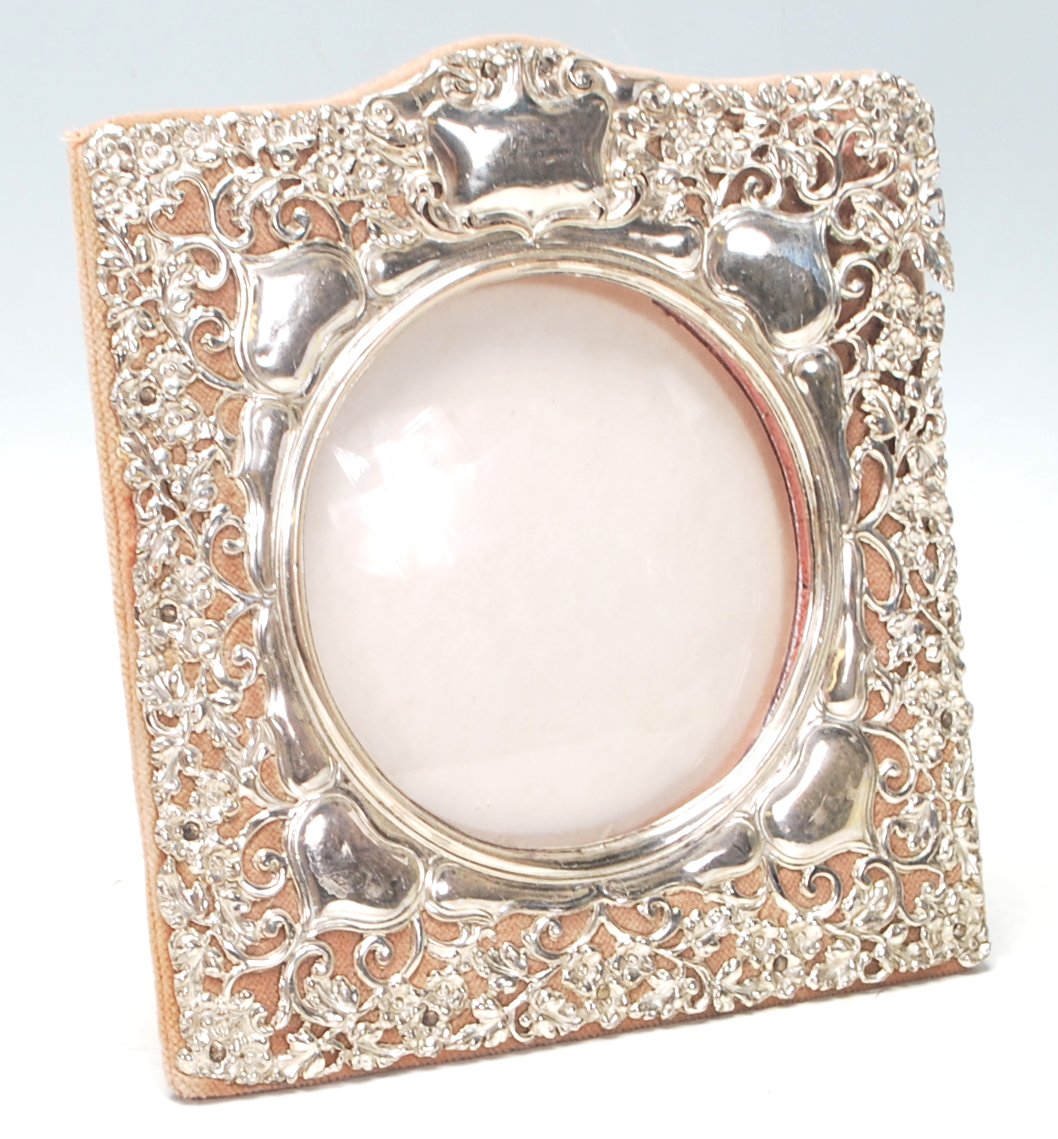 A silver 1901 Birmingham hallmarked photograph frame by Synyer and Beddoes (Harry Synyer & Charles Joseph Beddoes 1898 - 1910) having pierced floral border decoration with five plain cartouches and circular cut out photo view within convex glass sitting on brown velvet support with hinged stand. The frame being stamped S and B by the makers with the year letter b to the top left. Measures: 17cm...
Preis: 40 £ - 60 £
ca. 52 $ - 78 $
Datum: 06.08.2020 - 07.08.2020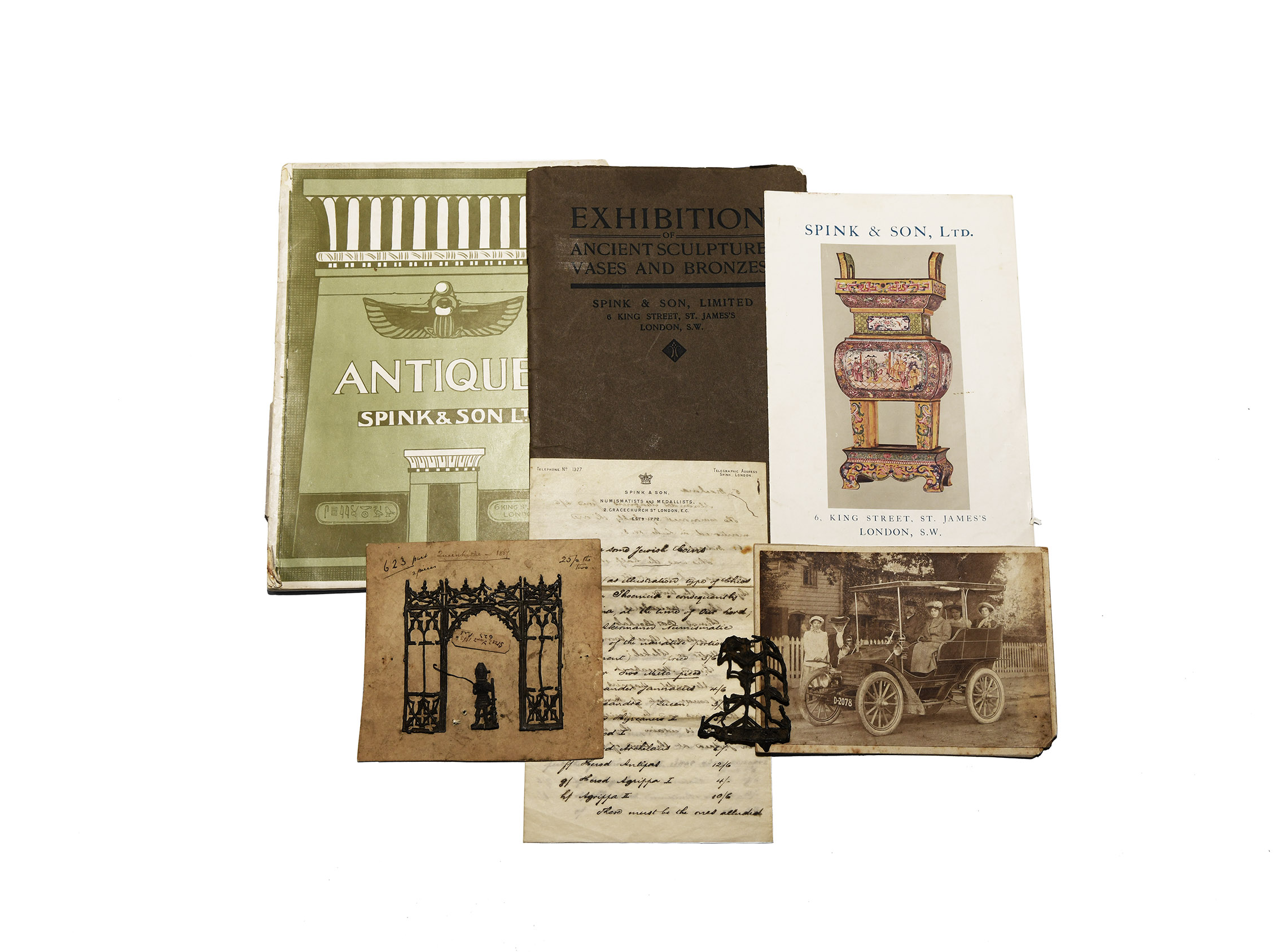 Medieval Charles F. Spink - Pilgrim Badges and Other Historic Items 14th century AD and later A mixed group of items, formerly the property of Charles F. Spink and retrieved from his personal writing desk, comprising: (A) three English lead-alloy medieval pilgrim badges being: (i) a standing mailed figure with sword in left hand and mitre-style headdress, possibly depicting St Thomas Beckett...
Preis: 1.000 £ - 1.400 £
ca. 1.285 $ - 1.799 $
Datum: 01.09.2020 - 06.09.2020
Books - Photography, including Bowen (Paul, photographer): Air to Air, signed and dedicated two-volume set, 1998-2000, [with], Air to Air: Warbirds, signed, 2002, all h/b, d/j, folios, (3); art history and reference; design; furniture history, modern and antique; illustrators: Lionel Edwards, Ralph Caldecott and Robert Gibbings; classical music; ballet, including an Anna Pavlova souvenir...
Preis: 30 £ - 50 £
ca. 39 $ - 65 $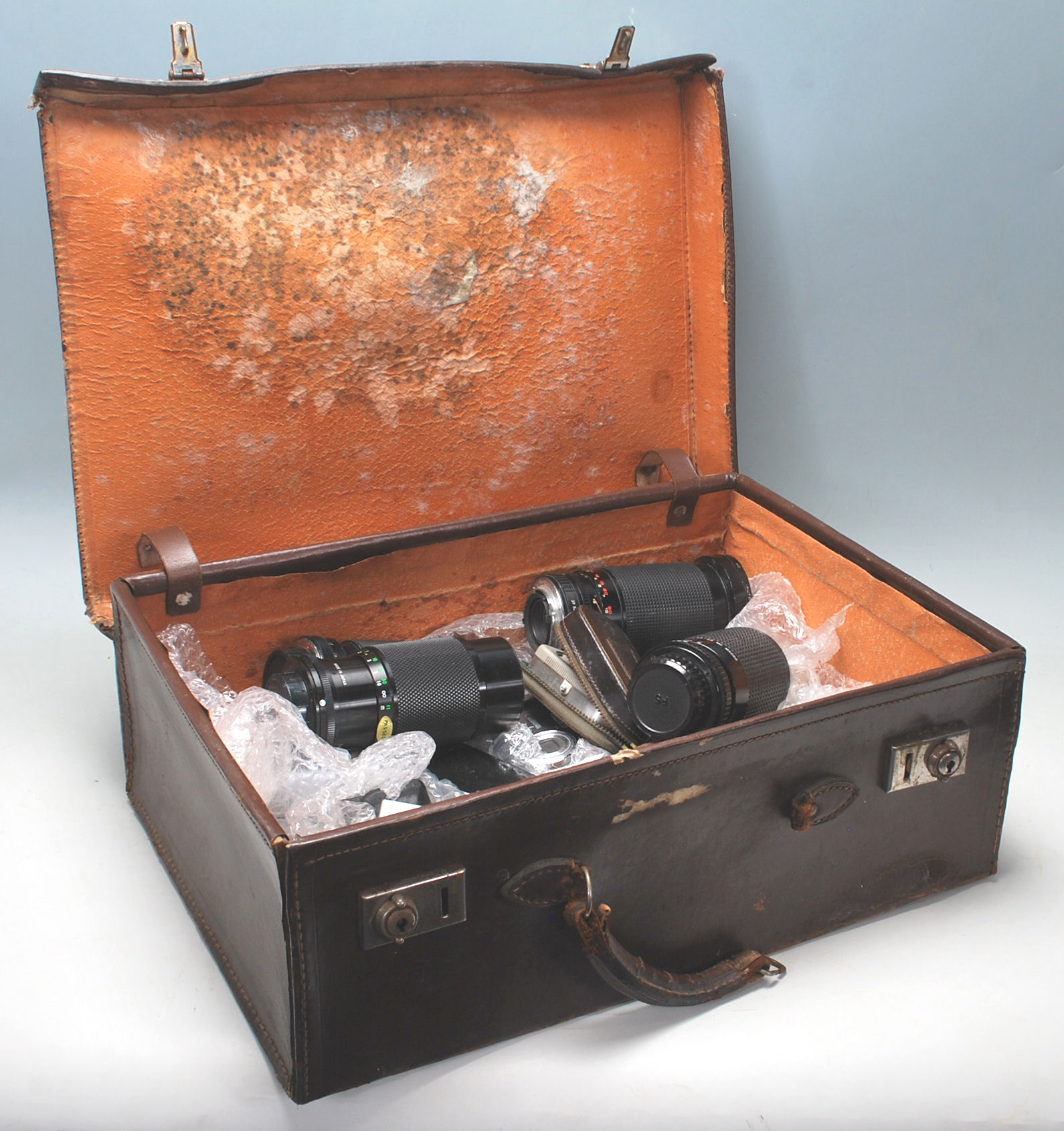 A good collection of vintage digital photo cameras and lenses to include Canon Power Shot A460, Canon IXUS II, Canon Power shot A60, Kodak M863, Fujifilm Finepix J10, Fujifilm FinePix 4700 zoom, HP FCLSD 0402, TDC-15 together with four vintage lenses to include Vivitar 70-210mm macro, Kalimantan 28-200mm, Soligor 80-200mm C/D zoom and macro, Hanimex 75-200mm macro...
Preis: 20 £ - 30 £
ca. 26 $ - 39 $
Datum: 06.08.2020 - 07.08.2020
A fantastic pre-war World War II photograph album containing pictures from c1938 taken around the world and military pictures to include H.M.S. Hunter on arrival in Great Britain after striking a mine, The Government destroyer after a battle with Francois Navy, Suez Canal port said, Delhi 1938, The Taj Mahal Agra India 1939...etc...
Preis: 40 £ - 60 £
ca. 52 $ - 78 $
Datum: 06.08.2020 - 07.08.2020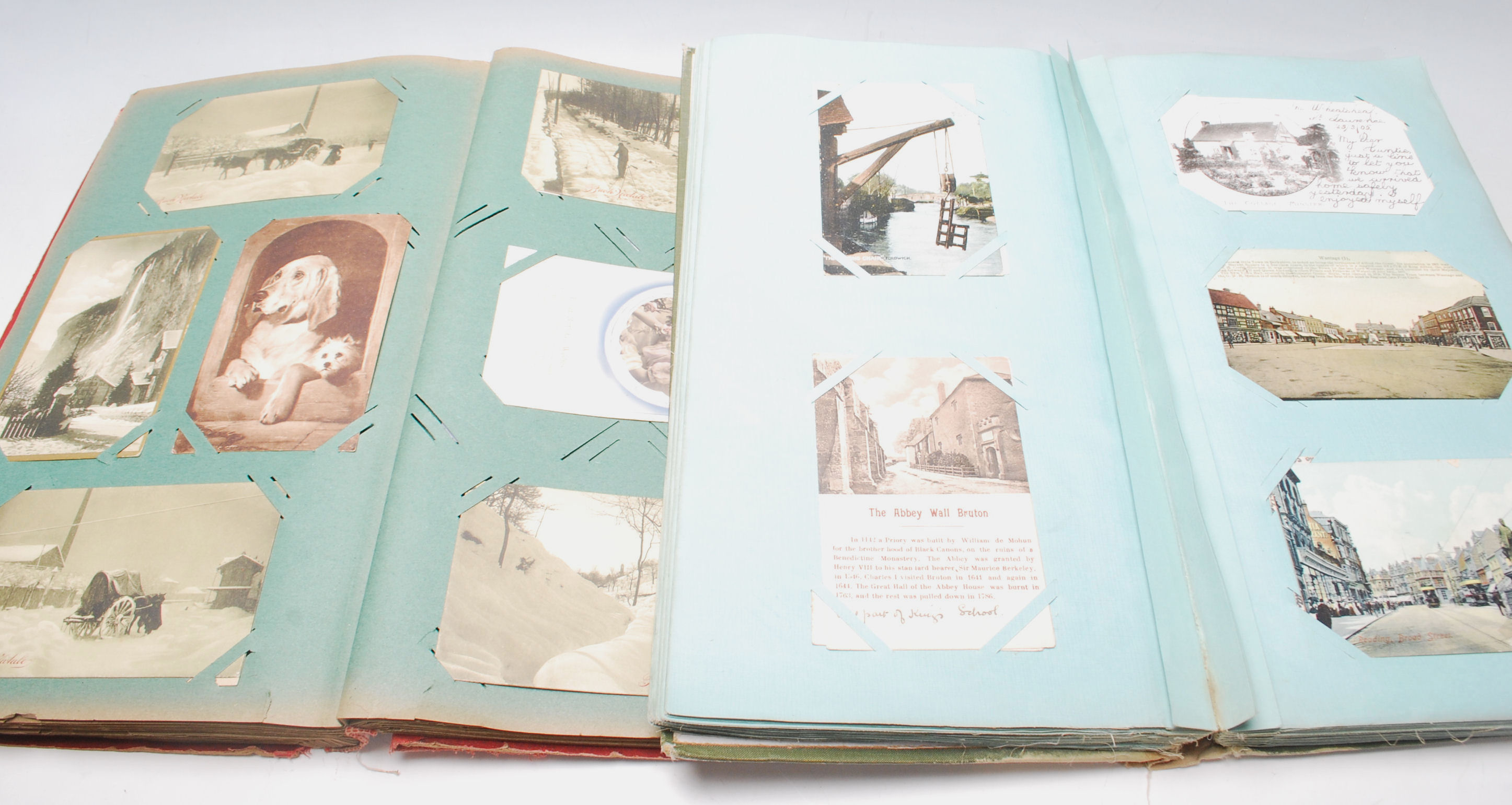 A good pair of antique 19th Century Victorian hardback photo / postcard / ephemera albums to include subjects of buildings, landscapes, love postcards, works of art and much more...
Preis: 40 £ - 60 £
ca. 52 $ - 78 $
Datum: 06.08.2020 - 07.08.2020
Gelatin silver print. With margins: 117x25 cm (46x9¾"). Panoramic photograph taken two years after the founding of the California Rodeo in Salinas, CA, home of John Steinbeck and salad bowl to the world...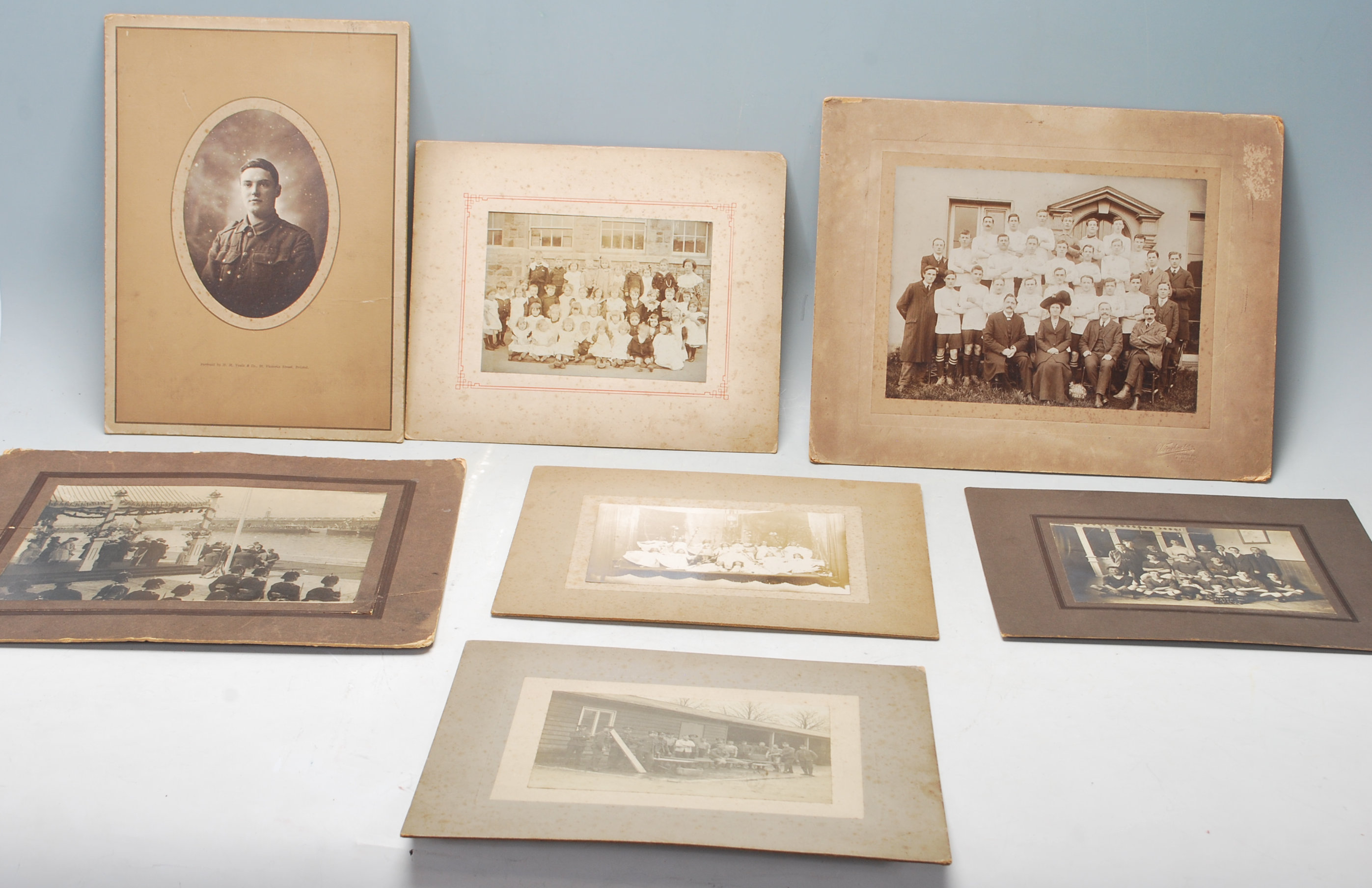 A good collection of 19th Century and 20th Century local interest cabinet photographs to include Barton Hill A.F.C 1919 - 1920 football team, a photo of Queen Mary, Grove Institute 1912 - 1913, military pictures..etc. Largest measures 24cm x 7cm...
Preis: 25 £ - 40 £
ca. 32 $ - 52 $
Datum: 06.08.2020 - 07.08.2020
LotSearch ausprobieren
Testen Sie LotSearch und seine Premium-Features 7 Tage - ohne Kosten!
Auktionssuche und Bieten
Preisdatenbank und Analysen
Individuelle automatische Suchaufträge