Unter dem Oberbegriff Grafik versteht man künstlerische oder technische Zeichnungen, die mit einem Druckverfahren vervielfältigt wurden. Die ältesten Zeugnisse druckgrafischer Kunst sind die Einblattholzschnitte, die ab dem 14. Jahrhundert besonders im kirchlichen Umfeld zu finden sind. Deutlich detaillierter sind Kupferstichabbildungen oder Radierungen. Die zum Einsatz kommenden Druckplatten ermöglichten feinere Konturen oder Schattierungen als im Holzschnittverfahren. Albrecht Dürer gilt als Meister beider Drucktechniken. 1803 kam ein weiteres Druckverfahren hinzu: die Lithografie. Mit ihr konnte noch schneller, einfacher und kostengünstiger produziert werden.
Später entstanden noch weitere massendrucktaugliche Verfahren, die bis heute eingesetzt werden, aber deren Sammelwert bedingt durch die hohen Auflagen nicht wichtig ist – mit einer Ausnahme: der Serigrafie. Gerade in der modernen Kunst hat fast jeder namhafte Künstler Kleinauflagen im Serigrafie-Verfahren aufgelegt. Pablo Picasso, Henri Matisse oder Salvador Dali – um nur einige zu nennen – legten regelmäßig limitierte Editionen im Serigrafie-Verfahren auf.
---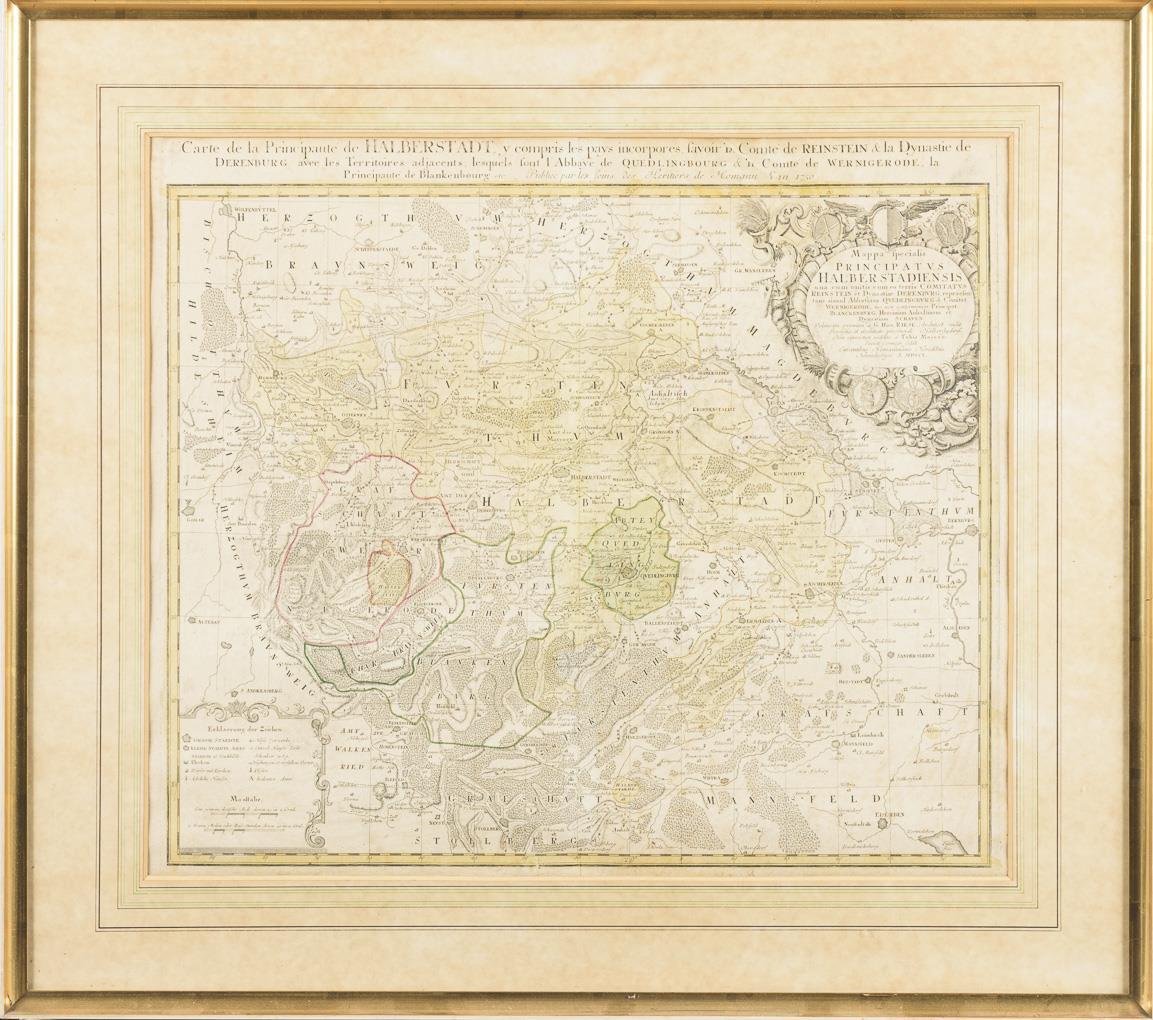 HOMANN, Johann Baptist (Erben) Landkarte des Fürstentums Halberstadt Kolorierter Kupferstich. Platte: 49 x 55 cm. Gerahmt & hinter Glas:68 x 76,5 cm. Detailreiche Karte des Fürstentums Halberstadt, mit dekorativer Titelkartusche "Mappa specialis Principatus Halberstadiensis [...]", bezeichnet "Carta de la Principaute de Halberstadt , y cmopris les pays incorpores savoir n Compté de Reinstein à la...
Datum: 27.10.2021 - 30.10.2021
Lot of three R. Crumb posters, two signed by Crumb and one signed by director Terry Zwigoff, comprising: CRUMB: DE L'UNDERGROUND A LA GENESE. Poster for exhibit at Musee d'Art Moderne de la Ville de Paris, 2012, 15¾x23½", very fine condition, one corner creased, curled from rolled storage. * THE SEX OBSESSIONS OF R. CRUMB. Poster for exhibit at Musee de la Erotisme, Paris, 2001. Excellent...
Barnum & Bailey CircusThe Barnum & Bailey Greatest Show on Earth. La Meilleure écuyère de notre époque costumes et exercises entièrement inèdits. Paris: imprimeries Courmont Freres (Reproduction authorized by Strobridge Lith Co New-York), ca. 1900 (B No. 1) Color lithograph poster (30 1/4 x 39 1/4 in.; 768 x 999 mm). Designated "Reproduction interdite," with French revenue stamp and Barnum and...
Datum: 27.10.2021 - 28.10.2021
Anderson, GeorgeThe Living Skeleton ... He is Five Feet Eight Inches in Height, and now Weighs Only Sixty-Five Pounds! Manchester, New Hampshire: The Daily Mirror Mammoth, [ca. 1862] Large broadside poster (1245 x 822 mm). Printed in a profusion of wood and metal types, large woodblock illustration of the gaunt Anderson; not examined out of frame, linen-backed, heavily restored with losses...
Datum: 27.10.2021 - 28.10.2021
Chéret, JulesTwo Hippodrome posters Holtum L'Homme aux Boulets de Canon. Paris: Chaix, [ca. 1875]. Lithograph poster (572 x 395 mm). Large depiction of John Holtum catching a cannon ball, printed in red, blue, and black; tiny chips to head and tail, a few expertly repaired tears, some rubbing and wear at head. Mounted on linen. — Hippodrome. Paris: Chaix, [ca. 1875]. Lithograph poster (553 x 420...
Datum: 27.10.2021 - 28.10.2021
17-color serigraph print on art paper measuring approximately 11¾x15¾", signed and numbered in ink by R. Crumb (109/199). With a black and white print printed by Schanes & Schanes in 1980, signed by Crumb in pencil in the margin, and an opening night party poster for "R. Crumb's Underground" at San Francisco's Yerba Buena Center for the Arts, 2007, signed in ink by Crumb. Serigraph is in excellent...
General Tom Thumb (Charles Sherwood Stratton)A group of playbills and portraits Mr. Jones's Benefit. Theatre Royal, Covent-Garden ... Tom Thumb the Great. [London]: F. [...], 1816. Letterpress playbill (442 x 186 mm). Printed in a profusion of type sizes; browning and wear to head and foot, small chips to left margin, at foot affecting text, old folds. — Charles Stratton known as General Tom...
Datum: 27.10.2021 - 28.10.2021
Comedians De Mephisto Co.Comedians De Mephisto Co. Allied with Le Roy * Talma * Bosco. Worlds Monarchs of Magic. Hamburg: Lith Adolph Friedländer, ca. 1905 (no. 3318) Color lithograph poster on 6 sheets (ca. 75 1/2 x 106 in.). Faint fold creases. Laid down on linen. A superb oversize poster for the Worlds Monarchs of Magic, showing the trio's varied reactions to their act being overrun by their...
Preis: 7.000 $ - 10.000 $
Datum: 27.10.2021 - 28.10.2021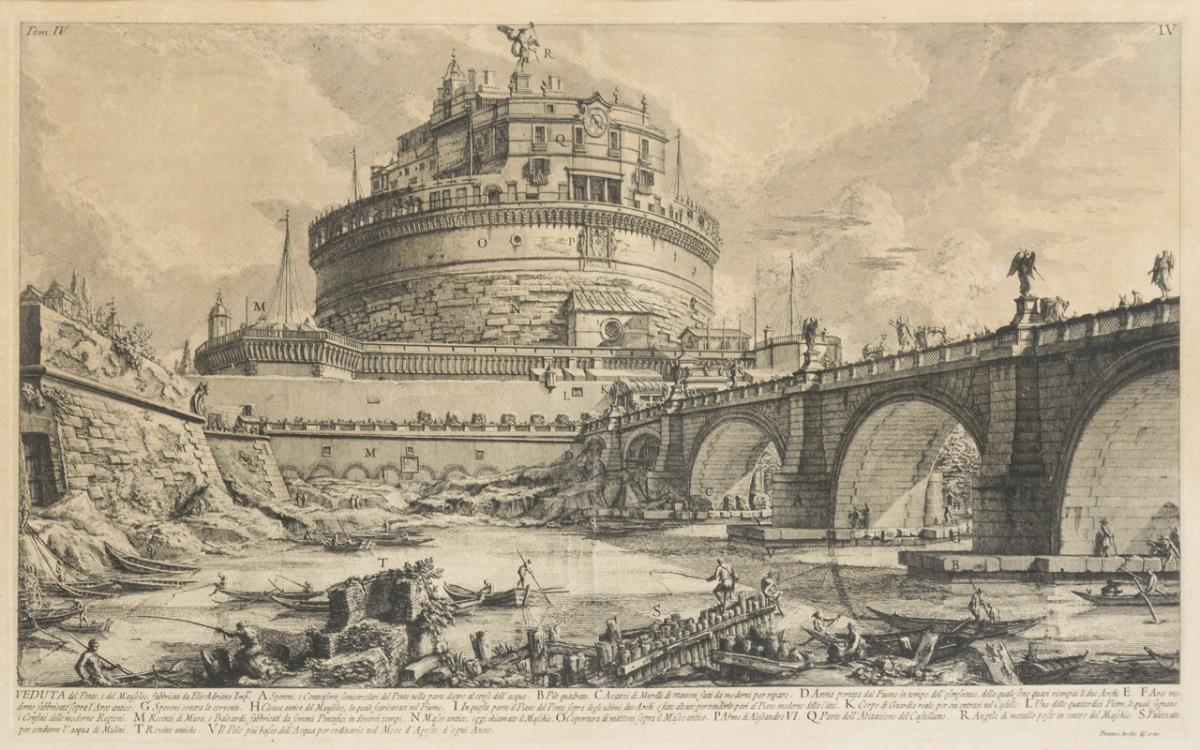 PIRANESI, Giovanni Battista(1720 Venedig - 1778 Rom) Blick auf die Engelsburg Radierung. [1756]. Platte: 40 x 65 cm. Gerahmt & hinter Glas:64,5 x 89 cm. Fein detaillierte Ansicht der Engelsburg in Rom, mit ausführlicher Legende, bezeichnet "Veduta del Ponte, e del Mausoleo [...]"; aus "Vedute di Roma". Bugfalte, minimaler Fleck im unteren Randbereich. Italienischer Kupferstecher, Archäologe...
Datum: 27.10.2021 - 30.10.2021
Printed portfolio sleeve containing three serigraph prints, each measuring 13x16", each signed and numbered by R. Crumb. Includes a Certificate of Authenticity signed by Jesse Crumb and Alexander Wood. Excellent condition, as-new. Limited Edition: Each print is #45/200. Portraits of Jack Teagarden, The North Carolina Ramblers, Kansas Joe and Memphis Minnie. "The music these people made belongs to...
LotSearch ausprobieren
Testen Sie LotSearch und seine Premium-Features 7 Tage - ohne Kosten!
Auktionssuche und Bieten
Preisdatenbank und Analysen
Individuelle automatische Suchaufträge