Bücher, Autografen, Handschriften
Die Erfindung des Buchdrucks um 1450 durch Johannes Gutenberg leitete in Europa eine regelrechte Medienrevolution ein. Nun war es möglich, Bücher schnell und kostengünstiger zu erstellen bzw. in großen Auflagen zu vervielfältigen. Mit dem Buch kam auch die Bildung in die mittleren und unteren Schichten der Bevölkerung. Google veröffentlichte 2010, dass weltweit ca. 129.864.880 unterschiedliche Buchtitel existieren. Dass darunter auch viele sammelwürdige sind, dürfte kaum verwundern. Das teuerste Buch aller Zeiten ist der Codex Leicester, der von keinem geringeren, als Leonardo da Vinci verfasst wurde. Mit sagenhaften 29 Millionen Euro wurde die 72-seitige, gebundene Sammlung an handschriftlichen Blättern von Bill Gates erworben. Wohl das teuerste gedruckte Buch ist "Birds of America". Nur 119 vollständige Exemplare sind bekannt. Für das vierbändige Werk wurden 2010 ca. 8 Millionen Euro bezahlt.
Als "Autographen" bezeichnet man handgeschriebene Texte. Dies können zum Beispiel Briefe oder ganze Romane sein. Umso bekannter der Verfasser, umso gesuchter das Dokument. Das Sammeln von Autographen ist ein eigenständiges Sammelgebiet mit eigens spezialisierten Händlern. Oft tauchen autographische Dokumente in Buchauktionen auf.
Mit "Handschriften" meint man im Auktionswesen schriftliche Dokumente, die bis ca. Anfang des 18. Jahrhundert entstanden sind. Dies können aufwändig gestaltete und illuminierte Bücher sein, die vor der Erfindung des Buchdrucks entstanden sind, aber auch wissenschaftliche Schriften bis in die Barockzeit. Ihnen gemein ist die Tatsache, dass sie Originale sind und damit einzigartig. Daraus ergibt sich auch ihr Wert.
---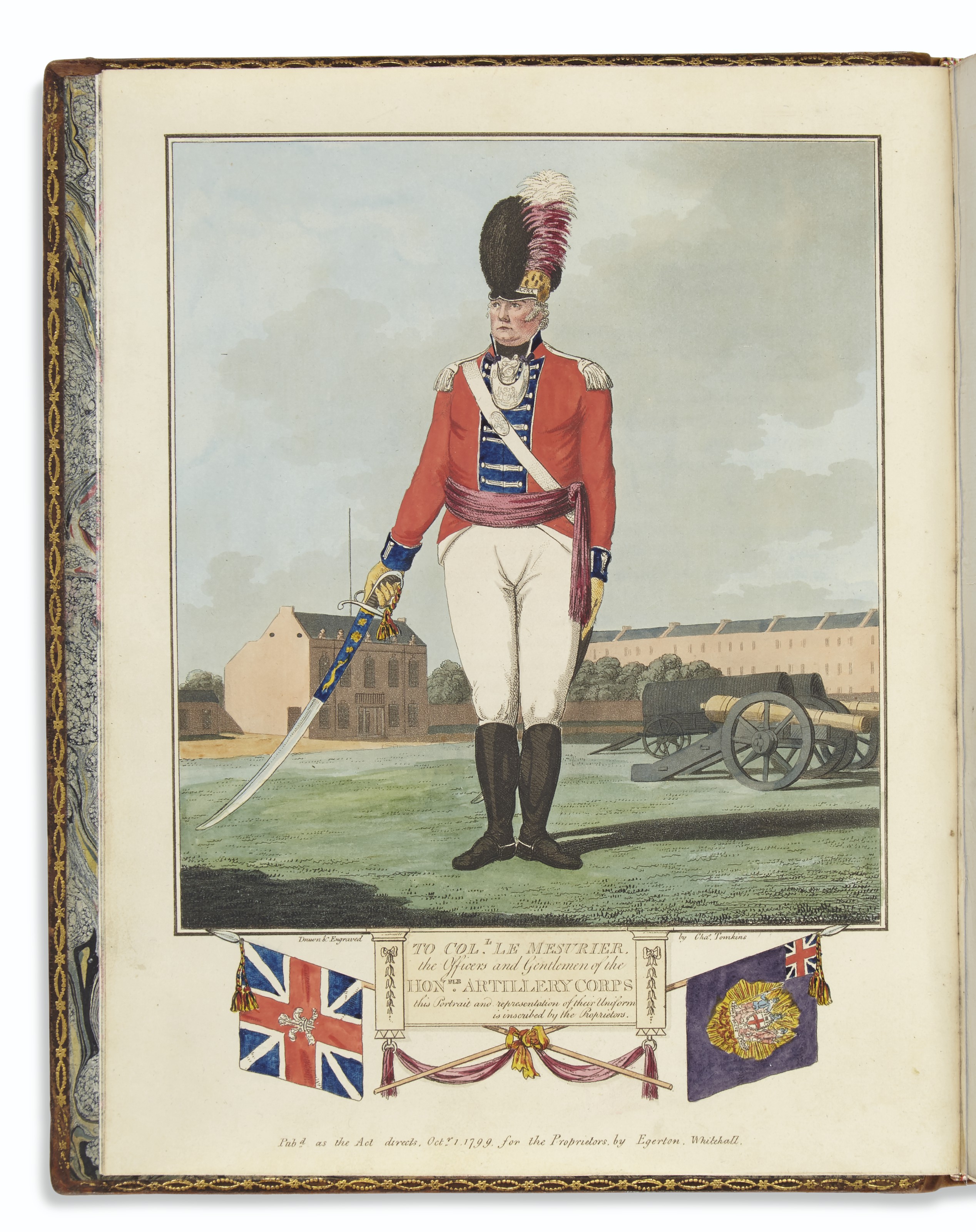 An extra-illustrated first edition Charles Tomkins, 1799 TOMKINS, Charles (1757-1823). The British Volunteer: or, A General History of the Formation and Establishment of the Volunteer and Associated Corps, enrolled for the Protection and Defence of Great Britain. London: T. Egerton [et al.]; printed by C. Whittingham, 1799. An extra-illustrated first edition of a very rare work. Organized to...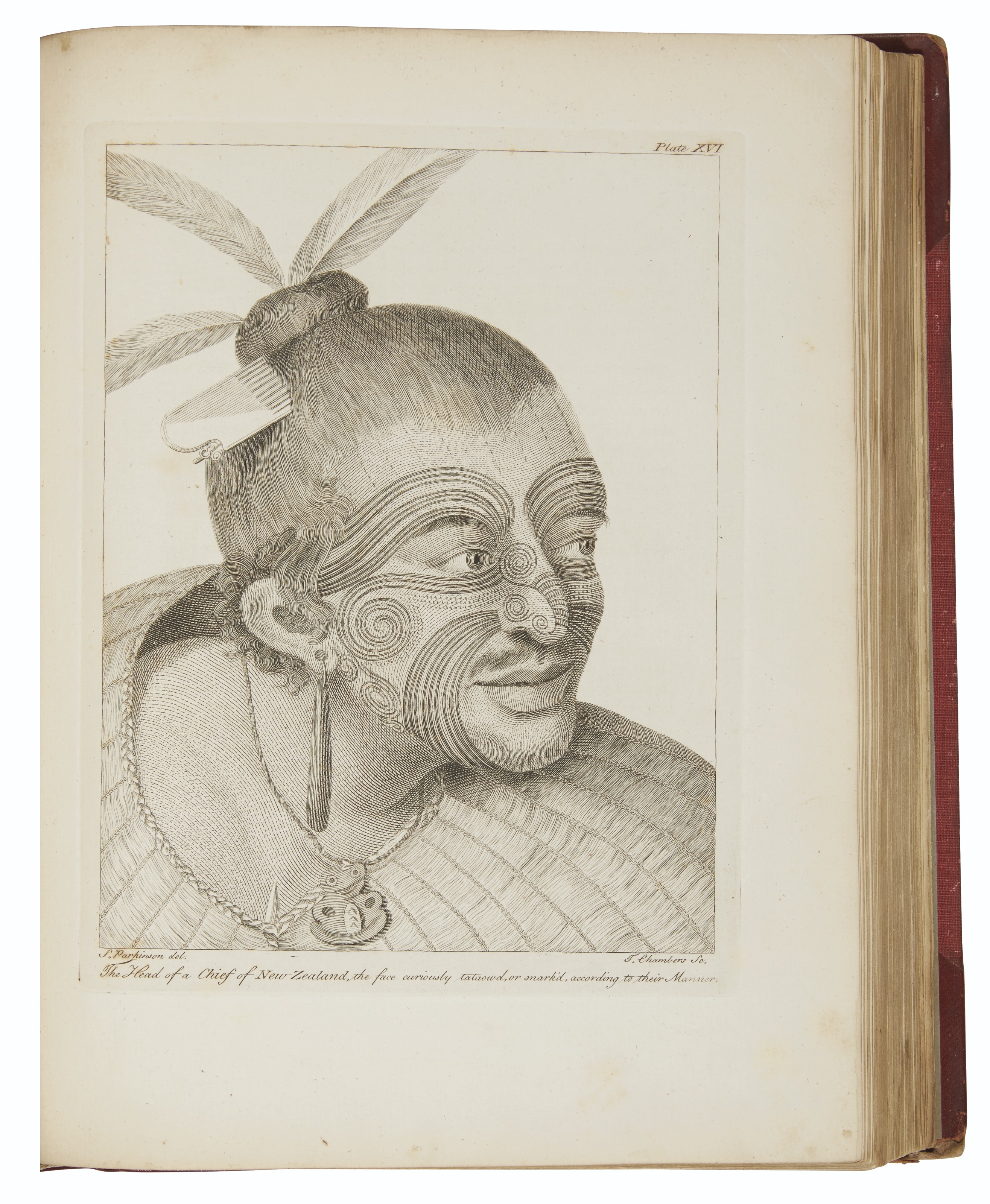 Second edition, expanded, of Parkinson's Journal Sydney Parkinson, 1784 PARKINSON, Sydney (1745-1771). A Journal of a Voyage to the South Seas, In His Majesty's Ship The Endeavour. London: for Charles Dilly and James Phillips, 1784. The second edition of the finest personal account of Cook's first voyage, expanded from the 1773 edition. "Because of the many additions, this is considered the best...
Preis: 15.000 $ - 20.000 $
COOK, Captain James (1728-1779). A Voyage Towards the South Pole, and Round the World. Performed in His Majesty's Ships the Resolution and Adventure, in the Years 1772, 1773, 1774 and 1775 ... the third edition. London: W. Strahan and T. Cadell, 1779. The third edition of the narrative of Cook's Second Voyage, describing the first expedition to cross the Antarctic Circle, further visits to New...
Preis: 1.000 £ - 1.500 £
ca. 1.224 $ - 1.836 $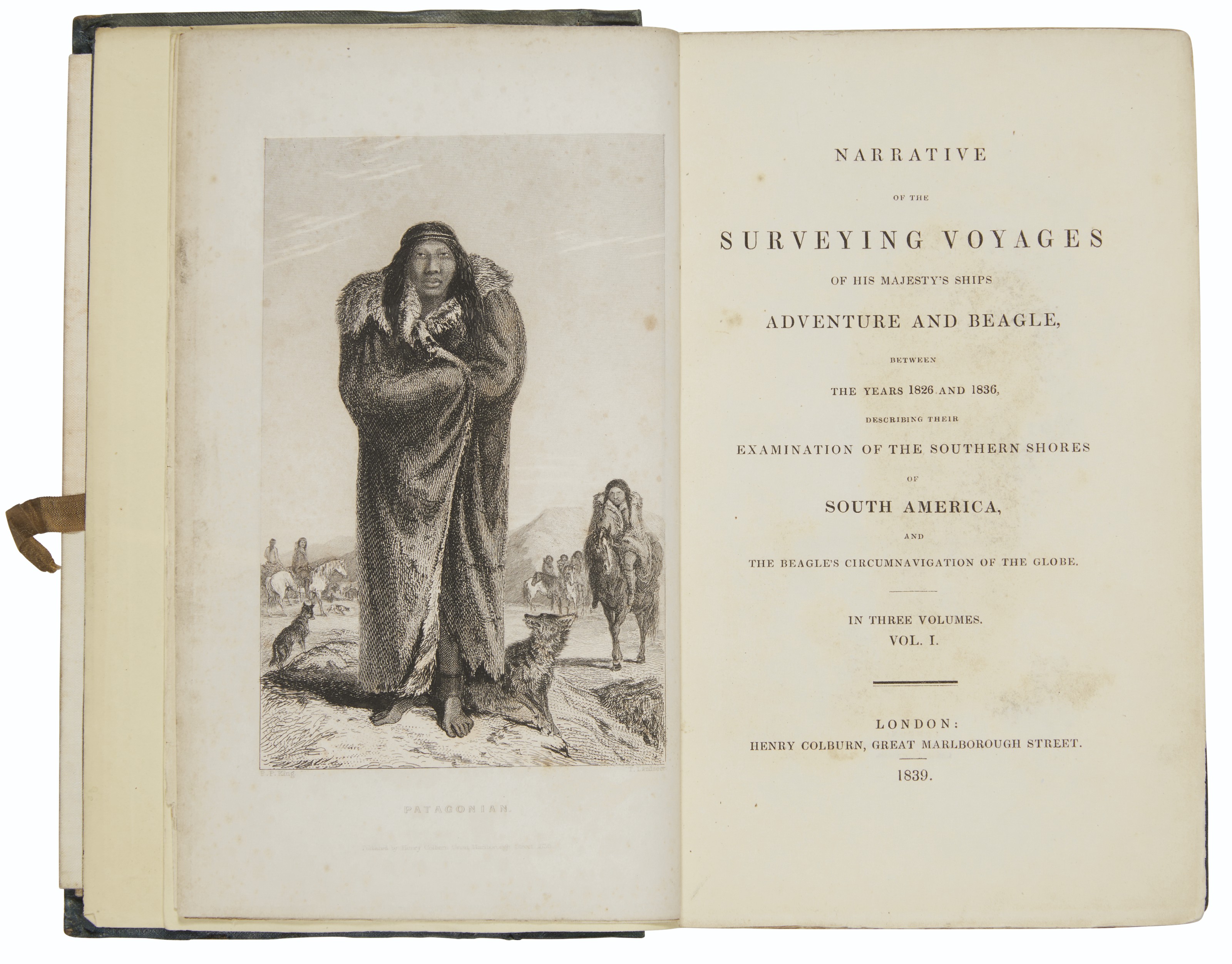 First edition, first issue of Darwin's first published book London, 1839 DARWIN, Charles Robert (1809-1882); FITZROY, Robert (1805-1865), ed. Narrative of the Surveying Voyages of His Majesty's Ships Adventure and Beagle. London: Henry Colburn, 1839. First edition, first issue and complete, of Darwin's first published book, Journal and Remarks 1832-1836 , in volume III. Darwin seems to have been...
Preis: 12.000 $ - 18.000 $
HODGES, William (1744-1797). Early issues of the engraved plates to accompany the narrative of Cook's Second Voyage. London: 1776-1777. Extremely rare – perhaps unique – bound collection of early versions and proofs of the illustrations used in the narrative of Cooks' Second Voyage, printed on large, thick paper, with extremely wide margins. The prints include all of the portraits and all bar...
Preis: 10.000 £ - 15.000 £
ca. 12.242 $ - 18.364 $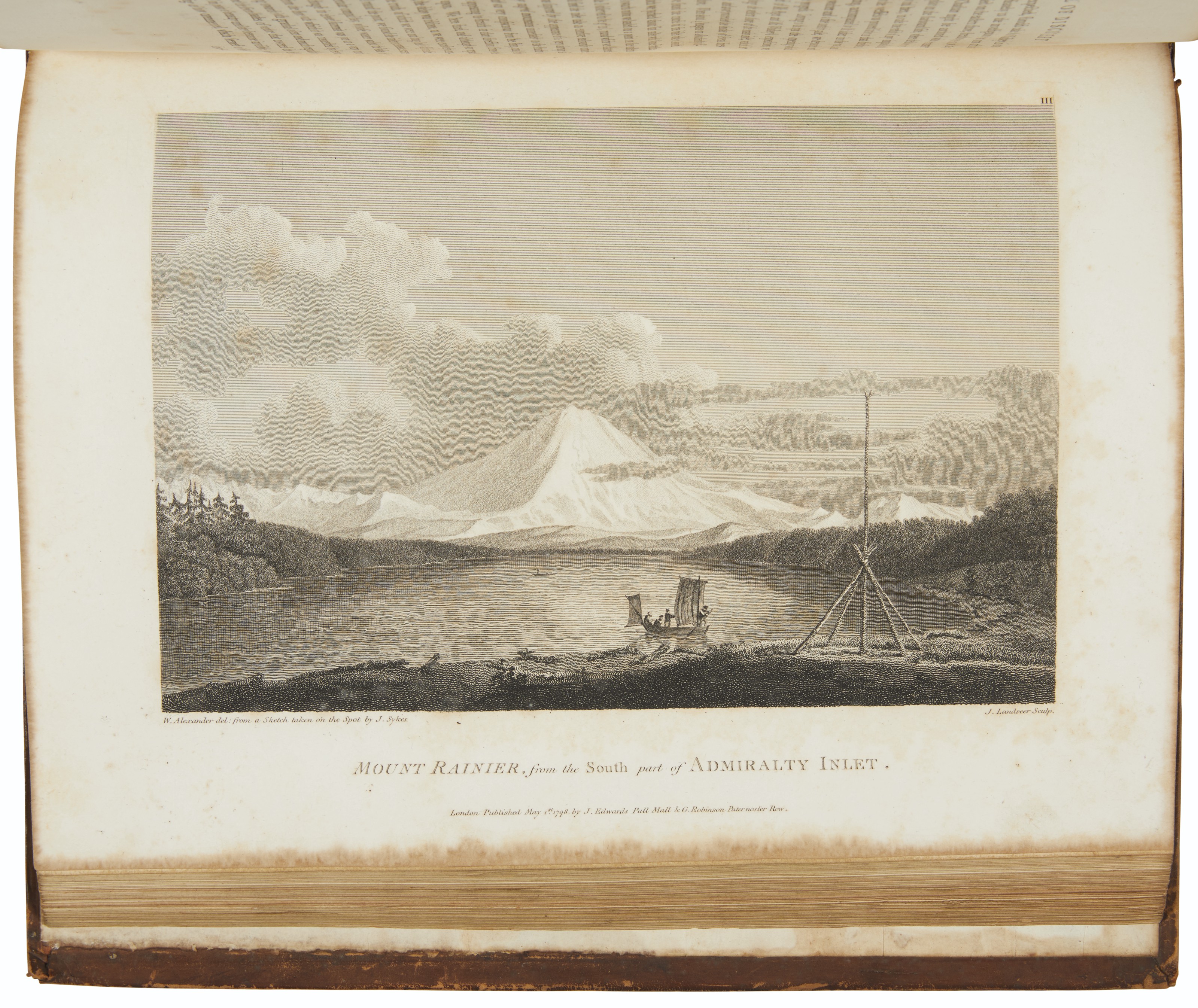 First edition of Vancouver's Voyage George Vancouver, 1798 VANCOUVER, George (1757-1798). A Voyage of Discovery to the North Pacific Ocean, and Round the World; in which the Coast of North-west America has Been Carefully Examined and Accurately Surveyed. London: G. G. & J. Robinson, 1798. The first edition of Vancouver's Voyage, "one of the most important voyages for the history and the...
Preis: 20.000 $ - 30.000 $
First edition uncut in original boards James Burney, 1819 BURNEY, James (1750-1821). A Chronological History of North-Eastern Voyages of Discovery; and of the Early Eastern Navigations of the Russians. London: Luke Hansard & Sons for Payne and Foss and John Murray, 1819. First edition, with important accounts of Cook's third voyage, uncut in original publisher's boards. It includes, amongst...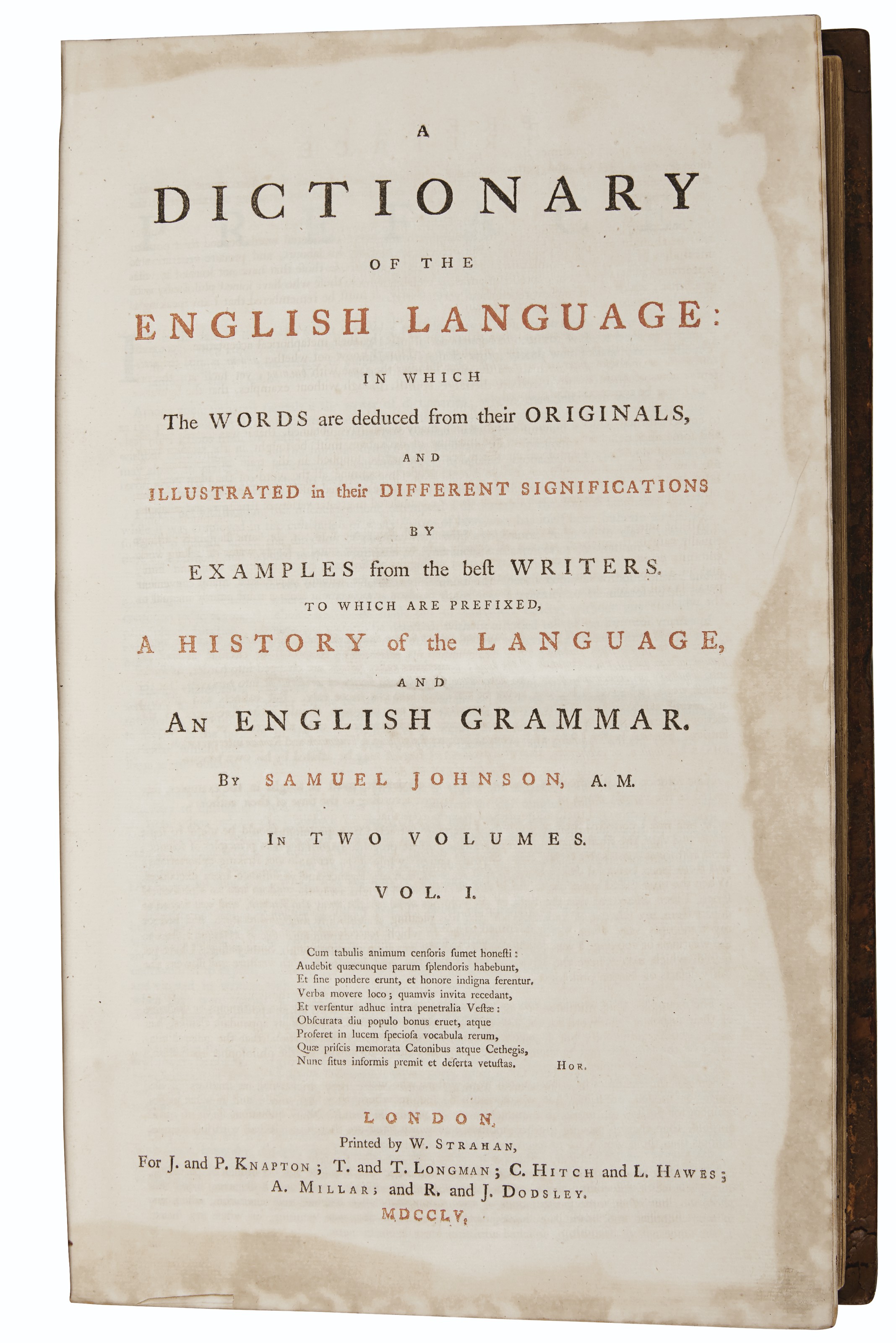 First edition of Dr. Johnson's greatest literary achievement London, 1755 JOHNSON, Samuel (1709-1784). A Dictionary of the English Language in which the words are deduced from their originals, and illustrated in their different significations by examples from the best writers. London: W. Strahan for J. and P. Knapton [et al.], 1755. First edition of Dr. Johnson's greatest literary achievement and...
Ahmed Djevad, Etat Militaire Ottoman… Album des Figures et des Dessins …, first edition, printed in French and Ottoman Turkish, by Imprimiere du Journal la Turquie, Ernest Leroux [Paris, 1822] single volume, complete with engraved title, index and 17 lithographed plates (8 plates of Ottoman military costumes and 9 plates of Ottoman military weaponry), original tissue guards, a little browned with...
Preis: 600 £ - 800 £
ca. 737 $ - 983 $
Kitab Benedictariun (a Christian prayerbook) , printed in Arabic, first edition in this form, by the Greek Orthodox Partiarchate [Jerusalem (Church of the Holy Sepulchre), 1854] single volume, printed in Arabic with some headings also in Greek, simple woodcut border to title, engraved head-piece to opening text with some engraved decorations separating chapters, old ownership seal removed from...
Preis: 800 £ - 1.200 £
ca. 983 $ - 1.474 $
LotSearch ausprobieren
Testen Sie LotSearch und seine Premium-Features 7 Tage - ohne Kosten!
Auktionssuche und Bieten
Preisdatenbank und Analysen
Individuelle automatische Suchaufträge