Bücher, Autografen, Handschriften
Die Erfindung des Buchdrucks um 1450 durch Johannes Gutenberg leitete in Europa eine regelrechte Medienrevolution ein. Nun war es möglich, Bücher schnell und kostengünstiger zu erstellen bzw. in großen Auflagen zu vervielfältigen. Mit dem Buch kam auch die Bildung in die mittleren und unteren Schichten der Bevölkerung. Google veröffentlichte 2010, dass weltweit ca. 129.864.880 unterschiedliche Buchtitel existieren. Dass darunter auch viele sammelwürdige sind, dürfte kaum verwundern. Das teuerste Buch aller Zeiten ist der Codex Leicester, der von keinem geringeren, als Leonardo da Vinci verfasst wurde. Mit sagenhaften 29 Millionen Euro wurde die 72-seitige, gebundene Sammlung an handschriftlichen Blättern von Bill Gates erworben. Wohl das teuerste gedruckte Buch ist "Birds of America". Nur 119 vollständige Exemplare sind bekannt. Für das vierbändige Werk wurden 2010 ca. 8 Millionen Euro bezahlt.
Als "Autographen" bezeichnet man handgeschriebene Texte. Dies können zum Beispiel Briefe oder ganze Romane sein. Umso bekannter der Verfasser, umso gesuchter das Dokument. Das Sammeln von Autographen ist ein eigenständiges Sammelgebiet mit eigens spezialisierten Händlern. Oft tauchen autographische Dokumente in Buchauktionen auf.
Mit "Handschriften" meint man im Auktionswesen schriftliche Dokumente, die bis ca. Anfang des 18. Jahrhundert entstanden sind. Dies können aufwändig gestaltete und illuminierte Bücher sein, die vor der Erfindung des Buchdrucks entstanden sind, aber auch wissenschaftliche Schriften bis in die Barockzeit. Ihnen gemein ist die Tatsache, dass sie Originale sind und damit einzigartig. Daraus ergibt sich auch ihr Wert.
---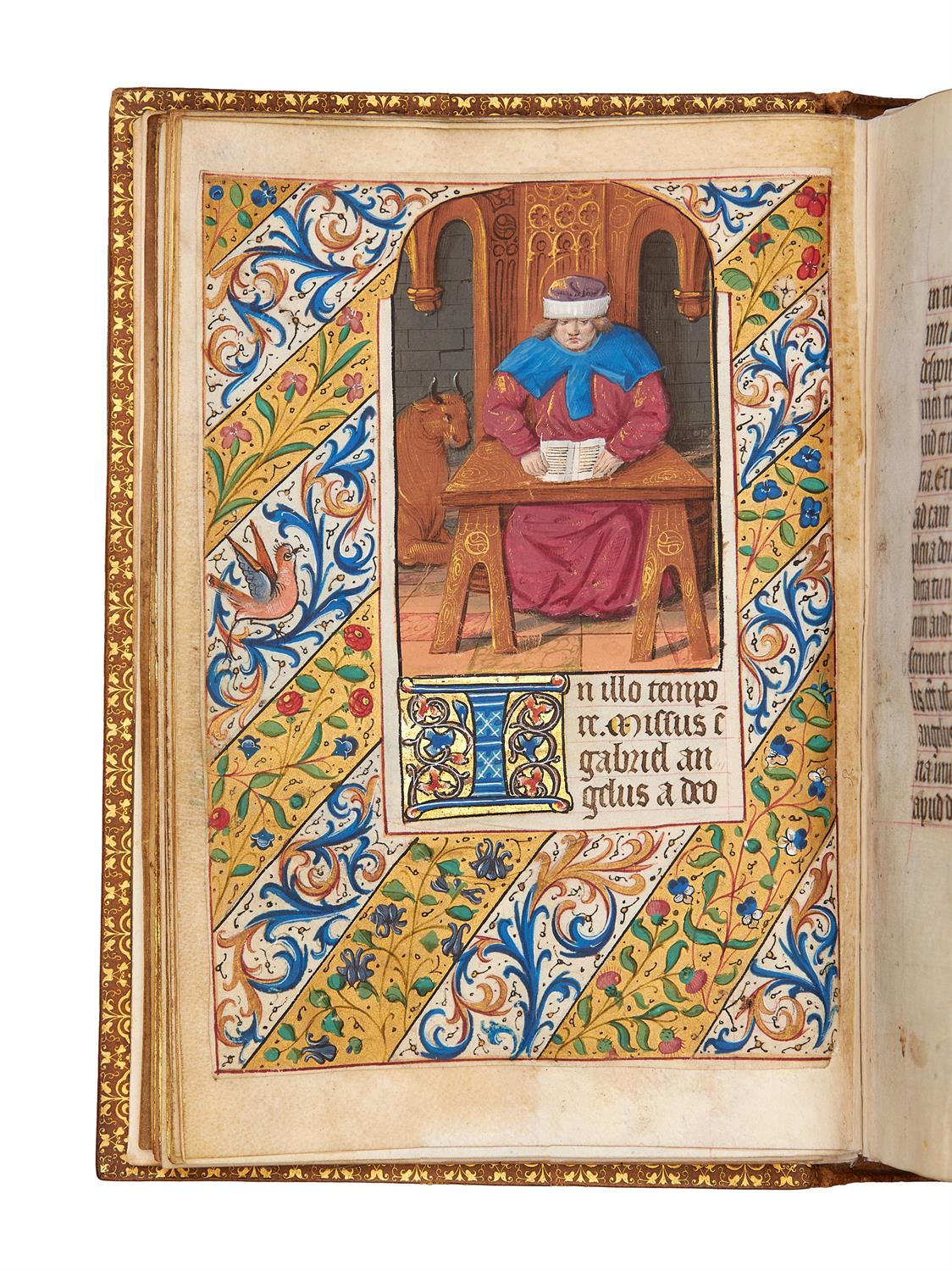 Book of Hours, Use of Paris, illuminated in part at least by Jean Pichore, in Latin, manuscript on parchment [Northern France (Paris), c. 1500] 211 leaves (plus 3 modern paper and 3 original parchment endleaves at front, and one original endleaf followed by 3 modern paper at end; the first and last parchment leaves former pastedowns), wanting perhaps 6 single leaves (following fols. 12, 69, 93...
Preis: 20.000 £ - 30.000 £
ca. 25.252 $ - 37.879 $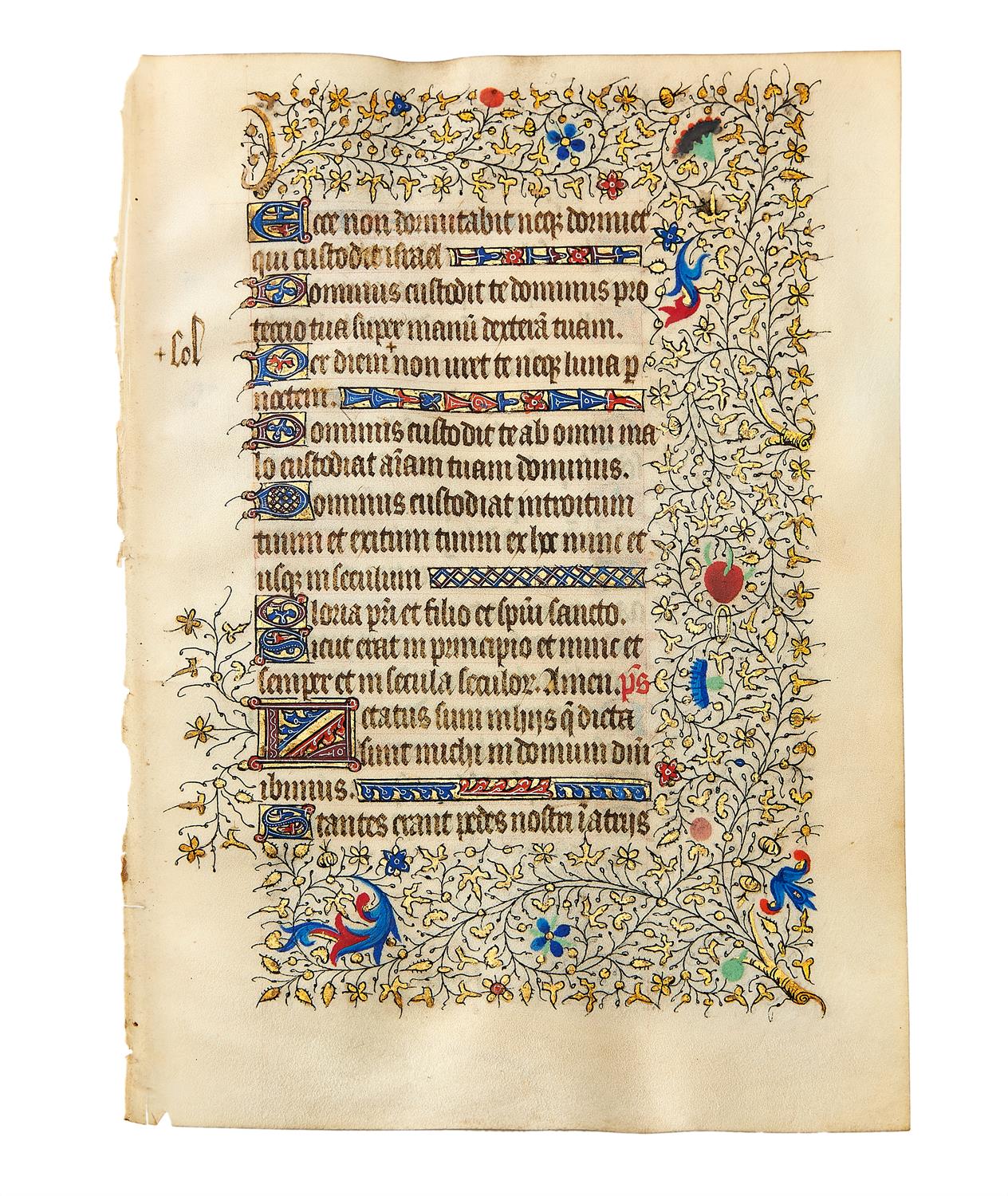 Leaf from an opulently illuminated Book of Hours , in Latin, on parchment [France (Paris), c. 1430] Single leaf, with single column of 16 lines in an excellent late gothic bookhand, late medieval single-word correction in margin, single catchword touched with yellow wash in lower decorated border of verso, almost every other line with a one- or 2-line initial in blue and pink on burnished gold...
Preis: 300 £ - 500 £
ca. 378 $ - 631 $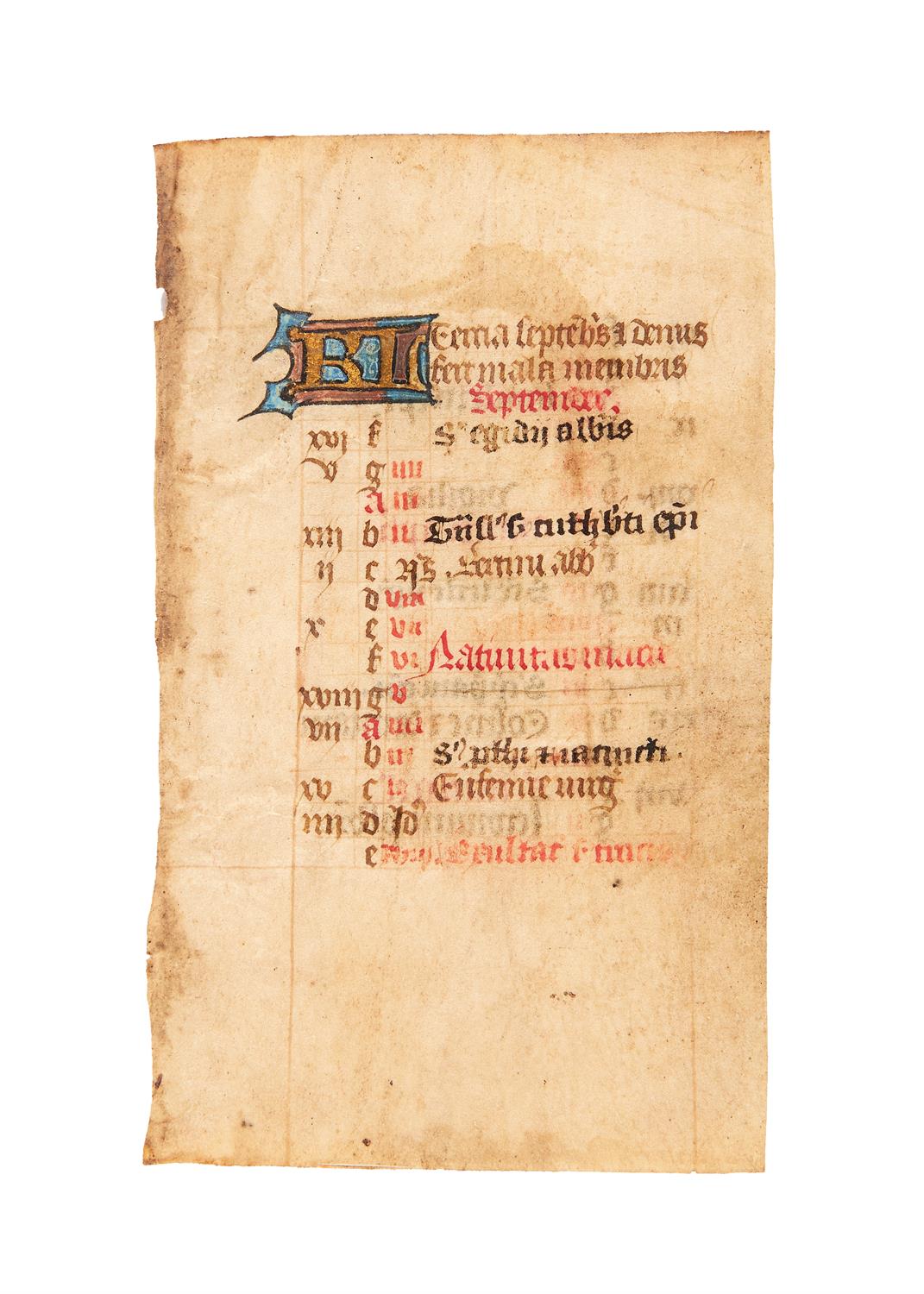 Leaf from a miniature Book of Hours, in Latin, illuminated manuscript on parchment [England, or Low Countries made for English market, mid-fifteenth century] Single leaf from a Calendar (September), with 16 lines of records of saints' death days and other religious feasts, one large initial 'KL' in liquid gold on blue and burgundy grounds, important entries in red or lined through in red, some...
Preis: 100 £ - 200 £
ca. 126 $ - 252 $
LIVRE D'HEURES À L'USAGE DE TOURS France, Angers ou Tours, c. 1460 Manuscrit enluminé sur parchemin, en latin et en français, 141 ff. In-8, veau glacé olive, décor doré à la fanfare sur les plats, dos à 5 nerfs cloisonné et fleuronné, doublure et gardes de papier marbré, roulette à froid sur les coupes, tranches dorées (reliure pastiche). Dimensions: 110 x 160 mm. Manuscrit orné de 8 grandes...
Preis: 150.000 € - 200.000 €
ca. 168.675 $ - 224.900 $
C.B. Collins and Stephen Hawking (1942-2018). 'Why is the Universe Isotropic?' Offprint from: The Astrophysical Journal, Vol. 239, No. 2, Part 1, pp.317-334. [Chicago: University of Chicago Press for the American Astronomical Society,] 1973. First separate edition of Hawking's analysis of the cosmological principle. The paper argues that it is extremely unlikely that a universe which started in an...
Preis: 1.500 £ - 2.500 £
ca. 1.874 $ - 3.124 $
Datum: 24.06.2020 - 16.07.2020
SPb.; M.: ed. M. O. Wolf, 1868. - [8], 320 p.; 23, 5x16 cm. In the printed ornamented cover. Careful restoration of the cover, stains from moisture, fox stains on the pages. Stamped bookplate of Apostol on the title page, on the back side - the label 'Antique book trade of V. Klochkov.' First edition. In the publishing cover of the book is extremely rare! Bibliography: N. B. №243: 'Just after...
Preis: 1.200 €
ca. 1.349 $
Datum: 07.07.2020 - 08.07.2020
London, Macmillan And Co., Limited 1932. 8vo. 2 vols; publisher's red cloth with triple-line panels to sides enclosing pictorial roundels to all 4 boards, spines lettered and decorated in gilt, all edges gilt; pp. [xiv] + 195 + [i]; [xvi] + 227 + [i] + [2], adverts.; with a total of 92 fine illustrations after the original wood-engravings by Tenniel; clean and attractive copies forming a...
Preis: 8.000 €
ca. 8.996 $
Datum: 07.07.2020 - 08.07.2020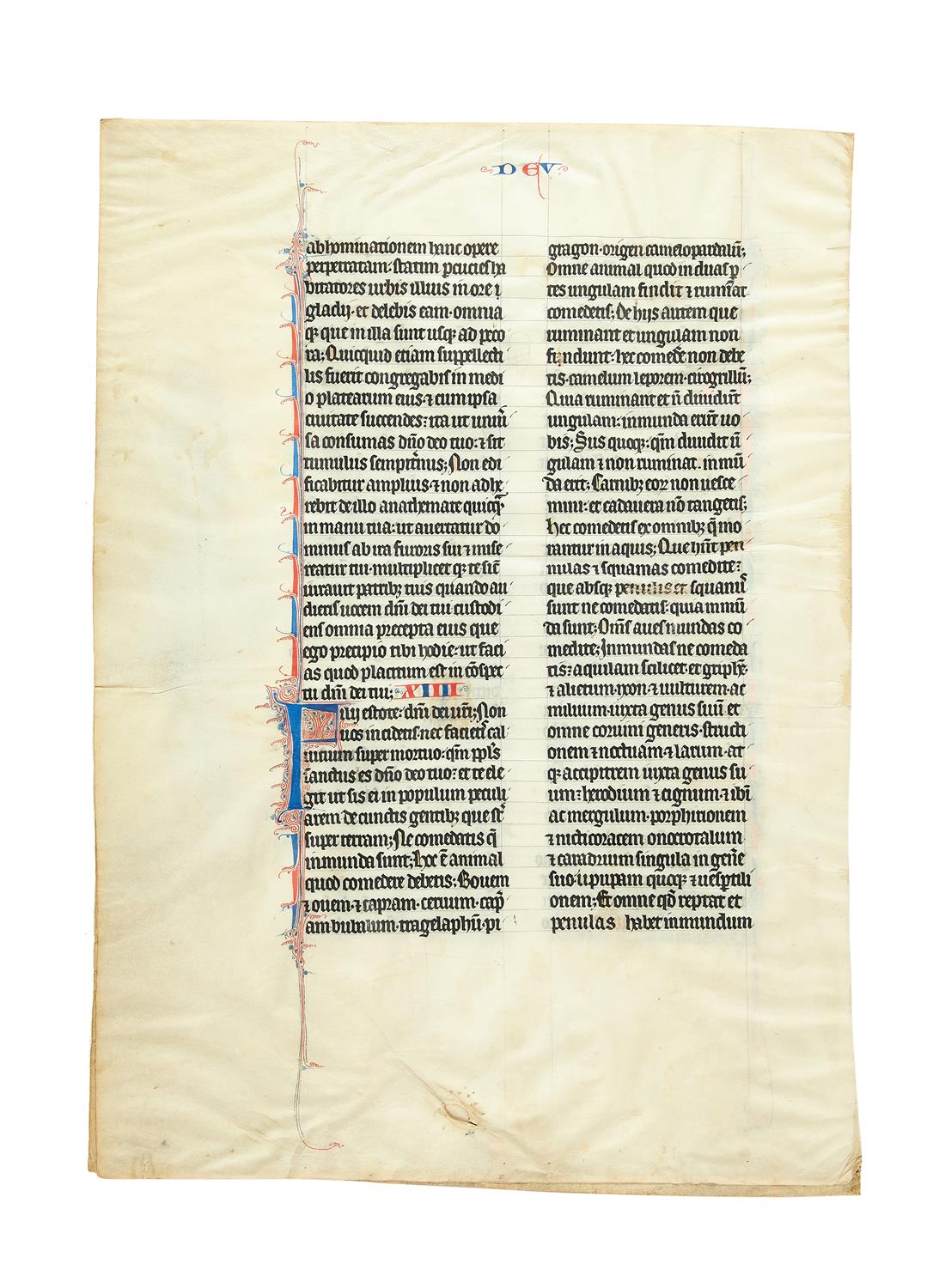 Two leaves from a monumental Lectern Bible, with Leviticus 25:40-26:26 and Deuteronomy 12:31-14:19, in Latin, from a vast decorated manuscript on parchment [southern Flanders (perhaps Tournai), c . 1275] Two leaves (text not continuous), with double column of 33 lines in a large, formal gothic book script of highest grade (littera gothica textualis formata), initials in red and blue with penwork...
Preis: 2.000 £ - 3.000 £
ca. 2.525 $ - 3.787 $
First time published in St. Petersburg in 1713 by second embossing printing. SPb.: at the Naval gentry cadet corps, 1766. - [2], 193 p., 23 p. maps, 2 l. explanations to maps; 24,5x20 cm. 23 folding maps depicting battles, sieges and capture of cities and fortresses, made in the technique of engraving on copper; engraved intros and endings. In a semi-leather cover of the time. Minor abrasions of...
Preis: 15.000 €
ca. 16.867 $
Datum: 07.07.2020 - 08.07.2020
1) Naumenko V.G. Great treachery: extradition of Cossacks to Lienz and other places (1945-1947): Collection of materials and documents. New York: All-Slavic publishing house, 1962-1970. Vol. 1. 1962. - 288 p., XXXII p. ill., portr.; Vol. 2. 1970. - 432 p., [26] l. Il., portr., cart.; 23, 5x16 cm. Edition of 1000 copies. Richly illustrated material: rare photos of the era. Two volumes in...
Datum: 07.07.2020 - 08.07.2020
LotSearch ausprobieren
Testen Sie LotSearch und seine Premium-Features 7 Tage - ohne Kosten!
Auktionssuche und Bieten
Preisdatenbank und Analysen
Individuelle automatische Suchaufträge