Bücher, Autografen, Handschriften
Die Erfindung des Buchdrucks um 1450 durch Johannes Gutenberg leitete in Europa eine regelrechte Medienrevolution ein. Nun war es möglich, Bücher schnell und kostengünstiger zu erstellen bzw. in großen Auflagen zu vervielfältigen. Mit dem Buch kam auch die Bildung in die mittleren und unteren Schichten der Bevölkerung. Google veröffentlichte 2010, dass weltweit ca. 129.864.880 unterschiedliche Buchtitel existieren. Dass darunter auch viele sammelwürdige sind, dürfte kaum verwundern. Das teuerste Buch aller Zeiten ist der Codex Leicester, der von keinem geringeren, als Leonardo da Vinci verfasst wurde. Mit sagenhaften 29 Millionen Euro wurde die 72-seitige, gebundene Sammlung an handschriftlichen Blättern von Bill Gates erworben. Wohl das teuerste gedruckte Buch ist "Birds of America". Nur 119 vollständige Exemplare sind bekannt. Für das vierbändige Werk wurden 2010 ca. 8 Millionen Euro bezahlt.
Als "Autographen" bezeichnet man handgeschriebene Texte. Dies können zum Beispiel Briefe oder ganze Romane sein. Umso bekannter der Verfasser, umso gesuchter das Dokument. Das Sammeln von Autographen ist ein eigenständiges Sammelgebiet mit eigens spezialisierten Händlern. Oft tauchen autographische Dokumente in Buchauktionen auf.
Mit "Handschriften" meint man im Auktionswesen schriftliche Dokumente, die bis ca. Anfang des 18. Jahrhundert entstanden sind. Dies können aufwändig gestaltete und illuminierte Bücher sein, die vor der Erfindung des Buchdrucks entstanden sind, aber auch wissenschaftliche Schriften bis in die Barockzeit. Ihnen gemein ist die Tatsache, dass sie Originale sind und damit einzigartig. Daraus ergibt sich auch ihr Wert.
---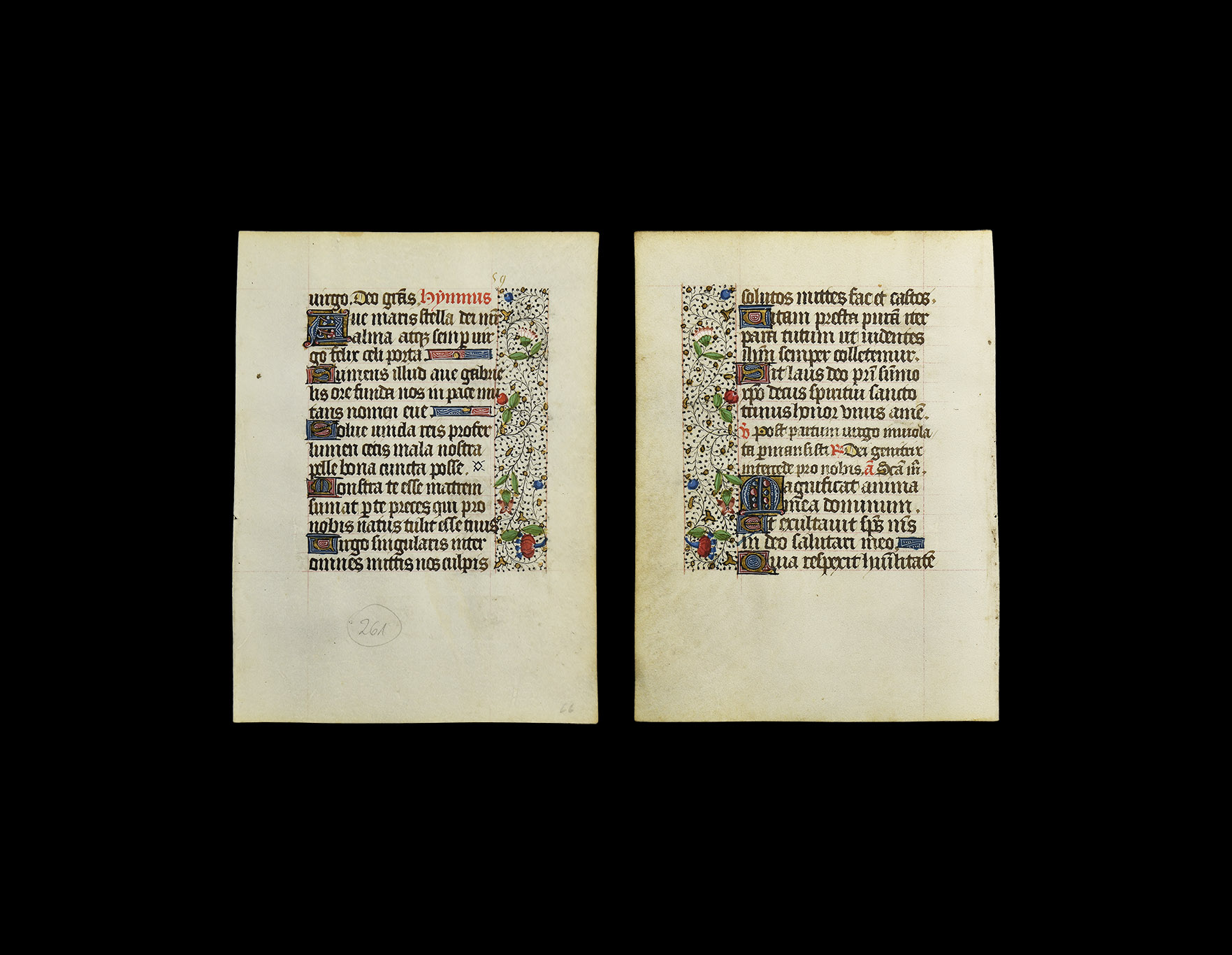 Medieval French Book of Hours Manuscript Leaf Circa 1470 AD A beautiful example of a vellum page from a Book of Hours, written in Rouen, Normandy, France; each side a single block of blackletter text with gold filled letters and delicate floral borders, sparse use of gold leaf to the versals and borders. 3.09 grams, 16cm (6 1/2"). Fine condition. Provenance From the property of a London gentleman...
Preis: 400 £ - 600 £
ca. 486 $ - 730 $
Datum: 03.09.2019 - 09.09.2019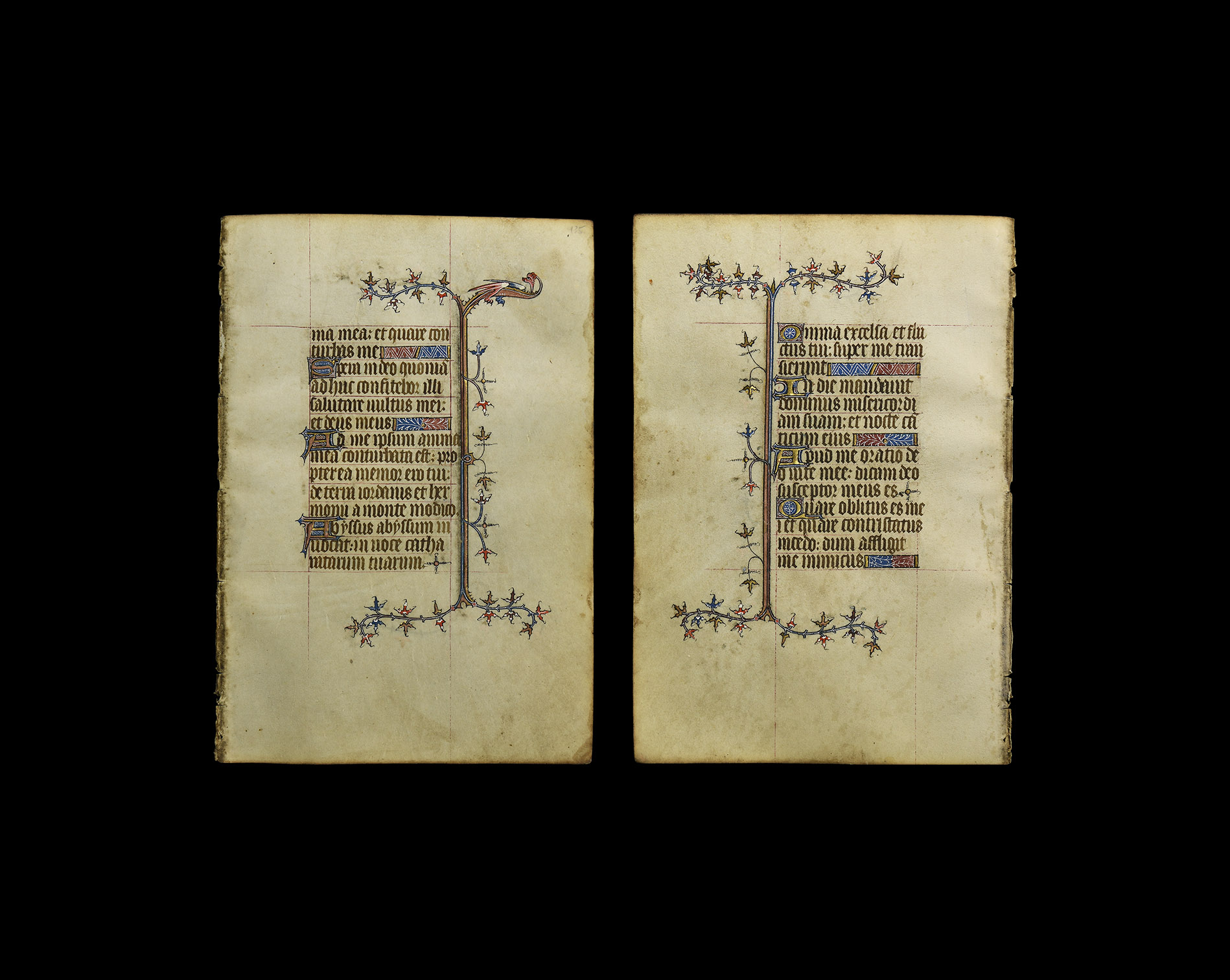 Medieval French Book of Hours Manuscript Leaf with Dragon Late 14th century AD A vellum leaf from a Book of Hours written in Paris, with a block of text to each side in batarde script with sparse use of gold leaf; coloured filler blocks with white detailing, gold leaf to the versals; each text with marginal decoration of a tree in leaf, one with a regardant dragon at the top. 3.76 grams, 18.5cm (7...
Preis: 350 £ - 450 £
ca. 425 $ - 547 $
Datum: 03.09.2019 - 09.09.2019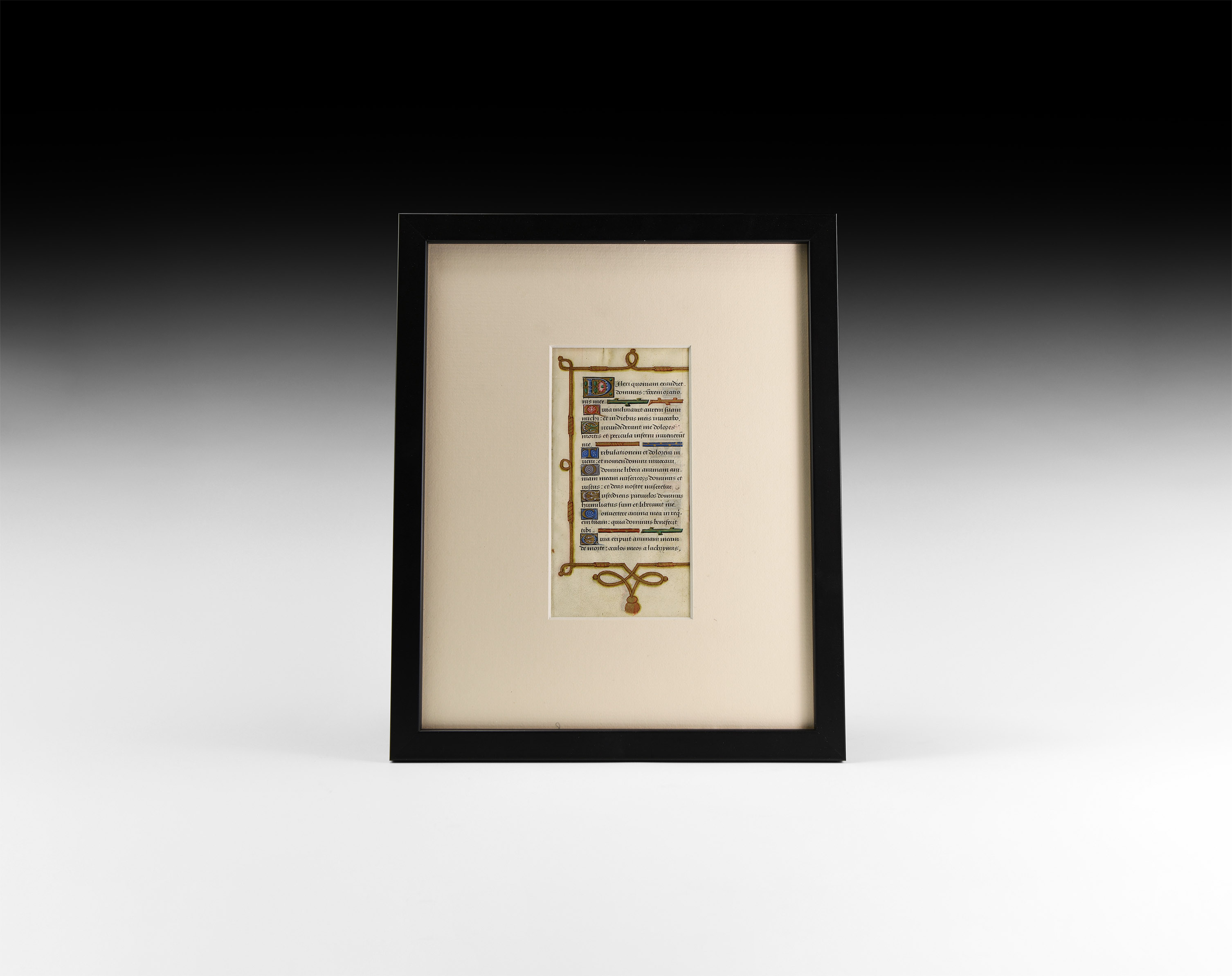 Medieval Book of Hours Manuscript Page 15th century AD A finely decorated vellum leaf from a Book of Hours with twenty lines of text in batarde script; illuminated capital with floral detail and versals; spacer blocks in red, green yellow and blue with highlight detailing; rope border with bow and tassel; Latin text of the incipit of Psalm 114; mounted in a glazed wooden frame with reveal. 493...
Preis: 150 £ - 200 £
ca. 182 $ - 243 $
Datum: 03.09.2019 - 09.09.2019
Medieval French Book of Hours Illuminated Manuscript Rouen, circa 1480 AD A two-sided parchment leaf from a French Book of Hours with illuminated marginal foliage panel in gold, red, blue and green, the text in black with red ruled layout lines, gold leaf detailing to the versals. 2.78 grams, 16.2x11.8cm (6 1/4 x 4 1/2"). Fine condition. [No Reserve] Provenance From an old British private...
Preis: 100 £ - 140 £
ca. 121 $ - 170 $
Datum: 03.09.2019 - 09.09.2019
Two volumes. Sixteen plates after drawings by Cruikshank. (8vo) original green pebbled cloth, gilt lettering; enclosed in cloth slipcase. Second Edition. Dickens' first book, a collection of stories and sketches that appeared in various London periodicals. This edition issued about seven months after the first, with a new two-page preface by Dickens date August 1, 1836...
India.- Jefferys (Thomas) The East Indies with the Roads [...] The Second Edition, large two-sheet wall map illustrating India, with southern India and the area of Bahar Benga in detail, with roads, caravan routes, oases, temples, political boundaries, archeological sites, and the topography of the land, engraving with some outline hand-colouring, four sheets joined as two, the upper sheet 590 x...
Preis: 300 £ - 500 £
ca. 365 $ - 608 $
2 volumes. [iii]-x, [13]-312 pp.; [i]-iv, [5]-322, [2] blank pp. Three wood-engraved plates in each volume, title page vignettes. (8vo), 18.5x11.5 cm. (7¼x4½"), three-quarter black leather with purple cloth, spine ruled and titled in gilt. First Edition, First Printing. In addition to being one of the most influential books ever written, Uncle Tom's Cabin was also one of the most popular; as Sabin...
viii, 312 pp. Illustrated with numerous drawings throughout (many full-page) and a color frontispiece from a painting by Will James. (8vo) original black-lettered mauve cloth, pictorial jacket. First Edition. "Another Will James novel with a horse as a central character. And this horse is one rough hombre. His rider isn't plumb gentle either but the horse wins the decisive battles and makes...
xii, 338 pp. Illustrations from drawings (many full-page) by Will James; frontispiece from a painting by James. (8vo) original decorative green cloth, stamped and lettered in black and gilt on the front cover, spine lettered in gilt, color pictorial jacket. First Edition. A "descriptive and entertaining [novel]...about three cowboy partners who catch wild horses for a living and reduce the...
16 Volumes. Color lithograph frontispiece portraits. 23.1x15 cm (9x6"), three-quarter green levant morocco ruled and lettered in gilt on spines, raised bands, top edges gilt, others untrimmed, marbled endpapers. No. 74 from an edition limited to 774 sets printed from type on special water-marked paper. Bookplate of Jeannette Seymour Tuttle in Volume I. Due to the size and/or weight of this lot...
LotSearch ausprobieren
Testen Sie LotSearch und seine Premium-Features 7 Tage - ohne Kosten!
Auktionssuche und Bieten
Preisdatenbank und Analysen
Individuelle automatische Suchaufträge