Unter Asiatika versteht man ein breites Spektrum an Kunstobjekten und Antiquitäten, die aus dem ostasiatischen Raum stammen. Länder wie China, Tibet, Nepal, Korea, Vietnam, Thailand, Kambodscha, Taiwan, Birma und Japan zählt man zu diesem Gebiet. Bereits vor 100 Jahren begann sich das Interesse an asiatischer Kunst zu entwickeln. Schon zu dieser Zeit wurden in Auktionen asiatische Objekte angeboten und es etablierte sich ein Markt für asiatische Kunst. Ob Kunsthandwerk, Porzellan, Keramiken oder Malerei – der Markt war begierig nach allem.
Aber auch die asiatische Lebensweise trug dazu bei mit diversen Kampfsportarten oder gastronomischen Ausprägungen, religiösen Strömungen wie der Buddhismus oder die Zen-Kultur, dass sich das westliche Bewusstsein für die asiatische Kultur öffnete. So wurde alles Asiatische zum Trend, was mit der Faszination des Mystischen und Geheimnisvollen verbunden war.
Heute sind Asiatika-Auktionen absolute Schlagzeilenbringer. Das liegt natürlich auch daran, dass China mit seinen superreichen Millionären genug solvente Interessenten aufbietet, die immer wieder für Höchstzuschläge sorgen. Von den Kolonialmächten wurden einst diverse Kunstgegenstände aus den Ländern geschafft, heute versuchen gerade die Chinesen die verschollen Objekte wieder zurück ins Land zu bringen.
---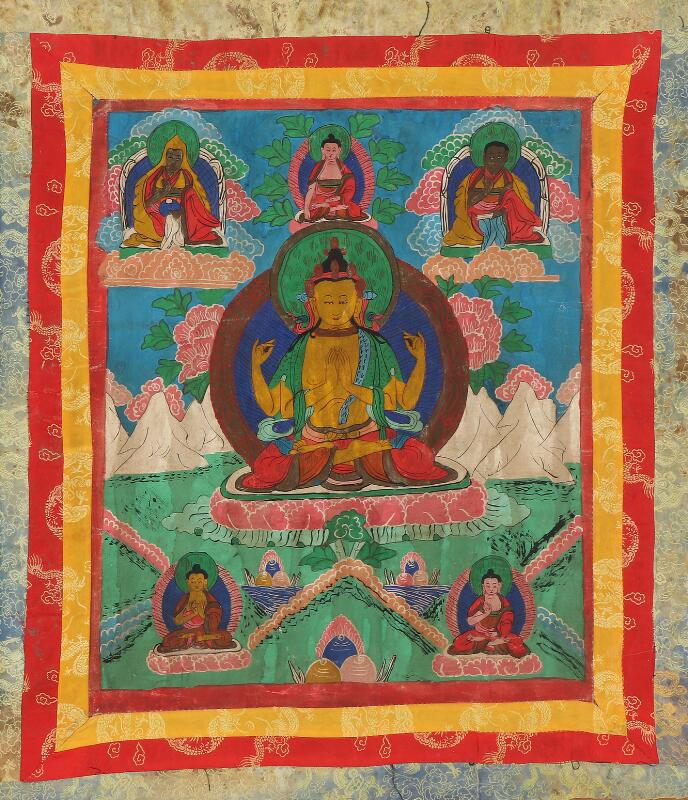 A 20th century Tibetan thangka of Buddha Shakyamuni in a mountainous landscape surrounded by lama boddhisattvas. Picture 53×46 cm.
Blotching. Fabric faded and stained. Examined in frame...
Preis: 1.500 DKK
ca. 223 $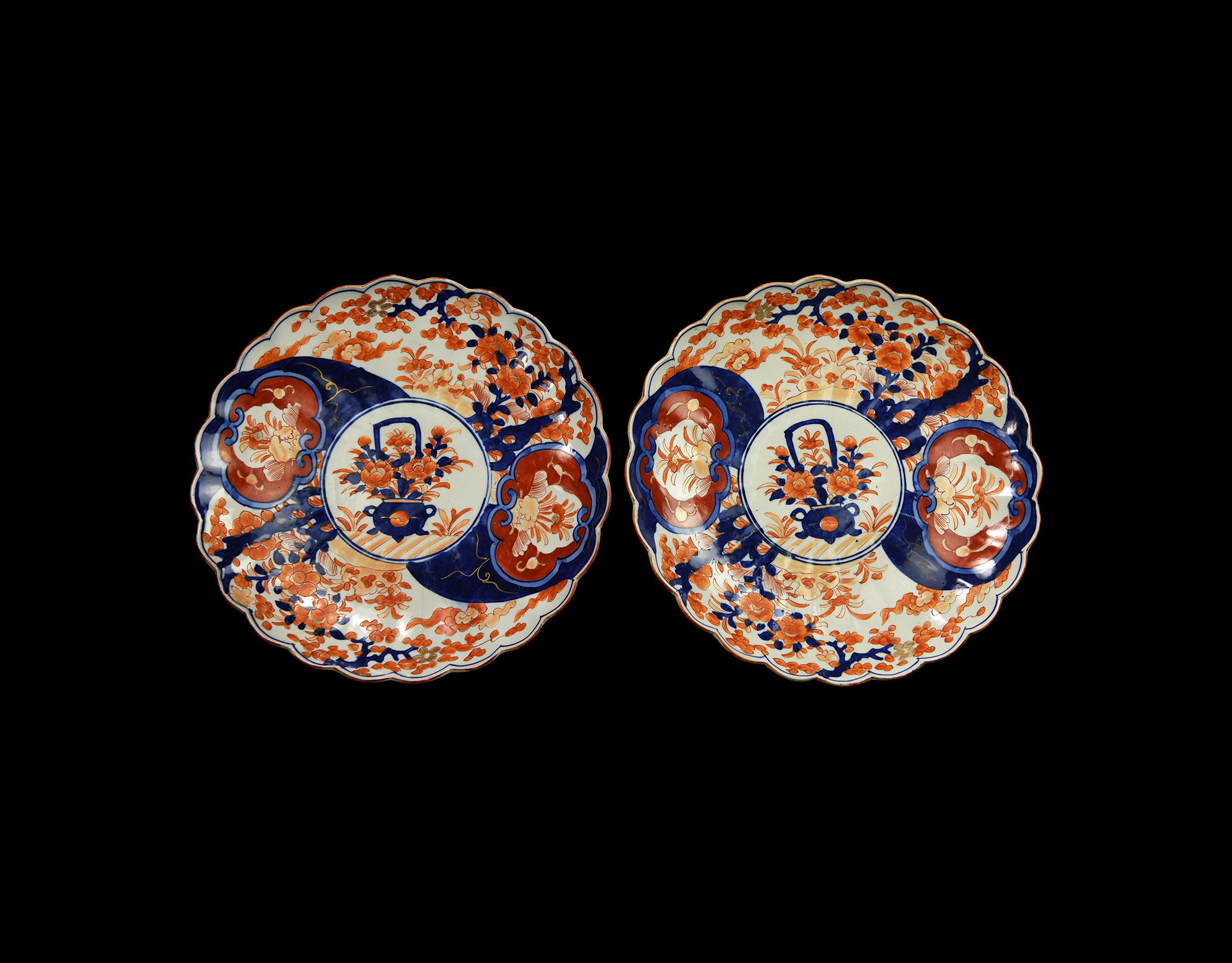 Large Japanese Glazed Imari Dish Pair 18th century AD or later A matched pair of glazed ceramic dishes, each with dentilled rim, basal ring, central roundel with pot and flowers, surrounding panels with blossom and other motifs; bats and other motifs to the underside. 2.2 kg total, 30cm (12"). Fine condition. [2, No Reserve] Provenance Ex Italian collection; acquired 1970s...
Preis: 100 £ - 140 £
ca. 121 $ - 170 $
Datum: 03.09.2019 - 09.09.2019
Two woodblocks in colors; "The Sea at Tsukuda in Edo (Tôto Tsukuda oki)" from the series Thirty-six Views of Mount Fuji (Fuji sanjûrokkei), 1858 and "Kameido Tenjin Shrine (Kameido Tenjin)" from the series Views of Famous Places in Edo (Edo meishô zue), 1862 (framed separately); Stamped markings; 13" x 8 1/2" and 12 3/4" x 8 3/4" (sight...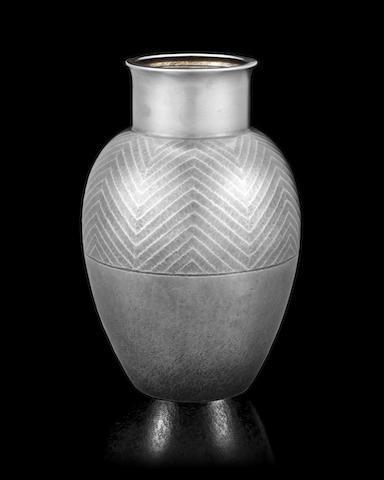 A Japanese silver vase by Mitsuo, base stamped Mitsuo and Jungin (pure silver), probably Taisho / Showa period Cylindrical neck with a matted and patinated surface, bulbous body with a zig-zag banded upper section and a matted and mottled textured lower section, with wood box, height 26cm, weight 26.5oz...
Preis: 3.000 £ - 4.000 £
ca. 3.733 $ - 4.977 $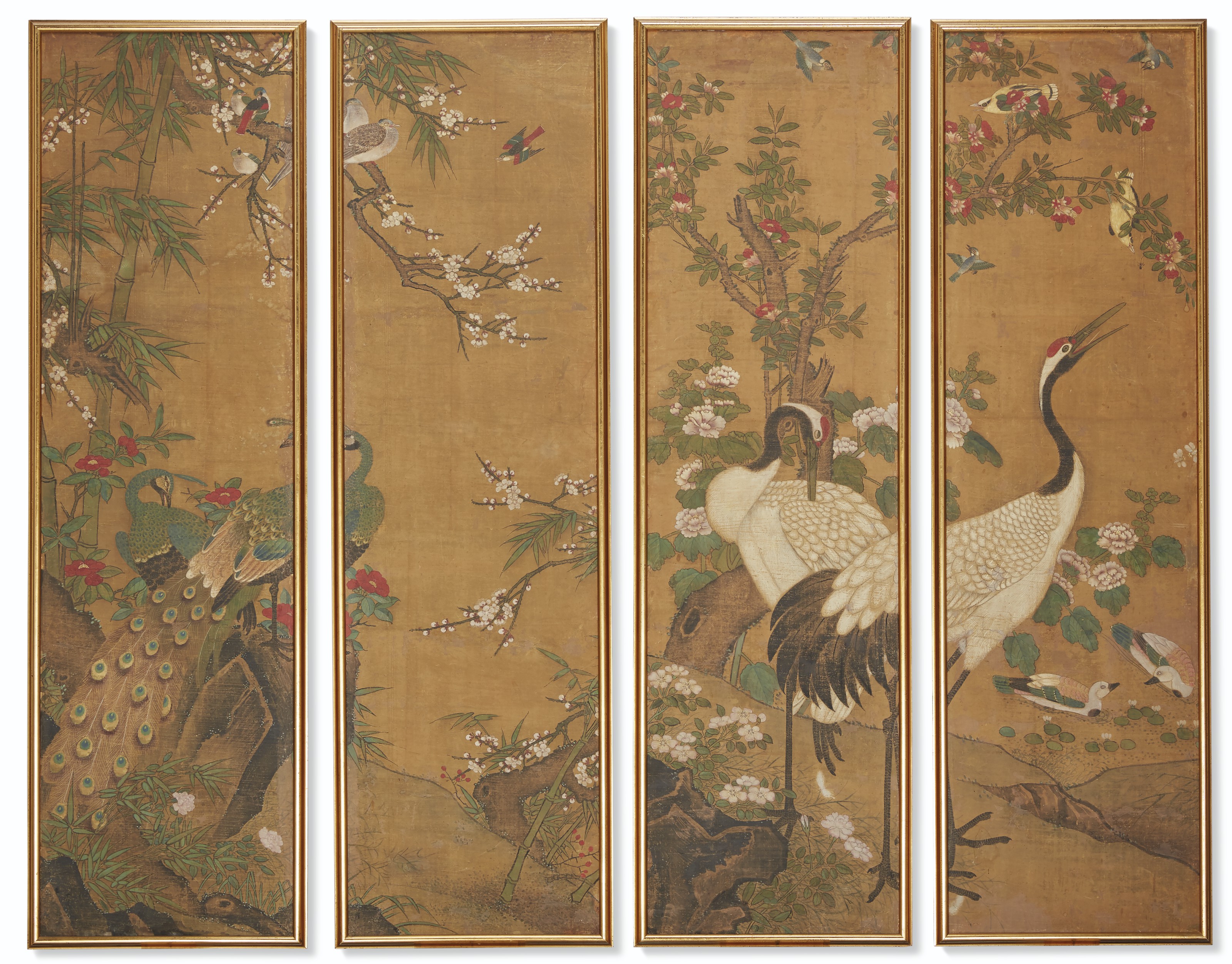 A SET OF FOUR JAPANESE SILK PANELS EDO/MEIJI PERIOD, 19TH CENTURY The panels depicting with cranes, peacocks and various birds among a flowering landscape, mounted on board and later gilt wood frames 67 ½ in. (171.5 cm.) high, 20 ¼ in. (51.5 cm.) wide, each panel including frame...
Datum: 21.08.2019 - 22.08.2019
China.- Bellin (Jacques Nicolas) L'Empire de la Chine pour Servir a l'Histoire Generale des Voyages, map of China and Korea, with Canton, Nanking, and Taiwan described, title cartouche featuring flowers and wind heads with dragonfly wings in the lower right corner, engraving with hand-colouring on laid paper with indistinct circular watermark, platemark 305 x 420 mm. (12 x 16 1/2 in), sheet 315 x...
Preis: 200 £ - 300 £
ca. 243 $ - 365 $
2 volumes. xxxviii, 546 + [2] ad; xxi, [1], 517 + [2] ad pp. Profusely illustrated with plates from photographs; color plates of frescos, wall paintings, etc.; folding panoramas; 3 folding color maps. 23.5x16 cm. (9¼x6½"), original brown cloth with embossed gilt medallion on front cover, spine lettered in gilt, top edges gilt. First Edition. Travels and investigations in central Asia, Tartary, and...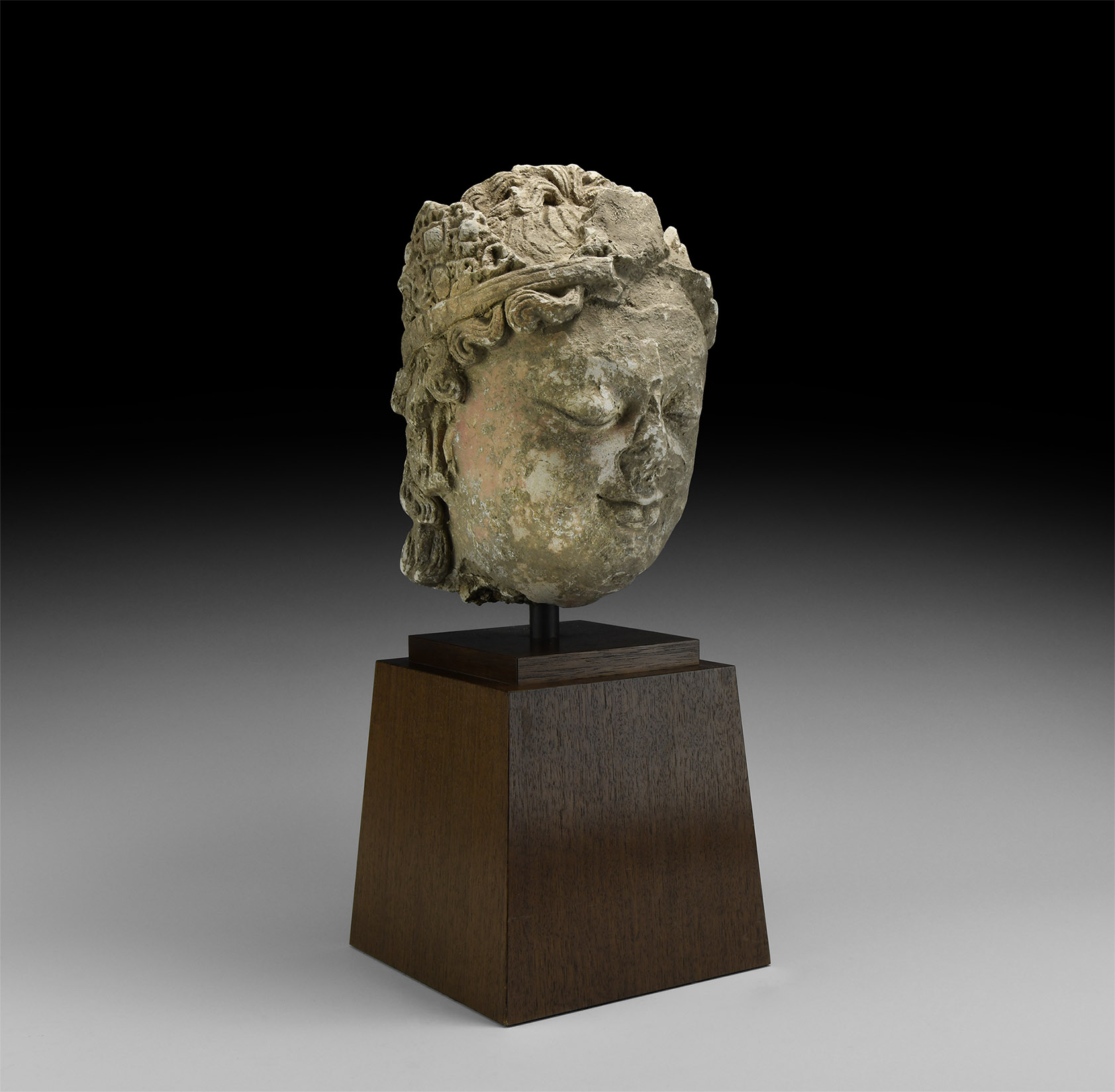 Central Asian Head of Bodhisattva 3th-4th century AD A grey stucco head of a bodhisattva with traces of pink pigment, elaborate curled hairstyle with circlet to the brow and lateral scrolled plaques; mounted on a custom-made stand. 8.2 kg total, 48cm including stand (19"). Fine condition. Rare. [No Reserve] Provenance From an old Tokyo collection; previously the property of a Japanese gentleman...
Preis: 10.000 £ - 14.000 £
ca. 12.168 $ - 17.035 $
Datum: 03.09.2019 - 09.09.2019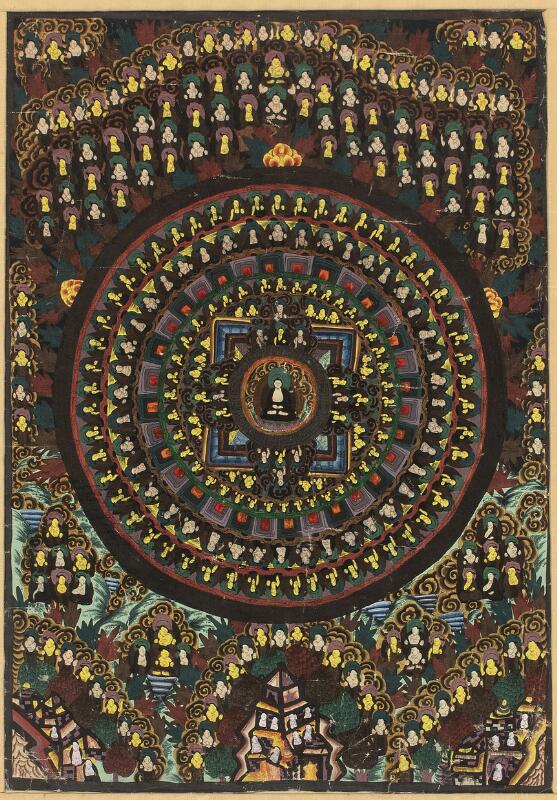 Tibetan thangka with Shakyamuni Buddha surrounded by 16 arhats and an assembly of bodhisattvas generates. 20th century. Picture 66×46 cm.
Creases, minor peelings. Examined in the frame...
Preis: 1.000 DKK
ca. 148 $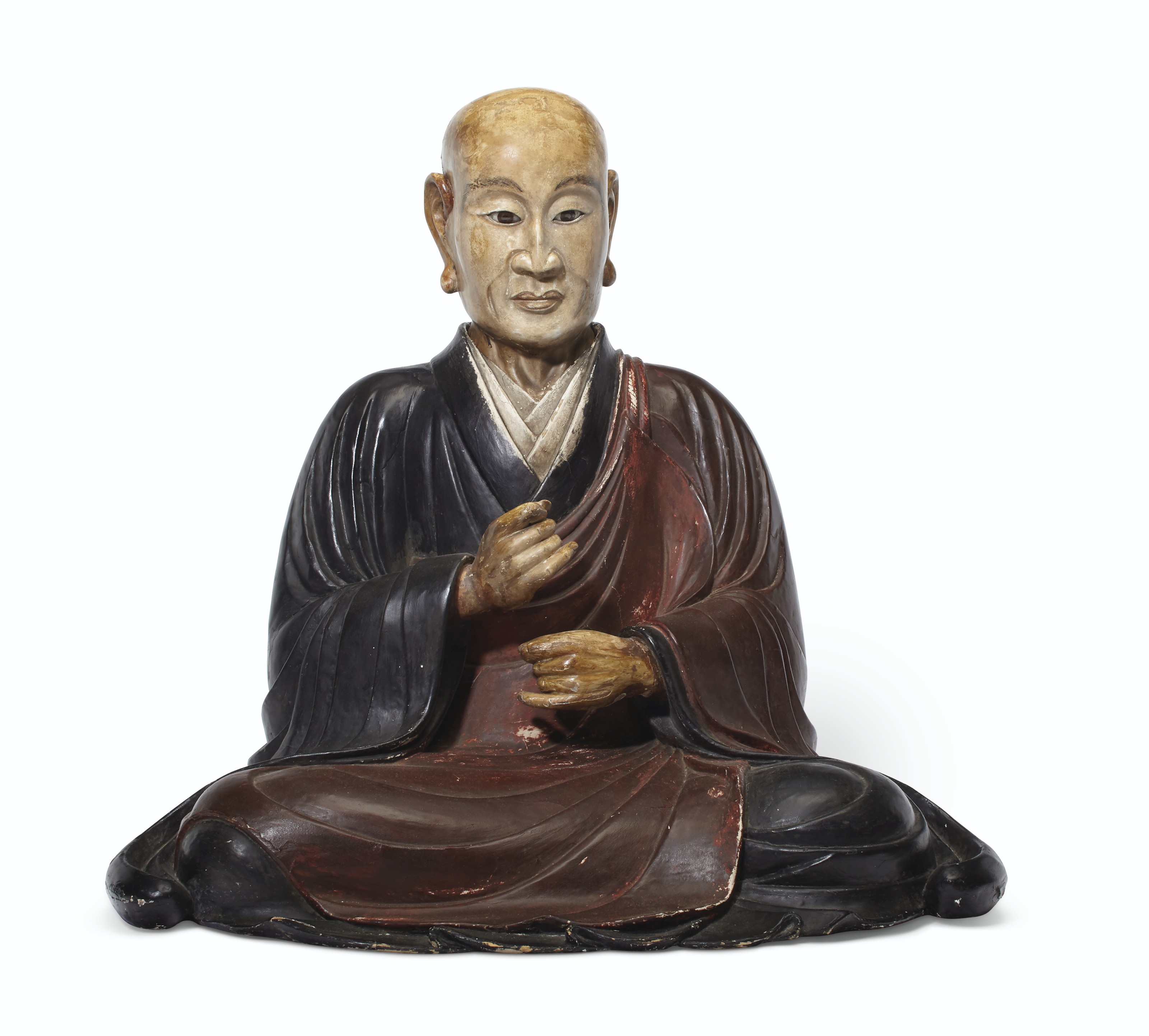 A JAPANESE LACQUERED WOOD LARGE FIGURE OF A SEATED LUOHAN MEIJI/TAISHO PERIOD, LATE 19TH/20TH CENTURY 28 ½ in. (72.3 cm.) high...
Datum: 21.08.2019 - 22.08.2019
LotSearch ausprobieren
Testen Sie LotSearch und seine Premium-Features 7 Tage - ohne Kosten!
Auktionssuche und Bieten
Preisdatenbank und Analysen
Individuelle automatische Suchaufträge